Book Review: The Hazel Wood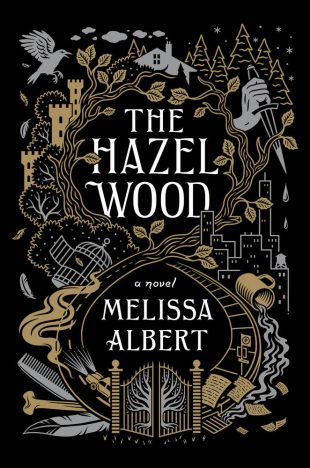 The Hazel Wood
by
Melissa Albert

Series:
The Hazel Wood #1
Published by
Flatiron Books
on January 30th 2018
Genres:
Fantasy
,
Young Adult Fiction
Pages:
368
Source:
Netgalley
Amazon
Goodreads
FTC Disclosure: I received a complimentary copy of this book from the publisher via Netgalley. All opinions are my own.
MY REVIEW:
Melissa Albert's The Hazel Wood is not your average story about fairytales.  Instead, it's an edgy, dark, creepy, tale that at times, reads like a horror story.  That said, it was also one of my most anticipated reads of 2018 because it sounded like such a unique storyline. While I don't think The Hazel Wood will ultimately end up on my Best Reads of 2018 list, it was still a pretty solidly entertaining read for me.
The Hazel Wood follows the story of seventeen-year old Alice and her mother, Ella.  They have spent most of Alice's life moving from place to place, never staying in one spot for too long.  Why?  Because everywhere they go, bad luck seems to follow.  Ella and Alice are also a close-knit pair.  For as long as Alice can remember, it has just been the two of them, even though Alice knows she has a grandmother. Alice's grandmother, who lives as a recluse at her estate, The Hazel Wood, wrote a book of dark fairy tales called Tales from the Hinterland that became a cult classic. The book is now nearly impossible to find but it still has a loyal fan following.  When Alice's grandmother dies, Alice and Ella's luck goes from bad to worse, and Tales from the Hinterland seems to somehow be at the center of their troubles.  Ella is kidnapped by someone who claims to have come to them from the Hinterland, the supernatural setting of Alice's grandmother's book, and the only clue Ella leaves for Alice is "Stay away from the Hazel Wood."
Alice has no idea what to do, but when she realizes that one of her classmates, Ellery Finch, is a Hinterland fanboy, she turns to him for help.  He knows more about the Hinterland than anyone she knows and because he's so obsessed with Tales from the Hinterland, he is more than willing to offer up any assistance he can provide.  When creepy, inexplicable things start to happen all around them, all signs point to the Hinterland and Alice and Ellery quickly realize that the only possible way of saving Ella is to travel to the one place Alice has been told to stay away from, the Hazel Wood. Since it's not exactly located on any map, will Alice and Ellery be able to even find their way to the Hinterland?  And if so, will they be able to find and save Ella?

My absolute favorite part about The Hazel Wood were the actual fairytales from Tales of the Hinterland.  Because the book is so rare, Alice has never had the opportunity to read the tales her grandmother wrote.  Because Finch is such a fanboy and has read them many times, he can basically recite them from memory and so he shares them with Alice whenever she asks.  And the tales are fabulous.  From Twice Killed Katherine to The Door That Wasn't There, they're dark, creepy, and just so delightfully twisted.  I think Tales from the Hinterland by itself would have been a 5-star read for me!
Another quality I loved about The Hazel Wood was how atmospheric and suspenseful it was.  The author drops us into a creepy version of New York with Alice where almost every time she turns around, it seems like someone is following her.  She keeps seeing a red-haired man that she remembers from her childhood, as well as a taxi driver who seems to mysteriously turn up where she is repeatedly.  Are these people really following her or is it a coincidence?  Then once she starts hanging around with Finch, he adds to the suspense and paranoid creepy factor as he thinks he recognizes some of the characters who keep turning up as actual characters from Tales from the Hinterland.  Talk about ratcheting up the WHOA factor!
Another interesting aspect of the story for me was that while I didn't find the main character Alice an especially likeable character, I still felt myself drawn to her story and like her or not, I was determined to follow her as she unraveled the mystery of the Hinterland, her mother, and her grandmother.  Usually not liking a main character is enough to make me give up on reading a book, so I was intrigued that, in this case, it didn't really deter me.  The Hinterland and its occupants were just that fascinating!

I think my biggest issue with The Hazel Wood was that the main characters felt a little flat and under-developed.  I've already mentioned that I didn't especially like Alice, but I also didn't feel like I really got to delve much into her character.  She clearly has some anger issues that she is dealing with, and while it gives her a little of that flawed, complex, realistic feel that I usually love in characters, I just didn't really feel the love for Alice. I shared in her desire to figure out what the heck was going on and to find her mother, who has mysteriously disappeared, but otherwise, I didn't feel like I connected with her much.  I found Ellery Finch a much more likeable character, probably because his fanboyish love of Tales from the Hinterland was so adorable, but I still don't really feel like I ever got to know much else about him.  I guess the book was meant to be more plot driven than character driven, but I still just like to get to know the characters even if that's the case.
One other issue, and this may just be me misreading the synopsis, but I went into the book with the idea that the entire book was going to basically be a giant twisted fairy tale, pure fantasy.  I was a little thrown when I started reading and it sounded like an ordinary contemporary novel set in New York. Even once we started getting glimpses of Hinterland characters, it still felt like magical realism rather than full-on fantasy until about the halfway point of the book.  I still enjoyed the read overall but was a little confused starting out since the story wasn't what I was expecting and what had initially drawn me to the story.

The Hazel Wood would make a great read for anyone who likes the idea of dark, twisted fairytales with a supernatural twist.  Some of them are a bit violent and bloody, so I'd probably also recommend this to more mature readers.  It's a dark and creepy ride that will keep you up late reading, and looking over your shoulder every time something goes bump in the night!

GOODREADS SYNOPSIS:

Seventeen-year-old Alice and her mother have spent most of Alice's life on the road, always a step ahead of the uncanny bad luck biting at their heels. But when Alice's grandmother, the reclusive author of a cult-classic book of pitch-dark fairy tales, dies alone on her estate, the Hazel Wood, Alice learns how bad her luck can really get: her mother is stolen away―by a figure who claims to come from the Hinterland, the cruel supernatural world where her grandmother's stories are set. Alice's only lead is the message her mother left behind: "Stay away from the Hazel Wood."

Alice has long steered clear of her grandmother's cultish fans. But now she has no choice but to ally with classmate Ellery Finch, a Hinterland superfan who may have his own reasons for wanting to help her. To retrieve her mother, Alice must venture first to the Hazel Wood, then into the world where her grandmother's tales began―and where she might find out how her own story went so wrong.
https://thebookishlibra.com/wp-content/uploads/2017/10/hazel-wood.jpg
1000
662
Suzanne
https://thebookishlibra.com/wp-content/uploads/2018/06/trimmed-Copy-of-Bookish-Logo-copy.png
Suzanne
2018-01-26 06:00:53
2018-01-25 20:46:43
Book Review: The Hazel Wood