Book Review: Crooked Kingdom by Leigh Bardugo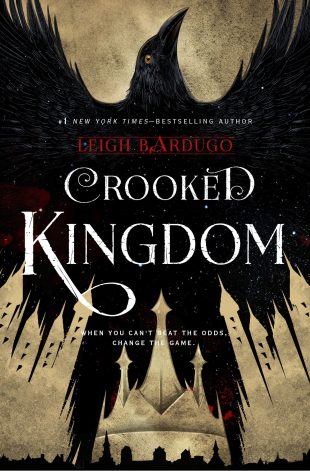 Crooked Kingdom
by
Leigh Bardugo
Also by this author:
Six of Crows (Six of Crows, #1)
,
Wonder Woman: Warbringer

Series:
Six of Crows #2
Published by
Henry Holt and Company
on September 20th 2016
Genres:
Fantasy
Pages:
546
Also in this series:
Six of Crows (Six of Crows, #1)
Source:
Purchased
Amazon
Goodreads
MY REVIEW:
Wow, what a book!  I honestly don't think I could have asked for a better series ender.  Crooked Kingdom is one of those books that not only lives up to all of the hype surrounding it, but it far exceeded my own super-high expectations for it.  As much as I loved Six of Crows, in many ways I enjoyed Crooked Kingdom even more.  I remember while reading the first book, it took me about 100 pages to really get invested in the characters and hooked on their story.  With Crooked Kingdom, I was hooked from page 1 and captivated by the story because the action picked up right where it left off in Six of Crows, where Wylan's nasty father, Van Eck, had kidnapped Inej, and Kaz and the team were plotting how to get her back.  Honestly, I fully expected the entire second book to focus on rescuing Inej, so I was thrilled as I was reading to see that it was so much more than that.
Hopefully, I'm not being too vague in the next section but I really don't want to do anything to spoil the series for anyone who hasn't yet started reading it.

What really took Crooked Kingdom to the next level for me was how it's a perfect balance between being plot driven and character driven.  Bardugo delivers an entertaining, action-packed storyline that is equal parts heist and revenge, but also combines it with an in-depth exploration of each of the members of Kaz's crew.  I remember raving about these wonderfully complex characters when I reviewed Six of Crows, and Bardugo takes us even deeper into the minds of each of them this time around.  Even as they are actively engaged in carrying out Kaz's plans, each member of the team is also taking their own personal journey, and in many cases, facing their own inner demons.  Going into this book, I thought I knew everything I needed to know about each of them, but I was so wrong.  The more Bardugo fleshes out each character and shows them fighting those personal demons, the more I fell in love with each of them, especially Jesper, Wylan, and Matthias, who all just experience so much growth in Crooked Kingdom.
I don't want to give away any details of what they all go through in Crooked Kingdom, but I will say that this read took me on an emotional roller coaster ride.  I laughed, I cried (tears of both joy and sadness), I truly feared for Inej's life on more than one occasion, and I got my heart ripped out in an unexpected plot twist late in the novel.  I honestly don't know that I've ever been more attached to a group of characters so I give Bardugo major props for all of those little details that made me so invested in all of them.
Not only did Bardugo make me fall in love with these characters, she even turned me into a hardcore shipper even though I'm usually anti-romance. I didn't even just ship one of the pairings; I shipped them all!  Nina and Matthias were my favorites just because they're such a wonderful combination of sweet and sassy. Every time Nina would say or do something that would make Matthias blush, it would just make me chuckle because they were so cute. I also thought the relationship between Inej and Kaz was fantastic, mainly because of all of the mystery surrounding it. Inej never quite knows where she stands with Kaz – is he attached to her only because she's useful to him, or does he feel something more for her?  These two badass characters are at their most vulnerable when they are together and I liked seeing past those tough exteriors to what lies beneath. And don't even get me started on Jesper and Wylan?  They definitely win the most precious couple ever award.  Love them!
I know it sounds like there's a lot going on with the heist/revenge storyline, the character explorations, and three potential romances, not to mention the story is told from each of their perspectives, but Bardugo does a brilliant job of weaving all of these elements together into an intricate yet easy-to-follow storyline that is incredibly compelling.

I can't think of a single issue or dislike.  It was pretty close to a perfect read for me.  I'm just sad that it's over because I'm not ready to say goodbye Kaz and his wonderful band of outcasts.

I can't recommend Six of Crows and Crooked Kingdom highly enough.  If you enjoy fabulously complex characters, anti-heroes, phenomenal world building, intricate plots, and romances that will make you smile, this is the series for you!

GOODREADS SYNOPSIS

After pulling off a seemingly impossible heist in the notorious Ice Court, criminal prodigy Kaz Brekker feels unstoppable. But life is about to take a dangerous turn—and with friends who are among the deadliest outcasts in Ketterdam city, Kaz is going to need more than luck to survive in this unforgiving underworld.
https://thebookishlibra.com/wp-content/uploads/2017/10/crooked-kingdom.jpg
2048
1348
Suzanne
https://thebookishlibra.com/wp-content/uploads/2018/06/trimmed-Copy-of-Bookish-Logo-copy.png
Suzanne
2017-10-13 06:29:15
2017-10-13 06:29:15
Book Review: Crooked Kingdom by Leigh Bardugo