My Top Ten Favorite Reads for the First Half of 2017
Top Ten Tuesday is a fun weekly meme hosted by The Broke and the Bookish. This week's topic is Top Ten Reads for the first half of 2017.  I had originally planned to do only 2017 releases but didn't really have enough favorites to make a top ten list.  Instead, I've chosen to just go with my favorite reads, regardless of when they were released so there's a mix of 2017, 2016, and even at least one 2015 book that I read and loved this year.
My Top 10 Favorite Reads for the First Half of 2017
1. THE HATE U GIVE by Angie Thomas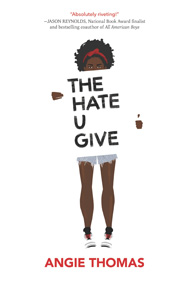 Why I Loved It:  I tend to measure how good a book is by how many emotions it makes me feel while I'm reading and The Hate U Give is off the charts in that respect.  It made me sad and brought me to tears several times, it made me frustrated and angry, and it even managed to make me smile and laugh a few times along the way as well. I also felt the love between Starr and her family, as well as the love that held her community together.  When I say it's a powerful read, that's what I'm talking about.  This book is just so real and honest and raw that you feel EVERYTHING the characters are going through.  (Read My Full Review…)
* * * * *
2. A CONJURING OF LIGHT by Victoria Schwab
Why I Loved It:  I just finished this book over the weekend and haven't even begun writing my review, but the fact that I stayed up until 1:00 a.m. Sunday night, even though I had to be up by 6:00 a.m. for work should tell you just how much I adored this book.  Everything about this series is amazing — the elaborate world building, the intricate system of magic, and my favorite part  – the complex relationship between the characters and the final book gave me exactly the ending I was looking for.  Schwab really outdid herself with this finale. (Review still to be written…)
* * * * *
3.  SAINTS AND MISFITS by S.K. Ali
Why I Loved It:  S.K. Ali's debut novel Saints and Misfits is a beautifully written coming of age book about family, friendship, love, religious faith, and so much more. It's also a book that focuses on the importance of not judging people, of not making assumptions about people you don't even know based on how they look or how they're dressed, or maybe even how religious or not religious they may seem.  Saints and Misfits tackles all of these important themes and allows us to explore them through the eyes of a hijabi teen, Janna Yusuf, as she navigates her way through life in her high school, at home, and in her Muslim community.  I adored so many of the characters in this book, but main character Janna was definitely my favorite.  I adored everything about her.  She's super smart, hilarious, a little bit snarky, and just an all-around likeable character, probably one of the most likeable characters I've read so far this year.  As if all of that wasn't cool enough, Janna is also a Flannery O'Connor loving book nerd! If I had gone to school with Janna, I totally would have wanted to be friends with her.  I also found her voice to be authentic and I loved seeing the events of the story unfold from her perspective.  Her journey to find herself and to ultimately decide what kind of person she wants to be is such a compelling one and it just made this book one I couldn't put down once I started reading. (Read My Full Review…)
* * * * *
4. SIX OF CROWS by Leigh Bardugo

Why I Loved It: What I loved most about Six of Crows are the characters.  Leigh Bardugo has crafted some of the most fascinating and unique characters I've come across in YA fantasy.  I always enjoy stories that feature an anti-hero and with Kaz and his "Crows," we have 6 anti-heroes! I love anti-heroes because they're always such complex characters and these characters are no different. What each of the Crows have in common is that they have no family and they've each had to do some pretty awful things in the name of survival, including resorting to thievery and murder.  Through flashbacks that give us backstory on each of the characters, however, Bardugo manages to make this gang of thugs so sympathetic that you can't help but fall in love with them.. (Read My Full Review…)
* * * * *
5. THE UPSIDE OF UNREQUITED by Becky Albertalli
Why I Loved It: Another book where the characters just captured my heart.  Becky Albertalli really has a gift for making adorable and relatable characters and Molly Peskin-Suso is no exception. I really loved Molly. In addition to being smart and funny, Molly also has anxiety issues and I found the inner monologue running through her head to be so relatable throughout the book.  I just loved the way Albertalli wrote Molly's voice and could empathize with all of Molly's insecurities.  If you've ever experienced anxiety or felt the fear of rejection, it's easy to understand where Molly is coming from and why she's so hesitant to put herself out there.  I also loved that even though Molly is somewhat overweight, she still has a great sense of style and a healthy self image. She isn't trying to starve herself to make herself more appealing to anyone.  Molly is who she is and makes no apologies for it.  When a boy at a party tells her she's "gorgeous for a big girl," Molly's very candid response is "F*** you." I mean, seriously, how can you not love this girl?  (Read My Full Review…)
* * * * *
6. SWIMMING LESSONS by Claire Fuller
Why I Loved It:  Swimming Lessons was a powerful and unique read for me.  There's a huge mystery that runs through the story with respect to Ingrid: 'Is she really dead or could she possibly be alive and off living a secret life unbeknownst to her husband and children?' Instead of being this huge dramatic event, however, it's written in such a subtle and elegant style that it wasn't this huge melodramatic event, more just the quiet reveal of a troubled family.  I also liked one of the book's central themes – that we all bring our own meaning to the books we read.  And in keeping with that theme, Swimming Lessons leaves the reader to interpret what really happened to Ingrid.  (Read My Full Review…)
* * * * *
7. THE INEXPLICABLE LOGIC OF MY LIFE by Benjamin Alire Saenz
Why I Loved It: Another book that I've just finished and haven't completed the review for.  I fell in love with this book because of its strong focus on family relationships and especially on the idea that being a family doesn't necessarily have anything to do with being related by blood.   Main character Sal has been raised all his life by his incredible adoptive dad – the kind of loving and supporting dad that every kid wants, that all of Sal's friends wish they had.  When Sal suddenly starts to have issues with anger and starts getting into fights at school, he starts to question who he is.  Where is this violence coming from?  Is he somehow more like his biological father who he has never even met than he is like the wonderful, gentle, nonviolent man who has raised him all his life?  The nature vs. nurture debate has always interested me, so I found Sal's journey very compelling.  (Review still to be written…)
* * * * *
8. THE FEMALE OF THE SPECIES by Mindy McGinnis
Why I Loved It: The main reason why I loved this book is  its fascinating main character, Alex Craft.  Alex has always had a dark side. She can feel the violence bubbling beneath the surface, just waiting to be unleashed.  For most of her life, she has been able to keep this dark side under control.  However, when her older sister Anna is sexually assaulted and murdered and the murderer goes free, the beast within Alex awakens and she takes matters into her own hands to get justice for her sister.  Alex gets away with her crime but feels like she could easily do the same thing again if she encounters another predator so she doesn't really trust herself to be around other people.  Because of this, she doesn't really make any friends at school and is mainly known by her classmates as "the girl with the dead sister." That is, until she unexpectedly becomes friends with Jack and Peekay, her first real friendships, and it suddenly becomes a lot harder to hide her true dark nature.  I loved the complexity of Alex's character.  On the one hand, she's a straight A student in line to be valedictorian of her class and she also volunteers at the local animal shelter and is super gentle with all of the animals that she cares for.  On the other hand, she's a stone cold vigilante who will go after anyone she views as a predator.  (Read My Full Review…)
* * * * *
9. UNDER ROSE-TAINTED SKIES by Louise Gornall
Why I Loved It: This is another book where a wonderfully drawn main character makes this a standout for me.  I really adored Norah.  She's smart and funny, incredibly resourceful when it comes to coping with her illness, and she's also much braver than she gives herself credit for being.  I found Norah so likeable that I immediately wanted to know more about her condition since agoraphobia is something that I know next to nothing about.  Being in Norah's head as she struggles through each day made the story especially powerful and gave me a much clearer picture of the illness and how truly crippling it can be.  Norah's frustration is palpable throughout, especially the fact that she is very much aware that most of her fears were irrational, but still can't stop their paralyzing effects.  By allowing us access to Norah's thoughts, Gornall paints an authentic and vivid portrait of agoraphobia and allows us to see beneath the surface of what is often considered an "invisible" illness.. (Read My Full Review…)
* * * * *
10. STALKING JACK THE RIPPER by Kerri Maniscalco
Why I Loved It:  Two words…Audrey Rose.  Maniscalco does a wonderful job of fleshing out her main character, Audrey Rose Wadsworth and making her seem so realistic.  She's fiercely independent, headstrong, and sassy as all get out, which makes her such a fun character to follow.  Even with the overriding creepy serial killer plot, Audrey Rose still managed to make me chuckle quite a few times throughout the novel.   You just never know what she is going to say at any given moment, but you can pretty much guarantee that it will be completely inappropriate based on society's expectations.  Speaking of society's expectations, Audrey Rose truly doesn't give a flip about those and instead is way ahead of her time and wants to pursue a career in forensic medicine.   When the novel opens, she is, much to her father's chagrin, working as an apprentice to her Uncle, who is an expert in the field. I kept thinking to myself "She's like a Victorian Era Maura Isles" (from the popular series Rizzoli and Isles).  (Read My Review…)
* * * * *
Question: What have been your favorite reads so far this year?
https://thebookishlibra.com/wp-content/uploads/2016/08/toptentuesday.png
864
1600
Suzanne
https://thebookishlibra.com/wp-content/uploads/2018/06/trimmed-Copy-of-Bookish-Logo-copy.png
Suzanne
2017-06-27 06:12:08
2017-06-27 06:12:08
My Top Ten Favorite Reads for the First Half of 2017