Book Review: One True Loves by Taylor Jenkins Reid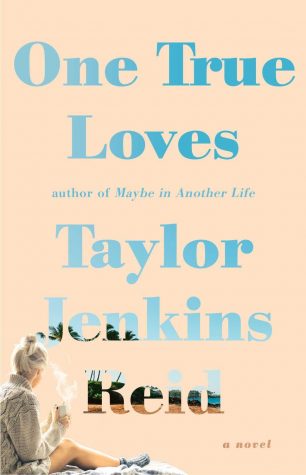 One True Loves
by
Taylor Jenkins Reid
Also by this author:
Daisy Jones & The Six
,
Carrie Soto Is Back

Published by
Washington Square Press
on June 7th 2016
Genres:
Contemporary Fiction
,
Chick Lit
Pages:
327
Source:
Library
Amazon
Goodreads
Goodreads Synopsis:  From the author of Maybe in Another Life—named a People Magazine pick and a "Best Book of the Summer" by Glamour and USA Today—comes a breathtaking new love story about a woman unexpectedly forced to choose between the husband she has long thought dead and the fiancé who has finally brought her back to life.
In her twenties, Emma Blair marries her high school sweetheart, Jesse. They build a life for themselves, far away from the expectations of their parents and the people of their hometown in Massachusetts. They travel the world together, living life to the fullest and seizing every opportunity for adventure.
On their first wedding anniversary, Jesse is on a helicopter over the Pacific when it goes missing. Just like that, Jesse is gone forever.
Emma quits her job and moves home in an effort to put her life back together. Years later, now in her thirties, Emma runs into an old friend, Sam, and finds herself falling in love again. When Emma and Sam get engaged, it feels like Emma's second chance at happiness.
That is, until Jesse is found. He's alive, and he's been trying all these years to come home to her. With a husband and a fiancé, Emma has to now figure out who she is and what she wants, while trying to protect the ones she loves.
Who is her one true love? What does it mean to love truly?
Emma knows she has to listen to her heart. She's just not sure what it's saying.
MY REVIEW
A book with a love triangle I actually enjoyed?  As much as I usually rage against them, I totally did not see that one coming, but in One True Loves the main character Emma finds herself at the center of what I'd consider to be a pretty realistic love triangle.  When her husband and high school sweetheart, Jesse, is lost at sea in a helicopter crash, Emma is devastated.  His body is never found and after months and months of hoping he'll return to her, Emma finally decides that she needs to face the fact that he's gone and move on with her life.  She moves back home and starts working in her parents' bookstore and runs into one of her good friends from high school, Sam.  Sam was in love with Emma in high school, and even after all these years, he still feels the same way so he asks her out.  They take things very slowly, because Sam really wants to make sure Emma has finished grieving for Jesse before they move forward as a couple.  Emma does fall in love with Sam and, over the next couple of years, starts to build a life with him.  They're in the midst of planning their wedding when Emma gets an unexpected phone call – it turns out Jesse is still alive and is on his way home to her.
The rest of the novel follows Emma as she tries to figure out what to do.  Does she break Sam's heart and go back to Jesse, who she always said was the love of her life?  Or does she break Jesse's heart and tell him that she has moved on without him? 
LIKES
It's truly an impossible situation to be in and what I enjoyed most about the book was how well Taylor Jenkins Reid captures all of the conflicting emotions that not only Emma is feeling, but also those of both Jesse and Sam.  Both men know how difficult this is for Emma, yet both of them are also completely devoted her to and want a future with her.  Sam even goes so far as to remove himself from the equation for a while to give Emma the space she needs to really think through what she wants.  If she's going to choose Sam, Sam wants it to be because she truly chooses him, not because she would feel too guilty to dump him and go back to her husband.
I also liked the way Reid structures the novel.  We start out in the present with Emma getting the phone call letting her know Jesse is still alive, but then we go back in time to when they were all in high school and watch Sam and Emma meet and become good friends, and we also watch Emma and Jesse meet and fall in love.  As we work our way back toward the present and see each of these relationships develop over time, it becomes all the more gut wrenching to think about having to choose between these two men because they're both so great and because both relationships are such healthy ones for Emma and she's truly happy and deeply in love with each of them.
DISLIKES
The only thing I didn't care for in One True Loves was that I thought the ending wrapped up a bit too quickly.  It was like once Emma made her choices, we hit fast forward and zoomed to the ending.  I was still happy with the ending; I just would have liked a little more.
FINAL THOUGHTS
Even with my issue about the ending feeling rushed, I still thought this was a wonderful read.  Being a married woman myself, I found it very easy to put myself in Emma's shoes and wonder how I would handle being put in the same situation that she found herself in.  That allowed me to get so absorbed in the story that I devoured the book in a day.  That said, I'd highly recommend One True Loves as a great vacation or beach read.  It's an engaging read that you won't want to put down until you find out who Emma chooses.
RATING:  4 STARS
https://thebookishlibra.com/wp-content/uploads/2017/06/one-true-loves-big.jpg
1500
966
Suzanne
https://thebookishlibra.com/wp-content/uploads/2018/06/trimmed-Copy-of-Bookish-Logo-copy.png
Suzanne
2017-06-26 06:19:30
2017-06-26 06:19:30
Book Review: One True Loves by Taylor Jenkins Reid