Top Ten Tuesday: Top 10 Books on my Spring TBR
Top Ten Tuesday is a fun weekly meme hosted by The Broke and the Bookish. This week's topic is  Top Ten Books on my Spring TBR.  This topic came along at just the right time because I've just been trying to decide which books I want to prioritize for spring reading.  Here's my tentative list, always subject to change since I'm such a mood reader.  These titles are a mix of 2017 releases that I either already have ARCs for or am just planning to read as soon as they release as well as titles that I'm hoping to knock out as part of the Beat the Backlist challenge I'm participating in this year.
Top Ten Books on My Spring TBR
1. DEFY THE STARS by Claudia Gray
Goodreads Synopsis: Noemi Vidal is a teen soldier from the planet Genesis, once a colony of Earth that's now at war for its independence. The humans of Genesis have fought Earth's robotic "mech" armies for decades with no end in sight.
After a surprise attack, Noemi finds herself stranded in space on an abandoned ship where she meets Abel, the most sophisticated mech prototype ever made. One who should be her enemy. But Abel's programming forces him to obey Noemi as his commander, which means he has to help her save Genesis–even though her plan to win the war will kill him.
Together they embark on a daring voyage through the galaxy. Before long, Noemi begins to realize Abel may be more than a machine, and, for his part, Abel's devotion to Noemi is no longer just a matter of programming.   (Read more…)
* * * * *
2. THE TWELVE LIVES OF SAMUEL HAWLEY by Hannah Tinti
Goodreads Synopsis: A father protects his daughter from the legacy of his past and the truth about her mother's death in this thrilling new novel from the prize-winning author of The Good Thief.
After years spent living on the run, Samuel Hawley moves with his teenage daughter, Loo, to Olympus, Massachusetts. There, in his late wife's hometown, Hawley finds work as a fisherman, while Loo struggles to fit in at school and grows curious about her mother's mysterious death. Haunting them both are twelve scars Hawley carries on his body, from twelve bullets in his criminal past; a past that eventually spills over into his daughter's present, until together they must face a reckoning yet to come. This father-daughter epic weaves back and forth through time and across America, from Alaska to the Adirondacks.
Both a coming-of-age novel and a literary thriller, The Twelve Lives of Samuel Hawley explores what it means to be a hero, and the cost we pay to protect the people we love most.  (Read more…)
* * * * *
3. THE UPSIDE OF UNREQUITED by Becky Albertalli
Goodreads Synopsis:  Seventeen-year-old Molly Peskin-Suso knows all about unrequited love. No matter how many times her twin sister, Cassie, tells her to woman up, Molly can't stomach the idea of rejection. So she's careful. Fat girls always have to be careful.
Then a cute new girl enters Cassie's orbit, and for the first time ever, Molly's cynical twin is a lovesick mess. Meanwhile, Molly's totally not dying of loneliness—except for the part where she is. Luckily, Cassie's new girlfriend comes with a cute hipster-boy sidekick. If Molly can win him over, she'll get her first kiss and she'll get her twin back.
There's only one problem: Molly's coworker, Reid. He's a chubby Tolkien superfan with a season pass to the Ren Faire, and there's absolutely no way Molly could fall for him.
Right?   (Read more…)
* * * * *
4. THE NAMES THEY GAVE US by Emery Lord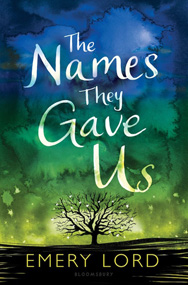 Goodreads Synopsis:  Lucy Hansson was ready for a perfect summer with her boyfriend, working at her childhood Bible camp on the lake. But when her mom's cancer reappears, Lucy falters—in faith, in love, and in her ability to cope. When her boyfriend "pauses" their relationship and her summer job switches to a different camp—one for troubled kids—Lucy isn't sure how much more she can handle. Attempting to accept a new normal, Lucy slowly regains footing among her vibrant, diverse coworkers, Sundays with her mom, and a crush on a fellow counselor. But when long-hidden family secrets emerge, can Lucy set aside her problems and discover what grace really means?  (Read more…)
* * * * *
5. WE ARE OKAY by Nina LaCour
Goodreads Synopsis: You go through life thinking there's so much you need…
Until you leave with only your phone, your wallet, and a picture of your mother.
Marin hasn't spoken to anyone from her old life since the day she left everything behind. No one knows the truth about those final weeks. Not even her best friend, Mabel. But even thousands of miles away from the California coast, at college in New York, Marin still feels the pull of the life and tragedy she's tried to outrun. Now, months later, alone in an emptied dorm for winter break, Marin waits. Mabel is coming to visit, and Marin will be forced to face everything that's been left unsaid and finally confront the loneliness that has made a home in her heart.  (Read more…)
* * * * *
6. UNDER ROSE-TAINTED SKIES by Louise Gornall
Goodsreads Synopsis:  At seventeen, Norah has accepted that the four walls of her house delineate her life. She knows that fearing everything from inland tsunamis to odd numbers is irrational, but her mind insists the world outside is too big, too dangerous. So she stays safe inside, watching others' lives through her windows and social media feed.
But when Luke arrives on her doorstep, he doesn't see a girl defined by medical terms and mental health. Instead, he sees a girl who is funny, smart, and brave. And Norah likes what he sees.
Their friendship turns deeper, but Norah knows Luke deserves a normal girl. One who can walk beneath the open sky. One who is unafraid of kissing. One who isn't so screwed up. Can she let him go for his own good—or can Norah learn to see herself through Luke's eyes? (Read more…)
* * * * *
7. SIX OF CROWS by Leigh Bardugo
Goodreads Synopsis:  Criminal prodigy Kaz Brekker has been offered wealth beyond his wildest dreams. But to claim it, he'll have to pull off a seemingly impossible heist:
Break into the notorious Ice Court
(a military stronghold that has never been breached)
Retrieve a hostage
(who could unleash magical havoc on the world)
Survive long enough to collect his reward
(and spend it)
Kaz needs a crew desperate enough to take on this suicide mission and dangerous enough to get the job done – and he knows exactly who: six of the deadliest outcasts the city has to offer. Together, they just might be unstoppable – if they don't kill each other first.  (Read more…)
* * * * *
8. A SHADOW BRIGHT AND BURNING BY JESSICA CLUESS
Goodreads Synopsis:  I am Henrietta Howel. The first female sorcerer. The prophesied one. Or am I?
Henrietta Howel can burst into flames. When she is brought to London to train with Her Majesty's sorcerers, she meets her fellow sorcerer trainees, young men eager to test her powers and her heart. One will challenge her. One will fight for her. One will betray her. As Henrietta discovers the secrets hiding behind the glamour of sorcerer life, she begins to doubt that she's the true prophesied one. With battle looming, how much will she risk to save the city–and the one she loves? (Read more…)
* * * * *
9. JELLICOE ROAD by Melina Marchetta
Goodreads Synopsis:  I'm dreaming of the boy in the tree. I tell him stories. About the Jellicoe School and the Townies and the Cadets from a school in Sydney. I tell him about the war between us for territory. And I tell him about Hannah, who lives in the unfinished house by the river. Hannah, who is too young to be hiding away from the world. Hannah, who found me on the Jellicoe Road six years ago.
Taylor is leader of the boarders at the Jellicoe School. She has to keep the upper hand in the territory wars and deal with Jonah Griggs – the enigmatic leader of the cadets, and someone she thought she would never see again.
And now Hannah, the person Taylor had come to rely on, has disappeared. Taylor's only clue is a manuscript about five kids who lived in Jellicoe eighteen years ago. She needs to find out more, but this means confronting her own story, making sense of her strange, recurring dream, and finding her mother – who abandoned her on the Jellicoe Road.
The moving, joyous and brilliantly compelling new novel from the best-selling, multi-award-winning author of Looking for Alibrandi and Saving Francesca. (Read more…)
* * * * *
10. THE RAVEN BOYS by Maggie Stiefvater
Goodreads Synopsis:  "There are only two reasons a non-seer would see a spirit on St. Mark's Eve," Neeve said. "Either you're his true love . . . or you killed him."
It is freezing in the churchyard, even before the dead arrive.
Every year, Blue Sargent stands next to her clairvoyant mother as the soon-to-be dead walk past. Blue herself never sees them—not until this year, when a boy emerges from the dark and speaks directly to her.
His name is Gansey, and Blue soon discovers that he is a rich student at Aglionby, the local private school. Blue has a policy of staying away from Aglionby boys. Known as Raven Boys, they can only mean trouble.
But Blue is drawn to Gansey, in a way she can't entirely explain. He has it all—family money, good looks, devoted friends—but he's looking for much more than that. He is on a quest that has encompassed three other Raven Boys: Adam, the scholarship student who resents all the privilege around him; Ronan, the fierce soul who ranges from anger to despair; and Noah, the taciturn watcher of the four, who notices many things but says very little.
For as long as she can remember, Blue has been warned that she will cause her true love to die. She never thought this would be a problem. But now, as her life becomes caught up in the strange and sinister world of the Raven Boys, she's not so sure anymore.
From Maggie Stiefvater, the bestselling and acclaimed author of the Shiver trilogy and The Scorpio Races, comes a spellbinding new series where the inevitability of death and the nature of love lead us to a place we've never been before. (Read more…)
* * * * *
Question:  What books are you planning to read this Spring?
https://thebookishlibra.com/wp-content/uploads/2016/08/toptentuesday.png
864
1600
Suzanne
https://thebookishlibra.com/wp-content/uploads/2018/06/trimmed-Copy-of-Bookish-Logo-copy.png
Suzanne
2017-03-14 06:39:05
2017-03-14 06:39:05
Top Ten Tuesday: Top 10 Books on my Spring TBR