Top 10 Books that have been on my TBR pile for way too long
Top Ten Tuesday is a fun weekly meme hosted by The Broke and the Bookish. This week's topic is Ten Books That Have Been On Your Shelf (Or TBR) From Before You Started Blogging That You STILL Haven't Read Yet.
Oh boy, this one is embarrassing.  Not that I have been blogging for all that long, but I will confess now that some of these books have been in my TBR pile for a LONG time.  I'm talking years!  I actually keep looking at a few of them thinking I should just ditch them and thin out the TBR, but they have such great reviews that I don't want to miss out.  I don't really even have a good excuse as to why I haven't tackled them yet except that I keep getting distracted by newer purchases and these just keep getting shifted further and further down the pile.
Now, on to my list…
Ten Books That Have Been On My Shelf (Or TBR) From Before I Started Blogging That I STILL Haven't Read Yet
1. Shiver (The Wolves of Mercy Hall #1) by Maggie Stiefvater
Goodreads Synopsis:  For years, Grace has watched the wolves in the woods behind her house. One yellow-eyed wolf—her wolf—is a chilling presence she can't seem to live without.  Meanwhile, Sam has lived two lives: In winter, the frozen woods, the protection of the pack, and the silent company of a fearless girl. In summer, a few precious months of being human… until the cold makes him shift back again.  Now, Grace meets a yellow-eyed boy whose familiarity takes her breath away. It's her wolf. It has to be. But as winter nears, Sam must fight to stay human—or risk losing himself, and Grace, forever.  (Read more…)
* * * * *
2. A Storm of Swords (A Song of Ice and Fire #3) by George R. R. Martin
Goodreads Synopsis:  Of the five contenders for power, one is dead, another in disfavor, and still the wars rage as violently as ever, as alliances are made and broken. Joffrey, of House Lannister, sits on the Iron Throne, the uneasy ruler of the land of the Seven Kingdoms. His most bitter rival, Lord Stannis, stands defeated and disgraced, the victim of the jealous sorceress who holds him in her evil thrall. But young Robb, of House Stark, still rules the North from the fortress of Riverrun. Robb plots against his despised Lannister enemies, even as they hold his sister hostage at King's Landing, the seat of the Iron Throne. Meanwhile, making her way across a blood-drenched continent is the exiled queen, Daenerys, mistress of the only three dragons still left in the world. . . .
But as opposing forces maneuver for the final titanic showdown, an army of barbaric wildlings arrives from the outermost line of civilization. In their vanguard is a horde of mythical Others–a supernatural army of the living dead whose animated corpses are unstoppable. As the future of the land hangs in the balance, no one will rest until the Seven Kingdoms have exploded in a veritable storm of swords.  (Read more…)
* * * * *
3. IQ84 by Haruki Murakami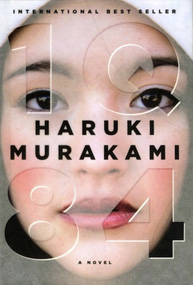 Goodreads Synopsis:  The year is 1984 and the city is Tokyo.  A young woman named Aomame follows a taxi driver's enigmatic suggestion and begins to notice puzzling discrepancies in the world around her. She has entered, she realizes, a parallel existence, which she calls 1Q84 —"Q is for 'question mark.' A world that bears a question." Meanwhile, an aspiring writer named Tengo takes on a suspect ghostwriting project. He becomes so wrapped up with the work and its unusual author that, soon, his previously placid life begins to come unraveled.  As Aomame's and Tengo's narratives converge over the course of this single year, we learn of the profound and tangled connections that bind them ever closer: a beautiful, dyslexic teenage girl with a unique vision; a mysterious religious cult that instigated a shoot-out with the metropolitan police; a reclusive, wealthy dowager who runs a shelter for abused women; a hideously ugly private investigator; a mild-mannered yet ruthlessly efficient bodyguard; and a peculiarly insistent television-fee collector.
A love story, a mystery, a fantasy, a novel of self-discovery, a dystopia to rival George Orwell's — 1Q84 is Haruki Murakami's most ambitious undertaking yet: an instant best seller in his native Japan, and a tremendous feat of imagination from one of our most revered contemporary writers.  (Read more…)
* * * * *
4. The Orphan Master's Son by Adam Johnson
Goodreads Synopsis:  An epic novel and a thrilling literary discovery, The Orphan Master's Son follows a young man's journey through the icy waters, dark tunnels, and eerie spy chambers of the world's most mysterious dictatorship, North Korea.  Pak Jun Do is the haunted son of a lost mother—a singer "stolen" to Pyongyang—and an influential father who runs Long Tomorrows, a work camp for orphans. There the boy is given his first taste of power, picking which orphans eat first and which will be lent out for manual labor. Recognized for his loyalty and keen instincts, Jun Do comes to the attention of superiors in the state, rises in the ranks, and starts on a road from which there will be no return.  Considering himself "a humble citizen of the greatest nation in the world," Jun Do becomes a professional kidnapper who must navigate the shifting rules, arbitrary violence, and baffling demands of his Korean overlords in order to stay alive. Driven to the absolute limit of what any human being could endure, he boldly takes on the treacherous role of rival to Kim Jong Il in an attempt to save the woman he loves, Sun Moon, a legendary actress "so pure, she didn't know what starving people looked like."
Part breathless thriller, part story of innocence lost, part story of romantic love, The Orphan Master's Son is also a riveting portrait of a world heretofore hidden from view: a North Korea rife with hunger, corruption, and casual cruelty but also camaraderie, stolen moments of beauty, and love. A towering literary achievement, The Orphan Master's Son ushers Adam Johnson into the small group of today's greatest writers.   (Read more…)
* * * * *
5. American Gods by Neil Gaiman
Goodreads Synopsis:  Shadow is a man with a past. But now he wants nothing more than to live a quiet life with his wife and stay out of trouble. Until he learns that she's been killed in a terrible accident.  Flying home for the funeral, as a violent storm rocks the plane, a strange man in the seat next to him introduces himself. The man calls himself Mr. Wednesday, and he knows more about Shadow than is possible.  He warns Shadow that a far bigger storm is coming. And from that moment on, nothing will ever be the same. (Read more…)
* * * * *
6. The Giver by Lois Lowry

Goodreads Synopsis:  The Giver, the 1994 Newbery Medal winner, has become one of the most influential novels of our time. The haunting story centers on twelve-year-old Jonas, who lives in a seemingly ideal, if colorless, world of conformity and contentment. Not until he is given his life assignment as the Receiver of Memory does he begin to understand the dark, complex secrets behind his fragile community.  (Read more…)
* * * * *
7. Everything I Never Told You by Celeste Ng
Goodreads Synopsis:  "Lydia is dead. But they don't know this yet." So begins this exquisite novel about a Chinese American family living in 1970s small-town Ohio. Lydia is the favorite child of Marilyn and James Lee, and her parents are determined that she will fulfill the dreams they were unable to pursue. But when Lydia's body is found in the local lake, the delicate balancing act that has been keeping the Lee family together is destroyed, tumbling them into chaos. A profoundly moving story of family, drama, and longing, Everything I Never Told You is both a gripping page-turner and a sensitive family portrait, uncovering the ways in which mothers and daughters, fathers and sons, and husbands and wives struggle, all their lives, to understand one another.  (Read more…)
* * * * *
8. A Heartbreaking Work of Staggering Genius by Dave Eggers
Goodreads Synopsis: A Heartbreaking Work of Staggering Genius is the moving memoir of a college senior who, in the space of five weeks, loses both of his parents to cancer and inherits his eight-year-old brother. Here is an exhilarating debut that manages to be simultaneously hilarious and wildly inventive as well as a deeply heartfelt story of the love that holds a family together.  (Read more…)
* * * * *
9. The Paris Wife by Paula McLain
Goodreads Synopsis:  Chicago, 1920: Hadley Richardson is a quiet twenty-eight-year-old who has all but given up on love and happiness—until she meets Ernest Hemingway and her life changes forever. Following a whirlwind courtship and wedding, the pair set sail for Paris, where they become the golden couple in a lively and volatile group—the fabled "Lost Generation"—that includes Gertrude Stein, Ezra Pound, and F. Scott and Zelda Fitzgerald.  Though deeply in love, the Hemingways are ill-prepared for the hard-drinking and fast-living life of Jazz Age Paris, which hardly values traditional notions of family and monogamy. Surrounded by beautiful women and competing egos, Ernest struggles to find the voice that will earn him a place in history, pouring all the richness and intensity of his life with Hadley and their circle of friends into the novel that will become The Sun Also Rises. Hadley, meanwhile, strives to hold on to her sense of self as the demands of life with Ernest grow costly and her roles as wife, friend, and muse become more challenging. Despite their extraordinary bond, they eventually find themselves facing the ultimate crisis of their marriage—a deception that will lead to the unraveling of everything they've fought so hard for.
A heartbreaking portrayal of love and torn loyalty, The Paris Wife is all the more poignant because we know that, in the end, Hemingway wrote that he would rather have died than fallen in love with anyone but Hadley.   (Read more…)
* * * * *
10. Middlesex by Jeffrey Eugenides
Goodreads Synopsis: "I was born twice: first, as a baby girl, on a remarkably smogless Detroit day of January 1960; and then again, as a teenage boy, in an emergency room near Petoskey, Michigan, in August of l974. . . My birth certificate lists my name as Calliope Helen Stephanides. My most recent driver's license…records my first name simply as Cal."  So begins the breathtaking story of Calliope Stephanides and three generations of the Greek-American Stephanides family who travel from a tiny village overlooking Mount Olympus in Asia Minor to Prohibition-era Detroit, witnessing its glory days as the Motor City, and the race riots of l967, before they move out to the tree-lined streets of suburban Grosse Pointe, Michigan. To understand why Calliope is not like other girls, she has to uncover a guilty family secret and the astonishing genetic history that turns Callie into Cal, one of the most audacious and wondrous narrators in contemporary fiction. Lyrical and thrilling, Middlesex is an exhilarating reinvention of the American epic.  (Read more…)
* * * * * *
Question:  Have you read any of these aging titles in my TBR pile?  Are they worth hanging on to or should I purge the pile?  And what books have been in your TBR pile for way too long?    I'd love to hear from you 🙂
https://thebookishlibra.com/wp-content/uploads/2016/08/toptentuesday.png
864
1600
Suzanne
https://thebookishlibra.com/wp-content/uploads/2018/06/trimmed-Copy-of-Bookish-Logo-copy.png
Suzanne
2016-08-23 06:01:32
2016-08-23 06:01:32
Top 10 Books that have been on my TBR pile for way too long