"Waiting On" Wednesday is a weekly event, hosted at Breaking the Spine, which encourages fellow bloggers to spotlight upcoming releases that we're excited about.  It is a meme that I have  loved participating in for over a year now, but as Jill is no longer actively posting, from now on I'll just be linking to Can't Wait Wednesday, hosted by Tressa, which is a spinoff of the original WoW meme.
* * * * *
My selection for this week is The Ruin of Kings by Jenn Lyons.  There are demons, dragons, prophecies, and a long-lost prince who realizes being a prince isn't all that because his new family is the absolute worst?  Yes, please!
THE RUIN OF KINGS by Jenn Lyons
Publication Date:  February 5, 2019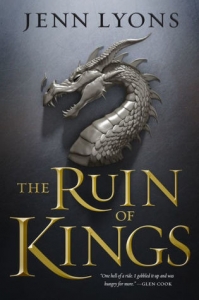 From Goodreads
There are the old stories. And then there's what actually happens.
Kihrin is a bastard orphan who grew upon storybook tales of long-lost princes and grand quests. When he is claimed against his will as the long-lost son of a treasonous prince, Kihrin finds that being a long-lost prince isn't what the storybooks promised.
Far from living the dream, Kihrin finds himself practically a prisoner, at the mercy of his new family's power plays and ambitions. He also discovers that the storybooks have lied about a lot of other things things, too: dragons, demons, gods, prophecies, true love, and how the hero always wins.
Then again, maybe he's not the hero, for Kihrin isn't destined to save the empire.
He's destined to destroy it . . .
Uniting the worldbuilding of a Brandon Sanderson with the storytelling verve of a Patrick Rothfuss, debut author Jenn Lyons delivers an entirely new and captivating fantasy epic. Prepare to meet the genre's next star.
 * * * * *
I'd love to hear what upcoming book releases you're waiting on this Wednesday? Leave me your link in the comments below and I'll stop by and check out your CWW selection for this week. 🙂
https://thebookishlibra.com/wp-content/uploads/2018/09/ruin-of-kings.jpg
1200
795
Suzanne
https://thebookishlibra.com/wp-content/uploads/2018/06/trimmed-Copy-of-Bookish-Logo-copy.png
Suzanne
2018-09-19 05:30:13
2018-09-18 21:19:21
Can't Wait Wednesday - THE RUIN OF KINGS by Jenn Lyons
Top Ten Tuesday was created by The Broke and the Bookish in June of 2010 and was moved to That Artsy Reader Girl in January 2018. It was born of a love of lists, a love of books, and a desire to bring bookish friends together.  Top Ten Tuesday has been one of my favorite memes ever since I started blogging, so huge thanks to Jana for taking over the hosting duties!
This week's TTT topic is Books On My Fall 2018 TBR.  As you'll be able to tell from my list, one of my main goals this fall is to keep up with all of the series that I'm currently reading.  Nearly all of my favorite series have new installments coming out in the next few weeks and I'm determined not to fall behind on them.  In addition to series reading, I also have some anticipated 2018 reads such as Seafire, Sadie, Circe, and Spinning Silver that I haven't made time for yet but that I'm determined to get to before the end of 2018.
* * * * *
Top 10 Books I'm Planning to Read This Fall
1. MUSE OF NIGHTMARES by Laini Taylor
* * * * *
2. WILDCARD by Marie Lu
* * * * *
3.  THE LADY'S GUIDE TO PETTICOATS AND PIRACY by Mackenzi Lee
* * * * *
4. ESCAPING FROM HOUDINI by Kerri Maniscalco
* * * * *
5. VENGEFUL by V.E. Schwab
* * * * *
6. SEAFIRE by Natalie C. Parker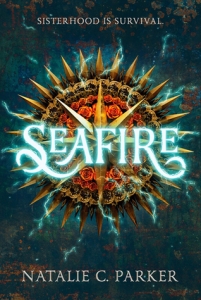 * * * * *
7. SADIE by Courtney Summers
8. CIRCE by Madeline Miller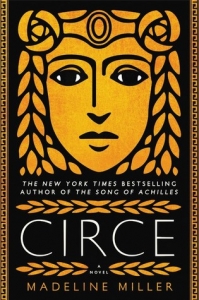 9. SPINNING SILVER by Naomi Novik
10. THE CLOCKMAKER'S DAUGHTER by Kate Morton
Question:  What books are you planning to read this fall?  Are any of my titles on your list?
https://thebookishlibra.com/wp-content/uploads/2018/01/TTT-Big2.png
203
500
Suzanne
https://thebookishlibra.com/wp-content/uploads/2018/06/trimmed-Copy-of-Bookish-Logo-copy.png
Suzanne
2018-09-18 05:45:11
2018-09-17 20:58:34
Top Ten Tuesday - Top 10 Books I'm Planning to Read This Fall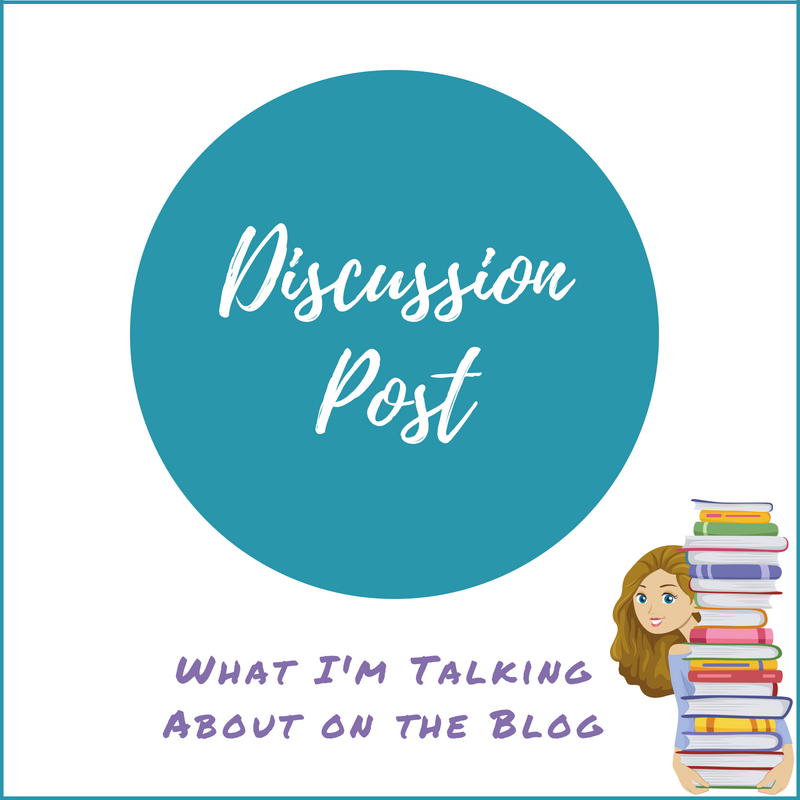 I used to think that audiobooks were just not for me.  I had tried them several times over the years but each time came away disappointed.  My number one complaint was that I constantly found myself losing track of what I was listening to and having to backtrack to figure out the last thing I remembered listening to.
This year, however, I made it my mission to give audiobooks another try, especially since as a blogger, I'm reading so many more books than I used to and would love to be able to enjoy the potential for multitasking that audiobooks provide.
Guess what I learned?  I LOVE THEM!
So, why the change of heart?  What did I do differently this time that I had never tried before?
Well, what I realized was that it wasn't an audiobook problem, it was a ME problem.  See, I had been trying to listen to them while I was at work, to help pass the time.  The problem?  Every time I was trying to concentrate on a job-related task, I would almost unconsciously stop listening to the book.  And since my job primarily involves proofreading, I was ALWAYS concentrating on job related tasks.  It was just dumb of me to even think that listening to audiobooks in that environment was a good idea.
So, how did I discover that audiobooks are actually fabulous if you're audiobooking (Is that a word? It is now!) the correct way?
I realized that while they may not work all that well while doing job-related tasks, audiobooks make mindless household chores like folding and putting away laundry so much more tolerable. They are actually a Godsend in this particular area.  I still hate doing chores, mind you, but getting lost in fiction while doing them helps so much.
I learned that audiobooks are a fabulous way to pass the time while exercising. Maybe not with strenuous exercise, I'm not sure, but I'm a walker and for me, the worst part about walking is that it can be lonely and boring, especially since I have to walk for so long to burn a significant number of calories.  Listening to an audiobook while I'm racking up the miles really helps to make that time so much more enjoyable.
I also discovered audiobooks can make a long commute to work or school go by so much quicker. I had never tried this before because my usual commute is less than 15 minutes.  This year, however, I have had to make several trips to some of my company's other offices and those commutes have been well over an hour in each direction.  I ran the audiobook through the Bluetooth in the car and it made the long drive so much more enjoyable.
I always tend to have trouble falling asleep at night. That's the time when my brain seems to decide to run through any and all things I'm currently stressing about and then I end up too keyed up to sleep.  I've been finding it very helpful to have an audiobook handy for bedtime as well.  I start listening while I'm getting ready for bed, putting my PJs on, etc. and then I just get into bed and keep listening.  It soothes and relaxes me to the point where I usually fall asleep while listening.  So yes, there is some backtracking involved in the morning to find my place again, but that's so much more preferable to tossing and turning and stressing out half the night.
This is probably also another dumb ME thing, but I learned you can now change the speed of your audiobook narration. When I first started listening to audiobooks back in the day, another initial audiobook complaint of mine was that the narration was always so slow.  I found myself sitting there like 'OMG, read it faster, please!"
Most of the audiobooks I was initially listening to back then were CDs from the library, but now with the mp3 audio files you can download from the library, there are options to speed up the narration.  Best thing ever!  I use 1.25x and it's the perfect speed for me.  Fast enough to move things along but not so fast that I can't keep up.  Love it!
Lastly, I realized that not all genres work well for me on audiobook so I just needed to find out which ones worked the best. What I discovered was that fantasy doesn't work all that well on audio for me.  There's something about the worldbuilding and sometimes the unique character names, etc. that I feel like I need the actual print book in hand to keep track of everything.  Again, another ME thing.  Man, there are lots of those, aren't there?  LOL!  Anyway, while fantasies didn't work well at all for me, contemporaries work beautifully!  I can breeze right through those on audio and don't feel like I need the print book to refer back to.  I guess maybe it's the familiarity that goes along with contemporaries since they're set in our time, etc., but they are just such a great fit for me on audio.
So, there you have it.  Several reasons to consider giving audiobooks a second look even if you've rejected them in the past.
Question:  Have you tried audiobooks?  If so, what has been your experience with them?
https://thebookishlibra.com/wp-content/uploads/2018/07/Discussion-Post.png
800
800
Suzanne
https://thebookishlibra.com/wp-content/uploads/2018/06/trimmed-Copy-of-Bookish-Logo-copy.png
Suzanne
2018-09-17 06:00:18
2018-09-16 23:04:18
Discussion: Why You Should Give Audiobooks Another Chance Even If You Think You Dislike Them