"Waiting On" Wednesday is a weekly event, hosted at Breaking the Spine, which encourages fellow bloggers to spotlight upcoming releases that we're excited about.  It is a meme that I have  loved participating in since I first started blogging, but as Jill is no longer actively posting, from now on I'll be linking to Can't Wait Wednesday, hosted by Tressa at Wishful Endings, which is a spinoff of the original WoW meme.
* * * * *
My selection for this week is DELILAH GREEN DOESN'T CARE by Ashley Herring Blake.  This is another book that is pretty far out in terms of publication date, but I'm such  a huge fan of this author's YA contemporary novels. She creates some of the most wonderful and unforgettable characters and her stories are always so moving.  I'm very excited to see how she does with a rom-com. 🙂
DELILAH GREEN DOESN'T CARE by Ashley Herring Blake
Publication Date:  February 22, 2022 by Berkley
From Goodreads:
A clever and steamy queer romantic comedy about taking chances and accepting love—with all its complications—by debut author Ashley Herring Blake.
Delilah Green swore she would never go back to Bright Falls—nothing is there for her but memories of a lonely childhood where she was little more than a burden to her cold and distant stepfamily. Her life is in New York, with her photography career finally gaining steam and her bed never empty. Sure, it's a different woman every night, but that's just fine with her.
When Delilah's estranged stepsister, Astrid, pressures her into photographing her wedding with a guilt trip and a five-figure check, Delilah finds herself back in the godforsaken town that she used to call home. She plans to breeze in and out, but then she sees Claire Sutherland, one of Astrid's stuck-up besties, and decides that maybe there's some fun (and a little retribution) to be had in Bright Falls, after all.
Having raised her eleven-year-old daughter mostly on her own while dealing with her unreliable ex and running a bookstore, Claire Sutherland depends upon a life without surprises. And Delilah Green is an unwelcome surprise…at first. Though they've known each other for years, they don't really know each other—so Claire is unsettled when Delilah figures out exactly what buttons to push. When they're forced together during a gauntlet of wedding preparations—including a plot to save Astrid from her horrible fiancé—Claire isn't sure she has the strength to resist Delilah's charms. Even worse, she's starting to think she doesn't want to…
* * * * *
I'd love to hear what upcoming book releases you're waiting on this Wednesday? Leave me your link in the comments below and I'll stop by and check out your CWW selection for this week. 🙂
https://thebookishlibra.com/wp-content/uploads/2021/08/delilah-lg.jpg
1024
683
Suzanne
https://thebookishlibra.com/wp-content/uploads/2018/06/trimmed-Copy-of-Bookish-Logo-copy.png
Suzanne
2021-08-04 05:35:14
2021-08-02 19:05:41
Can't Wait Wednesday – DELILAH GREEN DOESN'T CARE by Ashley Herring Blake
Top Ten Tuesday was created by The Broke and the Bookish in June of 2010 and was moved to That Artsy Reader Girl in January 2018. It was born of a love of lists, a love of books, and a desire to bring bookish friends together.  Top Ten Tuesday has been one of my favorite memes ever since I started blogging, so huge thanks to Jana for taking over the hosting duties!
This week's TTT topic is actually supposed to be Titles or Covers That Made Me Want to Read/Buy the Book.  I decided to focus on covers, mainly because I'm a sucker for a cool cover and because they are usually what first catches my attention and makes me interested in learning more about a book.  As you can see from my selection, I'm very drawn to flowers, rich and vibrant colors, and to black and white covers with pops of red.
10 Books I Wanted to Read Initially Because of Cover Love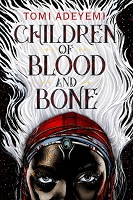 1. CHILDREN OF BLOOD AND BONE by Tomi Adeyemi
2.  THE HOUSE IN THE CERULEAN SEA by T.J. Klune
3.  EMPIRE OF THE VAMPIRE by Jay Kristoff (This book hasn't come out yet but I preordered as soon as I saw the cover.)
4.  THE LOST APOTHECARY by Sarah Penner
6. RED WINTER by Annette Marie
7.  GODS OF JADE AND SHADOW by Silvia Moreno-Garcia
8.  A SHADOW BRIGHT AND BURNING by Jessica Cluess
9. THE TEN THOUSAND DOORS OF JANUARY by Alix E. Harrow
10. THE ONCE AND FUTURE WITCHES by Alix E. Harrow
* * * * * *
Question:  Have you read any of these? What kind of covers draw your attention?
https://thebookishlibra.com/wp-content/uploads/2018/01/TTT-Big2.png
203
500
Suzanne
https://thebookishlibra.com/wp-content/uploads/2018/06/trimmed-Copy-of-Bookish-Logo-copy.png
Suzanne
2021-08-03 05:35:02
2021-08-03 05:45:27
Top Ten Tuesday – 10 Books I Initially Wanted to Read Because of Cover Love
Happy Monday all!  After delving into a few thrillers last week, I found myself running back to the rom-coms this week for some lighter, more upbeat reads.  I had a lot of fun with all three of the books I'm sharing with you today.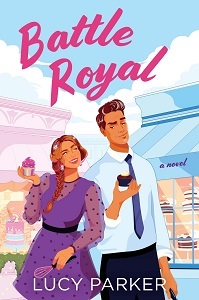 Battle Royal (Palace Insiders, #1)
Goodreads
Author: Lucy Parker
Publication Date: August 17, 2021
Publisher:  Avon
FTC Disclosure: I received a complimentary copy of this book from Netgalley.  All opinions are my own.
Lucy Parker's new romantic comedy Battle Royal became a must-read for me as soon as I learned that it features a reality TV baking show and two rival bakers who truly cannot stand one another.  Not only are these rivals forced to serve as judges together, but there is also a battle royal where the two rivals go head-to-head as they each try to win a once-in-a-lifetime opportunity to design and bake a cake for a royal wedding.   This sounded like the perfect recipe (pardon the pun) for entertainment and Lucy Parker sure delivers!
I loved the main character Sylvie Fairchild from the moment she's introduced.  She is a charming ray of sunshine and her shining personality comes through in every whimsical, often glittery, creation that she bakes in her shop, Sugar Fair.  Four years ago, she appeared on her way to victory on the reality TV show, Operation Cake, until the famous (and sexy) pastry chef, Dominic De Vere, voted her off the show and pronounced her as lacking in talent and relying on gimmicks.  When Sylvie is offered the opportunity to serve as a judge on the same show, she reluctantly agrees to do it even though it means she'll have to deal with Dominic again.
In addition to serving as a judge on the reality show, Dominic also owns a well-respected bakery that is often used by businesses in the area and even by the palace at times. Sylvie snarks that everything Dominic bakes is beige and colorless, just like his personality.
I loved the tension between Sylvie and Dominic as the sparks flew between them.  It became clear pretty quickly that what they were feeling for each other wasn't hate at all and it was very entertaining to watch their relationship grow and evolve, especially as they each vie for the contract to bake the royal wedding cake. It also becomes clear that they have more in common than they ever realized, particularly as it relates to loneliness and loss.
Battle Royal also features a fabulous cast of lovable secondary characters, including Dominic's sweet sister Pet, as well as Sylvie's coworkers at Sugar Fair, who, although they love to snark at each other all the time, are loyal to Sylvie above all else and were definitely her found family.  These characters were all so great. I became very invested in all of them and I'm hoping we'll see them in future books since this is apparently the beginning of a new Palace Insiders series.
If you enjoy romances that feature rivals to lovers and sunshine personalities versus grumpy, Battle Royal is the book for you!  4 STARS.
Hot Under His Collar (The Nolans, #3)
Goodreads
Author: Andie J. Christopher
Publication Date: July 20, 2021
Publisher:  Berkley Books
FTC Disclosure: I received a complimentary copy of this book from Netgalley.  All opinions are my own.
Andie J. Christopher's new novel, Hot Under His Collar, is a forbidden romance, and the latest installment of her The Nolans series.  It focuses on Sasha Finerghty, an event planner with a bit of a problem.  She's always drawn to what she can't or shouldn't have.  Her latest obsession with forbidden fruit comes in the form of a huge crush on Father Patrick Dooley.  She has drooled over the sexy priest from a far for a while now, but when she is paired up with him on a fundraising event to save the church's pre-K program, her crush rises to a whole new level.
Father Patrick was very close to his devout mother and when she passed away, he decided to join the clergy to fulfill her dying wish.  He has questioned his choice for a while now and when he meets Sasha and realizes he is physically attracted to her, Patrick becomes even more conflicted about his path in life.
Both of these characters are super likeable and it's very clear from their early interactions that, forbidden or not, they have major chemistry.  I had a lot of fun watching the two of them trying and failing to fight their attraction to one another.  The more time they spend together planning the fundraiser, the more opportunities there are for awkward and potentially inappropriate moments.   There are also a lot of engaging and thought-provoking internal monologues as both Sasha and Patrick reflect on what it would mean if they were to try to pursue a relationship.
The only drawback for me was that this was definitely a slow burn romance and I found myself getting impatient with them dancing around one another for so long.  I just wanted them to just hurry up and get together already so it was a little frustrating.  Even with that though, Hot Under His Collar is still a pretty fun and sexy read.  3.5 STARS
Delia Suits Up
Goodreads
Author: Amanda Aksel
Publication Date: August 3, 2021
Publisher:  Berkley Books
FTC Disclosure: I received a complimentary copy of this book from Netgalley.  All opinions are my own.
Amanda Aksel's new novel Delia Suits Up is a hilarious modern day take on popular films like Freaky Friday and Big, but instead of just swapping bodies, you also swap genders.  Delia Reese wants to make it big on Wall Street and she has the credentials to do it.  However, no matter how many job interviews she goes on, no one will hire her.  She becomes more and more convinced she can't land a job because she's a woman.  During a drunken round of Truth or Dare with her roommates, Delia says if she could change one thing about herself, she'd wish to be a man.  When she wakes up the next morning, she has gotten her wish, penis and all.
After Delia's initial freakout and after she has convinced her roommates she's really her and not some random stranger who has turned up in their apartment, Delia changes the name at the top of her existing resume to a man's name, dresses up in her roommate's best suit, and heads back to Wall Street to make something happen for herself.
You guys, this is such a fun and entertaining read! Delia is such a great character and her frustrations with job hunting are all too relatable.  She's also really funny.  I laughed out loud so many times as she was trying to get used to her new body, and in particular, to her new appendage.  Some might consider the humor to be a bit crude at times since a lot of it revolves around exploring that appendage.  Crude or not, it's pretty hilarious.
It's not all just over-the top humor though. There's obviously a more serious exploration of sexism in the workplace as Delia tries to break through into the "boy's club" that is Wall Street.  Another layer is added to the story when Delia encounters her best friend Eric, who she also has a crush on, while she is dressed as a man and accidentally learns how Eric feels about her.   One of the only downsides for me was actually that I would have liked a lot more of Eric and Delia together because he was such a sweet guy.
If you're looking for a fun and fast-paced read and enjoy movies like Big, Freaky Friday, and 13 Going on 30, you'll want to check out Delia Suits Up.  3.5 STARS
https://thebookishlibra.com/wp-content/uploads/2021/08/Book-Reviews-2.jpg
1600
2000
Suzanne
https://thebookishlibra.com/wp-content/uploads/2018/06/trimmed-Copy-of-Bookish-Logo-copy.png
Suzanne
2021-08-02 05:35:13
2021-08-01 22:46:00
Reviews: BATTLE ROYAL, HOT UNDER HIS COLLAR, & DELIA SUITS UP