LIFEL1K3 (Lifelike, #1)

by Jay Kristoff
Also by this author: Illuminae (The Illuminae Files, #1)


Series:
Lifelike #1
Published by
Knopf Books for Young Readers on May 29, 2018
Genres:
Science Fiction, Young Adult Fiction
Pages:
416
Source:
Netgalley
Buy on Amazon
Goodreads
FTC Disclosure: I received this book for free from Netgalley in exchange for an honest review. This does not affect my opinion of the book or the content of my review.
On a floating junkyard beneath a radiation sky, a deadly secret lies buried in the scrap.

Eve isn't looking for secrets—she's too busy looking over her shoulder. The robot gladiator she's just spent six months building has been reduced to a smoking wreck, and the only thing keeping her Grandpa from the grave was the fistful of credits she just lost to the bookies. To top it off, she's discovered she can destroy electronics with the power of her mind, and the puritanical Brotherhood are building a coffin her size. If she's ever had a worse day, Eve can't remember it.

But when Eve discovers the ruins of an android boy named Ezekiel in the scrap pile she calls home, her entire world comes crashing down. With her best friend Lemon Fresh and her robotic conscience, Cricket, in tow, she and Ezekiel will trek across deserts of irradiated glass, infiltrate towering megacities and scour the graveyard of humanity's greatest folly to save the ones Eve loves, and learn the dark secrets of her past.

Even if those secrets were better off staying buried.
Goodreads, Amazon, Audible, B&N, iBooks, TBD
Today is my stop on the RockStar Book Tour to promote Jay Kristoff's latest novel, LIFEL1K3.  Thanks so much to RockStar Book Tours for allowing me to take part in this tour and thanks so much to Jay Kristoff for allowing me to preview his book.
MY REVIEW:
Jay Kristoff's LifeL1k3 truly captivated me from the first page. It's an action-packed science fiction adventure that follows Eve, a scrappy street smart young woman who lives with her grandfather and who is doing the best she can to survive from one day to the next.  The America we know has been decimated by war and natural disasters and Eve, like most others in her world, now live as scavengers.  When we first meet Eve, she is fighting in a robot gladiator duel, trying to earn money.  Unfortunately, her opponent is bigger and stronger and ultimately Eve's robot is destroyed.  When her own life is unexpectedly put in danger by her opponent, she unleashes a power that she never realized she had and destroys the other robot just by thinking about it and screaming.  She has no idea how she did it, but what she does know is that it means she is now in a world of trouble. "Deviants" like Eve have been labeled unacceptable by a puritanical Brotherhood that has somehow put itself in charge in an otherwise lawless environment.  There is now a bounty on Eve's head, which has her looking over her shoulder for trouble at every turn.
The trouble Eve finds comes in the shape of an android boy named Ezekiel that Eve finds in the wreckage of a downed plane.  Somehow Ezekiel knows Eve, and the more Eve learns about how Ezekiel knows her, the more she realizes her entire life has been a lie. Eve desperately needs answers so she, Ezekiel, and her friends set off on a dangerous journey to discover the truth.  Will the price for the truth be too high though?

There's so much to love about LifeL1k3 that I hardly know where to begin, so I think I'll just start with the fantastic characters Kristoff has created in this book.
First, there's Eve.  There are many sides to Eve and I just love the complexity with which Kristoff has written her. On the one hand, she's this super sassy badass robot fighter, yet on the other hand, she's also an underdog with a bounty on her head. I always like to cheer for the underdog anyway so Eve captured my attention and my support from those opening moments, especially as soon as we learn that she's not just robot fighting to win a little extra cash.  No, she's desperately trying to win money to purchase cancer meds for her ailing grandfather.  That devotion to her family really sealed the deal for me when it came to Eve, especially once it was coupled with the fact that she then learns that her whole life has basically been a lie and she doesn't know who she can trust anymore. That kind of deception can really do a number on a person so even when Eve occasionally lashes out at those around her, I still felt for her because I can only imagine how I would react in her shoes.
As much as I liked Eve, however, Kristoff has created a cast of secondary characters in LifeL1k3 that truly stole my heart.  Lemon Fresh was my absolute favorite character.  She's a hilarious pink-haired bundle of sass but she's also the most loyal friend Eve could ever ask for.  Then there's Cricket, who is a small robot with a major attitude when it comes to his stature:  "Don't call me little!" He is programmed to protect Eve at all costs and like Lemon, is one of Eve's most loyal companions.  And finally, there's the most loyal of them all, Kaiser, who is the most precious cyborg Rottweiler ever.  He's totally mechanical but has the brain of an actual dog, and he's just too adorable for words.  He even loves to have his metal tummy rubbed just like a real dog.  I just adored these characters so much and loved how completely devoted to Eve they all were.  They're a little family or like the four musketeers.
Ezekiel is another incredibly well developed character, especially considering he's an android (or Lifelike).  He comes across as so real that I had to keep reminding myself he's a robot. He's also the one who turns Eve's whole world upside down, and I enjoyed all of the complicated dynamics of his relationship with Eve.
In addition to a cast of incredible characters, I was also a huge fan of Kristoff's worldbuilding in LifeL1k3.  The story is set in the future, in a post-war, post-apocalyptic version of America. It's a desert wasteland, filled with ruins and radiation, and overall it has a very Mad Max vibe to it, which I loved.
As if all of that wasn't fabulous enough, what actually appealed to me the most was all of the big themes that were encompassed in this book.  It's not just an action-packed sci-fi read that provided me with a major adrenaline rush.  It's also a thought-provoking story that tackles major topics like the idea of man playing God and the inevitable consequences of doing so, as well as the idea that we are not necessarily defined by our past, that we still have free will to choose who we want to be.  I love a book that gives me plenty of food for thought, and this book really does just that.

The only real issue I had with LifeL1k3 was that it took a little getting used to the different slang words the characters used. That's usually the case for me with science fiction though so I expected it going in and it didn't really impact my enjoyment of the overall story.
I was also a little confused at first when we started getting chapters from Lemon's point of view since the bulk of the story came to us from Eve.  I ultimately didn't mind though because I loved Lemon even more once I had a chance to get inside of her head and see things from her perspective.  Her voice was a welcome addition to the storytelling.  I also hope that it means Lemon will play an even bigger role as the series continues.

LifeL1k3 is an action-packed science fiction adventure that is sure to keep you on the edge of your seat.  There's deception, drama, and plot twists galore, and it's also filled with memorable characters that you're sure to fall in love with.  With LifeL1k3, Jay Kristoff has crafted a wonderful book that has a little something for everyone.  I really can't wait to continue the series and see what happens next!
FINISHED COPY GIVEAWAY DETAILS:
3 winners will receive a finished copy of LIFEL1K3, US Only.
PRE-ORDER GIVEAWAY DETAILS:
The LIFEL1K# pre-order is now live for folks in the US! To get your sticky booky hands on a full color map of the Yousay by the amazing Virginia Allyn and four brill LIFEL1K3 bookmarks with illustrations by the incredibly talented Mona May, all you need to is:
Pre order LIFEL1K3 (Amazon/Barnes&Noble/Indiebound/Powells/Book Depository/ it doesn't matter from where, just get a receipt)
Head to getunderlined.com and search for "Lifel1k3". Or better yet, just click HERE.
Enter your details and upload your receipt.
Profit.
AUSSIE & NEW ZEALAND GIVEAWAY!
HOW TO ENTER
Take a SELFIE with a copy of LIFEL1K3 and SHARE IT using #LIFEL1K3comp for your chance to win tickets for you and a friend to go to any concert of your choice!
 Entry is open to Australian and New Zealand residents only. Terms and Conditions apply. Ends 09/05/2018.
BLOG TOUR SCHEDULE
Week One:
5/14/2018- Mary Had a Little Book Blog– Review
5/15/2018- Fiction Fare– Review
5/16/2018- Birdie Bookworm– Review
5/17/2018- Novel Heartbeat– Review
5/18/2018- Bookish In Bed– Review
Week Two:
5/21/2018- Portrait of a Book– Review
5/22/2018- Confessions of a YA Reader– Review
5/23/2018- Emily Reads Everything– Review
5/24/2018- Zach's YA Reviews– Review
5/25/2018- The Bookish Libra– Review
Week Three:
5/28/2018- Feed Your Fiction Addiction– Review
5/29/2018- Diary of an Avid Reader– Review
5/30/2018- Here's to Happy Endings– Review
5/31/2018- Book-Keeping– Review
6/1/2018- Nerdophiles– Review
Week Four:
6/4/2018- Smada's Book Smack– Review
6/5/2018- Novel Novice– Review
6/6/2018- The Book Nut– Review
6/7/2018- Book Briefs– Review
6/8/2018- A Gingerly Review– Review

About Jay Kristoff
Jay Kristoff is a #1 international, New York Times and USA Today bestselling author of science fiction and fantasy. He grew up in the second most isolated capital city on earth and fled at his earliest convenience, although he's been known to trek back for weddings of the particularly nice and funerals of the particularly wealthy. Being the holder of an Arts degree, he has no education to speak of.
His LOTUS WAR trilogy was critically acclaimed in Kirkus and Publishers Weekly, nominated for the David Gemmell Morningstar and Legend awards and won the 2014 Aurealis Award. Jay's new series, the SciFi thriller THE ILLUMINAE FILES, was co-authored with Amie Kaufman. Book 1, ILLUMINAE, became a New York Times and international bestseller, was named among the Kirkus, Amazon and YALSA Best Books of 2015, became a finalist for the Prime Minister's Literary Award and won the 2016 Aurealis Award and an ABIA Book of the Year award. ILLUMINAE is currently slated to be published in thirty five countries, and film rights have been acquired by Brad Pitt and Plan B Entertainment.
Jay's new fantasy series, THE NEVERNIGHT CHRONICLE, commenced in 2016. The novel was an international bestseller, won the Aurealis award and earned Kristoff his second Gemmell nomination. Part 2, GODSGRAVE, was published in 2017, and won the series its second Aurealis award. A new YA series, LIFEL1K3 has also been acquired by Knopf/Random House Kids, and commences publication in early 2018. A new series with Amie Kaufman, THE ANDROMEDA CYCLE, begins in 2019 with Knopf/Random House Kids. Jay is as surprised about all this as you are. He is represented by Josh Adams at Adams Literary.
Jay is 6'7 and has approximately 12,000 days to live. He abides in Melbourne with his secret agent kung-fu assassin wife, and the world's laziest Jack Russell. He does not believe in happy endings.
https://thebookishlibra.com/wp-content/uploads/2018/05/lifelike-big.jpg
1200
794
Suzanne
https://thebookishlibra.com/wp-content/uploads/2016/07/bookish-libra-logo-2-1.png
Suzanne
2018-05-25 06:00:04
2018-05-24 22:48:15
Blog Tour - Review & Giveaways: LIFEL1K3 by Jay Kristoff
"Waiting On" Wednesday is a weekly event, hosted at Breaking the Spine, which encourages fellow bloggers to spotlight upcoming releases that we're excited about.  It is a meme that I have  loved participating in for over a year now, but as Jill is no longer actively posting, from now on I'll just be linking to Can't Wait Wednesday, hosted by Tressa, which is a spinoff of the original WoW meme.
* * * * *
My selection for this week is THE LANTERN'S EMBER by Colleen Houck.  I will freely admit that what first drew me to this book was that stunning cover, but it's the synopsis that has me so excited for this book.  It just sounds like the perfect read for fall, especially right around Halloween!
THE LANTERN'S EMBER by Colleen Houck
Publication Date:  September 11, 2018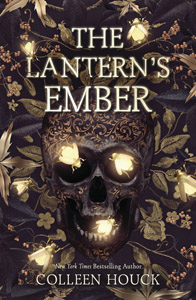 From Goodreads:
Welcome to a world where nightmarish creatures reign supreme.
Five hundred years ago, Jack made a deal with the devil. It's difficult for him to remember much about his mortal days. So, he focuses on fulfilling his sentence as a Lantern—one of the watchmen who guard the portals to the Otherworld, a realm crawling with every nightmarish creature imaginable. Jack has spent centuries jumping from town to town, ensuring that nary a mortal—or not-so-mortal—soul slips past him. That is, until he meets beautiful Ember O'Dare.
Seventeen, stubborn, and a natural-born witch, Ember feels a strong pull to the Otherworld. Undeterred by Jack's warnings, she crosses into the forbidden plane with the help of a mysterious and debonair vampire—and the chase through a dazzling, dangerous world is on. Jack must do everything in his power to get Ember back where she belongs before both the earthly and unearthly worlds descend into chaos.
 * * * * *
I'd love to hear what upcoming book releases you're waiting on this Wednesday? Leave me your link in the comments below and I'll stop by and check out your CWW selection for this week. 🙂
https://thebookishlibra.com/wp-content/uploads/2018/05/lanerns-ember.jpg
1127
735
Suzanne
https://thebookishlibra.com/wp-content/uploads/2016/07/bookish-libra-logo-2-1.png
Suzanne
2018-05-23 05:30:29
2018-05-22 20:22:16
Can't Wait Wednesday - Spotlight on THE LANTERN'S EMBER by Colleen Houck
Top Ten Tuesday was created by The Broke and the Bookish in June of 2010 and was moved to That Artsy Reader Girl in January 2018. It was born of a love of lists, a love of books, and a desire to bring bookish friends together.  Top Ten Tuesday has been one of my favorite memes ever since I started blogging, so huge thanks to Jana for taking over the hosting duties!
This week's TTT topic is Best Character Names (make this as narrow/broad as you'd like).  I struggled with this topic a bit because I have a bad tendency to forget all of the names of characters in most of the books I read.  There are a few that stick with me though and those are the ones I file away in my brain for the next time I get a new pet and need to come up with a name.  And no, sadly, the pets pictured are not mine. They're just stock photos from Canva.
I've broken my list out into dog names and cat names, but there are several, like Luna and Atticus, that I would consider naming either.
* * * * *
Top 10 Bookish Names I Would Give My Pets
DOG NAMES:
SIMON (from Simon vs. the Homo Sapiens Agenda)
GANDALF (from The Lord of the Rings)
CAT NAMES:
MATILDA (from Matilda by Roald Dahl)
KATNISS (from The Hunger Games)
ATTICUS (from To Kill a Mockingbird)
Question:  Would you ever consider naming your pets after bookish characters?  If so, do you have any favorite names?
https://thebookishlibra.com/wp-content/uploads/2018/05/pet-names.jpg
620
775
Suzanne
https://thebookishlibra.com/wp-content/uploads/2016/07/bookish-libra-logo-2-1.png
Suzanne
2018-05-22 05:30:13
2018-05-21 18:18:48
Top Ten Tuesday - 10 Cool Bookish Names to Give Your Pets