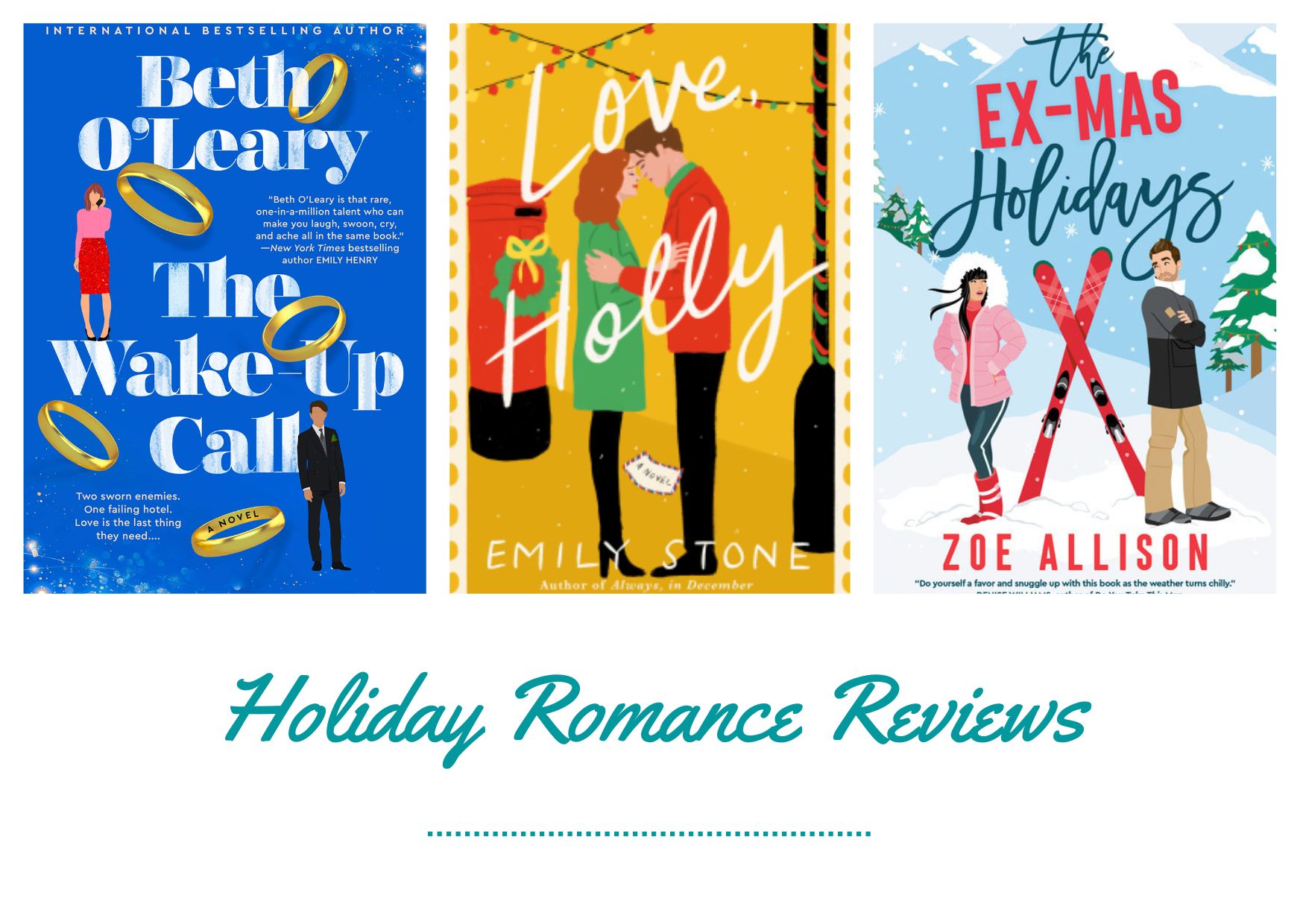 Happy Monday! I hope you all had a wonderful first weekend of fall.  I spent it celebrating my son's 16th birthday, preparing for a tropical storm to blow through, and reading three holiday-themed novels that come out tomorrow.  I wasn't really ready to start my holiday reading but I have to say that these books did make me start feeling the Christmas spirit and looking forward to my beloved Hallmark holiday films which will start next month.  Anyway on to the books.  Two of these are by authors I love, Beth O'Leary and Emily Stone, while the third is a new-to-me author I was excited to try this year.
The Wake-Up Call Goodreads

Author: Beth O'Leary
Publication Date: September 26, 2023
Publisher: Berkley
FTC Disclosure: I received a complimentary e- copy of this book from the publisher via Netgalley and an ALC from PRHAudio.  All opinions are my own.
I'll confess that I was a little nervous going into The Wake-Up Call.  Workplace romance is not typically my favorite trope, but I love Beth O'Leary's writing and wanted to see how she would approach it. I'm so glad I gave the book a chance too because it turned out to be such a wonderful and heartwarming read for me.
When we first meet Izzy, we can tell right away that she is not a fan of Lucas, her coworker at the Forest Manor Hotel, and that he doesn't appear to be a fan of hers either.  They are a classic grumpy-sunshine duo and they have a fierce rivalry, always trying to one-up the other. Additionally, there appears to be some history between them. Well, it turns out that Izzy used to have a major crush on Lucas and poured her feelings for him out into a letter that was delivered to him at last year's Christmas party and invited him to meet her under the mistletoe.  Something clearly went wrong for her feelings to have taken a drastic turn, and I was dying to find out what, especially since it's so clear that the two of them have major chemistry between them no matter how much they are trying to pretend they don't.  When they learn the hotel is in trouble and might not make it, Izzy and Lucas are forced to work together to try to save it.
I loved the direction this story took as soon as Izzy and Lucas teamed up.  They are tasked with helping to sell off some items, including what's in their lost property room, to raise funds for hotel repairs. While completing the task, they come across a collection of wedding rings that have been lost there over the years.  Both Izzy and Lucas are competitive at heart and make a little wager as to who can find and return the rings to their rightful owners.  The romantic in me became very invested in seeing these rings returned to their owners. The ring competition was probably my favorite part of the story as the banter between Izzy and Lucas starts to shift from snarky to playful, and you can just tell their feelings for one another are starting to shift as well.  While some of the story is focused on more dramatic and emotional themes, this ring challenge gave all the rom com vibes and was so much fun to read!
I also really loved the whole vibe of the hotel.  It's clearly an important place to both Izzy and Lucas for different reasons and they have both come to think of it as home rather than just a place of employment.  Their attachment to the place added a sentimental touch to the story and had me rooting for them to save the hotel as much as I was rooting for them to work through their issues and find their way to a happily ever after together.
I alternated between the e-book and the audiobook for this one and really enjoyed both formats. The audiobook is narrated by Jessie Cave and Lino Facioli and they both do such an incredible job of capturing the chemistry between Izzy and Lucas.
If you're looking for a laugh out loud funny story that is also quite moving, be sure to check out The Wake-Up Call.   4 STARS
Love, Holly Goodreads

Author: Emily Stone
Publication Date: September 26, 2023
Publisher:  Random House Publishing Group – Ballantine, Dell
FTC Disclosure: I received a complimentary e- copy of this book from the publisher via Netgalley and an ALC from PRHAudio.  All opinions are my own.
Love, Holly is the latest book from Emily Stone, and it packs an emotional punch! I love Stone's books because they always take me on these emotional journeys where they break my heart into a million pieces but then slowly but surely put it back together again.  I'm not entirely sure why that kind of read appeals to me as much as it does, but boy, do I love it!
Holly has been estranged from her family ever since a devastating car accident tore their lives apart.  As a way  to feel a bit less lonely, Holly joined a lonely-hearts holiday letter writing group.  Every December she sends an anonymous letter to a stranger who is also alone at Christmas and she receives one as well.  Because the letters are anonymous, it's a way for the senders to really just pour out their hearts.  When Holly receives her latest letter, there's something different about it.  First, the sense of grief in it speaks to her because it is so much like her own. The letter writer, whose name is Emma, is also estranged from her loved ones, in particular, her grandson, who she has not seen since he was a little boy.  But second, the letter mentions a place Holly knows all too well because it's near where her car accident took place. Holly realizes she might actually be able to find this letter's author and makes it her mission to find Emma and help her reunite with her grandson, not realizing how life changing this same mission will be for her as well.
One of my favorite parts of this story is the bond that forms between Emma and Holly, once Emma gets over the shock of learning that her heartfelt letter was not anonymous after all.  Emma becomes the family that Holly has been estranged from and the two of them are really able to support each other through their grief and form a beautiful friendship.  I also loved that there's an element of kismet to the story in that through meeting Emma, Holly is also reintroduced to Jack, a man she met and found herself quite attracted to the night of her car accident.  Jack had given Holly his phone number that fateful night but it was lost in the accident.  It turns out that Jack is also the grandson Emma has been estranged from for so many years.   As you can imagine, the story becomes an emotional roller coaster as these characters deal with long-buried emotions and try to find a path forward.  I adored all of the characters and cried for them so many times as I was reading and hoping for reconciliations all around for both Emma and Holly.
Love, Holly is just such a beautiful story.  The writing is gorgeous, filled with those raw emotions that just grab your heart and won't let go, and the characters are so well-developed and their experiences feel so authentic.  I alternated between the audiobook and e-book for this read and thought both formats were so well done. I especially enjoyed the audio narration of Heather Long, who just captured those emotional moments so well and had me reaching for my tissues numerous times.  If you're into stories about love and forgiveness, and about families, both real and found, then this is the book for you!  5 STARS
The Ex-Mas Holidays Goodreads

Author: Zoe Allison
Publication Date: September 26, 2023
Publisher:  Berkley
FTC Disclosure: I received a complimentary e- copy of this book from the publisher via Netgalley and an ALC from PRHAudio.  All opinions are my own.
The Ex-Mas Holidays is an entertaining holiday romance that gives two ski instructors a second chance at love.
Set in the Scottish Highlands, the story follows Maya Bashir, who is returning home to live with her parents after losing her job and breaking up with her boyfriend.  On her way to her parent's house, Maya stops off for a few minutes at a bachelorette party she was invited to and it is there where she unexpectedly reconnects with Sam Holland, her high school crush and former coworker at the local ski lodge.  It's clear they are attracted to one another, but they are both so awkward around each other that it's equally clear that something happened to drive them apart.  When the two of them end up working together again as ski instructors, it becomes an opportunity to move past that awkwardness and reconnect.
I really enjoyed watching Sam and Maya reconnect as they teach classes at the ski resort.  There's plenty of fun banter between them and also several adorable moments as many of their classes center on teaching young children how to ski.  The more I watched Sam and Maya and saw how good they were together, the more invested I became in learning what went wrong between them in the past.  This story isn't all rom com antics though because as we learn more about what came between Sam and Maya, Allison explores more serious topics such as toxic relationships and the emotional fallout from them.  I thought she did a wonderful job realistically portraying this kind of relationship and just how much it can mess with a person's head, although I absolutely loathed the character of Kat to the extent that I had to walk away from the book a couple of times.
Another aspect of this story I really enjoyed was Maya's journey with respect to choosing a career path that makes her happy versus just doing what her loving but very overbearing father wants her to do.  The two of them have some hard conversations throughout the course of the story, and I loved the growth we see in Maya as she has those conversations.
Overall, this was a really enjoyable read. I especially enjoyed the audio narration, which was read by Nikki Massoud. The Scottish accents really immersed me all the more in this charming, heartwarming story.  I recommend The Ex-Mas Holidays to anyone who enjoys second chance romances as well as friends to lovers.  3.5 STARS
https://thebookishlibra.com/wp-content/uploads/2023/09/romance-reviews-15.jpg
1240
1748
Suzanne
https://thebookishlibra.com/wp-content/uploads/2018/06/trimmed-Copy-of-Bookish-Logo-copy.png
Suzanne
2023-09-25 09:56:20
2023-09-25 11:44:03
Holiday Romance Reviews: THE WAKE-UP CALL; LOVE, HOLLY; & THE EX-MAS HOLIDAYS
"Waiting On" Wednesday is a weekly event, hosted at Breaking the Spine, which encourages fellow bloggers to spotlight upcoming releases that we're excited about.  It is a meme that I have  loved participating in since I first started blogging, but as Jill is no longer actively posting, from now on I'll be linking to Can't Wait Wednesday, hosted by Tressa at Wishful Endings, which is a spinoff of the original WoW meme.
* * * * *
My selection for this week is MURDER ROAD by Simone St. James.  I've loved everything I've read from this author and I honestly wish I had this one to read right now because it sounds like the perfect read for spooky season. If you have read anything from St. James yet, I highly recommend The Sun Down Motel and The Book of Cold Cases.
MURDER ROAD by Simone St. James
by Berkley
Publication Date:  March 5, 2024
A young couple find themselves haunted by a string of gruesome murders committed along an old deserted road in this terrifying new novel from the New York Times bestselling author of The Book of Cold Cases.
July 1995. April and Eddie have taken a wrong turn. They're looking for the small resort town where they plan to spend their honeymoon. When they spot what appears to a lone hitchhiker along the deserted road, they stop to help. But not long after the hitchiker gets into their car, they see the blood seeping from her jacket and a truck barreling down Atticus Line after them.
When the hitchhiker dies at the local hospital, April and Eddie find themselves in the crosshairs of the Coldlake Falls police. Unexplained murders have been happening along Atticus Line for years and the cops finally have two witnesses who easily become their only suspects. As April and Eddie start to dig into the history of the town and that horrible stretch of road to clear their names, they soon learn that there is something supernatural at work, something that could not only tear the town and its dark secrets apart, but take April and Eddie down with it all.
* * * * *
I'd love to hear what upcoming book releases you're waiting on this Wednesday? Leave me your link in the comments below and I'll stop by and check out your CWW selection for this week. 🙂
https://thebookishlibra.com/wp-content/uploads/2023/09/murder-road.jpg
2560
1695
Suzanne
https://thebookishlibra.com/wp-content/uploads/2018/06/trimmed-Copy-of-Bookish-Logo-copy.png
Suzanne
2023-09-20 06:34:58
2023-09-20 06:34:58
Can't Wait Wednesday – MURDER ROAD by Simone St. James
Top Ten Tuesday was created by The Broke and the Bookish in June of 2010 and was moved to That Artsy Reader Girl in January 2018. It was born of a love of lists, a love of books, and a desire to bring bookish friends together.  Top Ten Tuesday has been one of my favorite memes ever since I started blogging, so huge thanks to Jana for taking over the hosting duties!
This week's TTT topic is Books on My Fall 2023 TBR.  I always enjoy this topic because I'm curious to see what my fellow book bloggers are planning to read next.  I have a lot of ARCs to read this fall so my focus will primarily be on those, although I do hope to squeeze in a few of the books from my shelves as well.
Books on My Fall 2023 TBR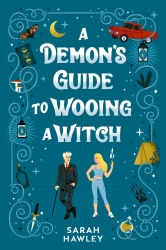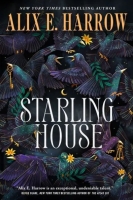 1. BETTER HATE THAN NEVER by Chloe Liese  –  "Childhood enemies discover the fine line between love and loathing in this heartfelt reimagining of Shakespeare's The Taming of the Shrew."
2. A DEMON'S GUIDE TO WOOING A WITCH by Sarah Hawley  – "Calladia Cunnington curses the day she met Astaroth the demon, but when he shows up memoryless, why does she find him so helpless . . . and sort of hot?"
3. THE FRAGILE THREADS OF POWER by V.E. Schwab – "From the #1 New York Times bestselling author of The Invisible Life of Addie LaRue, and set in the world of A Darker Shade of Magic, V. E. Schwab opens a new door into perilous adventure and tangled schemes with The Fragile Threads of Power."
4. THE FAKE MATE by Lana Ferguson  – "Two wolf shifters agree to be fake mates but unexpectedly find something real in this steamy paranormal romantic comedy by Lana Ferguson."
5. STARLING HOUSE by Alix E. Harrow – "A grim and gothic new tale from author Alix E. Harrow about a small town haunted by secrets that can't stay buried and the sinister house that sits at the crossroads of it all."
6. IRIS KELLY DOESN'T DATE by Ashley Herring Blake – "To get her mind off everything and overcome her writer's block, Iris tries out for a local play, but comes face-to-face with Stefania—or, Stevie, her real name. When Stevie desperately asks Iris to play along as her girlfriend, Iris is shocked, but goes along with it because maybe this fake relationship will actually get her creative juices flowing and she can get her book written. As the two women play the part of a couple, they turn into a constant state of hot-and-bothered and soon it just comes down to who will make the real first move…"
7. MIDNIGHT IS THE DARKEST HOUR by Ashley Winstead  –  "From the critically acclaimed author of In My Dreams I Hold A Knife and The Last Housewife comes a gothic Southern thriller about a killer haunting a small Louisiana town, where two outcasts—the preacher's daughter and the boy from the wrong side of the tracks—hold the key to uncovering the truth."
8. WRECK THE HALLS by Tessa Bailey – "A sexy, hilarious standalone holiday rom-com about the adult children of two former rock stars who team up to convince their estranged mothers to play a Christmas Eve concert."
9. THE UNMAKING OF JUNE FARROW by Adrienne Young  –  "A woman risks everything to end her family's centuries-old curse, solve her mother's disappearance, and find love in this mesmerizing novel from the New York Times bestselling author of Spells for Forgetting."
10. A WINTER IN NEW YORK by Josie Silver  –  "A young chef stumbles on a secret family recipe that might lead her to the love—and life—she's been looking for in this stunning novel."
* * * * * *
Question:  Have you read any of these or are you planning to read any of them?
https://thebookishlibra.com/wp-content/uploads/2018/01/TTT-Big2.png
203
500
Suzanne
https://thebookishlibra.com/wp-content/uploads/2018/06/trimmed-Copy-of-Bookish-Logo-copy.png
Suzanne
2023-09-19 05:30:39
2023-09-18 23:42:54
Top Ten Tuesday – Books on my Fall 2023 TBR