Set on You
by
Amy Lea

Published by
Berkley Books
on May 10, 2022
Genres:
Contemporary Fiction
,
Fiction
,
Romance
Pages:
384
Source:
Netgalley
Amazon
|
Barnes & Noble
|
The Book Depository
Goodreads
FTC Disclosure: I received a complimentary copy of this book from Netgalley. All opinions are my own.
SET ON YOU is Amy Lea's debut novel and it is a delight!  It's a contemporary romance that focuses on fitness, features a plus size heroine and her sexy gym rival, but that also shines a light on the unfair standards our society has when it comes to beauty and anyone who isn't a size zero.
The protagonist Crystal Chen is a biracial curvy fitness influencer.  The gym is her happy place and she doesn't go there to lose weight.  She goes there because she loves to lift weights.  Being strong and healthy is her goal.  Her social media channels are devoted to supporting others like her who aren't a size zero but who are looking to improve their overall fitness. She posts workout tutorials and lots of support and encouragement.  Crystal is such a fabulous character.  I loved that she embraced her curves and that she worked so hard to inspire others and keep them motivated to achieve their goals.  I also liked that even though she's so inspirational, she also comes across as a realistic and relatable character, and sometimes she's a downright hot mess.
The romantic element of the story is fresh and fun too, as it centers on Crystal and her gym nemesis.  Crystal is meticulous and regimented when it comes to her gym workouts.  For that reason, she doesn't take too kindly to Scott, the new guy at the gym, a sexy firefighter who seems to be going out of his way to be annoying, even taking equipment that she is clearly about to use.  Now I'll admit that some of Scott's antics were a little juvenile, but it was hilarious watching him get under her skin, especially when she starts referring to him as Squat Rack Thief.  It's pretty obvious that Scott is attracted to Crystal and trying to get her attention, and it's equally obvious that no matter how mad Crystal gets at the Squat Rack Thief, she is pretty obsessed with him.
The evolution of their relationship is adorable too.  Crystal and Scott are forced to relate to each other as something other than rivals when they realize that Crystal's grandmother has been dating and wants to marry Scott's grandfather.  Getting to see each other outside of the competitive gym environment really helped take their relationship to the next level.  Crystal begins to think of Scott in ways she never would have imagined, while Scott becomes one of Crystal's biggest supporters when it comes to both her career and her fitness, working out with her and even helping her film workouts for her social media account.  Both of their families are great too, and I especially enjoyed watching the grandparents embrace a second chance for love. They were so sweet together!
Aside from the fun rivals to lovers romance, Set On You also does a lot to tackle those unfair perceptions about size and beauty and it offers some interesting commentary on the body positivity movement and the effect internet trolls and haters can have on a person's self esteem. As much as I enjoyed the romance between Crystal and Scott, Crystal's work to inspire others and to honestly talk about her struggles with her own perception of her curvy body really made this a powerful read in addition to being a super fun one. If you're looking for an entertaining and timely read to toss in your beach bag this summer, definitely check out Set On You!

About Amy Lea
Amy Lea is a Canadian bureaucrat by day and contemporary romance author by night (and weekends). She writes laugh out loud romantic comedies featuring strong heroines, witty banter, mid-2000s pop culture references, and happily ever afters.
When Amy is not writing, she can be found fan-girling over other romance books on Instagram (@amyleabooks), eating potato chips with reckless abandon, and snuggling with her husband and goldendoodle.
Her Spring 2022 debut romantic comedy SET ON YOU from Berkley Romance at Penguin Random House is now available.
https://thebookishlibra.com/wp-content/uploads/2022/05/set-on-you-lg-scaled.jpg
2560
1706
Suzanne
https://thebookishlibra.com/wp-content/uploads/2018/06/trimmed-Copy-of-Bookish-Logo-copy.png
Suzanne
2022-05-13 05:35:05
2022-05-12 22:30:46
Review: SET ON YOU by Amy Lea
"Waiting On" Wednesday is a weekly event, hosted at Breaking the Spine, which encourages fellow bloggers to spotlight upcoming releases that we're excited about.  It is a meme that I have  loved participating in since I first started blogging, but as Jill is no longer actively posting, from now on I'll be linking to Can't Wait Wednesday, hosted by Tressa at Wishful Endings, which is a spinoff of the original WoW meme.
* * * * *
My selection for this week is THE LIES I TELL by Julie Clark.  Now that the weather is getting warmer, I'm starting to crave books I can devour in a single sitting, by the pool, at the beach, or even just outside on my deck.  When I read the twisty synopsis for The Lies I Tell, I immediately added it to my list of one-sitting reads. It sounds like such an addicting read!
THE LIES I TELL by Julie Clark
Publication Date:  June 21, 2022 by Sourcebooks Landmark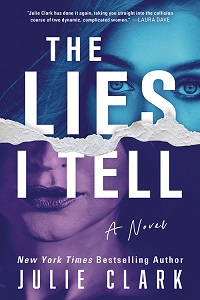 From Goodreads:
From the instant New York Times bestselling author of The Last Flight!
She's back.
Meg Williams. Maggie Littleton. Melody Wilde. Different names for the same person, depending on the town, depending on the job. She's a con artist who erases herself to become whoever you need her to be—a college student. A life coach. A real estate agent. Nothing about her is real. She slides alongside you and tells you exactly what you need to hear, and by the time she's done, you've likely lost everything.
Kat Roberts has been waiting ten years for the woman who upended her life to return. And now that she has, Kat is determined to be the one to expose her. But as the two women grow closer, Kat's long-held assumptions begin to crumble, leaving Kat to wonder who Meg's true target is.
The Lies I Tell is a twisted domestic thriller that dives deep into the psyches and motivations of two women and their unwavering quest to seek justice for the past and rewrite the future.
* * * * *
I'd love to hear what upcoming book releases you're waiting on this Wednesday? Leave me your link in the comments below and I'll stop by and check out your CWW selection for this week. 🙂
https://thebookishlibra.com/wp-content/uploads/2022/05/lies-lg.jpg
750
500
Suzanne
https://thebookishlibra.com/wp-content/uploads/2018/06/trimmed-Copy-of-Bookish-Logo-copy.png
Suzanne
2022-05-11 05:35:21
2022-05-08 21:28:15
Can't Wait Wednesday – THE LIES I TELL by Julie Clark
Top Ten Tuesday was created by The Broke and the Bookish in June of 2010 and was moved to That Artsy Reader Girl in January 2018. It was born of a love of lists, a love of books, and a desire to bring bookish friends together.  Top Ten Tuesday has been one of my favorite memes ever since I started blogging, so huge thanks to Jana for taking over the hosting duties!
This week's TTT topic is Bookish Characters.  I love books about books and bookish characters so I've already shared lists of my favorites over the years.  This time around, so as not to duplicate, I decided to share some more recent bookish characters I've come across in my readings.  There are definitely a few new favorites in these books. 🙂
Ten Bookish Characters I've Encountered in My Recent Reads
1. ISABELLE from BY THE BOOK by Jasmine Guillory
The story is a contemporary retelling of Beauty and the Beast, and the Belle character works in the publishing industry and is tasked with helping the Beast character write his memoir.
2.  NORA STEPHENS and CHARLIE LASTRA from BOOK LOVERS by Emily Henry
An enemies to lovers romance that features a take-no-prisoners literary agent and the guy she thinks is her nemesis, a handsome broody book editor.
3.  CUSSY CARTER from THE BOOK WOMAN OF TROUBLESOME CREEK by Kim Michele Richardson
Cussy Carter is a lonely young Appalachian woman who joins the historical Pack Horse Library Project of Kentucky and becomes a librarian, riding across slippery creek beds and up treacherous mountains on her faithful mule to deliver books and other reading material to the impoverished hill people of Eastern Kentucky. She befriends fellow Kentuckians and is fiercely determined to bring comfort and joy, instill literacy, and give to those who have nothing, a bookly respite, a fleeting retreat to faraway lands.
4.  LANIE BLOOM from BY ANY OTHER NAME by Lauren Kate
Lanie Bloom became a romance book editor because she was inspired by her favorite romance author, Noa Calloway. When a once in a lifetime opportunity comes along for her to work directly with Noa, Lanie is in for an unexpected surprise that turns everything she thought she knew upside down.
5. JUNE JONES from THE LAST CHANCE LIBRARY by Freya Sampson
Librarian June Jones has never left the sleepy English village where she grew up. Shy and reclusive, the thirty-year-old would rather spend her time buried in books than venture out into the world. But when her library is threatened with closure, June is forced to emerge from behind the shelves to save the heart of her community and the place that holds the dearest memories of her mother.
6. NORA HUGHES from MUST LOVE BOOKS by Shauna Robinson
When Nora landed an editorial assistant position at Parsons Press, it was her first step towards The Dream Job. Because, honestly, is there anything dreamier than making books for a living? But after five years of lunch orders, finicky authors, and per my last emails, Nora has come to one grand conclusion: Dream Jobs do not exist.
With her life spiraling and the Parsons staff sinking, Nora gets hit with even worse news. Parsons is cutting her already unlivable salary. Unable to afford her rent and without even the novels she once loved as a comfort, Nora decides to moonlight for a rival publisher to make ends meet…and maybe poach some Parsons' authors along the way.
But when Andrew Santos, a bestselling Parsons author no one can afford to lose is thrown into the mix, Nora has to decide where her loyalties lie. Her new Dream Job, ever-optimistic Andrew, or…herself and her future.
7.  ODILE SOUCHET from THE PARIS LIBRARY by Janet Skeslien Charles
It's 1939 and young and ambitious Odile Souchet has her dream job working at the American Library in Paris. When the Nazis march into Paris, Odile stands to lose everything she holds dear, including her beloved library. Together with her fellow librarians, Odile joins the Resistance with the best weapons she has: books. But when the war finally ends, instead of freedom, Odile tastes the bitter sting of unspeakable betrayal.
8.  KATRINA FREELING and NATHAN VAN HUYSEN from THE ROUGHEST DRAFT by Emily Wibberly & Austin Siegemund-Broka
This story follows a pair of cowriters, Katrina and Nathan, who, after penning a best-selling novel together, had a major falling out and haven't spoken to each other in three years. There's major tension when they have to reuinite to write one more book to fulfill their contract.
9. KARA SULLIVAN from TALK BOOKISH TO ME by Kate Bromley
Kara Sullivan's life is full of love—albeit fictional. As a bestselling romance novelist and influential bookstagrammer, she's fine with getting her happily-ever-after fix between the covers of a book.
But right now? Not only is Kara's best friend getting married next week—which means big wedding stress—but the deadline for her next novel is looming, and she hasn't written a single word. The last thing she needs is for her infuriating first love, Ryan Thompson, to suddenly appear in the wedding party. But Ryan's unexpected arrival sparks a creative awakening in Kara that inspires the steamy historical romance she desperately needs to deliver.
10. MARY PORTER-MALCOLM from BY THE BOOK by Amanda Sellet
As a devotee of classic novels, Mary Porter-Malcolm knows all about Mistakes That Have Been Made, especially by impressionable young women. So when a girl at her new high school nearly succumbs to the wiles of a notorious cad, Mary starts compiling the Scoundrel Survival Guide, a rundown of literary types to be avoided at all costs.
Unfortunately, Mary is better at dishing out advice than taking it—and the number one bad boy on her list is terribly debonair. As her best intentions go up in flames, Mary discovers life doesn't follow the same rules as fiction. If she wants a happy ending IRL, she'll have to write it herself.
* * * * * *
Question:  Are you familiar with any of these characters?
https://thebookishlibra.com/wp-content/uploads/2018/01/TTT-Big2.png
203
500
Suzanne
https://thebookishlibra.com/wp-content/uploads/2018/06/trimmed-Copy-of-Bookish-Logo-copy.png
Suzanne
2022-05-10 05:35:22
2022-05-09 21:52:42
Top Ten Tuesday – Ten Bookish Characters I've Encountered in My Recent Reads