"Waiting On" Wednesday is a weekly event, hosted at Breaking the Spine, which encourages fellow bloggers to spotlight upcoming releases that we're excited about.  It is a meme that I have  loved participating in since I first started blogging, but as Jill is no longer actively posting, from now on I'll be linking to Can't Wait Wednesday, hosted by Tressa at Wishful Endings, which is a spinoff of the original WoW meme.
* * * * *
My selection for this week is A LITTLE RAY OF SUNSHINE by Kristan Higgins. Higgins is another one of my auto-buy authors so I'm thrilled she has a new book coming out in a few months.  This one sounds like it has the potential to be such a moving read, and I can't wait to get my hands on a copy,
A LITTLE RAY OF SUNSHINE by Kristan Higgins
Publication Date:  June 6, 2023 by Berkley
From Netgalley:
A kid walks into your bookstore and… Guess what? He's your son. The one you put up for adoption eighteen years ago. The one you never told anyone about. Surprise!
And a huge surprise it is.
It's a huge surprise to his adoptive mother, Monica, who thought she had a close relationship with Matthew, her nearly adult son. But apparently, he felt the need to secretly arrange a vacation to Cape Cod for the summer so he could meet his birth mother…without a word to either her or his dad.
It's also a surprise— to say the least—to Harlow, the woman who secretly placed her baby for adoption so many years ago. She's spent the years since then building a quiet life. She runs a bookstore with her grandfather, hangs out with her four younger siblings and is more or less happily single, though she can't help gravitating toward Grady Byrne, her old friend from high school. He's moved back to town, three-year-old daughter in tow, no wife in the picture. But she's always figured her life had to be child-free, so that complicates things.
When Matthew walks into Harlow's store, she faints. Monica panics. And all their assumptions—about what being a parent really means—explode. This summer will be full of more surprises as both their families are redefined…and as both women learn that for them, there's no limit to a mother's love.
* * * * *
I'd love to hear what upcoming book releases you're waiting on this Wednesday? Leave me your link in the comments below and I'll stop by and check out your CWW selection for this week. 🙂
https://thebookishlibra.com/wp-content/uploads/2023/01/little-ray-lg.jpg
694
450
Suzanne
https://thebookishlibra.com/wp-content/uploads/2018/06/trimmed-Copy-of-Bookish-Logo-copy.png
Suzanne
2023-02-01 05:35:16
2023-01-31 19:58:37
Can't Wait Wednesday – A LITTLE RAY OF SUNSHINE by Kristan Higgins
Top Ten Tuesday was created by The Broke and the Bookish in June of 2010 and was moved to That Artsy Reader Girl in January 2018. It was born of a love of lists, a love of books, and a desire to bring bookish friends together.  Top Ten Tuesday has been one of my favorite memes ever since I started blogging, so huge thanks to Jana for taking over the hosting duties!
This week's TTT topic is a Freebie so with Valentine's Day right around the corner, I thought it would be fun to share a list of my favorite romance novels.  These are all go-to recs for me when someone tells me they don't really enjoy reading romance.  I never used to enjoy reading romance either, but these books and others like it made a believer out of me and now I consider romance to be my favorite genre of fiction, particularly contemporary romance.
Ten of My Favorite Romance Novels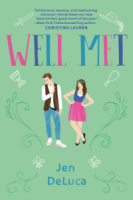 1. THE BODYGUARD by Katherine Center  –  "Hannah Brooks looks more like a kindergarten teacher than somebody who could kill you with a wine bottle opener. Or a ballpoint pen. Or a dinner napkin. But the truth is, she's an Executive Protection Agent (aka "bodyguard"), and she just got hired to protect superstar actor Jack Stapleton from his middle-aged, corgi-breeding stalker. Hannah hardly believes it, herself. But the more time she spends with Jack, the more real it all starts to seem. And there lies the heartbreak. Because it's easy for Hannah to protect Jack. But protecting her own, long-neglected heart? That's the hardest thing she's ever done."
2.  THE LOVE HYPOTHESIS by Ali Hazelwood – The Love Hypothesis by Ali Hazelwood is quite possibly the sweetest, most adorable romance novel I've ever read. It checked so many boxes for me (a STEM heroine, the fake dating trope, hilarious banter, and so much more) and it just had me grinning from ear to ear pretty much the entire time I was reading.
3.  LOVE AND OTHER WORDS by Christina Lauren  – "Macy Sorensen is settling into an ambitious if emotionally tepid routine: work hard as a new pediatrics resident, plan her wedding to an older, financially secure man, keep her head down and heart tucked away. But when she runs into Elliot Petropoulos—the first and only love of her life—the careful bubble she's constructed begins to dissolve. Once upon a time, Elliot was Macy's entire world—growing from her gangly bookish friend into the man who coaxed her heart open again after the loss of her mother…only to break it on the very night he declared his love for her…Love, loss, friendship and the betrayals of the past collide."
4.  THE SIMPLE WILD by K.A. Tucker – "City girl Calla Fletcher attempts to reconnect with her estranged father, and unwittingly finds herself torn between her desire to return to the bustle of Toronto and a budding relationship with a rugged Alaskan pilot in this masterful new romance from acclaimed author K.A. Tucker."
5. THE BROMANCE BOOK CLUB by Lyssa Kay Adams – "The first rule of book club: You don't talk about book club. Welcome to the Bromance Book Club.  Distraught and desperate because his marriage is in trouble, Gavin finds help from an unlikely source: a secret romance book club made up of Nashville's top alpha men. With the help of their current read, a steamy Regency titled Courting the Countess, the guys coach Gavin on saving his marriage. But it'll take a lot more than flowery words and grand gestures for this hapless Romeo to find his inner hero and win back the trust of his wife."
6. WELL MET by Jen DeLuca – "All's faire in love and war for two sworn enemies who indulge in a harmless flirtation at the local Ren Faire in a laugh-out-loud rom-com."
7.  AFTER I DO by Taylor Jenkins Reid – "When Lauren and Ryan's marriage reaches the breaking point, they come up with an unconventional plan. They decide to take a year off in the hopes of finding a way to fall in love again. One year apart, and only one rule: they cannot contact each other. Aside from that, anything goes."
8.  PART OF YOUR WORLD by Abby Jimenez – "After a wild bet, gourmet grilled-cheese sandwich, and cuddle with a baby goat, Alexis Montgomery has had her world turned upside down. The cause: Daniel Grant, a ridiculously hot carpenter who's ten years younger than her and as casual as they come—the complete opposite of sophisticated city-girl Alexis. And yet their chemistry is undeniable. While her ultra-wealthy parents want her to carry on the family legacy of world-renowned surgeons, Alexis doesn't need glory or fame. She's fine with being a "mere" ER doctor. And every minute she spends with Daniel and the tight-knit town where he lives, she's discovering just what's really important. Yet letting their relationship become anything more than a short-term fling would mean turning her back on her family and giving up the opportunity to help thousands of people. Bringing Daniel into her world is impossible, and yet she can't just give up the joy she's found with him either. With so many differences between them, how can Alexis possibly choose between her world and his?"
9. RED, WHITE & ROYAL BLUE by Casey McQuiston – "First Son Alex Claremont-Diaz is the closest thing to a prince this side of the Atlantic. With his intrepid sister and the Veep's genius granddaughter, they're the White House Trio, a beautiful millennial marketing strategy for his mother, President Ellen Claremont. International socialite duties do have downsides—namely, when photos of a confrontation with his longtime nemesis Prince Henry at a royal wedding leak to the tabloids and threaten American/British relations. The plan for damage control: staging a fake friendship between the First Son and the Prince. As President Claremont kicks off her reelection bid, Alex finds himself hurtling into a secret relationship with Henry that could derail the campaign and upend two nations. What is worth the sacrifice? How do you do all the good you can do? And, most importantly, how will history remember you?"
10. THE THINGS WE LEAVE UNFINISHED by Rebecca Yarros – "Twenty-eight-year-old Georgia Stanton has to start over after she gave up almost everything in a brutal divorce—the New York house, the friends, and her pride. Now back home at her late great-grandmother's estate in Colorado, she finds herself face-to-face with Noah Harrison, the bestselling author of a million books where the cover is always people nearly kissing. He's just as arrogant in person as in interviews, and she'll be damned if the good-looking writer of love stories thinks he's the one to finish her grandmother's final novel…even if the publisher swears he's the perfect fit. Noah is at the pinnacle of his career. With book and movie deals galore, there isn't much the "golden boy" of modern fiction hasn't accomplished. But he can't walk away from what might be the best book of the century—the one his idol, Scarlett Stanton, left unfinished. Coming up with a fitting ending for the legendary author is one thing, but dealing with her beautiful, stubborn, cynical great-granddaughter, Georgia, is quite another. But as they read Scarlett's words in both the manuscript and her box of letters, they start to realize why Scarlett never finished the book—it's based on her real-life romance with a World War II pilot, and the ending isn't a happy one. Georgia knows all too well that love never works out, and while the chemistry and connection between her and Noah is undeniable, she's as determined as ever to learn from her great-grandmother's mistakes—even if it means destroying Noah's career."
* * * * * *
Question:  Have you read any of these?
https://thebookishlibra.com/wp-content/uploads/2018/01/TTT-Big2.png
203
500
Suzanne
https://thebookishlibra.com/wp-content/uploads/2018/06/trimmed-Copy-of-Bookish-Logo-copy.png
Suzanne
2023-01-31 05:35:51
2023-01-30 20:47:15
Top Ten Tuesday – Ten of My Favorite Romance Novels
I hope everyone had a wonderful weekend and got lots of quality reading time in.  I know I did and actually feel refreshed for a change as we start the new week.  Yay!  Anyway, today I'm back to share my thoughts on two new mystery/thriller reads that are January releases.  One is the newest book in the Finlay Donovan series, which is a favorite of mine, and the other is a book that I believe was actually released in the UK last year through Viper Books and is now being released in the U.S. by Atria.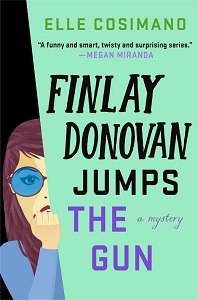 Finlay Donovan Jumps the Gun (Finlay Donovan, #3)
Goodreads
Author: Elle Cosimano
Publication Date: January 31, 2023
Publisher:  Minotaur Books
FTC Disclosure: I received a complimentary copy of this book from Netgalley.  All opinions are my own.
Finlay Donovan Jumps the Gun is the third installment in Elle Cosimano's popular Finlay Donovan series and I'm happy to report that it does not disappoint! For those unfamiliar with the series or those who might need a refresher, Finlay is an author and single mom, who along with her nanny/accountant/sidekick, Vero, have found themselves unexpectedly tied to the Russian mob.  At the end of the second book, the mob actually does Finlay a huge favor, but that favor, in a move that surprises no one, especially Finlay and Vero, comes with some equally huge strings attached.
The third installment kicks off with the Russian mob boss calling in his favor.  He wants Finlay and Vero to identify and locate EasyClean, an anonymous killer-for-hire, before the police do.  Finlay and Vero want no part of this of course, especially since some signs point to EasyClean actually being a cop him or herself.  Our dynamic duo decides that the best way to figure out if EasyClean is a cop or not is to join the new citizen's police academy that Finlay's crush, Nick is in charge of, and all the while, Finlay is desperately trying to write a spicier version of her next book to get her editor off her back.  Needless to say, shenanigans ensue!
As with the first two hilarious installments in this series, a lot of what happens is over the top and definitely involves the reader suspending disbelief, but that's what makes the series so much fun.  I laughed my way through from start to finish, cheering Finlay and Vero on every step of the way.  I got to the point where I couldn't decide what I wanted Finlay to succeed at more:  finding EasyClean, getting that spicy novel finished, or finally hooking up with hottie Nick.
I read that there will be a fourth book in the series and I'm totally here for it!  If you're in the mood for a hilarious and action-packed cozy thriller that is pure escapism at its best, definitely check out the Finlay Donovan series.  4 STARS
The Twyford Code Goodreads

Author: Janice Hallett
Publication Date: January 24, 2023
Publisher:  Atria Books
FTC Disclosure: I received a complimentary copy of this book from Netgalley.  All opinions are my own.
The Twyford Code by Janice Hallett is one of the more unique books I've read in recent years.  Presented to the reader in the form of nearly 200 audio transcripts taken from an old iPhone 4, the story follows one man's journey to find the mysterious connection between the disappearance of his beloved English teacher 40 years ago and an unsolved code that lies hidden within the text of a children's book.
Smithy, the protagonist, is an interesting guy. He's an ex-con, who after serving a long prison sentence, meets his now-adult son for the first time. His son isn't ready for a relationship but gives Smithy his old iPhone so that when he decides he's ready, he can contact his father.  In the meantime, Smithy decides to use the phone to record his thoughts about the direction his life has taken over the years. He hopes his son will listen to them some day to better understand him and how he ended up in prison.
Smithy also uses the phone to document his journey to answer a question that has bothered him for years:  what happened to his English teacher? She disappeared in the middle of a school field trip – a trip that was inspired by a strange book Smithy found on the bus and shared with her one day.  Smithy feels responsible for her disappearance and is desperate to learn what happened to her.  I found Smithy to be a very sympathetic character.  He had a pretty awful childhood and, as if that wasn't enough, he also struggled to read and write.  His remedial English teacher was the first person to really give him the time of day so it was easy to see why she meant so much to him.
The bulk of the story actually focuses on the missing teacher and the secret code in the children's book Smithy found. If you're a fan of stories like The DaVinci Code and National Treasure, you'll really enjoy this as Smithy and some fellow former students from remedial English set out to solve the code because they think it will give them answers as to why their teacher went missing.  This adventure was a wild ride that often required me to suspend disbelief, but I did love how the author crafted this part of her tale.
I did have a couple of minor struggles as I was reading.  I have to admit that the transcript format took some getting used to and really slowed me down at the beginning.  Once I finally got used to the unique formatting, I was able to settle in and follow along, especially since the bulk of the speaking is done by Smithy. One other issue I had was that the pacing seemed to slow in the middle of the book and I found my attention starting to wander.  Thankfully the pace picked back up though and I raced to what turned out to be a pretty clever ending.  There was an element of trickery involved that I have mixed feelings about, but I commend the author on delivering an ending that was completely unexpected.
If you like puzzles, original storytelling, and underdog protagonists, The Twyford Code might be just the book you're looking for. 3.5 STARS
https://thebookishlibra.com/wp-content/uploads/2023/01/reviews-53.jpg
851
1200
Suzanne
https://thebookishlibra.com/wp-content/uploads/2018/06/trimmed-Copy-of-Bookish-Logo-copy.png
Suzanne
2023-01-30 05:35:30
2023-01-29 22:20:58
Reviews: FINLAY DONOVAN JUMPS THE GUN & THE TWYFORD CODE