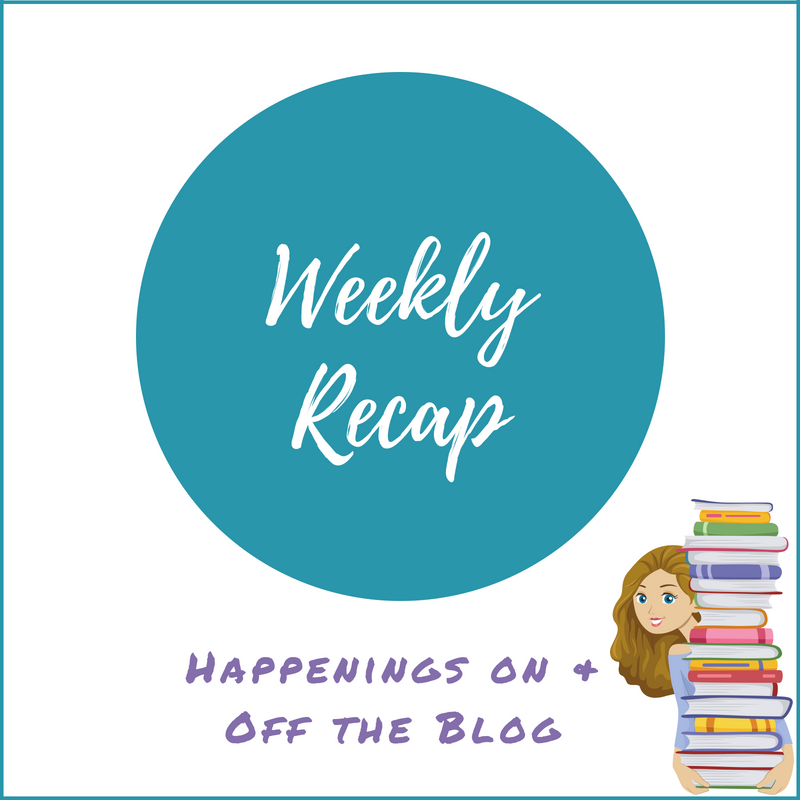 It's time for another weekly recap post of all things happening on and off the blog. This week I'll be linking to the Sunday Post, which is hosted by Caffeinated Book Reviewer and to Stacking the Shelves, which is hosted by Tynga's Reviews.
Happy Father's Day to all who are celebrating today.  I'm posting my recap a little later than usual because I wanted to share a photo of the newest addition to our family and we just picked him up this morning.  Meet Winston, everyone!  I'm on vacation all this coming week so I look forward to spending lots of time bonding with this little guy and getting him settled into a routine with us.  I've also picked up all of my stacks of books off the floor in my office so that they don't inadvertently become puppy chew toys, lol.
Most of my week was taken up with final preparations for the puppy and with getting everything at work ready for me to head out on vacation.  I didn't get as much reading done as I would have liked but I did finish Christina Henry's The Girl in Red and the second week's reading for the Iron Throne readalong I'm taking part in.  I also finished The Rumor by Lesley Kara, but I'm not going to review it on the blog.  It was an okay read for me, but it's another thriller in the vein of Gone Girl and The Girl on the Train and I just don't have much else to say about it.  If you like books like those and aren't tired of unlikable/unreliable narrators yet, you'll probably enjoy this one.
This week I've got several contemporaries I'm hoping to get through, including one of my most anticipated 2019 reads, Brigid Kemmerer's Call It What You Will.  I'm planning to start that tonight and I'm so excited!
On the blog front, my giveaway for a copy of Kit Frick's All Eyes On Us ends tonight so if you haven't entered yet and are interested. enter HERE.
Not too much else has gone on. I did sign up for a 30-day trial of Hulu and immediately fell down a Will & Grace rabbit hole. I can't believe I never watched that show when it was originally on the air. It's hilarious!
I guess that it's for me.  Have a great week, everyone!
WHAT I POSTED LAST WEEK
WHAT I'M READING THIS WEEK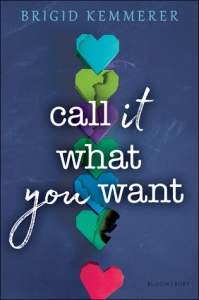 UPCOMING REVIEWS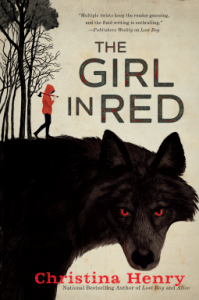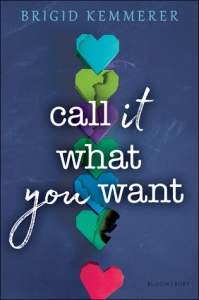 STACKING THE SHELVES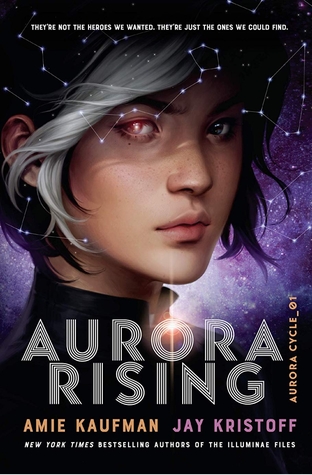 TOTALLY RANDOM
https://thebookishlibra.com/wp-content/uploads/2018/06/Weekly-Recap-Post.png
800
800
Suzanne
https://thebookishlibra.com/wp-content/uploads/2018/06/trimmed-Copy-of-Bookish-Logo-copy.png
Suzanne
2019-06-16 13:59:03
2019-06-16 13:59:03
Weekly Recap #108: Week of 6/9 - 6/15
So it's time to see how I'm doing on my audiobook challenge.  I'm actually really proud of my progress on this one because my goal for the year was to read 16-20 audiobooks and at the midway point, I've actually managed to read 18!  That's huge for me since up until last year, I hadn't had any luck trying to read audiobooks.  So here's what I've read so far (oh and 16 of these are also doing double duty for the Beat-the Backlist Challenge so consider this an update for that challenge as well.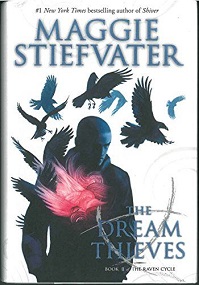 The first four books I read were the The Raven Cycle series by Maggie Stiefvater.  I was a little nervous about it going in since I had read but not loved her more recent book, All the Crooked Saints.  Thankfully I ended up really enjoying the series, with each book being a four star read.  I really loved all of the characters in the series, especially Ronan Lynch and it just feels good to have The Raven Cycle off my TBR since it had been there for about 3 years.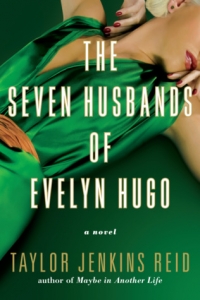 Books 5-8 have been some of my favorite audio reads so far in the challenge, especially The Seven Husbands of Evelyn Hugo, which is all around one of my favorite reads of the year to this point.  It was 5 stars all the way!  What If It's Us was a super cute 4-star romance for me, while Crazy Rich Asians was 4 stars of crazy fun.  And I highly recommend the audio version of On the Come Up.  I think it makes Bri a more likable character than just reading the print version, plus you get to actually hear her rap, which was so cool  That was a 4.5 star read for me.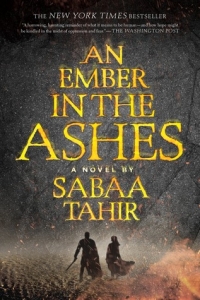 Books 9-12 were some fantasy reads that I tried on audio and really loved.  Plus it was nice to make some progress on my series reading too.  I really enjoyed Catwoman: Soulstealer on audio, so much so that I may go back and try Marie Lu's Batman book that way since I skipped over it after hearing meh reviews.  Catwoman was 4 stars for me, as was City of Ashes, the second book in Cassandra Clare's The Mortal Instruments series.  I'll probably continue that series on audio as well.  I had actually been in a fantasy slump for a couple of months until I read Sabaa Tahir's An Ember in the Ashes on audio, which I loved and rated 4 stars.  The biggest surprise out of all of these fantasy reads for me was Neil Gaiman's Stardust. I was just writing in a recent Top Ten Tuesday post how his books were really hit or miss for me.  Well, this one was a huge hit with me.  Gaiman himself narrates it and the story is just beautiful.  It actually reads like a fairytale, which just made the audio version seem like the perfect way to enjoy it. Stardust was a 4.5 star read for me and is now my favorite Gaiman book.
Books 12-16 are a hodge podge from different genres.  Murder on the Orient Express was my favorite from this group.  I thought the narrator was fantastic and the murder mystery gripping.  It was a 5 star read for me.  The Song of Achilles was a lovely read as well, one that I would recommend to anyone who loves Greek Mythology. I rated it 4 stars and look forward to reading Circe from the same author soon.  Pride was such a fun read.  It's a Pride and Prejudice retelling set in modern day Brooklyn, and it's filled with sass, snark, and romance just like the original P&P.  I gave it 4 stars as well.  Queenie was the one disappointment from this lot.  It started out so good but then I just became so frustrated with the main character and her pattern of making bad choices, all the while admitting she was well aware they were bad choices.  It got to the point where I just wanted the story to be over so I didn't have to hear from her anymore, lol.  I rated 3 stars, just because I did enjoy the first part of it.
And finally, books 17 and 18.  Lily and the Octopus was an interesting read.  As a pet owner, I found it a very emotional read, but from a more objective standpoint, it was a little hard to get into, just the whole concept of referring to what was on the dog as an octopus was a little jarring.  I ended up rating it 3 stars.  Celeste Ng's Little Fires Everywhere was a fantastic and moving read.  I loved the way the story unfolded and thought the narrator was great.  I read somewhere that this book is being made into a limited series and I can't wait to watch it.  I rated the book 4.5 stars.
* * * * * *
Are you participating in the audiobook challenge?  If so, how are you doing on it?  I have to admit that I've been somewhat of an audiobook junkie now and look forward to seeing just how far I can surpass my original goal in the second half of the year.
https://thebookishlibra.com/wp-content/uploads/2018/12/Audiobook-Challeng-2019.png
500
500
Suzanne
https://thebookishlibra.com/wp-content/uploads/2018/06/trimmed-Copy-of-Bookish-Logo-copy.png
Suzanne
2019-06-15 20:56:28
2019-06-15 20:56:28
Midyear Audiobook Challenge Check-In
Recursion

by Blake Crouch
Also by this author: Dark Matter


Published by
Crown Publishing Group (NY) on June 11, 2019
Genres:
Science Fiction, Thriller
Pages:
336
Source:
Netgalley
Buy on Amazon
Goodreads
FTC Disclosure: I received this book for free from Netgalley in exchange for an honest review. This does not affect my opinion of the book or the content of my review.
RECURSION Review
Wow, Blake Crouch has done it again! I didn't think there was any way he could top the mind blowing reading experience of Dark Matter, but man, was I wrong…He really outdoes himself with his latest novel, Recursion, a gripping sci-fi read that explores what happens when memory storing technology designed to potentially help Alzheimer's patients retain some of their memories ends up in the wrong hands.
The story follows Barry Sutton, a NYC police detective, and Helena Smith, a gifted neuroscientist.  Barry is sent to an address in New York where a woman is threatening to kill herself.  She has False Memory Syndrome, or FMS, a somewhat new phenomenon that keeps popping up more and more frequently. People who contract FMS suddenly develop a complete set of memories of a life that they haven't actually lived.  The false memories are so vivid and detailed that they seem real, which causes those who have the condition to become completely confused about what is real and what isn't.  The woman Barry has been sent to talk down from the roof suddenly started believing that she was happily married to a man that she really wasn't.  The memories were so convincing that she sought out the man and discovered that he was happily married to someone else and had a family of his own.  Devastated by this discovery and armed with the knowledge that she's really all alone in the world, she decides she doesn't want to live.  Barry gets a taste of just how closely our memories dictate our reality and how it can all fall apart if we can't trust those memories.
Eleven years prior to our meeting Barry, Helena Smith is hard at work trying to develop a technology that she hopes will help Alzheimer's patients, including her own mother, retain some of their memories.  When a wealthy benefactor offers her nearly unlimited funding to fast track her research, Helena can't resist.  All goes fantastically until she and her benefactor start testing the technology on live subjects and see all of its possibilities, both good and bad.  Fast forward eleven years and we can see firsthand the bad that can come of it and we see Helena's and Barry's journeys intertwine as they come together to try to stop what Helena has inadvertently set into motion.
What made Recursion such a phenomenal read for me was how Crouch manages to take this fictional memory storing technology, which, at first, sounds outrageous and completely impossible, and he transforms it into a scenario that seems completely plausible.  And because it actually does seem plausible, it starts to feel a little less like science fiction and a little more like a glimpse into our future.  The fact that there are potentially catastrophic consequences lends the story a real sense of urgency and ratchets up the tension and suspense.  The emotional and sometimes desperate reactions of those who are impacted by all of this mucking around with memories felt completely authentic too.  I sympathized with them so much and found myself wondering how I would react if I was in their shoes.  I loved that added emotional layer.
Crouch had me so caught up in this story that I was up until nearly 2a.m.one night because I just couldn't go to sleep until I knew how the story was going to end.  I kind of hated myself the next day, but it was so worth it.  Plus, the writing is so crisp and smooth that it just naturally lends itself to binge-reading it.
Recursion is a powerful and mind blowing read that I just know I'll be thinking about for a long time to come.  Aside from being a riveting page turner, it's also a book that left me with some pretty major food for thought, namely the question of whether technology that has the potential to do an incredible amount of good is worth having if it also has the potential to do a devastating amount of bad if placed in the wrong hands.  If you enjoyed Dark Matter, you're going to love Recursion.  And if you're a science fiction fan, I highly recommend both novels.  They made Blake Crouch an auto-buy author for me.

GOODREADS SYNOPSIS:

Memory makes reality. That's what New York City cop Barry Sutton is learning as he investigates the devastating phenomenon the media has dubbed False Memory Syndrome—a mysterious affliction that drives its victims mad with memories of a life they never lived.

Neuroscientist Helena Smith already understands the power of memory. It's why she's dedicated her life to creating a technology that will let us preserve our most precious moments of our pasts. If she succeeds, anyone will be able to re-experience a first kiss, the birth of a child, the final moment with a dying parent.

As Barry searches for the truth, he comes face-to-face with an opponent more terrifying than any disease—a force that attacks not just our minds but the very fabric of the past. And as its effects begin to unmake the world as we know it, only he and Helena, working together, will stand a chance at defeating it.

But how can they make a stand when reality itself is shifting and crumbling all around them?

About Blake Crouch
Blake Crouch is a bestselling novelist and screenwriter. He is the author of the novel, Dark Matter, for which he is writing the screenplay for Sony Pictures. His international-bestselling Wayward Pines trilogy was adapted into a television series for FOX, executive produced by M. Night Shyamalan, that was Summer 2015's #1 show. With Chad Hodge, Crouch also created Good Behavior, the TNT television show starring Michelle Dockery based on his Letty Dobesh novellas. He has written more than a dozen novels that have been translated into over thirty languages and his short fiction has appeared in numerous publications including Ellery Queen and Alfred Hitchcock Mystery Magazine. Crouch lives in Colorado.
The best way to stay apprised of new releases is to follow him on Facebook and Twitter.
https://thebookishlibra.com/wp-content/uploads/2019/06/recursion.jpg
1214
800
Suzanne
https://thebookishlibra.com/wp-content/uploads/2018/06/trimmed-Copy-of-Bookish-Logo-copy.png
Suzanne
2019-06-14 05:35:22
2019-06-13 22:02:22
Review: RECURSION by Blake Crouch