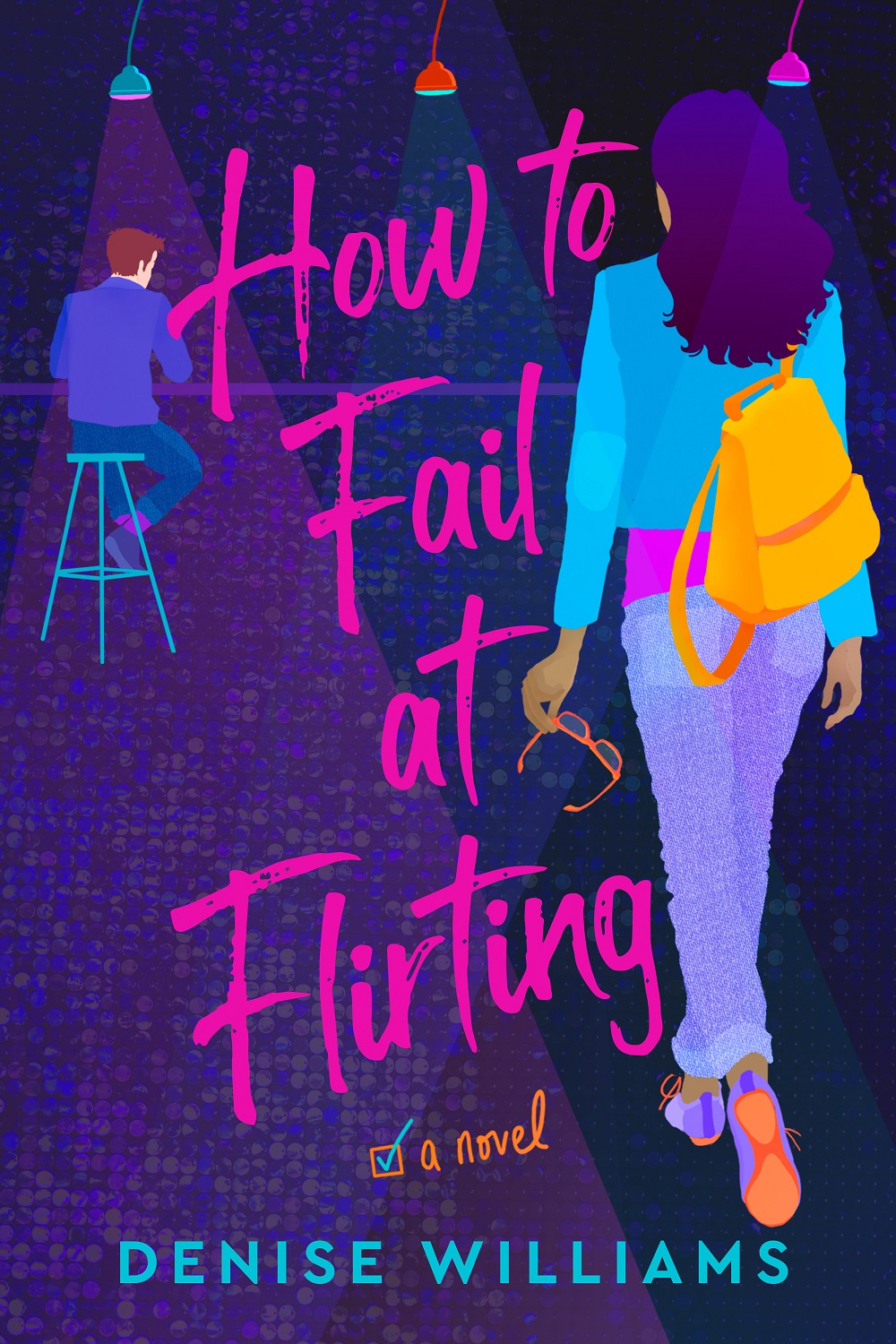 How to Fail at Flirting
by
Denise Williams

Published by
BERKLEY
on December 1, 2020
Genres:
Romance
,
Contemporary Fiction
Pages:
336
Source:
Netgalley
Amazon
|
Barnes & Noble
|
The Book Depository
Goodreads
FTC Disclosure: I received a complimentary copy of this book from Netgalley. All opinions are my own.
How to Fail at Flirting by Denise Williams is exactly the kind of read I have been craving this year. It's that perfect blend of rom-com fun and weightier, more dramatic moments that makes for such a satisfying multi-layered read.
How to Fail at Flirting follows Naya Turner, an education professor at a local university who finds her job in jeopardy because of possible budget cuts.  Since she left an abusive relationship, Naya has 100% thrown herself into her work, so she is devastated to hear her job may be in trouble.  In need of a distraction, Naya lets her friends convince her she needs to get out into the world of dating again.  Naya's looking for a no-strings hookup but instead, she meets Jake, a man that she really just clicks with. Everything about him seems perfect, that is until she finds out what he does for a living and that it could directly impact her own career in a negative way. Can Naya and Jake find a way to overcome their conflict or is their relationship doomed before it ever gets started?
I really loved and admired Naya so much.  She's smart, sassy, passionate about her teaching career, and she's also brave and resilient.  After learning about her horrible experiences at the hands of an abusive ex, I was rooting so hard for her to find true happiness.  I wanted her to go to that bar, have a blast completing every item on the hilarious list of dating dares her friends had given her, and then find a wonderful man who appreciates her for the strong woman she is.
I also adored Jake, the man Naya meets at the bar.  Jake is handsome, eloquent, kind, and he has a great sense of humor.  He has also recently gotten out of a bad relationship, so he's a little reluctant about putting himself out there in the dating pool as well, that is until he meets Naya and can't deny his attraction to her.  I loved watching their relationship slowly develop and was heartbroken as soon as I realized there was a real possibility that his job might prevent them from finding happiness together.
The twist with Jake's job possibly threatening Naya's job made what was already a compelling read truly unputdownable.  I just had to know if Jake and Naya were going to get a happy ending.  If you enjoy stories that feature loveable characters with undeniable chemistry whose happy ending is threatened by unforeseen circumstances, How to Fail at Flirting is a must-read.

About Denise Williams
Denise Williams wrote her first book in the 2nd grade. I Hate You and its sequel, I Still Hate You, featured a tough, funny heroine, a quirky hero, witty banter, and a dragon. Minus the dragons, these are still the books she likes to write. After penning those early works, she finished second grade and eventually earned a PhD.
​
A diversity trainer and co-creator of a women's empowerment group, she is dedicated to developing flawed, multidimensional characters who struggle with those issues impacting real women. After growing up a military brat around the world and across the country, Denise now lives in Iowa with her husband, son, and two ornery shih-tzus who think they own the house.
Denise was a 2019 Romance Writers of America ® Golden Heart Finalist and How to Fail at Flirting is her debut novel.
https://thebookishlibra.com/wp-content/uploads/2020/11/flirting.jpg
1500
1000
Suzanne
https://thebookishlibra.com/wp-content/uploads/2018/06/trimmed-Copy-of-Bookish-Logo-copy.png
Suzanne
2020-11-30 05:45:37
2020-11-30 07:05:31
Review: HOW TO FAIL AT FLIRTING by Denise Williams
"Waiting On" Wednesday is a weekly event, hosted at Breaking the Spine, which encourages fellow bloggers to spotlight upcoming releases that we're excited about.  It is a meme that I have  loved participating in for over a year now, but as Jill is no longer actively posting, from now on I'll be linking to Can't Wait Wednesday, hosted by Tressa at Wishful Endings, which is a spinoff of the original WoW meme.
* * * * *
My selection for this week is Don't Make Me Turn This Life Around by Camille Pagán.  I'm always up for a good book about family and this sounds like it has the potential to be a lot of fun.
Don't Make Me Turn This Life Around by Camille Pagán
Publication Date:  May 11, 2020 by Lake Union Publishing
From Goodreads:
A seriously funny novel about a woman trying to keep her family vacation—and yes, her life—from going south by the Amazon Charts bestselling author of Life and Other Near-Death Experiences.
It's been thirteen years since doctors declared Libby Ross-Velasquez a goner. Yet here she is—cancer-free. So why doesn't she feel more alive?
Sure, Libby's husband, Shiloh, has been distant. One of their daughters has a serious health condition. And her father's death hovers over Libby like a rain cloud. Still, this eternal optimist knows she's the winner of the existential lottery.
But when her forced cheer isn't enough to keep her family from catching her blahs, she decides to fly them all to Vieques. The Puerto Rican island is where she and Shiloh fell in love—and where she decided to fight for her life after her cancer diagnosis. Where better to put their problems into perspective?
Then a tropical storm strikes. Libby pretends everything's fine, even as she fears she's doomed her family. What she can't see is that the worst disaster they've faced may be the best thing that ever happened to them. But first, they have to get through it.
* * * * *
I'd love to hear what upcoming book releases you're waiting on this Wednesday? Leave me your link in the comments below and I'll stop by and check out your CWW selection for this week. 🙂
https://thebookishlibra.com/wp-content/uploads/2020/11/dont-make-me-lg.jpg
2475
1650
Suzanne
https://thebookishlibra.com/wp-content/uploads/2018/06/trimmed-Copy-of-Bookish-Logo-copy.png
Suzanne
2020-11-25 05:35:50
2020-11-24 22:21:53
Can't Wait Wednesday – Don't Make Me Turn This Life Around by Camille Pagán
Top Ten Tuesday was created by The Broke and the Bookish in June of 2010 and was moved to That Artsy Reader Girl in January 2018. It was born of a love of lists, a love of books, and a desire to bring bookish friends together.  Top Ten Tuesday has been one of my favorite memes ever since I started blogging, so huge thanks to Jana for taking over the hosting duties!
This week's TTT topic is a Thanksgiving freebie, so I'm just going to keep it simple and share some things I'm thankful for this year. It's not an especially bookish topic, but of course I am thankful for books so they are high on my list. 2020 is probably the most challenging year to be thankful for because of the pandemic and the continuing circus that is the Trump Administration, but I was still able to come up with a few things.
Before I share my list, I also want to wish everyone who is celebrating this week a safe and Happy Thanksgiving.
* * * * *
10 Things I'm Thankful for This Year
1. My Health and My Family's Health.  In a year of uncertainty due to the pandemic, I feel very thankful that, thus far anyway, taking precautions against COVID has helped to keep me and all of my family members from getting it.
2. My Job.  I know I complain about it sometimes, but I truly am thankful not only that I have been able to keep my job AND work from home since March, but also that my company has not had to furlough anyone yet. I know it's such a relief for everyone at the company, and in particular, parents who wanted to keep their kids in virtual school for safety reasons.
3. Books!  I'm always thankful for wonderful books to read, but this year, I have appreciated the distraction from reality more than ever before.
4. Hulu, Netflix, and Disney Plus.  Speaking of distractions, I've appreciated my favorite distractions so much this year. Between COVID and politics, I just haven't wanted to turn on my TV at all this year so these streaming services have been lifesavers.
5. Biden/Harris.  Speaking of the dreaded P- word,  I'm so thankful that the current administration will soon be gone and that we have two wonderful people in line to lead us forward.  It's the first time I've ever cried tears of joy when the winner of an election was announced, lol.
6. All of You! I'm also more thankful than ever for the bookish community. During this time where we've all been isolating and social distancing for so long, I have appreciated my online friendships so much.  And of course all of the fabulous book recs you give me all year long. 🙂
7. Quality time with my child (and with my furry children).  One of the bright spots about being home so much is that I've definitely spent a lot more time with my son than I would normally get to.  Not all of it is pleasant of course because he's now a hormonal teenager going through puberty, but he really is an interesting kid and I've enjoying getting to have actual thought-provoking discussions with him.  It's also been very nice to get to hang out with Ninja and Winston more.  I swear, work is so much more chill when you have a dog at your feet and a cat snuggling in your lap. 🙂
8. Scientists and Healthcare Professionals.  I'm so thankful for all of the men and women out there who are doing everything in their power to develop vaccines and treatments for COVID and for those healthcare workers on the front lines, risking their own lives to care for those who have gotten so ill from it.  What a truly extraordinary group of people.
9. Coffee, Tea, Fuzzy Socks, and Cozy Blankets.  This probably sounds silly, but I'm thankful for all of the small things in life that have brought me comfort and helped me to feel more relaxed this year.
10. Resilience and Innovation.  I know a lot of businesses have suffered because of the pandemic, but I'm so thankful for the spirit of resiliency and innovation that has kept so many businesses open as they've been able to find ways to adapt to a socially distanced world.  I think of the whiskey distilleries in my own state that switched over and started manufacturing hand sanitizer to help meet the overwhelming demand for it and all of the restaurants that have managed to switch over to curbside pickup, contactless deliveries, and outdoor seating.  It really is impressive.
What are you thankful for this year?
https://thebookishlibra.com/wp-content/uploads/2018/01/TTT-Big2.png
203
500
Suzanne
https://thebookishlibra.com/wp-content/uploads/2018/06/trimmed-Copy-of-Bookish-Logo-copy.png
Suzanne
2020-11-24 05:35:46
2020-11-23 20:06:10
Top Ten Tuesday: 10 Things I'm Thankful for This Year