"Waiting On" Wednesday is a weekly event, hosted at Breaking the Spine, which encourages fellow bloggers to spotlight upcoming releases that we're excited about.  It is a meme that I have  loved participating in for over a year now, but as Jill is no longer actively posting, from now on I'll be linking to Can't Wait Wednesday, hosted by Tressa at Wishful Endings, which is a spinoff of the original WoW meme.
* * * * *
My selection for this week is DESTINATION ANYWHERE by Sara Barnard.  I've had great luck with all of Sara Barnard's novels that I've read so far, so I'm definitely looking forward to her latest.  Based on the synopsis, it promises to be an emotional read.
DESTINATION ANYWHERE by Sara Barnard
Publication Date:  February 23, 2021 by Simon & Schuster Books for Young Readers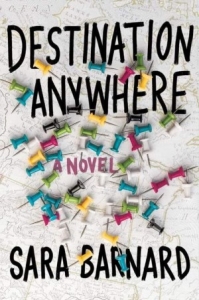 From Goodreads:
Perfect for fans of Morgan Matson and Sarah Dessen, this lushly written and heart-wrenching novel follows a teen girl on a one-way trip away from her life and slowly reveals what made her leave it all behind.
Sometimes you have to leave your life behind to find your place in the world…
Peyton King has always wanted to belong. She seizes the opportunity to start over at a new school and finally finds real connections with the friends she's always dreamed of and even an actual boyfriend!
But after flying high in her newfound happiness, Peyton comes crashing down when reality sets in and the ones she cares about let her down. Peyton's friends can't fix her and she can't help them if they won't let her. If she wants to find real, lasting happiness, Peyton will have to search somewhere else.
With nothing but her sketchpad and a backpack, she buys a one-way ticket and gets on a plane. How far will she go to change her story?
* * * * *
I'd love to hear what upcoming book releases you're waiting on this Wednesday? Leave me your link in the comments below and I'll stop by and check out your CWW selection for this week. 🙂
https://thebookishlibra.com/wp-content/uploads/2020/10/destination-lg.jpg
2114
1399
Suzanne
https://thebookishlibra.com/wp-content/uploads/2018/06/trimmed-Copy-of-Bookish-Logo-copy.png
Suzanne
2020-10-07 05:35:43
2020-10-06 22:29:44
Can't Wait Wednesday – DESTINATION ANYWHERE by Sara Barnard
Top Ten Tuesday was created by The Broke and the Bookish in June of 2010 and was moved to That Artsy Reader Girl in January 2018. It was born of a love of lists, a love of books, and a desire to bring bookish friends together.  Top Ten Tuesday has been one of my favorite memes ever since I started blogging, so huge thanks to Jana for taking over the hosting duties!
This week's TTT topic is Book Covers with Fall Colors/Vibes (or spring if you live in the southern hemisphere).  I did covers with fall colors the last time this topic rolled around so this time around, I thought it would be fun to share some covers that, at least in my mind anyway, have fall/spooky season vibes.  In some cases, it's the color scheme, but in others it's the content of the cover or its overall atmosphere.
* * * * *
Top Ten Tuesday: Book Covers with Fall Vibes
Budding photographer Josie Saint-Martin has spent half her life with her single mother, moving from city to city. When they return to her historical New England hometown years later to run the family bookstore, Josie knows it's not forever. Her dreams are on the opposite coast, and she has a plan to get there.
What she doesn't plan for is a run-in with the town bad boy, Lucky Karras. Outsider, rebel…and her former childhood best friend. Lucky makes it clear he wants nothing to do with the newly returned Josie. But everything changes after a disastrous pool party, and a poorly executed act of revenge lands Josie in some big-time trouble—with Lucky unexpectedly taking the blame.
Determined to understand why Lucky was so quick to cover for her, Josie discovers that both of them have changed, and that the good boy she once knew now has a dark sense of humor and a smile that makes her heart race. And maybe, just maybe, he's not quite the brooding bad boy everyone thinks he is…
THE IRON RAVEN by Julie Kagawa
You may have heard of me…Robin Goodfellow. Puck. Prankster, joker, raven, fool… King Oberon's right-hand jester from A Midsummer Night's Dream. The legends are many, but the truth will now be known as never before, as Puck finally tells his own story and faces a threat to the lands of Faery and the human world unlike any before.
With the Iron Queen Meghan Chase and her prince consort, Puck's longtime rival Ash, and allies old and new by his side, Puck begins a fantastical and dangerous adventure not to be missed or forgotten.
MAGIC LESSONS by Alice Hoffman
In an unforgettable novel that traces a centuries-old curse to its source, beloved author Alice Hoffman unveils the story of Maria Owens, accused of witchcraft in Salem, and matriarch of a line of the amazing Owens women and men featured in Practical Magic and The Rules of Magic.
Where does the story of the Owens bloodline begin? With Maria Owens, in the 1600s, when she's abandoned in a snowy field in rural England as a baby. Under the care of Hannah Owens, Maria learns about the "Unnamed Arts." Hannah recognizes that Maria has a gift and she teaches the girl all she knows. It is here that she learns her first important lesson: Always love someone who will love you back.
When Maria is abandoned by the man who has declared his love for her, she follows him to Salem, Massachusetts. Here she invokes the curse that will haunt her family. And it's here that she learns the rules of magic and the lesson that she will carry with her for the rest of her life. Love is the only thing that matters.
Magic Lessons is a celebration of life and love and a showcase of Alice Hoffman's masterful storytelling.
KINGDOM OF THE WICKED by Kerri Maniscalco
Two sisters.  One brutal murder.  A quest for vengeance that will unleash Hell itself…And an intoxicating romance.
Emilia and her twin sister Vittoria are streghe – witches who live secretly among humans, avoiding notice and persecution. One night, Vittoria misses dinner service at the family's renowned Sicilian restaurant. Emilia soon finds the body of her beloved twin…desecrated beyond belief. Devastated, Emilia sets out to find her sister's killer and to seek vengeance at any cost-even if it means using dark magic that's been long forbidden.
Then Emilia meets Wrath, one of the Wicked-princes of Hell she has been warned against in tales since she was a child. Wrath claims to be on Emilia's side, tasked by his master with solving the series of women's murders on the island. But when it comes to the Wicked, nothing is as it seems…
TALES FROM THE HINTERLAND by Melissa Albert
A gorgeously illustrated collection of twelve "lush and deliciously sinister fairy tales" (Kelly Link) by the New York Times bestselling author of The Hazel Wood and The Night Country!
Before The Hazel Wood, there was Althea Proserpine's Tales from the Hinterland…  Journey into the Hinterland, a brutal and beautiful world where a young woman spends a night with Death, brides are wed to a mysterious house in the trees, and an enchantress is killed twice—and still lives.
Perfect for new readers and dedicated fans alike, Melissa Albert's Tales from the Hinterland features full-page illustrations by Jim Tierney, foil stamping, two-color interior printing, and printed endpapers.
THE BRUTAL TELLING by Louise Penny
Chaos is coming, old son.  With those words the peace of Three Pines is shattered. As families prepare to head back to the city and children say goodbye to summer, a stranger is found murdered in the village bistro and antiques store. Once again, Chief Inspector Gamache and his team are called in to strip back layers of lies, exposing both treasures and rancid secrets buried in the wilderness.
No one admits to knowing the murdered man, but as secrets are revealed, chaos begins to close in on the beloved bistro owner, Olivier. How did he make such a spectacular success of his business? What past did he leave behind and why has he buried himself in this tiny village? And why does every lead in the investigation find its way back to him?
As Olivier grows more frantic, a trail of clues and treasures— from first editions of Charlotte's Web and Jane Eyre to a spider web with the word "WOE" woven in it—lead the Chief Inspector deep into the woods and across the continent in search of the truth, and finally back to Three Pines as the little village braces for the truth and the final, brutal telling.
INTO THIN AIR by Deborah Rogers
A web of lies. A sister's worst nightmare…When Dr Julia Norris's estranged sister, Toni, goes missing in Turkey, Julia thinks it's just another one of her sister's irresponsible stunts. But when Toni's backpack and passport wash up along the Istanbul seafront, Julia realizes the situation is far more serious than first thought.
Desperate for answers, Julia travels to Istanbul to find out what's happened to Toni. As she delves deeper into her sister's mysterious disappearance, everything points to Toni being abducted. But as a stranger in a strange land, who will believe Julia? And as she gets drawn into a web of lies and betrayal, could Julia be in danger herself?
Set against the stunning backdrop of Istanbul, Into Thin Air is a gripping, fast-paced mystery with twists and turns that will keep you guessing until the very end.
If you like page-turning mysteries set in exotic locations, you love this latest offering from exciting new crime writer Deborah Rogers.
THE GHOST TREE by Christina Henry
When people go missing in the sleepy town of Smith's Hollow, the only clue to their fate comes when a teenager starts having terrifying visions, in a chilling horror novel from national bestselling author Christina Henry.
When the bodies of two girls are found torn apart in the town of Smiths Hollow, Lauren is surprised, but she also expects that the police won't find the killer. After all, the year before her father's body was found with his heart missing, and since then everyone has moved on. Even her best friend, Miranda, has become more interested in boys than in spending time at the old ghost tree, the way they used to when they were kids.
So when Lauren has a vision of a monster dragging the remains of the girls through the woods, she knows she can't just do nothing. Not like the rest of her town. But as she draws closer to answers, she realizes that the foundation of her seemingly normal town might be rotten at the center. And that if nobody else stands for the missing, she will.
THE RAVENS by Kass Morgan and Danielle Paige
Kappa Rho Nu isn't your average sorority. Their parties are notorious. Their fundraisers are known for being Westerly College's most elaborate affairs. But beneath the veil of Greek life and prestige, the sisters of Kappu Rho Nu share a secret: they're a coven of witches. For Vivi Deveraux, being one of Kappa Rho Nu's Ravens means getting a chance to redefine herself. For Scarlett Winters, a bonafide Raven and daughter of a legacy Raven, pledge this year means living up to her mother's impossible expectations of becoming Kappa Rho Nu's next president. Scarlett knows she'd be the perfect candidate — that is, if she didn't have one human-sized skeleton in her closet…. When Vivi and Scarlett are paired as big and little for initiation, they find themselves sinking into the sinister world of blood oaths and betrayals.
A STRANGER in TOWN by Kelley Armstrong
In #1 New York Times bestselling author Kelley Armstrong's next Rockton book, A Stranger in Town, the biggest mystery is the fate of the town itself.
Detective Casey Duncan has noticed fewer and fewer residents coming in to the hidden town of Rockton, and no extensions being granted. Her boyfriend, Sheriff Eric Dalton, presumes it's the natural flux of things, but Casey's not so sure. Something bigger is happening in the small town they call home.
When an injured hiker stumbles from the woods, the sole survivor of a hostile attack, it's all hands on deck. Even a member of the elusive Rockton council comes in to help. This council member also comes bearing news: Rockton is being shut down due to the hostile situation.
Casey and Eric must now race to save the town that has allowed residents to have a fresh start, away from the mistakes of their past, while also getting to the bottom of this latest attack.
* * * * *
Have you read any of these?
https://thebookishlibra.com/wp-content/uploads/2020/10/Fall-Vibes.jpg
809
800
Suzanne
https://thebookishlibra.com/wp-content/uploads/2018/06/trimmed-Copy-of-Bookish-Logo-copy.png
Suzanne
2020-10-06 05:35:41
2020-10-05 22:21:49
Top Ten Tuesday – Book Covers with Fall Vibes
Today I'm sharing reviews of two of my most anticipated reads of 2020, Alice Hoffman's latest installment in her Practical Magic series and the new holiday-themed novel from Christina Lauren, In a Holidaze.  If these two books are any indication of the caliber of reads we can expect in October, I think we're all in for a real treat!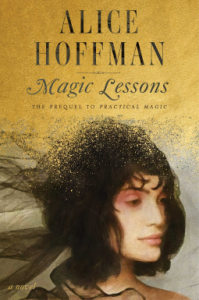 Magic Lessons
Goodreads
Author: Alice Hoffman
Publication Date: October 6, 2020
Publisher:  Simon & Schuster
FTC Disclosure: I received a complimentary copy of this book from Netgalley.  All opinions are my own.
Alice Hoffman is one of my favorite authors so, as you can guess, her latest novel, Magic Lessons, is one of my most anticipated reads of 2020.  I'm thrilled to say, not only did Magic Lessons meet my high expectations, it far exceeded them. I haven't had many 5 star reads this year, but Magic Lessons is definitely one of them.
Magic Lessons is Hoffman's third venture into the world of her beloved Owens witches.  Where Hoffman's second venture into this world, The Rules of Magic, gave us the backstory for the Owens sisters who grew up to be the aunts in Practical Magic, with Magic Lessons, Hoffman ventures back to the 1600s and the Salem Witch Trials, this time to give us the origin of the Owens bloodline as well as the events that led to the curse that has haunted their family for generations.
As always, what I love most about Hoffman's novels is that her storytelling is truly exquisite.  I felt transported back in time as soon as I started reading and was immediately caught up in the life of Maria Owens, the matriarch of the Owens witches.  Hoffman does such a beautiful job creating an unforgettable character and crafting an origin story for her that flows seamlessly into the other two books in the series.  As an infant, Maria was abandoned by her own mother, left in a snowy field in the English countryside.  A woman named Hannah Owens, who is gifted in the "Unnamed Arts" finds Maria and raises her as her own.  She recognizes that Maria shares her gift and therefore teaches her everything she knows.  After Hannah's death, Maria falls in love with a man and when he abandons her, she decides to follow him. This is how she ends up in Salem, right as the infamous witch hunts are getting underway, and this man's betrayal of her is what ultimately leads to the Owens curse everyone who has read the other books is so familiar with.
Magic Lessons is a gorgeous and atmospheric read and I found myself completely invested in Maria's journey, which is filled with both love and heartbreak, but also with hope, and of course with magic.  I especially loved watching all of the pieces fall into place, with little shout outs here and there to the magic we see in the books that come later in the Owens timeline.
If you're looking for the perfect atmospheric read to kick off spooky season, look no further than Alice Hoffman's Magic Lessons. It was everything I wanted for this series and more! 5 STARS
In a Holidaze
Goodreads
Author: Christina Lauren
Publication Date: October 6, 2020
Publisher:  Gallery Books
FTC Disclosure: I received a complimentary copy of this book from Netgalley.  All opinions are my own.
I don't normally start my holiday reading this early in the year, but I'm more than happy to make the exception when it's to read a new novel by Christina Lauren. Their latest collaboration, In a Holidaze,,  follows Mae Jones, a young woman who has found herself in a bit of a rut. She's stuck in a job that's going nowhere and is currently living with her parents.  Mae's life spirals in an even more downward direction when, at her family's traditional Christmas vacation at their best friends' cabin in Utah, two terrible things happen:  1) she drunkenly kisses the brother of the guy she's in love with, and 2) she learns their friends have decided to sell the cabin.
While Mae is mortified about kissing the wrong brother, she's truly heartbroken about the cabin because it's her absolute favorite place in the world and they've been coming there every Christmas for her entire life.  As they prepare to leave the cabin for what will be the last time, Mae makes one simple wish to the universe:  "Show me what will make me happy."  The universe is more than happy to oblige Mae's request, in its own special way, and Mae ends up somehow reliving this last week at the cabin over and over again because apparently the key to her happiness can only be found there.
I had so much fun reading this book!  I've always enjoyed the movie Groundhog Day so having that kind of déjà vu, time travel element in the story was such a treat for me.  I also really loved Mae and found her entire situation, and particularly her sadness about the potential loss of such a huge family tradition incredibly relatable.  I was in her corner every step of the way, hoping she would not only figure out what would make her truly happy but that she would also find a way to convince the family not to sell the cabin.
While I adored Mae, what really made the story such a special read for me was the family tradition and how it brought both family and friends together in such a wonderful way. I loved watching them spend the holidays together, especially all of their often hilarious holiday traditions.  They really did become one giant extended family over the years and it was just so heartwarming to read.
And it wouldn't be a Christina Lauren book if there wasn't a romance and I was totally on board with the romance in In a Holidaze.  Mae's chemistry with the brother she really is attracted to is undeniable, and he's adorable, so I really wanted her to figure out a way as she keeps reliving this week to make it work out between them.
If a mashup of the film Groundhog Day and your favorite Hallmark Christmas movie sounds good to you, I highly recommend Christina Lauren's In a Holidaze.  It's the perfect read to get you into the holiday spirit! 4 STARS
https://thebookishlibra.com/wp-content/uploads/2020/10/October-ARCs.jpg
800
800
Suzanne
https://thebookishlibra.com/wp-content/uploads/2018/06/trimmed-Copy-of-Bookish-Logo-copy.png
Suzanne
2020-10-05 05:35:52
2020-10-04 22:51:25
Reviews: MAGIC LESSONS and IN A HOLIDAZE