Reviews: NEVER SAW YOU COMING & PORTRAIT OF A SCOTSMAN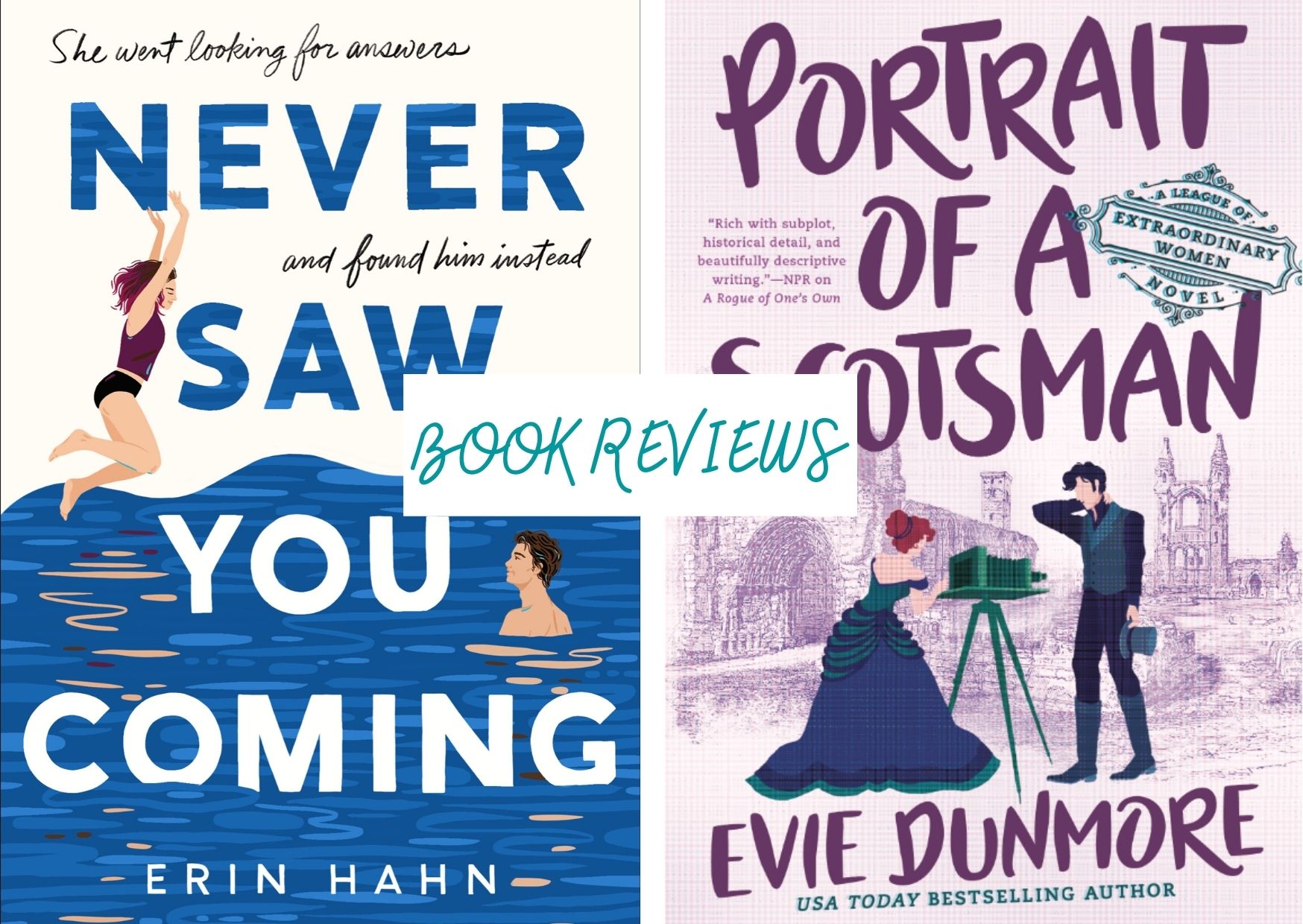 It was a short week, but boy did it feel like a long one!  I had a pretty quiet holiday weekend and therefore was able to get tons of reading done.  Thank goodness too because I have so many books to review in September.  Anyway, I'm thrilled to share my thoughts with you today on two great books I read over the holidays — the third book in a fun historical romance series called A League of Extraordinary Woman and also on my very first read from Erin Hahn.
Never Saw You Coming
Goodreads
Author: Erin Hahn
Publication Date: September 7, 2021
Publisher:  Wednesday Books
FTC Disclosure: I received a complimentary copy of this book from Netgalley.  All opinions are my own.
I was a little hesitant going into Erin Hahn's new novel Never Saw You Coming because of its focus on religion.  I have very complicated feelings about religion myself and worried that my own feelings might get in the way and make this a less than enjoyable read for me. I was pleased to discover that the exact opposite happened – this book and its main character, Meg Hennessey, really spoke to me mainly because Meg shares many of the conflicted feelings I've always had so I found her very easy to relate to.
What I found most relatable about Meg is that regardless of whatever conflicted feelings she has about church and her fellow Christians, those conflicted feelings never spill over into her feelings about God.  Her relationship with God is strong; she just takes issue with those holier than thou Christians who somehow think they have the right to act as judge and juror over everyone else's morality.  I also like that the author uses very realistic scenarios to explore Meg's conflicted feelings.  Her feelings, for example, really come to a head when she finds herself attracted to a young man named Micah and wonders if exploring any kind of intimate relationship with him makes her a sinner.  Meg also has to contend with a parent from the church deeming her unfit to lead the church youth group because Meg has purple streaks in her hair and because the parent witnessed Micah leaving Meg's house late at night.
I really liked Meg and felt especially sympathetic toward her because at the beginning of the story, she has recently learned that her entire life has basically been a lie and that her parents have been keeping a huge secret from her.  She runs away looking for answers, not just about religion, but really, about her entire sense of self and identity.
While I enjoyed watching Meg explore her faith and work through all the questions she has, I also really loved her growing relationship with Micah.  He too has a complicated relationship with religion and so he and Meg are able to have some pretty frank and enlightening discussions about faith and purity and sex.
I also loved that the religious themes didn't completely take over the story, but instead meshes very naturally into the budding romance between Meg and Micah.  The author does a lovely job keeping the two parts of the story well balanced.
Overall, Never Saw You Coming is both a sweet romance and an exploration of faith that will leave readers with plenty of food for thought.  4 STARS.
Portrait of a Scotsman (A League of Extraordinary Women, #3) Goodreads

Author: Evie Dunmore
Publication Date: September 7, 2021
Publisher:  Jove
FTC Disclosure: I received a complimentary copy of this book from Netgalley.  All opinions are my own.
Portrait of a Scotsman is the third installment in Evie Dunmore's entertaining historical romance series, A League of Extraordinary Women.  I've enjoyed this series immensely so far and this latest book is no exception.
This time around, the extraordinary woman in question is Hattie Greenfield.  Hattie is a suffragist and an Oxford scholar who is studying art.  Hattie's desires in life are quite simple:  1) she wants to become a famous artist, 2) she wants to find a noble cause to fight for that she is passionate about, and 3) she eventually wants to find a suitable gentleman to marry.  Hattie is also the daughter of a prominent London businessman and therefore an heiress to a pretty substantial fortune.  All of this comes crashing down around her, however, when she is found in an uncompromising position with the dark and broody Scotsman, Lucian Blackstone, a business rival of Hattie's father.  Lucian has a terrible reputation, both in business and in his personal dealings, so Hattie has set herself up for quite the scandal.  The only way to save her reputation is for her and Lucian to marry, a prospect neither of them is overly excited about but that they are both resigned to.
Thus begins a slow burn of a journey as Hattie and Lucian begin an awkward married life together.  Hattie is alternately attracted to and repulsed by Lucian, and doesn't know what she wants from one moment to the next, and Lucian, while he's most definitely attracted to Hattie, finds her to be a distraction from what he is really trying to do, which is seek revenge against someone who hurt him years ago.  There is a lot of sexual tension as the two of them alternate between fighting their feelings and giving in to them.  A trip to Scotland, Lucian's homeland, really takes their relationship to the next level.  Hattie learns that there's a lot more to Lucian than meets the eye and as they finally start to have honest heart-to-heart conversations with one another, she realizes that they may have a lot more in common than she ever would have dreamed of.
I really enjoyed watching the relationship between Hattie and Lucian grow and evolve.  There are awkward moments as well as hilarious ones, spirited arguments, and of course plenty of steamy, sexy moments as well.  There's also a bit of politics, feminism, social commentary regarding the rich vs the poor, and a pretty solid revenge story, so basically a little something for everyone.  As with the prior two novels, Portrait of a Scotsman also appears to be well-researched in terms of events and issues of the Victorian Era.
All in all, another very satisfying installment in the A League of Extraordinary Women series.  Fans of the prior two books in the series should enjoy this one as well, as should fans of historical romance.  4 STARS.
https://thebookishlibra.com/wp-content/uploads/2021/09/reviews.jpg
1240
1748
Suzanne
https://thebookishlibra.com/wp-content/uploads/2018/06/trimmed-Copy-of-Bookish-Logo-copy.png
Suzanne
2021-09-10 05:35:13
2021-09-09 18:03:28
Reviews: NEVER SAW YOU COMING & PORTRAIT OF A SCOTSMAN