Reviews: CIAO FOR NOW and SAME TIME NEXT SUMMER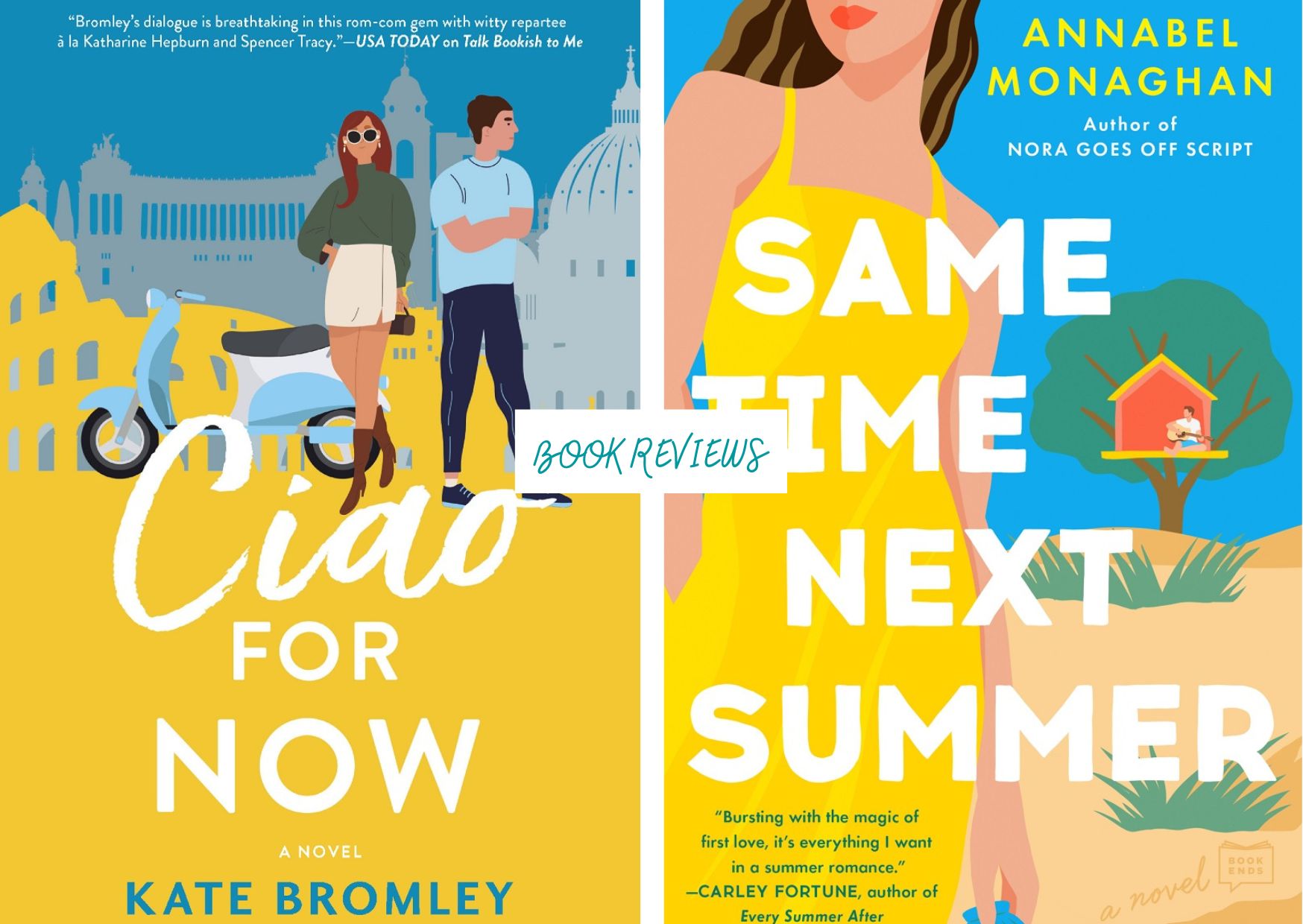 Happy Monday everyone!  I hope you all were able to enjoy the weekend and, most importantly, spend some quality time reading good books.  Today I'm back to share my thoughts on what I think are going to be two very popular beach reads this summer.  Between their sunny and vibrant covers and their promise of romance and happily ever afters, I think readers are going to find them irresistible. I know I did!
Ciao For Now: A Romantic Comedy Goodreads

Author: Kate Bromley
Publication Date: June 6, 2023
Publisher: Graydon House
FTC Disclosure: I received a complimentary copy of this book from the publisher via Netgalley.  All opinions are my own.
In Kate Bromley's new rom com Ciao for Now, Violet Luciano, a talented student of fashion design, has landed the opportunity of a lifetime. She gets to spend a month in Rome, Italy, interning at a popular fashion house and competing against two of her fellow classmates for the chance to secure a job at a major label back home in NYC. Violet knows this experience will change her life, but she has no idea how much!
What's the opposite of a meet cute, a meet ugly? Almost as soon as Violet lands in Rome, she manages to trip and fall in a cafe, crash landing on a sexy man, crushing his laptop and dousing him in coffee. He is clearly not impressed and Violet can't wait to get away from him, but guess what? Turns out he's Matteo, the grumpy son of the professor who is hosting the students from New York so they're staying in the same place. 😂
This was such a fun read! I love the enemies to lovers and forced proximity tropes so I had a blast following Violet and Matteo as they awkwardly navigated their way around each other, only to, of course since it's a romance, eventually develop feelings other than hate for one another. I loved both characters and thought they had amazing chemistry.
I also loved hanging out with Violet and her endearing classmates as they interned in the fashion world. I don't know much about fashion but it was fun exploring that world with them and watching them design pieces for their contest.
One of my favorite parts about the story though was that Violet is somewhat older than her classmates and has returned to school to find her passion. Her journey to Rome is also a journey of self discovery.
This is my third time reading Kate Bromley and I have yet to be disappointed. If you like rom coms, Italian settings, fashion design, and journeys of self discovery, you'll definitely want to check out Ciao for Now! 4 STARS
Same Time Next Summer Goodreads

Author: Annabel Monaghan
Publication Date: June 6, 2023
Publisher: G.P. Putnam's Sons
FTC Disclosure: I received a complimentary copy of this book from the publisher via Netgalley.  All opinions are my own.
Oh, how I do love a second chance romance!  Annabel Monaghan's new novel Same Time Next Summer features my favorite kind too – childhood sweethearts who are reunited after years apart.  The nostalgic vibes and the sweet flashbacks showing a first love in bloom are just pure catnip for me.
Same Time Next Summer follows Sam, a young woman who has returned to her parent's Long Island beach house to start planning her wedding.  On the surface, Sam's life seems perfect. Her fiancé is a handsome doctor and she has the perfect job. But the more we get to witness Sam in action, the more it becomes clear that things aren't nearly as perfect as they seem.  There's trouble with her job, and her doctor fiancé isn't quite the catch he should be.  When Sam runs into Wyatt, her childhood sweetheart who she hasn't seen in almost 14 years, it becomes clear that Sam has just been going through the motions both personally and professionally.
Monaghan does a wonderful job of alternating between past and present so we can witness the moving story of Sam and Wyatt when they first met, became friends, and then fell in love and then see them reconnect as adults and realize that they still have very strong feelings for one another.  It made me sad to see what initially drove them apart but the bond between them is so strong that I felt confident that if Sam were to choose him, they could have a happily ever after.
The romance is lovely, but this is a story that features more than just a second chance at love.  Sam's  return home, and everything she experiences while there, serves as a wake up call and a second chance for Sam to have the life she has always wanted professionally as well as personally.  This creates a perfect balance between romance and women's fiction. As someone who loves both rom coms and romances that have a little more meat to them, I loved the extra layers Sam's personal journey added to the story.
Featuring a poignant second chance romance as well as a moving journey of personal discovery, Same Time Next Summer is a read that will appeal to so many readers.  And with its vibrant beachy setting and nostalgic summer vibes, it's the perfect book to toss in your beach bag this summer! 4 STARS
https://thebookishlibra.com/wp-content/uploads/2023/06/reviews-69.jpg
1240
1748
Suzanne
https://thebookishlibra.com/wp-content/uploads/2018/06/trimmed-Copy-of-Bookish-Logo-copy.png
Suzanne
2023-06-12 05:35:05
2023-06-11 21:59:42
Reviews: CIAO FOR NOW and SAME TIME NEXT SUMMER