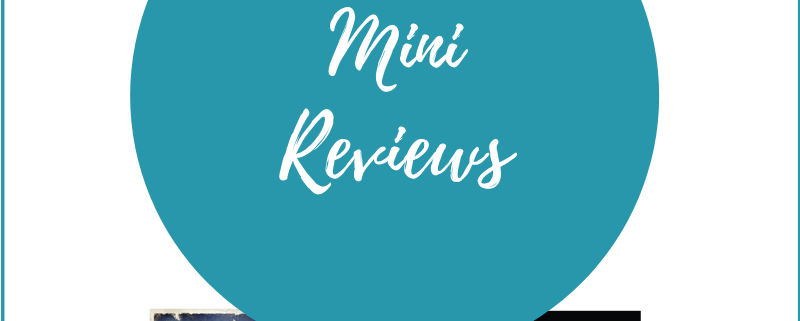 Mini Reviews – Must-Read February Releases: The Thriller Edition
It's time for a new batch of mini reviews and this time it's February ARCs, specifically three amazing thrillers that need to go on your must read list.  I don't want to say much about these since with thrillers, it's usually best to go in knowing as little as possible, but I do want to share a few highlights of what I loved about each book.
A Good Girl's Guide to Murder
Goodreads
Author: Holly Jackson
Publication Date: February 4, 2020
Publisher:  Delacorte Press
FTC Disclosure: I received a complimentary copy of this book from Netgalley.  All opinions are my own.
Holly Jackson's A Good Girl's Guide to Murder is a YA murder mystery that follows Pip, who has been thinking about a local murder investigation from a few years earlier, the outcome of which has never set well with her.  The case in question involved local high school students, Andie Bell and Sal Singh.  Andie went missing and Sal, who was her boyfriend at the time, immediately becomes the prime suspect in her disappearance.  When Sal takes his own life, everyone assumes that he killed Andie and committed suicide and thus the case was closed. Pip doesn't buy it. Sal was one of the sweetest people she has ever known and she refuses to believe for one second that he hurt Andie.  Pip therefore decides to use her senior project as an opportunity to re-examine the case and find the real killer and she enlists Sal's younger brother, Ravi, to help her.
This was such a fun read for me. I loved watching Pip in action.  She's a very sharp young lady and has a real knack for being able to sift through clues and put together the pieces of a five year old murder mystery.  There were plenty of twists and turns to keep me guessing as Pip followed the evidence and recorded her findings in her project journal. I also really loved that we were given the excerpts from Pip's journal so that we could get inside of her head and follow her thought patterns as she sifted through what she found.  In addition to the thrill of feeling like I was right there with Pip as she investigated, there was also growing tension and suspense as Pip starts receiving anonymous threats warning her to back off or else.
While the case itself and Pip's journey toward the truth is riveting, I also really enjoyed A Good Girl's Guide to Murder because of the growing friendship between Pip and Ravi.  Ravi of course never believed his brother was capable of murder and has always wanted the opportunity to prove Sal's innocence.  Instead of having that chance, however, Ravi, as the brother of an accused murderer, has pretty much been ostracized by the community. I loved that Pip reached out to him and gave him the opportunity to help clear his brother and get closure, and I especially loved that a true friendship between Pip and Ravi grew from them working on this project together.  I'm also excited that this book is the first in a series so I'm hoping we'll get more of both Pip and Ravi in the next installment.
A Good Girl's Guide to Murder is one heck of a wild ride and I highly recommend it to fans of YA thrillers.   4.5 STARS
The Sun Down Motel
Goodreads
Author: Simone St. James
Publication Date: February 18, 2020
Publisher:  Berkley
FTC Disclosure: I received a complimentary copy of this book from Netgalley.  All opinions are my own.
I'm going to predict right now that Simone St. James' latest novel The Sun Down Motel lands on my Best of 2020 list.  This book, hands down, blew me away, and there's no way I'm going to be able to write anything here that will do it justice.  I devoured the book in less than 24 hours and it had me so hooked that I simply refused to put it down and do anything else until I knew how it ended.
The story follows two young women, Viv and Carly, 35 years apart, who both become entangled in the secrets that haunt an old run-down, roadside motel called the Sun Down Motel, located in the tiny town of Fell, New York.  In 1982, Viv Delaney was working as a night clerk at the motel when she unexpectedly went missing and was never heard from again.  In 2017, we meet Carly, who is actually Viv's niece and who has left college and come to Fell, NY, trying to find the truth about what happened to her aunt. When Carly visits the Sun Down, while trying to retrace her aunt's footsteps, she sees they are looking for a new night shift clerk, her aunt's old shift. Carly can't explain why but she feels compelled to take the job while she's in town looking for leads on Viv.  And that's when strange things start happening at the Sun Down Motel, like something out of The Twilight Zone.  The strange happenings at the Sun Down, as well as the mystery and secrets that surrounded them, absolutely enthralled me, as did the use of the dual timeline to show Viv investigating them in 1982 and then Carly experiencing and investigating the same things 35 years later in 2017. Would Carly find out what happened to Viv all those years ago…or would Carly disappear as well?
I don't want to say anything else because both Carly and Viv's journeys are best experienced with as few spoilers as possible going in. I will say though that this is absolutely one of the most suspenseful, atmospheric, mysterious, and haunting books I've read in a long time.  5 STARS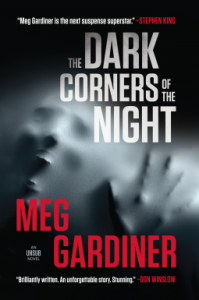 The Dark Corners of the Night (UNSUB, #3)
Goodreads
Author: Meg Gardiner
Publication Date: February 18, 2020
Publisher:  Blackstone Publishing
FTC Disclosure: I received a complimentary copy of this book from Netgalley.  All opinions are my own.
Anyone who follows my blog knows that I'm a huge fan of the UNSUB series and that The Dark Corners of the Night is one of my most anticipated reads of 2020. I'm happy to report that my love for the series has only grown with this third book because author Meg Gardiner really knocked it out of the park.  While the cover of the book is super creepy, let me just say that the story itself is even creepier. My skin crawled as I read about the horrific adventures of the killer who has been dubbed "The Midnight Man."
The Midnight Man sneaks into family homes in the Los Angeles, CA area under the cover of darkness.  He deliberately chooses families, and he murders the parents but leaves the children alive as witnesses to his unspeakable acts.  As the body count quickly starts to rise and local law enforcement officers realize they are dealing with a serial killer, they call in the FBI, which is where the protagonist of the UNSUB series, FBI behavioral analyst, Caitlyn Hendrix, enters the picture.
As with the first two novels in the series, it is absolutely riveting watching Caitlyn and her team carefully piece together a behavioral profile for this UNSUB and gradually work their way toward a list of possible suspects.  I love the sense of trust and camraderie that has developed between the members of the FBI team in these first three books, but I also liked the bit of tension that I saw here between the local law enforcement.  It was an uneasy alliance between the two groups even though they were both there trying to achieve the same goal: to catch a killer.
Caitlyn is always a big draw for me when I start a new UNSUB book, but she really drew me in even more than usual in this one, for a couple of reasons.  First, as she's learning more and more about the profile of the Midnight Man, she starts to see something of herself in him. He reminds her of her past and it disturbs her so much that she has to fight to keep it from impacting her work.  Second, The Dark Corners of the Night also signals that we are finally starting to circle back around to an unresolved case that was left hanging at the end of the first book.  My one disappointment with the second book was that it wasn't really touched on, so I was thrilled to see it revisited here with some teasers to advance the plot.
I think the books work fine as standalones but are absolutely outstanding as a series read in order, especially when it comes to watching for developments with that unsolved case that keeps dogging Caitlyn.  If you're into thrillers and especially into shows like Criminal Minds that delve into the FBI world of analyzing criminal behavior, I highly recommend the UNSUB series.  5 STARS
https://thebookishlibra.com/wp-content/uploads/2020/02/thrillers.png
800
800
Suzanne
https://thebookishlibra.com/wp-content/uploads/2018/06/trimmed-Copy-of-Bookish-Logo-copy.png
Suzanne
2020-02-17 05:35:41
2020-02-16 19:53:41
Mini Reviews – Must-Read February Releases: The Thriller Edition