Mini Reviews for Reputation, Meg & Jo, and The Dead Girls Club
It's time for a new batch of mini reviews and this time it's December ARCs!  I initially hadn't planned to request any December ARCs so that I could focus all of my attention on my backlist, but these three novels caught my eye so my plans changed.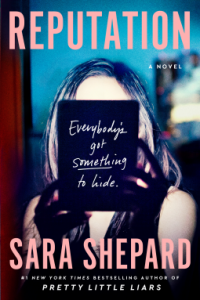 Reputation
Goodreads
Author: Sara Shepard
Publication Date: December 3, 2019
Publisher:  Dutton
FTC Disclosure: I received a complimentary copy of this book from Netgalley.  All opinions are my own.
Even though I loved the TV series Pretty Little Liars, which was inspired by the Sara Shepard book series of the same name, I had never actually read one of Shepard's books prior to requesting her latest novel, Reputation.  I went into Reputation hoping for a fast-paced read filled with all of the elements I loved in the Pretty Little Liars series and that's exactly what I got.  The story is centered on a prestigious university that gets turned up on its end when a hacker infiltrates the university network and uploads all of the university's emails into an easily searchable database.  From students to faculty and staff, lives are turned upside down as the emails are leaked publicly exposing juicy secrets, extramarital affairs, and so much more.  Then while everyone is busy dealing with the fallout from all of the exposed emails, a popular doctor is murdered.  Who would have wanted him dead? Is his murder somehow connected to something that came out as a result of the hack?  In typical Shepard fashion, the reader is taken on a wild ride that is jam-packed with shocking twists and turns as we watch the fallout from the hack, try to figure out who is responsible for the hack, and of course, who killed the doctor and why.  My only real complaint about the novel is that I didn't feel any real connection to the characters.  The story is told from the perspectives of five different women, and while each woman was very well developed and had a compelling storyline, I just didn't find any of them especially relatable.  It didn't hamper my overall enjoyment of the read at the time, but now sitting down to write this review, I can barely remember their names.  Even with that lack of connection though, Reputation is still a fast and fun read, especially if you're into scandalous soap opera-style drama. 3.5 STARS
Meg and Jo
Goodreads
Author: Virginia Kantra
Publication Date: December 3, 2019
Publisher:  Berkley
FTC Disclosure: I received a complimentary copy of this book from Netgalley.  All opinions are my own.
Meg & Jo by Virginia Kantra is a charming story that is actually a contemporary retelling of one of my favorite literary classics, Little Women.  As the title suggests, sisters Meg and Jo are the focus of this story.  Jo is still a writer, but in this version of the classic, she's a food blogger trying to make it in New York City, while Meg has a background in accounting but is a stay-at-home mom with twins living in North Carolina.  What I liked most about Meg & Jo is that Kantra does a wonderful job of paying homage to Little Women while still creating a fully original story in its own right.  I honestly don't even think you need to be familiar with Little Women to enjoy Meg & Jo. It features heartwarming sisterly interactions (including younger sisters Beth and Amy who put in appearances as well), compelling family drama involving a sick parent, and even a little romance with a sexy chef to keep things entertaining.  I also loved that it was set around the Thanksgiving and Christmas holidays, which made it the perfect read to help get me into the holiday spirit.  I will say to those who are huge fans of Little Women – don't go into this read expecting something as emotionally weighty as Little Women.  I'd consider this more of a Hallmark movie version of the original classic.  If you go in with that expectation, I think you'll find it a delightful read.  4 STARS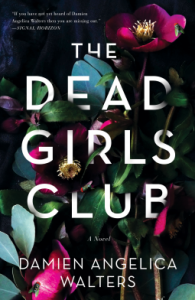 The Dead Girls Club
Goodreads
Author: Damien Angelica Walters
Publication Date: December 10, 2019
Publisher:  Crooked Lane Books
FTC Disclosure: I received a complimentary copy of this book from Netgalley.  All opinions are my own.
The Dead Girls Club by Damien Angelica Walters is a psychological thriller tinged with a hint of the supernatural that is sure to keep you on the edge of your seat.  It features a very effective dual time line that follows Heather Cole and her friends both as children and then later as adults.  The first time line follows Heather and her friends as they create a club called The Dead Girls Club, where they would secretly meet to discuss and share stories about serial killers and other morbid topics.  A favorite topic of theirs, and especially of Heather's best friend Becca, was the Red Lady, the spirit of a witch who was murdered centuries ago.  Becca spends so many hours telling elaborate stories about the Red Lady that she and the other girls become convinced that the Red Lady is real.  Their belief takes a tragic turn when Becca turns up dead. As the second timeline shows, what happened to Becca the night of her death has remained a secret for nearly 30 years until someone starts sending a now grown up Heather subtle hints that they know what really happened that night and that they plan to make her pay for it.  My favorite part about this novel is the Red Lady. I loved the stories about her and how she comes across as an urban legend. She definitely adds an ultra-creepy supernatural layer to what is otherwise a pretty straightforward psychological thriller as this unknown person basically stalks Heather with these threats of exposure.  For me though, Heather was actually the weakest part of the story.  I really enjoyed her character in the child timeline, but found her frustrating and infuriating in the adult timeline.  Her paranoia about being tied to Becca's death leads her to make some downright awful decisions, which made her not as likable as I prefer my protagonists to be.  Even though I didn't find Heather to be overly likable, I still thought The Dead Girls Club was a very solid read.  The author does a wonderful job of creating plenty of suspense in both timelines and I was engaged from start to finish (and, of course, looking over my shoulder to make sure the Red Lady wasn't lurking behind me).  If you like a good creepy thriller with a supernatural twist, The Dead Girls Club is a great choice.  3.5 STARS
https://thebookishlibra.com/wp-content/uploads/2019/11/Mini-reviews.png
800
800
Suzanne
https://thebookishlibra.com/wp-content/uploads/2018/06/trimmed-Copy-of-Bookish-Logo-copy.png
Suzanne
2019-12-06 06:00:49
2019-12-05 21:28:48
Mini Reviews for Reputation, Meg & Jo, and The Dead Girls Club