Historical Fiction Reviews: THE BOOK WOMAN'S DAUGHTER & OUR LAST DAYS IN BARCELONA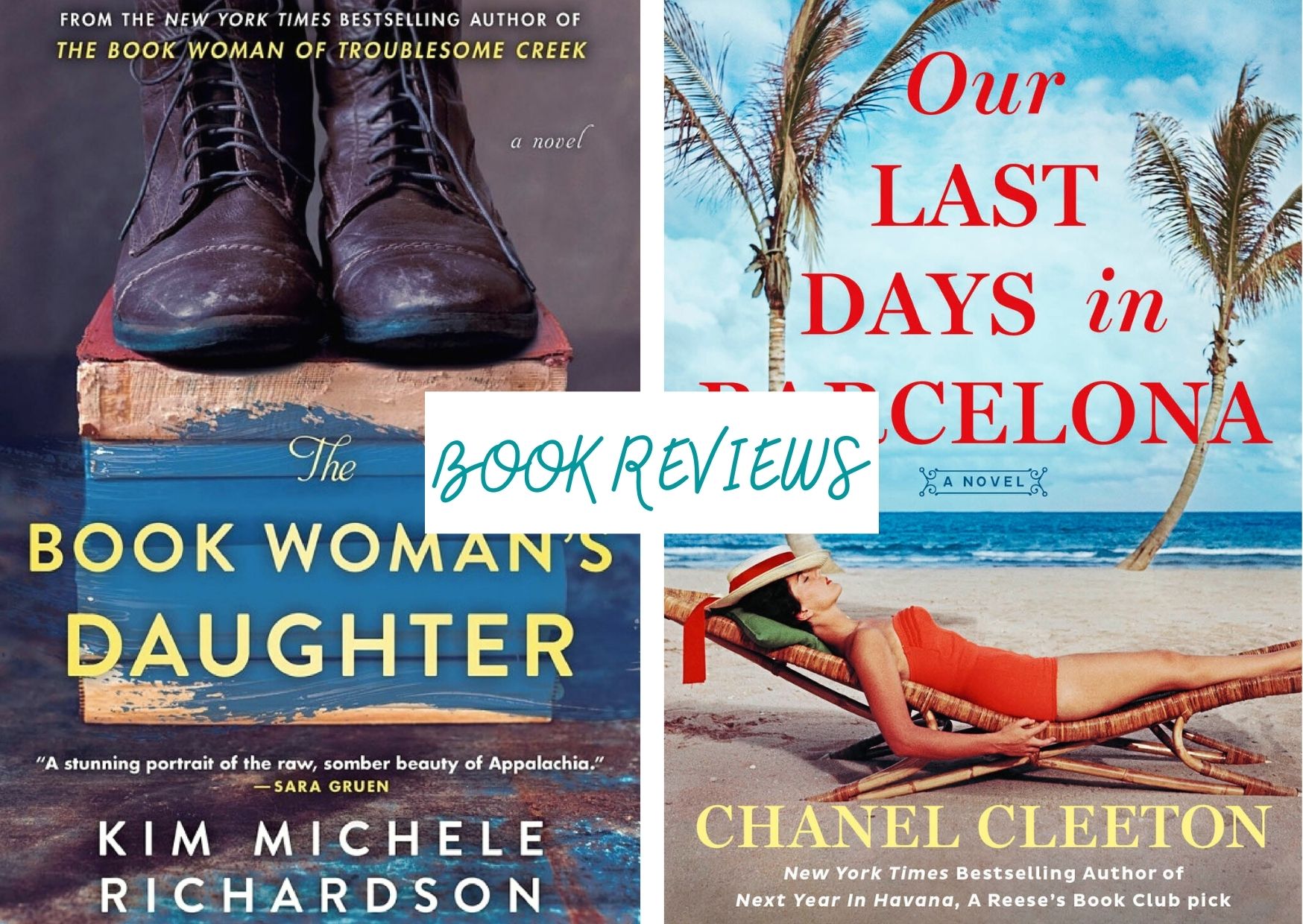 Hey everyone! I'm back today with a couple of historical fiction reviews from two of my favorite authors.  If historical fiction isn't your usual genre but you've been wanting to try a novel or two, I highly recommend both of these authors.  They both create such unforgettable characters and do a brilliant job of fully immersing you in the history and culture of the time periods they are writing about.
The Book Woman's Daughter (The Book Woman of Troublesome Creek, #2)
Goodreads
Author: Kim Michele Richardson
Publication Date: May 3, 2022
Publisher:  Sourcebooks Landmark
FTC Disclosure: I received a complimentary copy of this book from Netgalley.  All opinions are my own.
I was a huge fan of The Book Woman of Troublesome Creek by Kim Michele Richardson when it came out a few years ago.  It was the story of Cussy Mary, a blue-skinned packhorse librarian determined, even in the face of extreme prejudice because of her rare skin color, to bring books and literacy to the folks living in the hills of Kentucky.  Cussy Mary captured my heart as well as that of many other readers, so when I heard we were getting another book set in this world that focuses on Cussy Mary's daughter, I couldn't get my hands on a copy fast enough.  I'm so glad I did too because I loved this book even more than the first!
When we first meet Cussy Mary's daughter, Honey Mary Angeline Lovett, she is learning firsthand just how cruel and unfair, life can be because her parents have just been arrested and charged with miscegenation.  They are each looking at several years in prison and because Honey is only a teenager, the court wants to have her committed to a home until she's 21 years old.  The majority of the story follows Honey as she tries to figure out how she can, first, evade capture by law enforcement, and second, find a way to secure her freedom, a journey that has her following in her mother's footsteps.
Honey is such an easy character to fall in love with.  She's passionate, quick-witted, resourceful and determined, just like her mother, and she's also born into the role of an underdog because she has inherited her mother's blue-tinted skin, although in Honey's case, the blue is confined to her hands and is easily hidden by gloves.  I always love a good underdog story and became immediately invested in Honey's journey, particularly after she declares that she wants to be emancipated and that a bunch of random powerful men shouldn't be allowed to determine whether or not she can be free.
I loved Honey and I also loved the assorted cast of characters who stepped up to help her because they loved her mother so much and because they knew Honey's family had been dealt an unfair hand.  They treat Honey like family and it's wonderful to see.  One young man even offers to marry her because he knows that will keep her from being committed, but Honey, even though she is immensely grateful he offered, doesn't want her freedom to come at the cost of marrying for a reason other than love.
Honey's story is so compelling and the author also does a wonderful job once again exploring the important role of the packhorse librarians and literacy.  In many ways, both Book Woman books are love letters to books and reading, both for education and for escape.  If you love books about books and books that feature strong resilient female characters who want to smash the patriarchy, you'll want to check out The Book Woman's Daughter.  4.5 STARS
Our Last Days in Barcelona Goodreads

Author: Chanel Cleeton
Publication Date: May 24, 2022
Publisher: Berkley Books
FTC Disclosure: I received a complimentary copy of this book from Netgalley.  All opinions are my own.
I've really been enjoying Chanel Cleeton's historical fiction novels that focus on the women of the Perez family, a family that was exiled from Cuba after Fidel Castro took over the country.  In her latest novel, Our Last Days in Barcelona, Cleeton tells the story of eldest Perez daughter, Isabel.  As the eldest, Isabel feels a tremendous sense of responsibility when it comes to her family, who for the most part have settled in South Florida.  The notable exception to that is Isabel's younger sister, Beatriz, who has relocated to Spain and is engaged in espionage.  When Beatriz disappears, it is Isabel who immediately books a flight to Barcelona to find her and while there, also discovers a shocking family secret that makes her question everything she has ever known about her life and family.
Through the use of dual timelines, Cleeton takes us on quite an adventure in this novel. One timeline is set in Barcelona in1964 and is the one that follows Isabel as she sets out to track down Beatriz.  When Isabel arrives at Beatriz's apartment, instead of finding Beatriz, she meets an unlikely ally and this timeline follows them on their dangerous journey to track down her sister.
The second timeline is also set in Barcelona, but this time in 1936 and it features Alicia Perez, Isabel's mother, as well as an infant Isabel.  Alicia's marriage is on the rocks and she has left Cuba and traveled to Spain to stay with family.  Her timing is awful though because Spain is on the brink of a civil war and danger is all around them.  Alicia's life takes an unexpected turn when she finds herself face to face with a man who once held her heart.
I love how Cleeton weaves together these two timelines, intertwining Alicia and Isabel's lives, and showing how both mother and daughter found themselves, nearly 30 years apart, having to choose between being dutiful daughters or following their hearts.  I found both timelines equally engrossing and was fully invested in both Alicia's and Isabel's journeys.
I also love Cleeton's brand of historical romance. She not only vividly immerses me in the history and culture of both Spain and Cuba in this novel, but she also infuses the story with plenty of romance, suspense, and drama so that it's a real page turner.
Our Last Days in Barcelona would definitely work as a standalone but I think reading When We Left Cuba, Next Year in Havana, The Last Time to Key West, and The Most Beautiful Girl in Cuba gives the richest reading experience so that you know the moving histories of all the Perez women.  4.5 STARS
https://thebookishlibra.com/wp-content/uploads/2022/06/reviews-27.jpg
1240
1748
Suzanne
https://thebookishlibra.com/wp-content/uploads/2018/06/trimmed-Copy-of-Bookish-Logo-copy.png
Suzanne
2022-06-06 05:35:33
2022-06-05 22:52:20
Historical Fiction Reviews: THE BOOK WOMAN'S DAUGHTER & OUR LAST DAYS IN BARCELONA