Top Ten Tuesday – Books for My Younger Self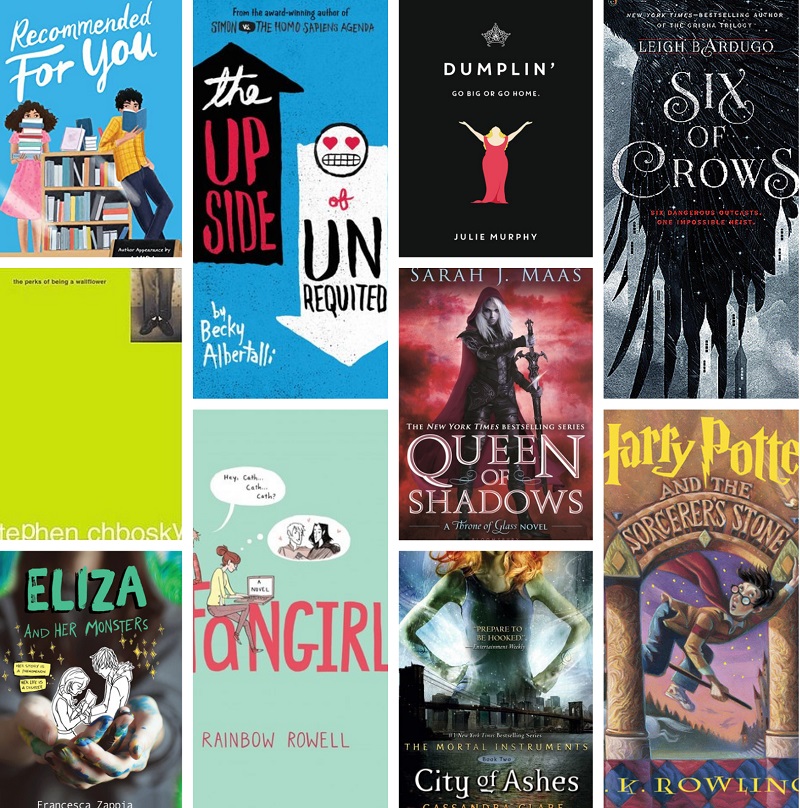 Top Ten Tuesday was created by The Broke and the Bookish in June of 2010 and was moved to That Artsy Reader Girl in January 2018. It was born of a love of lists, a love of books, and a desire to bring bookish friends together.  Top Ten Tuesday has been one of my favorite memes ever since I started blogging, so huge thanks to Jana for taking over the hosting duties!
This week's TTT topic is Books for My Younger Self (These could be books you wish you had read as a child, books younger you could have really learned something from, books that meshed with your hobbies/interests, books that could have helped you go through events/changes in your life, etc.).
I decided to go the "books that could have helped you go through events/changes in your life" route because when I thought about the topic, it immediately started making me think back to some tough times I went through when I was growing up.  I've been an introvert all my life, but when I was growing up, I was also just flat out painfully shy and it was hard to make friends.  I also went through a period, right around the time my parents were fighting and ultimately divorced, where I was terrified of being abandoned.  I used to have nightmares about it and ended up seeing a counselor about it for a while.  I was always afraid, stressed out, and anxious about the state of my life.  Thankfully I moved past that stage pretty quickly, but to this day, I'm still shy and struggle to open up and make friends.  The books I've listed below are books I think could have helped me better deal with certain stresses in my earlier life, or at least know that I wasn't alone in my struggles, and also just escape from the stress of it all.
* * * * *
Top Ten Tuesday:  Books for My Younger Self
(in no particular order)
I think Fangirl would have helped me know I wasn't alone when it comes to social anxiety. Plus it shows a huge positive in that even if you move away to go to college and leave all of your friends behind, it is possible to find a new friend group and fit in just fine.  That message would have helped me tremendously.
ELIZA AND HER MONSTERS by Francesca Zappia
Similar to Fangirl, I think this book would have helped me know I wasn't alone in what I was going through.
I wish this book had been around when I was growing up because I think Willowdean is such a great role model for girls. I think she would have given me a much needed boost of confidence.
THE HARRY POTTER SERIES by J.K. Rowling
I wish this series had been around when I was growing up 1) because of Hermione. I think seeing that a total brainiac could also be a badass would have done wonders for me, 2) again another positive example about how you can go away to school and become almost a "found family" with your schoolmates, and finally 3), what an amazing escape from reality this series would have been for me.  As much as I adored it as an adult, I can only imagine how much more it would have blown away my younger self.
THE MORTAL INSTRUMENTS SERIES by Cassandra Clare
I would have loved this series both for Clary as a strong female heroine and for the ultimate escape from reality.  As you can tell, I was obviously lacking YA fantasy series growing up.  Lord of the Rings and The Chronicles of Narnia were pretty much all I had.
THRONE OF GLASS SERIES by Sarah J. Maas
Another fantastic escape from reality with a totally badass heroine who also loves to read.  Celeana's ability to make it through anything would have been a great motivator for me when I was struggling.
RECOMMENDED FOR YOU by Laura Silverman
One of the subplots of this YA contemporary is that the main character's parents are fighting and seem to be on the verge of divorce. I think a book like this would have been so helpful for me to know I wasn't alone in the sense of being caught in the middle and not knowing what to do.
SIX OF CROWS DUOLOGY by Leigh Bardugo
There's lots to love about this series but it makes my list today because of Kaz and his team and that "found family" vibe they have, especially the further into the series we go.  I love the idea that no matter how mismatched a group of people may seem, they can still bond and look out for each other.  I would have loved that reassurance when I was leaving home for college for the first time.
THE PERKS OF BEING A WALLFLOWER by Stephen Chbosky
I don't think this book would have cheered me up or provided me with an escape when I was growing up, but I do think it would help me to understand some of what I was experiencing and that I wasn't alone in feeling the way I did.
THE UPSIDE OF UNREQUITED by Becky Albertalli
Honestly, I would have loved to have all of Becky Albertalli's books in my life growing up, just because they always leave me with a smile on my face.  This one just really stands out to me since the main character is specifically dealing with anxiety and fears of rejection. I identified strongly with Molly reading this book as an adult and it think it would have been an even more powerful read for me as a teen.
* * * * *
Have you read any of these? What books would have helped you if they had been around when you were growing up?
https://thebookishlibra.com/wp-content/uploads/2020/09/books-for-me.jpg
808
800
Suzanne
https://thebookishlibra.com/wp-content/uploads/2018/06/trimmed-Copy-of-Bookish-Logo-copy.png
Suzanne
2020-09-08 05:35:35
2020-09-07 18:59:33
Top Ten Tuesday – Books for My Younger Self