Reviews: August Book Releases That Should Be on Your Reading List
I've been quiet on the blog for a few days because I found myself lost in some pretty amazing reads.  If these three novels are anything to go by, August is going to be a fabulous month for new releases.  I'm also a big mood reader and my mood was all over the place this week so there's a little something here for everyone – a heartwarming contemporary, a suspenseful mystery/thriller, and a compelling work of historical fiction.
Vanessa Yu's Magical Paris Tea Shop
Goodreads
Author: Roselle Lim
Publication Date: August 4, 2020
Publisher:  Berkley
FTC Disclosure: I received a complimentary copy of this book from Netgalley.  All opinions are my own.
Roselle Lim's new novel, Vanessa Yu's Magical Paris Tea Shop is a heartwarming story about love, family, second chances, and most importantly, about finding one's self.  Vanessa Yu, the protagonist, is a fortune teller but wishes she wasn't.  For most of her life, Vanessa has been unable to control her "gift," blurting out fortunes at random and driving away friends and potential boyfriends.  Because the gift has been nothing but a curse her entire life, Vanessa longs to just be rid of it so she can live a normal life.  That doesn't appear to be an option so when her aunt Evelyn, the only other family member who can tell fortunes, offers to train her, Vanessa jumps at the chance, especially once she realizes it means she'll be traveling with Evelyn to Paris where Evelyn is opening up a new branch of her popular tea shop.
One of my absolute favorite parts about this book were the author's lush descriptions of the sights, sounds, and especially the FOOD of Paris.  My mouth was watering with each turn of the page as I read about decadent French pastries and the like.  Vanessa is also a very likeable character, so it was easy to root for her.  I felt so much sympathy for her as she began to fear she would live her entire life alone if she didn't get control over her abilities. I can't even imagine that kind of pressure.
The story isn't just about Vanessa though.  There's also a fabulous subplot involving Aunt Evelyn. She's actually leaving the Yu family permanently and relocating to Paris. When it becomes clear to Vanessa that Evelyn's trip to Paris isn't a temporary one, she is dying to know why, and since Evelyn isn't talking, she enlists the wonderful Yu Aunties, who are more than willing to go undercover and find out what Evelyn is up to. I adored the closeness of the Yu family overall and those Yu Aunties are a hilarious addition to what is already an entertaining story.
I don't want to say much more but I will say that I think this is a story that romance fans are going to love.  Love is in the air for several characters as Vanessa discovers that while she may hate fortune telling, she thoroughly enjoys playing matchmaker and bringing lovers together.  If you're in the mood for a charming and romantic story that will tug at your heartstrings and leave a smile on your face, be sure to pick up a copy of Vanessa Yu's Magical Paris Tea Shop.  4 STARS
The Night Swim
Goodreads
Author: Megan Goldin
Publication Date: August 4, 2020
Publisher:  St. Martin's Press
FTC Disclosure: I received a complimentary copy of this book from Netgalley.  All opinions are my own.
With her latest thriller, The Night Swim, Megan Goldin explores the connections between two criminal cases that took place in the same small town 25 years apart.  Rachel Krall, the protagonist of the novel, is a successful crime podcaster.  For the first two seasons of her podcast, "Guilty or Not Guilty, the Podcast that Puts You in the Jury Box", Rachel looked back at cold cases with a fresh set of eyes.  Now that her show has become immensely popular, Rachel wants to up her game by going to court and sitting in on a live, ongoing trial to present and interpret the evidence to her listeners as it becomes available.  The trial she has chosen in set in a small town and the accused is the town's golden boy, a talented swimmer who hopes to make the Olympic team someday.  He is accused of brutally raping a high school student who also happens to be the granddaughter of the sheriff.  Tensions are high and opinions are very divided as to whether or not the young man is guilty.
Things take an odd turn, however, when she starts receiving mysterious handwritten letters imploring her to take a look at an old case from 25 years ago.  The case was ruled a drowning because there were no witnesses aside from the victim's nine-year-old sister who couldn't really provide any information.  The incident received little press at the time, but the letter writer, who turns out to be the younger sister of the drowning victim, swears her sister's death was not an accident.  Rachel is laser focused on the current case but the pleading tone of the letters get to her and so she starts to casually ask some of the townsfolk about what happened 25 years ago.  When it becomes clear that no one wants to talk to her about it, Rachel starts to dig deeper and soon discovers some disturbing connections between the old case and the new case.  Will Rachel discover the truth about both of the crimes and thus justice for the victims or will someone try to stop her from exposing long hidden secrets in this small town?
The Night Swim is a riveting mystery that kept me on the edge of my seat from start to finish. The podcast aspect of the novel was also very well done. As Rachel produces each episode, we then get to listen to it before returning to the courthouse to hear more.  I was completely invested in both mysteries and dying to learn the truth as the clues were slowly revealed.  Be forewarned that because this story does deal with rape, there are some violent and heartbreaking scenes as we get closer and closer to the truth.  I found myself near tears a couple of times as the truth came to light.
I enjoyed Megan Goldin's last thriller, The Escape Room, but I have to say that with her latest effort, The Night Swim, she really knocks it out of the park.  4 STARS.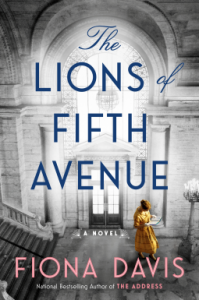 The Lions of Fifth Avenue
Goodreads
Author: Fiona Davis
Publication Date: August 4, 2020
Publisher:  Dutton Books
FTC Disclosure: I received a complimentary copy of this book from Netgalley.  All opinions are my own.
I love historical fiction and I love New York City, so I'm always drawn to the novels of Fiona Davis because she sets each one in an iconic NYC location.  This time around, Davis has selected the beloved New York Public Library as her setting.
In 1913, Laura Lyons is living in the library with her two young children and her husband, who is the Superintendent of the library.  She aspires to be a journalist and enrolls at Columbia University's Journalism School.  Her journalism classes take her to the doorstep of an all-women's club called the Heterodoxy Club. While attending club meetings and listening to "radical" women discuss women's issues like suffrage and birth control, Laura begins to question her own existence as little more than wife and mother.  There's a whole world out there she wants to experience.  Her thoughts of taking an alternative path in life are cut short, however, when rare books start disappearing from the library and it's thought to be an inside job, which places her husband squarely on the suspect list.
In 1993, we meet Sadie Donovan, who also works at the New York Public Library.  Everyone at the library knows Sadie loves her job and is passionate about books, so it's a given that she's the best choice to curate the library's next big exhibit featuring rare books.  What everyone doesn't know about Sadie is that she's actually the granddaughter of Laura Lyons.  With her family's muddled history regarding the library and missing books, Sadie figures the little said about that the better, especially when, to her shock and dismay, rare books she plans to use in her exhibit start to disappear from the library.  As only a small handful of people have keys to the rare books room, it's considered an inside job and Sadie finds herself on the suspect list.  Sadie becomes determined to find out how the books are being stolen and who is responsible and also hopes deep down that she can somehow redeem the Lyon name and legacy with respect to the library.
What intrigued me the most about this story is that we learn early on in Sadie's timeline that Laura Lyons, although now deceased, had become a famous feminist essayist at some point in her life. In addition to being eager to find out how the book thefts were being pulled off in each timeline, I was also even more eager to find out what had transpired in Laura's life to transform her from wife and mother on the verge of tragedy to world renowned author.  I loved how the author wove these two timelines together to gradually reveal the answers to both questions.
It actually surprised me how emotional I found myself getting as I was reading this book. I actually gasped a few times when certain beloved rare books went missing and in one case, where a page was torn out of a beloved treasure.  If you are passionate about books, libraries, New York, and historical fiction, The Lions of Fifth Avenue is the perfect book for you.  4.5 STARS
https://thebookishlibra.com/wp-content/uploads/2020/08/August-ARCs.png
800
800
Suzanne
https://thebookishlibra.com/wp-content/uploads/2018/06/trimmed-Copy-of-Bookish-Logo-copy.png
Suzanne
2020-08-10 05:45:55
2020-08-09 21:09:33
Reviews: August Book Releases That Should Be on Your Reading List