Review & Giveaway: THE SWEENEY SISTERS by Lian Dolan
The Sweeney Sisters
by
Lian Dolan

Published by
William Morrow
on April 28, 2020
Genres:
Fiction
,
Contemporary Fiction
,
Women's Fiction
Pages:
304
Source:
Netgalley
Goodreads
FTC Disclosure: I received a complimentary copy of this book from the publisher via Netgalley. All opinions are my own.
Thanks so much to the Fantastic Flying Book Club for including me in the blog tour for The Sweeney Sisters.  I'm thrilled to be able to share my thoughts on this wonderful read today.
When I read the synopsis for Lian Dolan's new novel, The Sweeney Sisters, I knew I had to read it.  I'm a sucker for a good story about sisters, and this story has that, as well as a healthy dose of family drama and scandalous secrets.  As if those elements weren't enticing enough on their own, The Sweeney Sisters is also a book about books! Sounds like a must-read, right?
The Sweeney Sisters follows three sisters, Liza, Maggie, and Tricia, who have returned to their childhood home after their father, literary giant William Sweeney, has passed away unexpectedly.  Their mother passed away years ago so it falls on the sisters to settle their father's affairs.  The sisters knew their father wasn't perfect, but what they learn upon reading his will and meeting with his long-time attorney, shocks them to the core.
Because of some financial missteps their dad made, the sisters learn they will inherit much less than they were anticipating. They also learn that he made some personal missteps as well, the result of which is Serena, an older half-sister whom they've never met and who now stands to inherit a piece of the Sweeney estate. On top of that, their father also left behind, and apparently hid, the manuscript of a tell-all memoir he had promised his publisher. The sisters need to either find the manuscript or be prepared to pay back the very large advance their father had received for committing to write it. The sisters are navigating a potential mine field while trying to protect their father's legacy, which is not easy to do when he lived in a tiny, seaside town in Connecticut where everyone knows everyone else.
The sisters and the way they come together are what really made this a special read for me.  I adored all three of them so much.  There's "Mad" Maggie (as her dad called her), who is an artist and free spirit.  Then there's Tricia, the attorney in the family, who is both reserved and responsible.  And finally, there's Liza, married with two children, who owns an art gallery in town.  The story unfolds from all of their perspectives and I found it fascinating to get a close up look at each sister's thoughts and feelings as they try to make sense of the unexpected turns their lives have suddenly taken.  I also found it interesting to watch how each sister chose to approach their new half-sister.  The author rounds out the story well by also giving us Serena's perspective so we can see how she processes this information and the drama it causes since she's now faced with the news that the man she has called Dad all her life really isn't her father. I really enjoyed Serena's character.  Imagine the shock of taking one of those DNA tests as a lark and then finding out you're related to someone famous? The author does a wonderful job of crafting these potentially dramatic and awkward moments without making the story feel like a soap opera. It all felt very authentic.
The Sweeney Sisters is a heartwarming story about what it means to be a family.  It's a reminder that life is often messy and that it's important to come together as a family to overcome any and all obstacles.  If books about sisters and secrets are your thing, The Sweeney Sisters is the book for you!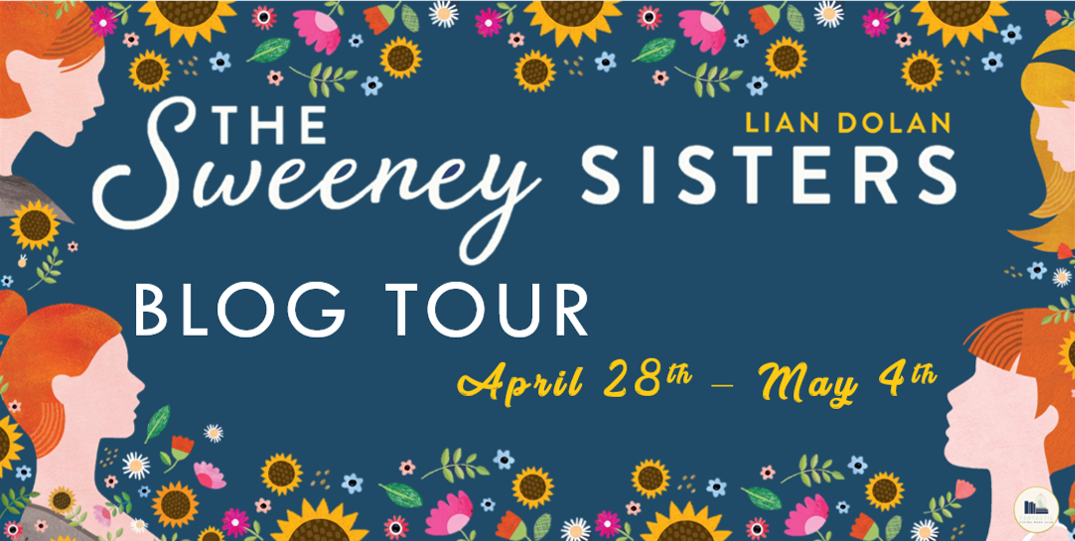 PURCHASE LINKS:
Amazon | Barnes & Noble | The Book Depository | Kobo | iTunes | Google Play Books
OFFICIAL SYNOPSIS:

An accomplished storyteller returns with her biggest, boldest, most entertaining novel yet—a hilarious, heartfelt story about books, love, sisterhood, and the surprises we discover in our DNA that combines the wit of Jonathan Tropper with the heart of Susan Wiggs.

Maggie, Eliza, and Tricia Sweeney grew up as a happy threesome in the idyllic seaside town of Southport, Connecticut. But their mother's death from cancer fifteen years ago tarnished their golden-hued memories, and the sisters drifted apart. Their one touchstone is their father, Bill Sweeney, an internationally famous literary lion and college professor universally adored by critics, publishers, and book lovers. When Bill dies unexpectedly one cool June night, his shell-shocked daughters return to their childhood home. They aren't quite sure what the future holds without their larger-than-life father, but they do know how to throw an Irish wake to honor a man of his stature.

But as guests pay their respects and reminisce, one stranger, emboldened by whiskey, has crashed the party. It turns out that she too is a Sweeney sister.

When Washington, DC based journalist Serena Tucker had her DNA tested on a whim a few weeks earlier, she learned she had a 50% genetic match with a childhood neighbor—Maggie Sweeney of Southport, Connecticut. It seems Serena's chilly WASP mother, Birdie, had a history with Bill Sweeney—one that has remained totally secret until now.

Once the shock wears off, questions abound. What does this mean for William's literary legacy? Where is the unfinished memoir he's stashed away, and what will it reveal? And how will a fourth Sweeney sister—a blond among redheads—fit into their story?

By turns revealing, insightful, and uproarious, The Sweeney Sisters is equal parts cautionary tale and celebration—a festive and heartfelt look at what truly makes a family.
GIVEAWAY: 
Prize: Win a copy of THE SWEENEY SISTERS by Lian Dolan (U.S. Only)
Starts: 28th April 2020.  Ends: 12th May 2020.
https://thebookishlibra.com/wp-content/uploads/2020/04/book-cover.jpg
2427
1600
Suzanne
https://thebookishlibra.com/wp-content/uploads/2018/06/trimmed-Copy-of-Bookish-Logo-copy.png
Suzanne
2020-05-01 06:30:32
2020-04-30 20:13:30
Review & Giveaway: THE SWEENEY SISTERS by Lian Dolan