Top Ten Tuesday – 10 Nonfiction Books I Enjoyed Even Though I Don't Usually Like to Read Nonfiction
Top Ten Tuesday was created by The Broke and the Bookish in June 2010 and was moved to That Artsy Reader Girl in January 2018. It was born of a love of lists, a love of books, and a desire to bring bookish friends together.  Top Ten Tuesday has been one of my favorite memes ever since I started blogging, so huge thanks to Jana for taking over the hosting duties!
This week's TTT topic is Books I Enjoyed That Are Outside of My Comfort Zone.  This topic was rather challenging since I have pretty eclectic reading tastes and read many different genres.  Nonfiction and horror are the main two areas I would say are outside of my comfort zone, and I'm such a chicken that I'm pretty sure I've never even read ten books that would qualify as horror, lol.  So by process of elimination, I therefore went with Nonfiction.  It's not that I have anything against Nonfiction either; I just typically prefer to read Fiction.  That said, I do enjoy the occasional Nonfiction read, especially if it's something that I find inspiring.
10 Nonfiction Books I Enjoyed Even Though I Don't Usually Like to Read Nonfiction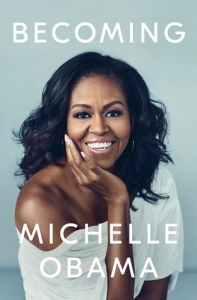 1. BECOMING by Michelle Obama.  "An intimate, powerful, and inspiring memoir by the former First Lady of the United States."  I don't read memoirs very often but I love Michelle Obama so I couldn't resist reading her book.  I did the audio version and was just captivated by her storytelling ability and by how articulate and poised she is.
2. WHAT HAPPENED by Hillary Rodham Clinton. "In the past, for reasons I try to explain, I've often felt I had to be careful in public, like I was up on a wire without a net. Now I'm letting my guard down." —Hillary Rodham Clinton, from the introduction of What Happened.  As I'm sure you've gathered if you've followed my blog long enough, I'm kind of a political junkie and even though nonfiction is typically not my thing, I just had to read Hillary's book when it came out.  I loved how thoughtful Hillary was in the book as she reflected on what happened in 2016.  I was also impressed that even though there were clearly people she could point the finger out, she also took full responsibility when it came to things she probably should have handled differently.
3. I AM MALALA: THE STORY OF THE GIRL WHO STOOD UP FOR EDUCATION AND WAS SHOT BY THE TALIBAN by Malala Yousafzai.  Malala is such an inspirational young woman that her autobiography was a must-read for me.
4. UNBROKEN: A WORLD WAR II STORY OF SURVIVAL, RESILIENCE AND REDEMPTION by Laura Hillenbrand.   If you haven't read the story of Lieutenant Louis Zamperini and how he survived his plane crashing into the Pacific Ocean during WWII, you need to grab a copy.  It's a riveting journey that I read in a couple of sittings even though it's almost 500 pages long.
5. THE IMMORTAL LIFE OF HENRIETTA LACKS by Rebecca Skloot.  This is such an incredible read.  It's almost impossible to describe it in a way that does it justice, but for those unfamiliar with Henrietta Lacks, here's a bit from the synopsis so you can see why the author wanted to tell Henrietta's story.
"Her name was Henrietta Lacks, but scientists know her as HeLa. She was a poor Southern tobacco farmer who worked the same land as her slave ancestors, yet her cells—taken without her knowledge—became one of the most important tools in medicine. The first "immortal" human cells grown in culture, they are still alive today, though she has been dead for more than sixty years. If you could pile all HeLa cells ever grown onto a scale, they'd weigh more than 50 million metric tons—as much as a hundred Empire State Buildings. HeLa cells were vital for developing the polio vaccine; uncovered secrets of cancer, viruses, and the atom bomb's effects; helped lead to important advances like in vitro fertilization, cloning, and gene mapping; and have been bought and sold by the billions.
Yet Henrietta Lacks remains virtually unknown, buried in an unmarked grave."
6. THE END OF YOUR LIFE BOOK CLUB by Will Schwalbe. The inspiring story of a son and his dying mother, who form a "book club" that brings them together as her life comes to a close.  I was initially drawn to this one because it's a book about books, but what I got was so much more.  It's a beautiful and moving story about a man trying to spend as much quality time as possible with his dying mother through their shared loved of reading.  I LOVED THIS BOOK. 

7. TUESDAYS WITH MORRIE by Mitch Albom.  An old man, a young man, and life's greatest lesson.  I remember devouring this book when it first came out. I loved all of the messages about life that the author learned from his time spent with Morrie, a man suffering from ALS.
8. IN COLD BLOOD by Truman Capote.  I've tried to read true crime stories a few times, but this one is the only one that has really stuck with me, I guess because it's a classic.
9. TALKING AS FAST AS I CAN by Lauren Graham.  I'm not usually a big fan of celebrity memoirs, but I love Lauren Graham and the Gilmore Girls so I made an exception and read this one.  I'm really glad I did too because Lauren Graham is hilarious and this was such an entertaining read.
10. SCRAPPY LITTLE NOBODY by Anna Kendrick.  Again I made an exception and read Anna's book even though celebrity memoirs aren't really my thing.  I didn't love this one quite as much as I enjoyed Graham's but it was still a fun read. I wish I had done it on audio instead of print because I think Anna's humor would have translated better in her own voice.
* * * * *
What are some of your favorite nonfiction reads?
https://thebookishlibra.com/wp-content/uploads/2018/01/TTT-Big2.png
203
500
Suzanne
https://thebookishlibra.com/wp-content/uploads/2018/06/trimmed-Copy-of-Bookish-Logo-copy.png
Suzanne
2019-09-03 05:35:04
2019-09-02 20:15:10
Top Ten Tuesday – 10 Nonfiction Books I Enjoyed Even Though I Don't Usually Like to Read Nonfiction