Mini Reviews: VIRTUALLY YOURS & WILD AND CROOKED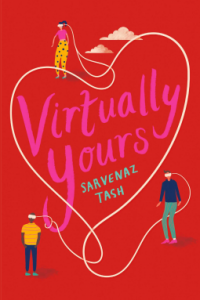 Virtually Yours
by
Sarvenaz Tash

on June 4, 2019
Genres:
Young Adult Fiction
,
Contemporary Fiction
,
Romance
Pages:
368
Source:
Netgalley
Amazon
Goodreads
FTC Disclosure: I received a complimentary copy of this book from the publisher via Netgalley. All opinions are my own.
GOODREADS SYNOPSIS:

Modern love plus online anonymity is a recipe for romantic disaster in this lighthearted new romance from the author of The Geek's Guide to Unrequited Love

How bad can one little virtual lie be?

NYU freshman Mariam Vakilian hasn't dated anyone in five months, not since her high school sweetheart Caleb broke up with her. So, when she decides to take advantage of an expiring coupon and try out a new virtual reality dating service, it's sort of a big deal.

It's an even bigger deal when it chooses as one of her three matches none other than Caleb himself. That has to be a sign, right?

Except that her other match, Jeremy, just happens to be her new best friend IRL.

Mariam's heart is telling her one thing, but the app is telling her another. So, which should she trust? Is all fair in modern love?
Review:
Sarvenaz Tash's Virtually Yours is a delightful and lighthearted read that is sure to please romance fans.  It follows Mariam Vakilian, who is a freshman at NYU.  Right before leaving for college, Mariam and her long-time boyfriend Caleb broke up and now Mariam finds herself struggling to move on and date new people.  When she receives a coupon from a new virtual reality dating service called HEAVR, she decides to give it a go. Maybe it will give her the kickstart she needs to get over Caleb. HEAVR throws a monkey wrench into Mariam's plan, however, when one of her top three matches ends up being Caleb of all people.  Mariam is torn because as much as she knows she should move on, surely this must be a sign that she and Caleb were meant to be together, right?
Mariam was my absolute favorite part of Virtually Yours.  She's incredibly relatable because she's so perfectly imperfect.  She's a sweet girl, one I could easily see myself making friends with if I was at NYU, She's also that friend that you love so much, but at the same time, find yourself wanting to scream at because she doesn't think and ends up doing cringy things.  Or maybe she's me.  Haven't we all made bad decisions at times even when our hearts are in the right place?  Anyway, I just loved Mariam, flaws and all.  I especially loved her journey because at the beginning of the story, she's clinging to her past so tightly that she can't even see what's right in front of her face.  It was fun to watch her "wake up" so to speak.  For that reason, I'd consider Virtually Yours equal parts rom-com, coming of age story.
My biggest issue with Virtually Yours is that I found the HEAVR match results to be unrealistic.  I mean, seriously, if you select 'Worldwide' in terms of who you're willing to be matched with, what are the odds that out of all the people in the world using that service, two out of your top three matches end up being people you know? That just really annoyed me and had me considering not finishing the book, but I finally let it go and ended up enjoying the rest of the story.  I was also not a fan of the catfishing in the novel.  I understood why it was there but could have done without it.
If you're looking for a quick and easy read that will leave you with a smile on your face, give Virtually Yours a try. You won't regret it!  3.5 STARS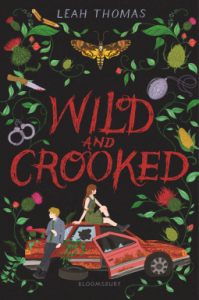 Wild and Crooked
by
Leah Thomas
Also by this author:
When Light Left Us

Published by
Bloomsbury YA
on June 4, 2019
Genres:
Young Adult Fiction
,
Contemporary Fiction
Pages:
448
Source:
Netgalley
Amazon
Goodreads
FTC Disclosure: I received a complimentary copy of this book from the publisher via Netgalley. All opinions are my own.
GOODREADS SYNOPSIS:

Critically-acclaimed author Leah Thomas blends a small-town setting with the secrets of a long-ago crime, in a compelling novel about breaking free from the past.

In Samsboro, Kentucky, Kalyn Spence's name is inseparable from the brutal murder her father committed when he was a teenager. Forced to return to town, Kalyn must attend school under a pseudonym . . . or face the lingering anger of Samsboro's citizens, who refuse to forget the crime.

Gus Peake has never had the luxury of redefining himself. A Samsboro native, he's either known as the "disabled kid" because of his cerebral palsy, or as the kid whose dad was murdered. Gus just wants to be known as himself.

When Gus meets Kalyn, her frankness is refreshing, and they form a deep friendship. Until their families' pasts emerge. And when the accepted version of the truth is questioned, Kalyn and Gus are caught in the center of a national uproar. Can they break free from a legacy of inherited lies and chart their own paths forward?.
Review:
Leah Thomas' latest novel Wild and Crooked is a story about family, friendship, and not letting mistakes from the past dictate your present and future.  The story follows two small town teens, Gus Peake and Kalyn Spence.  Gus has lived in Samsboro, Kentucky all his life and is known either as that "disabled kid" because of his cerebral palsy or as that kid whose dad was murdered.  Kalyn Spence has just returned to Samsboro and is going to school under an assumed name because her father is the one in jail for murdering Gus' dad and the Spence name is therefore infamous in Samsboro.  Gus and Kalyn run into each other one day and a fast friendship ensues.  The only problem is that Kalyn has no idea Gus' dad is who her father is accused of murdering, and Gus has no idea that Kalyn is the daughter of his dad's accused murderer.  When they each finally learn the truth, it's a tough pill to swallow and one that will test the bonds of their newfound friendship.
I adored both Gus and Kalyn, Gus because he's just such a sweetheart.  He just wants so badly to be defined by something other than his disability or by his family's tragedy.  Gus is immediately drawn to Kalyn, not because she's the pretty new girl at school, but instead because when they meet, she immediately treats him like she would any other kid at school.  For Gus, Kalyn is like a breath of fresh air because she sees the person behind the disability.  Kalyn is drawn to Gus for similar reasons. She has basically reinvented herself and is acting like the perfect little southern belle every day at school.  It's draining after a while, and when Kalyn realizes Gus can basically see right through her act, he becomes a refuge for her where she can be herself.  I really loved watching their friendship grow over the course of the book and was really rooting for them to be able to withstand whatever life threw at them.
Even though Wild and Crooked is over 400 pages long, I devoured it in just over a day and I attribute that to Leah Thomas' masterful way of weaving together a moving story of friendship with the gripping story of what really happened between Gus and Kalyn's fathers all those years ago.  The anger and prejudice of the Samsboro town folk was palpable once they realized who Kalyn was, and even though she clearly had nothing to do with the murder, in their eyes, she's guilty by association.  I thought Thomas did a brilliant job of realistically capturing their mob-like mentality.  Thomas also had me simultaneously cheering on this blossoming friendship and sitting on the edge of my seat waiting to find out the truth about the murder.
If you're looking for a compelling story about friendship and overcoming the past, I highly recommend Wild and Crooked. 4 STARS
https://thebookishlibra.com/wp-content/uploads/2018/09/early-Mini-reviews.png
800
800
Suzanne
https://thebookishlibra.com/wp-content/uploads/2018/06/trimmed-Copy-of-Bookish-Logo-copy.png
Suzanne
2019-05-31 05:35:06
2019-05-30 20:47:26
Mini Reviews: VIRTUALLY YOURS & WILD AND CROOKED