Mini Reviews: RED, WHITE & ROYAL BLUE and THERE'S SOMETHING ABOUT SWEETIE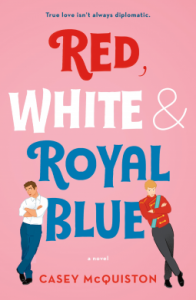 Red, White & Royal Blue
by
Casey McQuiston

Published by
St. Martin's Griffin
on May 14, 2019
Genres:
Romance
Pages:
432
Source:
Netgalley
Amazon
Goodreads
FTC Disclosure: I received a complimentary copy of this book from the publisher via Netgalley. All opinions are my own.
GOODREADS SYNOPSIS:

A big-hearted romantic comedy in which First Son Alex falls in love with Prince Henry of Wales after an incident of international proportions forces them to pretend to be best friends...

First Son Alex Claremont-Diaz is the closest thing to a prince this side of the Atlantic. With his intrepid sister and the Veep's genius granddaughter, they're the White House Trio, a beautiful millennial marketing strategy for his mother, President Ellen Claremont. International socialite duties do have downsides—namely, when photos of a confrontation with his longtime nemesis Prince Henry at a royal wedding leak to the tabloids and threaten American/British relations.

The plan for damage control: staging a fake friendship between the First Son and the Prince. Alex is busy enough handling his mother's bloodthirsty opponents and his own political ambitions without an uptight royal slowing him down. But beneath Henry's Prince Charming veneer, there's a soft-hearted eccentric with a dry sense of humor and more than one ghost haunting him.

As President Claremont kicks off her reelection bid, Alex finds himself hurtling into a secret relationship with Henry that could derail the campaign and upend two nations. And Henry throws everything into question for Alex, an impulsive, charming guy who thought he knew everything: What is worth the sacrifice? How do you do all the good you can do? And, most importantly, how will history remember you?
Review:
Casey McQuiston's Red, White & Royal Blue is honestly the romance book I didn't know I needed in my life until I started reading it.  I was looking for a light, fluffy, and fun read when I requested this one and it was exactly what I was hoping for.   When I started reading, I realized Red, White & Royal Blue pretty much has all my favorite things all rolled into one story. There's a generous helping of enemies to friends to lovers, fake relationships, and sassy but supportive friends and family, with a side of politics and royals thrown in for good measure.  It was truly the perfect recipe for a book that I devoured in just over a day.
I absolutely loved the premise of having Alex Claremont-Diaz, the First Son of the United States, fall in love with Prince Henry of Wales.  It just immediately opened the door for so many entertaining possibilities, from the romance itself, to the media frenzy it was sure to generate, and to the potential political fallout it could create on both sides of the Atlantic Ocean.  The premise was made even better by the fact that both Alex and Henry were just the two most precious young men on the planet.  Alex is hilarious, while Henry is soft, but put them together and their banter is full of wit and snark, and just flat out adorable.  I felt like I was either smiling or laughing out loud every time the two of them would text or call each other.  The sexual tension between them is also off the charts, even when they're trying to hate on each other.
There's also a more serious side to the story as Alex is still figuring out his sexual identity to a degree and as he and Henry worry about what they're coming out as gay would mean for their families from a political standpoint.  A subplot of the story has Alex's mother as the first female President of the United States (Can I live in this alternate reality please?!) and she's up for reelection this year, while Henry is next in line to take the throne and rule his country.  I liked having these very relevant social and political issues meshed in with the light, fluffy fun.
Lastly, I want to give a shout out to Alex's sister, June, and his best friend, Nora.  These smart, savvy, hilarious ladies at times really stole the show with all the ways they helped try to facilitate the relationship between Alex and Henry.  They were everything I'd want in a sibling and best friend, and if the author wanted to write more books featuring them, I'd totally read them.  (Hint, hint.)
If you're looking for a fun and flirty read with a side of political drama, be sure to check out Red, White & Royal Blue.  4.5 STARS
There's Something About Sweetie
by
Sandhya Menon
Also by this author:
When Dimple Met Rishi
,
From Twinkle, with Love

Series:
Dimple & Rishi #2
Published by
Simon Pulse
on May 14, 2019
Genres:
Contemporary Fiction
,
Young Adult Fiction
,
Romance
Pages:
384
Source:
Netgalley
Amazon
Goodreads
FTC Disclosure: I received a complimentary copy of this book from the publisher via Netgalley. All opinions are my own.
GOODREADS SYNOPSIS:

The irresistible companion novel to the New York Times bestseller When Dimple Met Rishi, which follows Rishi's brother, Ashish, and a confident fat athlete named Sweetie as they both discover what love means to them.

Ashish Patel didn't know love could be so…sucky. After being dumped by his ex-girlfriend, his mojo goes AWOL. Even worse, his parents are annoyingly, smugly confident they could find him a better match. So, in a moment of weakness, Ash challenges them to set him up.

The Patels insist that Ashish date an Indian-American girl—under contract. Per subclause 1(a), he'll be taking his date on "fun" excursions like visiting the Hindu temple and his eccentric Gita Auntie. Kill him now. How is this ever going to work?

Sweetie Nair is many things: a formidable track athlete who can outrun most people in California, a loyal friend, a shower-singing champion. Oh, and she's also fat. To Sweetie's traditional parents, this last detail is the kiss of death.

Sweetie loves her parents, but she's so tired of being told she's lacking because she's fat. She decides it's time to kick off the Sassy Sweetie Project, where she'll show the world (and herself) what she's really made of.

Ashish and Sweetie both have something to prove. But with each date they realize there's an unexpected magic growing between them. Can they find their true selves without losing each other?
Review:
There's Something About Sweetie is the third book I've read from Sandhya Menon, and as with its predecessors, When Dimple Met Rishi and From Twinkle, With Love, it left me with a big grin on my face.
I'm a huge fan of the way Menon draws her female characters and Sweetie Nair is no exception. Sweetie is strong, bold, and full of life, and she's also a talented singer and athlete who's ready to take on the world.  There's one obstacle, however, standing in her way…her mother.  Sweetie is overweight, and while her weight doesn't bother her or her friends, it bothers Sweetie's mother.  Her mother's obsession with her weight becomes so emotionally draining for Sweetie, she decides it's time to implement the Sassy Sweetie Project, where Sweetie is determined to live life to the fullest and do whatever makes her happy.  Sweetie really does love and respect her mother and doesn't want to hurt her, but ultimately, it's her life and she has to fight for it.  I really admired her determination to stick up for herself.
Menon does an equally wonderful job with the love interest for Sweetie in this book.  Those familiar with When Dimple Met Rishi will recognize Ashish Patel as Rishi's younger brother. Ashish is a kind-hearted, soft boy who is in an especially vulnerable spot when the story opens.  His long-time girlfriend has cheated on and dumped him, and he's so down on himself that he can barely function.  In fact, he's so off his game and desperate, that he resorts to recruiting his parents' help in finding him someone to date, and it's his parents who bring Sweetie into his life.  I love the journey that Sweetie and Ashish begin together. They each have something to prove and I loved how supportive they were to each other and I spent many pages hoping Sweetie would be able to get her mother to back off so she and Ashish could have a chance at a happy ending.
There's Something About Sweetie is a wonderful read for anyone who enjoys charming romance novels filled with lovable characters, supportive friend groups, and sometimes awkward family dynamics.  This is also a wonderfully diverse read in that both main characters are Indian American and several of their dates actually focus on learning more about their culture and embracing it.  I'd also recommend There's Something About Sweetie to anyone looking for a book that has a strong focus on self-love and body positivity.  4.5 STARS
https://thebookishlibra.com/wp-content/uploads/2018/09/early-Mini-reviews.png
800
800
Suzanne
https://thebookishlibra.com/wp-content/uploads/2018/06/trimmed-Copy-of-Bookish-Logo-copy.png
Suzanne
2019-05-13 05:45:36
2019-05-12 20:20:47
Mini Reviews: RED, WHITE & ROYAL BLUE and THERE'S SOMETHING ABOUT SWEETIE