Top 10 Literary Characters Who Would Make Excellent World Leaders
Top Ten Tuesday is a fun weekly meme hosted by The Broke and the Bookish. This week's topic is Ten Characters Who Would Make Great Leaders (Leaders of what? That's your decision. Who could lead a country, an army, a book club, a classroom, etc. Or maybe characters that would be trendsetters?)
* * * * *
This topic was more challenging than I expected to be, and I think many of the characters I've chosen are on the young side, so we'll just have to imagine that they have future careers as world leaders (Presidents, Prime Ministers, etc.)
Top 10 Characters Who Would Make Excellent World Leaders
1 and 2.  HERMIONE GRANGER & MINERVA MCGONAGALL from the HARRY POTTER series
Both of these woman who intelligent, resourceful, brave, and loyal, all qualities that I think would make either of them ideal candidates to lead a nation.
* * * * *
3.  RHYSAND from the A COURT OF THORNS AND ROSES series
With the selflessness he shows when it comes to his own people, Rhysand has already demonstrated that he has what it takes to be a great leader.
* * * * *
4. KATNISS EVERDEEN from THE HUNGER GAMES series
Katniss had what it took to lead a rebellion. Does she have what it takes to lead a nation?  I think so!
* * * * *
5. STARR CARTER from THE HATE U GIVE
She's incredibly brave, intelligent, and she cares about justice.  I think now that Starr Carter has found her voice, she could have a long career in making that voice heard and could be a very powerful world leader.
* * * * *
6. ATTICUS FINCH from TO KILL A MOCKINGBIRD
He's smart, compassionate, and is very persuasive and eloquent speaker, all qualities I hope to see in a leader.
* * * * *
7. MATILDA WORMWOOD from Roald Dahl's MATILDA
Matilda is intelligent, clever, and most importantly, she's a fighter and doesn't give up.  I think that kind of determination would make her an ideal leader when she grows up.
* * * * *
8. ROBERT LANGDON from Dan Brown's ANGELS & DEMONS
Robert Langdon is another character who is intelligent, resourceful, and willing to make the ultimate sacrifice for the better good.  I could easily see him as a candidate for President.
9. DIANA PRINCE from WONDER WOMAN: WARBRINGER
Duh, she's Wonder Woman!  She's born to lead and she's a major badass too!
10. JUSTYCE MCALLISTER from DEAR MARTIN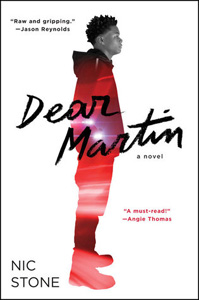 Justyce is smart, he's an excellent public speaker, and one of his heroes is Martin Luther KIng, Jr.  I could see Justyce using the tragic events that took place in Dear Martin and using them as a catalyst to begin a career in politics or in some other area of social justice where he could take a leadership role and be a champion of social justice and equality.
Question:  What literary characters do you think would make excellent world leaders?
https://thebookishlibra.com/wp-content/uploads/2016/08/toptentuesday.png
864
1600
Suzanne
https://thebookishlibra.com/wp-content/uploads/2018/06/trimmed-Copy-of-Bookish-Logo-copy.png
Suzanne
2017-11-07 06:00:47
2017-11-06 21:43:09
Top 10 Literary Characters Who Would Make Excellent World Leaders