Can't Wait Wednesday – Spotlight on Batman: Nightwalker by Marie Lu
"Waiting On" Wednesday is a weekly event, hosted at Breaking the Spine, which encourages fellow bloggers to spotlight upcoming releases that we're excited about.  It is a meme that I have  loved participating in for over a year now, but as Jill is no longer actively posting, from now on I'll just be linking to Can't Wait Wednesday, hosted by Tressa, which is a spinoff of the original WoW meme.
* * * * *
My selection for this week is Batman: Nightwalker by Marie Lu.  I grew up watching Batman on so as soon as I heard about this book, I knew I was going to read it at some point.  But then after reading Warcross and falling in love with Marie Lu's writing, Batman: Nightwalker attained must-read status.  I just can't wait to see her put her unique spin on the caped crusader.
BATMAN: NIGHTWALKER by Marie Lu
Publication Date:  January 2, 2018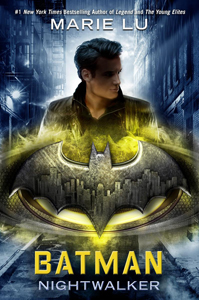 From Amazon:
The new, eagerly anticipated BATMAN YA novel is an action-packed thrill ride that could only be penned by #1 New York Times bestselling author MARIE LU.
Before he was Batman, he was Bruce Wayne. A reckless boy willing to break the rules for a girl who may be his worst enemy.
The Nightwalkers are terrorizing Gotham City, and Bruce Wayne is next on their list.
The city's elites are being taken out one by one as their mansions' security systems turn against them, trapping them like prey. Meanwhile, Bruce is about to become eighteen and inherit his family's fortune, not to mention the keys to Wayne Industries and all the tech gadgetry that he loves. But on the way home from his birthday party, he makes an impulsive choice and is sentenced to community service at Arkham Asylum, the infamous prison that holds the city's most nefarious criminals.
Madeleine Wallace is a brilliant killer . . . and Bruce's only hope.
The most intriguing inmate in Arkham is Madeleine, a brilliant girl with ties to the Nightwalkers. A girl who will only speak to Bruce. She is the mystery he must unravel, but is he convincing her to divulge her secrets, or is he feeding her the information she needs to bring Gotham City to its knees?
In this second DC Icons book–following Leigh Bardugo's Wonder Woman: Warbringer–Bruce Wayne is proof that you don't need superpowers to be a super hero, but can he survive this game of tense intrigue, pulse-pounding action, and masterful deception?
  * * * * *
Advance Praise for BATMAN: NIGHTWALKER 
"The trickiest aspect of any Batman narrative is getting into Bruce Wayne's head, and [Lu] doesn't miss a beat. . . . An engaging character piece with enough Batman allusions to intrigue fans and newcomers alike."  —Kirkus Reviews, (for Batman: Nightwalker by Marie Lu)
"Doesn't merely survive the hype, it deserves it." —The New York Times Book Review (for Legend)

"An action-packed love story full of inventive details." —The Los Angeles Times (for Legend)

"Fine writing and excellent execution." —Entertainment Weekly (for Legend)
"Lu opts for a high simmer of intrigue." —PW, Starred Review (for Prodigy)

"By permitting her characters some grand failures, she raises the stakes in the best way possible."—The New York Times Book Review (for The Young Elites)
* * * * *
I'd love to hear what upcoming book releases you're waiting on this Wednesday? Leave me your link in the comments below and I'll stop by and check out your CWW selection for this week. 🙂
https://thebookishlibra.com/wp-content/uploads/2017/10/nightwalker.jpg
1200
794
Suzanne
https://thebookishlibra.com/wp-content/uploads/2018/06/trimmed-Copy-of-Bookish-Logo-copy.png
Suzanne
2017-10-25 06:00:57
2017-10-24 22:15:14
Can't Wait Wednesday – Spotlight on Batman: Nightwalker by Marie Lu