Judging Books By Their Covers – My Top 10 Favorite Book Covers
On Tuesdays I usually participate in the popular Top Ten Tuesday meme, which is hosted by The Broke and the Bookish.  However, they are officially on hiatus until August, so while waiting for their return, I decided to take the opportunity to go back through their archives to see if any of the topics they had covered prior to my joining were of interest.  I had never given much thought to what my favorite book covers are so I thought that would be a fun topic to explore this week.
I don't know that there's any rhyme or reason to covers that I fall in love with.  I tried to determine if there was any kind of pattern and aside from seeing a lot of covers with blue and/or red in them, they all seem to be pretty different from one another.  You'll also notice an absence of covers with faces on them.  I really don't know why but book covers that feature close-ups of people's faces always seem to bother me.  Silhouettes are cool, as are profiles of people, but no giant heads please.  If I ever make a list of my bookish quirks to share, this one will surely make an appearance, lol.
Anyway….on to the covers that I love!
Judging Books By Their Covers – My Top 10 Favorite Book Covers
1. THE BEAR AND THE NIGHTINGALE by Katherine Arden
Both versions of this book's cover are so gorgeous that I can't even begin to choose a favorite.  I love the atmospheric quality of the first one, which I think really complements the story itself, but I also love the whimsical quality of the second cover.
* * * * *
2. THE BOOK THIEF by Markus Zusak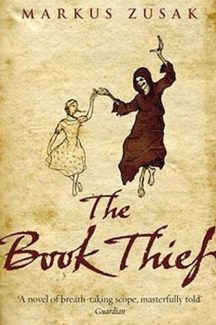 I much prefer this cover to the one with dominoes on it that I typically see on the bookstore shelves here.  There's just something about seeing the figure of Death on the cover that really packs a punch for me.
* * * * *
3.  THE GREAT GATSBY by F. Scott Fitzgerald
This is probably one of the most recognizable book covers out there and it's pretty unforgettable as well.  All someone has to do is make even just a vague reference to Gatsby and my mind immediately conjures up this striking image.
* * * * *
4. THE SNOW CHILD by Eowyn Ivey
This is another book where both versions of the cover are so beautiful, I can't choose a favorite.  Each is lovely in its simplicity and I think each conveys the subtle magic that can be found within the pages of this book.
* * * * *
5. A TALE FOR THE TIME BEING by Ruth Ozeki
I love both the vibrant colors and the unique look of this cover.  I think this is a wonderful story but will freely admit that it was this gorgeous cover that first enticed me to pick up this book at the bookstore.
* * * * *
6. LIFE OF PI by Yann Martel
Life of Pi is a fantastic book, but yet another that I was first attracted to because of its cover.  I have a thing for water-themed colors anyway, but throw in a man and a tiger in a boat together and a school of exotic looking fish, and this cover is just irresistible to me.
* * * * *
7. SIMON VS. THE HOMO SAPIENS AGENDA by Becky Albertalli
You have to admit that a body with no head is eye-catching.  Throw in that bright red background and a thought bubble where the missing head should be and you've got yourself a pretty cool cover.   And that's not even considering when you flip over to the back of the cover and find Oreos back there.  I love whimsical covers and this one is just perfect.
* * * * *
8. DOROTHY MUST DIE by Danielle Page
I haven't even read this book yet but had to buy it as soon as I saw this cover.  It's similar in style to the Simon cover (bold colors, missing face, etc.), so I guess you could say this is a style I find pretty appealing.  I actually tend to hate actual faces on covers anyway (no idea why so don't even ask, lol), so it amuses me a bit to constantly find myself attracted to covers that have no face at all on them.
* * * * *
9. SHADES OF MAGIC series by V.E. Schwab
How fabulous are these covers?  The figures on each cover are just too fabulous for words and I love the use of the red and black.  Heck, I even love the font that was used.  Judge these books by their covers and you won't be disappointed because the stories inside are just as magical as the covers.
* * * * *
10. FLAME IN THE MIST by Renee Ahdieh
Flame in the Mist is another book that I haven't read yet but it has an absolutely stunning cover that catches my eye every time I see it.  I love the colors used and the flowers, and the flaming phoenix imagery.  It's just such a gorgeous combination.
* * * * *
Question: What are some of your all time favorite book covers?  Do we share any favorites?
https://thebookishlibra.com/wp-content/uploads/2017/07/book-covers-1.png
1200
800
Suzanne
https://thebookishlibra.com/wp-content/uploads/2018/06/trimmed-Copy-of-Bookish-Logo-copy.png
Suzanne
2017-07-25 06:03:31
2017-07-25 06:03:31
Judging Books By Their Covers – My Top 10 Favorite Book Covers