Top Ten Unique Books I've Read
Top Ten Tuesday is a fun weekly meme hosted by The Broke and the Bookish. This week's topic is Top Ten Of The Most Unique Books I've Read (with some possible variations: top ten unique sounding books on my TBR, top ten most unique books I've read in X genre, etc.) I do love a unique read, one that when you try to describe it to someone you're almost at a loss for words because it's so unlike anything else you've ever read.  Unique narrators always tend to stick with me, so many of my selections this week made the list because they have unique voices telling the story.
Top Ten Unique Books I've Read
1. THE NIGHT CIRCUS by Erin Morganstern
The Night Circus makes my list because I truly can't recall reading anything like it before.  Not to be corny or cliche, but it's truly magical.  The whole story just envelopes you in its atmosphere of smoke and mirrors and mystery and illusion.  Just thinking about it makes me want to read it again.  (Goodreads Synopsis…) 
* * * * *
2. THE BEAR AND THE NIGHTINGALE by Katherine Arden
The Bear and the Nightingale makes my list of unique reads because of its focus on Russian folklore.  Like The Night Circus, I can't ever recall reading anything quite like this book.  So far it's my favorite 2017 release.  (Goodreads Synopsis…)
* * * * *
3.  WICKED:  THE LIFE AND TIMES OF THE WICKED WITCH OF THE WEST by Gregory Macguire
I have to confess that I didn't particularly enjoy this book.  I guess nothing can compare to the Broadway musical, but the book was just a letdown for me overall. So why am I including it on this list?  Because disappointment or not, it's still one of the more unique books that I've read in that it turns the original Wizard of Oz story on its head and instead focuses on the story from the perspective of the Wicked Witch of the West.  I haven't seen many retellings that focus on such an unexpected character and especially the villain of the original tale.  (Goodreads Synopsis…)
* * * * *
4. THE BOOK THIEF by Markus Zusak
The Book Thief is such an incredible read, probably one of my favorites.  What gives it a slot on this list is its unique point of view. It's not often that I read a book where Death is the narrator.  (Goodreads Synopsis…)
* * * * *
5. THE CURIOUS INCIDENT OF THE DOG IN THE NIGHT-TIME by Greg Haddon
The Curious Incdient of the Dog in the Night-Time is another beautifully written book that makes my list because of its unique narrator.  In this case, the narrator has Asperger's Syndrome.  As the Goodreads synopsis states, however, "Christopher John Francis Boone knows all the countries of the world and their capitals and every prime number up to 7,057. He relates well to animals but has no understanding of human emotions. He cannot stand to be touched. And he detests the color yellow.  Although gifted with a superbly logical brain, for fifteen-year-old Christopher everyday interactions and admonishments have little meaning. He lives on patterns, rules, and a diagram kept in his pocket."  Seeing the world through Christopher's eye and following him as he tries to solve a mystery definitely makes for a supremely unique read.  (Goodreads Synopsis…)
* * * * *
6. CINDER by Marissa Meyer
 I gush about this book all the time because it's just so fabulous and it makes my list this week by virtue of being the most unique fairytale retelling I've come across, to date.  I mean, seriously…Cinderella as a Cyborg?! Enough said!
* * * * *
7. THE MAGIC STRINGS OF FRANKIE PRESTO by Mitch Albom
I had mixed feelings about this book when I first started reading it, but it makes the Top Ten list this week because it's another story that has a unique point of view.  The story is about Frankie Presto, the greatest guitar player who ever lived, and we learn about Frankie's life and his musical gift from the narrator, who in this case happens to be Music personified.  It took me a while to buy into that, but once I was on board with it, it was a lovely read.  (Goodreads Synopsis…)
* * * * *
8. THE HUNGER GAMES by Suzanne Collins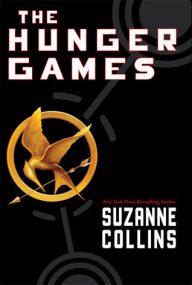 Although The Hunger Games has inspired its fair share of dystopian stories, the world building (both with the districts and with the terrain in the arena), the contests where teens fight to the death, the costumes, and so much more make The Hunger Games stand out for me as the most unique of the dystopian reads. (Goodreads Synopsis…)
* * * * *
9. STALKING JACK THE RIPPER by Kerri Maniscalco
I'm actually reading this right now and am fascinated by how unique the premise of the story is, which is why it made my list this week.  The story is set in 19th Century London and the protagonist is a young woman, who is way ahead of her time. She has a keen interest in forensic science and spends much of her time sneaking off to apprentice with her uncle, where she helps perform autopsies.  When Jack the Ripper goes on his murderous rampage, she takes it upon herself to try to track him down and bring him to justice.   (Goodreads Synopsis…)
* * * * *
10. READY PLAYER ONE by Ernest Cline
Ready Player One makes my list because of its unique setting. It's 2044 and basically everyone is doing most of their living inside of a video game.
* * * * *
Question:  What are some of your most unique reads? Do we have any in common?
https://thebookishlibra.com/wp-content/uploads/2016/08/toptentuesday.png
864
1600
Suzanne
https://thebookishlibra.com/wp-content/uploads/2018/06/trimmed-Copy-of-Bookish-Logo-copy.png
Suzanne
2017-04-11 06:22:52
2017-04-11 22:12:36
Top Ten Unique Books I've Read