Top Ten Books I'm Looking Forward to Reading in Early 2017
Top Ten Tuesday is a fun weekly meme hosted by The Broke and the Bookish. This week's topic is Top Ten Books I'm Looking Forward To For The First Half Of 2017.  For me, this list includes not only 10 upcoming 2017 releases, but also a couple of books where I'm playing catch up on series in anticipation of their latest installments coming out this year.  I'm sure this list will grow, but as of right now, these are my most anticipated reads for 2017.
Top Ten Books I'm Looking Forward To Reading in Early 2017
* * * * *
1. Gilded Cage by Vic James 
(expected publication:  February 14, 2017)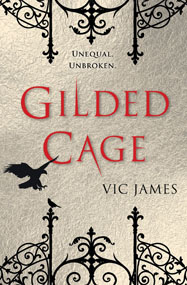 Goodreads Synopsis:   Not all are free. Not all are equal. Not all will be saved.
Our world belongs to the Equals — aristocrats with magical gifts — and all commoners must serve them for ten years. But behind the gates of England's grandest estate lies a power that could break the world.
A girl thirsts for love and knowledge.
Abi is a servant to England's most powerful family, but her spirit is free. So when she falls for one of the noble-born sons, Abi faces a terrible choice. Uncovering the family's secrets might win her liberty, but will her heart pay the price?
A boy dreams of revolution.
Abi's brother, Luke, is enslaved in a brutal factory town. Far from his family and cruelly oppressed, he makes friends whose ideals could cost him everything. Now Luke has discovered there may be a power even greater than magic: revolution.
And an aristocrat will remake the world with his dark gifts.
He is a shadow in the glittering world of the Equals, with mysterious powers no one else understands. But will he liberate—or destroy?   (Read more…)
* * * * *
2. The Names They Gave Us by Emery Lord
(expected publication:  May 16, 2017)
Goodreads Synopsis:  Lucy Hansson was ready for a perfect summer with her boyfriend, working at her childhood Bible camp on the lake. But when her mom's cancer reappears, Lucy falters—in faith, in love, and in her ability to cope. When her boyfriend "pauses" their relationship and her summer job switches to a different camp—one for troubled kids—Lucy isn't sure how much more she can handle. Attempting to accept a new normal, Lucy slowly regains footing among her vibrant, diverse coworkers, Sundays with her mom, and a crush on a fellow counselor. But when long-hidden family secrets emerge, can Lucy set aside her problems and discover what grace really means?  (Read more…)
* * * * *
3. A Gathering of Shadows & A Conjuring of Light by V.E. Schwab
(expected publication of 3rd book:  February 21, 2017)
One of my primary goals for early 2017 is to get caught up on this series before the third book comes out in February.
Goodreads Synopsis: The battle between four magical Londons comes to a head in this stunning finale to the New York Times bestselling Shades of Magic trilogy by rising star V. E. Schwab
London's fall and kingdoms rise while darkness sweeps the Maresh Empire—and the fraught balance of magic blossoms into dangerous territory while heroes and foes struggle alike. The direct sequel to A Gathering of Shadows, and the final book in the Shades of Magic epic fantasy series, A Conjuring of Light sees Schwab reach a thrilling culmination concerning the fate of beloved protagonists—and old enemies.  (Read more…)
* * * * *
4. Lucky Boy by Shanthi Sekaram
(expected publication:  January 10, 2017)
Goodreads Synopsis:  Solimar Castro Valdez is eighteen and dazed with optimism when she embarks on a perilous journey across the US/Mexican border. Weeks later she arrives on her cousin's doorstep in Berkeley, CA, dazed by first love found then lost, and pregnant. This was not the plan. But amid the uncertainty of new motherhood and her American identity, Soli learns that when you have just one precious possession, you guard it with your life. For Soli, motherhood becomes her dwelling and the boy at her breast her hearth.
Kavya Reddy has always followed her heart, much to her parents' chagrin. A mostly contented chef at a UC Berkeley sorority house, the unexpected desire to have a child descends like a cyclone in Kavya's mid-thirties. When she can't get pregnant, this desire will test her marriage, it will test her sanity, and it will set Kavya and her husband, Rishi, on a collision course with Soli, when she is detained and her infant son comes under Kavya's care. As Kavya learns to be a mother–the singing, story-telling, inventor-of-the-universe kind of mother she fantasized about being–she builds her love on a fault line, her heart wrapped around someone else's child.
Lucky Boy is an emotional journey that will leave you certain of the redemptive beauty of this world. There are no bad guys in this story, no obvious hero. From rural Oaxaca to Berkeley's Gourmet Ghetto to the dreamscapes of Silicon valley, author Shanthi Sekaran has taken real life and applied it to fiction; the results are moving and revelatory.  (Read more…)
* * * * *
5. A Court of Mist and Fury & A Court of Wings and Ruin by Sarah J. Maas
(expected publication of 3rd book: May 2, 2017)
Goodreads Synopsis: Looming war threatens all Feyre holds dear in the third volume of the #1 New York Times bestselling A Court of Thorns and Roses series.
Feyre has returned to the Spring Court, determined to gather information on Tamlin's maneuverings and the invading king threatening to bring Prythian to its knees. But to do so she must play a deadly game of deceit-and one slip may spell doom not only for Feyre, but for her world as well.
As war bears down upon them all, Feyre must decide who to trust amongst the dazzling and lethal High Lords-and hunt for allies in unexpected places.
In this thrilling third book in the #1 New York Times bestselling series from Sarah J. Maas, the earth will be painted red as mighty armies grapple for power over the one thing that could destroy them all. (Read more…)
* * * * *
6. The Hate U Give by Angie Thomas
(expected publication:  February 28, 2017)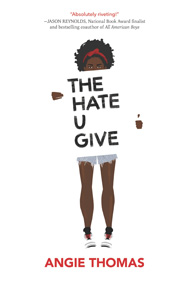 Goodsreads Synopsis:  Sixteen-year-old Starr lives in two worlds: the poor neighbourhood where she was born and raised and her posh high school in the suburbs. The uneasy balance between them is shattered when Starr is the only witness to the fatal shooting of her unarmed best friend, Khalil, by a police officer. Now what Starr says could destroy her community. It could also get her killed. Inspired by the Black Lives Matter movement, this is a powerful and gripping YA novel about one girl's struggle for justice. Movie rights have been sold to Fox, with Amandla Stenberg (The Hunger Games) to star. (Read more…)
* * * * *
7. Everything You Want Me to Be by Mindy Mejia
(expected publication: January 3, 2017)
Goodreads Synopsis:  Full of twists and turns, Everything You Want Me to Be reconstructs a year in the life of a dangerously mesmerizing young woman, during which a small town's darkest secrets come to the forefront…and she inches closer and closer to her death.
High school senior Hattie Hoffman has spent her whole life playing many parts: the good student, the good daughter, the good citizen. When she's found brutally stabbed to death on the opening night of her high school play, the tragedy rips through the fabric of her small town community. Local sheriff Del Goodman, a family friend of the Hoffmans, vows to find her killer, but trying to solve her murder yields more questions than answers. It seems that Hattie's acting talents ran far beyond the stage. Told from three points of view—Del, Hattie, and the new English teacher whose marriage is crumbling—Everything You Want Me to Be weaves the story of Hattie's last school year and the events that drew her ever closer to her death.
Evocative and razor-sharp, Everything You Want Me to Be challenges you to test the lines between innocence and culpability, identity and deception. Does love lead to self-discovery—or destruction?  (Read more…)
* * * * *
8. The Most Dangerous Place on Earth by Lindsey Lee Johnson
(expected publication:  January 10, 2017)
I recently received an e-ARC from Netgalley and this one also piqued my interest because of the praise from Anthony Doerr.
Goodreads Synopsis:  A captivating debut novel for readers of Celeste Ng's Everything I Never Told You and Curtis Sittenfeld's Prep, The Most Dangerous Place on Earth unleashes an unforgettable cast of characters into a realm known for its cruelty and peril: the American high school.
In an idyllic community of wealthy California families, new teacher Molly Nicoll becomes intrigued by the hidden lives of her privileged students. Unknown to Molly, a middle school tragedy in which they were all complicit continues to reverberate for her kids: Nick, the brilliant scam artist; Emma, the gifted dancer and party girl; Dave, the B student who strives to meet his parents expectations; Calista, the hippie outcast who hides her intelligence for reasons of her own. Theirs is a world in which every action may become public postable, shareable, indelible. With the rare talent that transforms teenage dramas into compelling and urgent fiction, Lindsey Lee Johnson makes vivid a modern adolescence lived in the gleam of the virtual, but rich with the sorrow, passion, and beauty of life in any time, and at any age.  (Read more…)
* * * * *
9. Carve the Mark by Veronica Roth
(expected publication:  January 17, 2017)
Goodreads Synopsis:  Fans of Star Wars and Divergent will revel in internationally bestselling author Veronica Roth's stunning new science-fiction fantasy series.
On a planet where violence and vengeance rule, in a galaxy where some are favored by fate, everyone develops a currentgift, a unique power meant to shape the future. While most benefit from their currentgifts, Akos and Cyra do not—their gifts make them vulnerable to others' control. Can they reclaim their gifts, their fates, and their lives, and reset the balance of power in this world?
Cyra is the sister of the brutal tyrant who rules the Shotet people. Cyra's currentgift gives her pain and power—something her brother exploits, using her to torture his enemies. But Cyra is much more than just a blade in her brother's hand: she is resilient, quick on her feet, and smarter than he knows.
Akos is from the peace-loving nation of Thuvhe, and his loyalty to his family is limitless. Though protected by his unusual currentgift, once Akos and his brother are captured by enemy Shotet soldiers, Akos is desperate to get his brother out alive—no matter what the cost. When Akos is thrust into Cyra's world, the enmity between their countries and families seems insurmountable. They must decide to help each other to survive—or to destroy one another. (Read more…)
* * * * *
10. The Girl Before by J. P. Delaney
Goodreads Synopsis:  In the tradition of The Girl on the Train, The Silent Wife, and Gone Girl comes an enthralling psychological thriller that spins one woman's seemingly good fortune, and another woman's mysterious fate, through a kaleidoscope of duplicity, death, and deception.
Please make a list of every possession you consider essential to your life.
The request seems odd, even intrusive—and for the two women who answer, the consequences are devastating.
Emma
Reeling from a traumatic break-in, Emma wants a new place to live. But none of the apartments she sees are affordable or feel safe. Until One Folgate Street. The house is an architectural masterpiece: a minimalist design of pale stone, plate glass, and soaring ceilings. But there are rules. The enigmatic architect who designed the house retains full control: no books, no throw pillows, no photos or clutter or personal effects of any kind. The space is intended to transform its occupant—and it does.
Jane
After a personal tragedy, Jane needs a fresh start. When she finds One Folgate Street she is instantly drawn to the space—and to its aloof but seductive creator. Moving in, Jane soon learns about the untimely death of the home's previous tenant, a woman similar to Jane in age and appearance. As Jane tries to untangle truth from lies, she unwittingly follows the same patterns, makes the same choices, crosses paths with the same people, and experiences the same terror, as the girl before.  (Read more…)
* * * * *
Question:  What books are you most looking forward to reading in 2017?  Playing catch up on any series like I am?
https://thebookishlibra.com/wp-content/uploads/2016/08/toptentuesday.png
864
1600
Suzanne
https://thebookishlibra.com/wp-content/uploads/2018/06/trimmed-Copy-of-Bookish-Logo-copy.png
Suzanne
2016-12-13 07:57:58
2016-12-13 07:57:58
Top Ten Books I'm Looking Forward to Reading in Early 2017