Top 10 Books Recommended to Me by Fellow Readers
Top Ten Tuesday is a fun weekly meme hosted by The Broke and the Bookish. This week's topic is All About Books You Read Because of Recommendation (Ten Books I've Read Because Of Another  Blogger (Or Book Person) or Ten Books I Read On Recommendation From People Outside Of This Community or you could talk about recommendations of books you read from other sources — a magazine, a podcast, a "because you read this" algorithm.)

After consistently being disappointed by so many books on all of those 'Books You Must Read', 'Most Anticipated Books' etc. buzz lists, I'm becoming more and more convinced that my best source for great book finds are, in fact, the recommendations that I get from fellow bookworms.  Between school, work, various TV and movie fandoms, and now the book blogging community, I've met a lot of readers in my day and can rarely think of a time when I've been disappointed in a book someone has recommended to me because they thought I would enjoy it.
The books on my list this week are actually all books that I'm pretty sure would have never even made it onto my radar if not for a recommendation by a fellow reader and now they are some of my all-time favorite reads.
Top Ten Books Recommended to Me by Fellow Readers
1. A Court of Thorns and Roses by Sarah J. Maas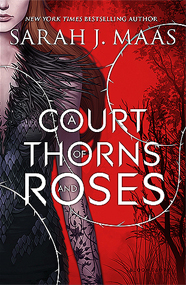 This book is probably one of my favorite recommendations from the book blogging community. I had never even heard of Sarah J. Maas prior to starting my blog but kept hearing about her on blog after blog that I visited. Once I realized it was a retelling of the Beauty and the Beast story, I had to read it and fell in love. And from what I'm hearing around the blogosphere, the second book in the series is even better than this one so that will be something to look forward to, hopefully before the end of the year 🙂
Goodreads Synopsis: When nineteen-year-old huntress Feyre kills a wolf in the woods, a beast-like creature arrives to demand retribution for it. Dragged to a treacherous magical land she only knows about from legends, Feyre discovers that her captor is not an animal, but Tamlin—one of the lethal, immortal faeries who once ruled their world.
As she dwells on his estate, her feelings for Tamlin transform from icy hostility into a fiery passion that burns through every lie and warning she's been told about the beautiful, dangerous world of the Fae. But an ancient, wicked shadow grows over the faerie lands, and Feyre must find a way to stop it . . . or doom Tamlin—and his world—forever.   (Read more…)
* * * * *
2. Cinder by Marissa Meyer
Cinder is honestly a book I probably would have never picked up if not for the praise that I've seen heaped on it by my fellow book bloggers.  I mean, Cinderella as a Cyborg?  At first glance, not really my thing.  But I trust my fellow bloggers and decided to go for it anyway. I actually just read this book last week and I'm so glad that I did too because this book was AMAZING!  Seriously. Hands down one of my favorites of the year.
Goodreads Synopsis: Humans and androids crowd the raucous streets of New Beijing. A deadly plague ravages the population. From space, a ruthless lunar people watch, waiting to make their move. No one knows that Earth's fate hinges on one girl.
Cinder, a gifted mechanic, is a cyborg. She's a second-class citizen with a mysterious past, reviled by her stepmother and blamed for her stepsister's illness. But when her life becomes intertwined with the handsome Prince Kai's, she suddenly finds herself at the center of an intergalactic struggle, and a forbidden attraction. Caught between duty and freedom, loyalty and betrayal, she must uncover secrets about her past in order to protect her world's future.  (Read more…)
* * * * *
3. A Darker Shade of Magic by V.E. Schwab
Yet another book I probably never would have given a second glance if not for the book blogging community.  I'm very late to the party in reading V.E. Schwab but immediately fell in love with her writing style and her characters when I read ADSOM.  I'm now seeing a lot of praise for both the second book in this series as well as This Savage Song so thanks to you guys and your amazing recs, my TBR is filling up with V.E. Schwab goodness.
Goodreads Synopsis: Kell is one of the last Antari, a rare magician who can travel between parallel worlds: hopping from Grey London — dirty, boring, lacking magic, and ruled by mad King George — to Red London — where life and magic are revered, and the Maresh Dynasty presides over a flourishing empire — to White London — ruled by whoever has murdered their way to the throne, where people fight to control magic, and the magic fights back — and back, but never Black London, because traveling to Black London is forbidden and no one speaks of it now.
Officially, Kell is the personal ambassador and adopted Prince of Red London, carrying the monthly correspondences between the royals of each London. Unofficially, Kell smuggles for those willing to pay for even a glimpse of a world they'll never see, and it is this dangerous hobby that sets him up for accidental treason. Fleeing into Grey London, Kell runs afoul of Delilah Bard, a cut-purse with lofty aspirations. She robs him, saves him from a dangerous enemy, then forces him to take her with him for her proper adventure.
But perilous magic is afoot, and treachery lurks at every turn. To save both his London and the others, Kell and Lila will first need to stay alive — a feat trickier than they hoped.   (Read more…)
* * * * *
4. Ready Player One by Ernest Cline
I love it when I join a TV or movie fandom and come across fellow bookworms.  Since we have similar tastes in film and/or TV, I'm always open to accepting book recommendations from them as well, which is how I came to read and love Ready Player One.  Again, a book I probably never would have chosen on my one but am so thrilled that I took my friend's advice and gave it a try because it was riveting.
Goodreads Synopsis:  In the year 2044, reality is an ugly place. The only time teenage Wade Watts really feels alive is when he's jacked into the virtual utopia known as the  OASIS. Wade's devoted his life to studying the puzzles hidden within this world's digital confines, puzzles that are based on their creator's obsession with the pop culture of decades past and that promise massive power and fortune to whoever can unlock them. When Wade stumbles upon the first clue, he finds himself beset by players willing to kill to take this ultimate prize. The race is on, and if Wade's going to survive, he'll have to win—and confront the real world he's always been so desperate to escape.   (Read more…)
* * * * *
5. The Book Thief by Markus Zusak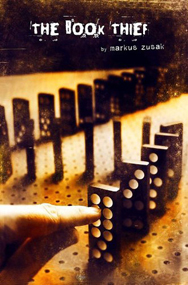 Two completely different kinds of books, but the same friend who recommended Ready Player One to me also recommended The Book Thief.  After reading this book, which has become one of my all-time favorites, I've sworn that no matter what book this friend recommends to me, I'm darn well going to read it because she has incredible taste in books.
Goodreads Synopsis:   It's just a small story really, about among other things: a girl, some words, an accordionist, some fanatical Germans, a Jewish fist-fighter, and quite a lot of thievery. . . .
Set during World War II in Germany, Markus Zusak's groundbreaking new novel is the story of Liesel Meminger, a foster girl living outside of Munich. Liesel scratches out a meager existence for herself by stealing when she encounters something she can't resist–books. With the help of her accordion-playing foster father, she learns to read and shares her stolen books with her neighbors during bombing raids as well as with the Jewish man hidden in her basement before he is marched to Dachau.
This is an unforgettable story about the ability of books to feed the soul.  (Read more…)
* * * * *
6. A Discovery of Witches by Deborah Harkness
Another recommendation from a TV fandom friend that ended up being an awesome read.
Goodsreads Synopsis:  A richly inventive novel about a centuries-old vampire, a spellbound witch, and the mysterious manuscript that draws them together.
Deep in the stacks of Oxford's Bodleian Library, young scholar Diana Bishop unwittingly calls up a bewitched alchemical manuscript in the course of her research. Descended from an old and distinguished line of witches, Diana wants nothing to do with sorcery; so after a furtive glance and a few notes, she banishes the book to the stacks. But her discovery sets a fantastical underworld stirring, and a horde of daemons, witches, and vampires soon descends upon the library. Diana has stumbled upon a coveted treasure lost for centuries-and she is the only creature who can break its spell.
Debut novelist Deborah Harkness has crafted a mesmerizing and addictive read, equal parts history and magic, romance and suspense. Diana is a bold heroine who meets her equal in vampire geneticist Matthew Clairmont, and gradually warms up to him as their alliance deepens into an intimacy that violates age-old taboos. This smart, sophisticated story harks back to the novels of Anne Rice, but it is as contemporary and sensual as the Twilight series-with an extra serving of historical realism. (Read more…)
* * * * *
7. The Snow Child by Eowyn Ivey
I feel so very fortunate to come from a family of readers and especially to have a younger sister who loves to read as much as I do.  We book swap all the time and some of my all-time favorite books are ones that she has recommended to me, with The Snow Child topping the list.  A truly magical read.  Eowyn Ivey has a new book out now that I can't wait to get my hands on because I loved this one so much.
Goodreads Synopsis:  Alaska, 1920: a brutal place to homestead and especially tough for recent arrivals Jack and Mabel. Childless, they are drifting apart–he breaking under the weight of the work of the farm, she crumbling from loneliness and despair. In a moment of levity during the season's first snowfall, they build a child out of snow. The next morning, the snow child is gone–but they glimpse a young, blonde-haired girl running through the trees. This little girl, who calls herself Faina, seems to be a child of the woods. She hunts with a red fox at her side, skims lightly across the snow, and somehow survives alone in the Alaskan wilderness. As Jack and Mabel struggle to understand this child who could have stepped from the pages of a fairy tale, they come to love her as their own daughter. But in this beautiful, violent place things are rarely as they appear, and what they eventually learn about Faina will transform all of them.   (Read more…)
* * * * *
8. The Kitchen House by Kathleen Grissom
I taught English for a number of years after I first graduated from college and became great friends with a fellow teacher.  She and I share a love of historical fiction and so I read The Kitchen House on her recommendation.  I was unfamiliar with Kathleen Grissom but fell in love with the characters in this book and in its sequel which came out earlier this year, Glory Above Everything: Beyond the Kitchen House.
Goodreads Synopsis:  When a white servant girl violates the order of plantation society, she unleashes a tragedy that exposes the worst and best in the people she has come to call her family. Orphaned while onboard ship from Ireland, seven-year-old Lavinia arrives on the steps of a tobacco plantation where she is to live and work with the slaves of the kitchen house. Under the care of Belle, the master's illegitimate daughter, Lavinia becomes deeply bonded to her adopted family, though she is set apart from them by her white skin.
Eventually, Lavinia is accepted into the world of the big house, where the master is absent and the mistress battles opium addiction. Lavinia finds herself perilously straddling two very different worlds. When she is forced to make a choice, loyalties are brought into question, dangerous truths are laid bare, and lives are put at risk.  (Read more…)
* * * * *
9. City of Thieves by David Benioff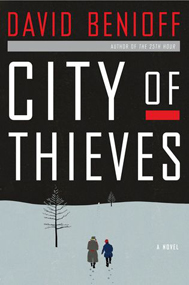 City of Thieves was actually recommended to me by a clerk at the local bookstore a few years ago.  In the store, there is a big display full of staff recommendations and I always stop and browse the selections to see if there's anything of interest. I was eyeing this book because I thought the cover was intriguing and the employee who had selected the book for the display came over and started telling me about it.  Within a few minutes he had me so intrigued that I just had to read it. It's a fascinating read so I highly recommend it if you are a fan of historical fiction, particularly of the WWII era.
Goodreads Synopsis:  From the critically acclaimed author of The 25th Hour, a captivating novel about war, courage, survival — and a remarkable friendship that ripples across a lifetime.
During the Nazis' brutal siege of Leningrad, Lev Beniov is arrested for looting and thrown into the same cell as a handsome deserter named Kolya. Instead of being executed, Lev and Kolya are given a shot at saving their own lives by complying with an outrageous directive: secure a dozen eggs for a powerful Soviet colonel to use in his daughter's wedding cake. In a city cut off from all supplies and suffering unbelievable deprivation, Lev and Kolya embark on a hunt through the dire lawlessness of Leningrad and behind enemy lines to find the impossible.
By turns insightful and funny, thrilling and terrifying, City of Thieves is a gripping, cinematic World War II adventure and an intimate coming-of-age story with an utterly contemporary feel for how boys become men.   (Read more…)
* * * * *
10. The Alchemist by Paulo Coelho
This was recommended to me by a friend when I was in a reading slump and told them I wanted to read something 'deep and profound'.  I thought it fit the bill perfectly and that it was just an all around fascinating read.
Goodreads Synopsis:  Paulo Coelho's enchanting novel has inspired a devoted following around the world. This story, dazzling in its powerful simplicity and inspiring wisdom, is about an Andalusian shepherd boy named Santiago who travels from his homeland in Spain to the Egyptian desert in search of a treasure buried in the Pyramids. Along the way he meets a Gypsy woman, a man who calls himself king, and an alchemist, all of whom point Santiago in the direction of his quest. No one knows what the treasure is, or if Santiago will be able to surmount the obstacles along the way. But what starts out as a journey to find worldly goods turns into a discovery of the treasure found within. Lush, evocative, and deeply humane, the story of Santiago is an eternal testament to the transforming power of our dreams and the importance of listening to our hearts.  (Read more…)
* * * * * *
Question:  So what are some great books that have been recommended to you by others?   Have you read any of these?  I'd love to hear from you 🙂
https://thebookishlibra.com/wp-content/uploads/2016/08/toptentuesday.png
864
1600
Suzanne
https://thebookishlibra.com/wp-content/uploads/2018/06/trimmed-Copy-of-Bookish-Logo-copy.png
Suzanne
2016-10-11 07:51:30
2016-10-11 07:51:30
Top 10 Books Recommended to Me by Fellow Readers