October 4th New Releases The Bookish Libra is Excited About
Bookworms rejoice! There are so many great new books coming out today! Here are just a few that have been on my radar for a while and that I truly can't wait to get my hands on. Days like today make me so glad that I have a birthday coming up soon. 🙂
October 4th New Releases The Bookish Libra is Excited about
1. Today Will Be Different by Maria Semple
Publisher: Little, Brown and Company
Goodreads Synopsis: The new novel from Maria Semple, author of bestselling Where'd You Go, Bernadette and writer for hit US TV shows Ellen and Saturday Night Live. Meet Eleanor Flood, who wakes up one day determined to be her best self.
Eleanor Flood is going to clean up her act, only change into yoga clothes for yoga, which today she will actually attend, and be a better version of herself. But then, as it always does, life happens. Eleanor's husband is missing, and their son, Timby, is wearing eye shadow to school and getting into fashion battles on the playground. (It's true that it's Eleanor's fault: She did put makeup in his Christmas stocking.) Just when it seems like things can't get weirder or more in the way of Eleanor's personal transformation, a graphic memoir called The Flood Sisters surfaces, and the dramatic story it tells reveals long-buried secrets and a sister to whom Eleanor never speaks.
With all the artistic madness, genius plotting, and bold social observation that made Bernadette a hit, TODAY WILL BE DIFFERENT is a hilarious and heart filled day-in-the-life romp filtered through Maria Semple's brilliant eyes.   (Read more…)
2. Holding Up the Universe by Jennifer Niven
Publisher: Knopf Books for Young Readers
Goodreads Synopsis: From the author of the New York Times bestseller All the Bright Places comes a heart-wrenching story about what it means to see someone—and love someone—for who they truly are.
Everyone thinks they know Libby Strout, the girl once dubbed "America's Fattest Teen." But no one's taken the time to look past her weight to get to know who she really is. Following her mom's death, she's been picking up the pieces in the privacy of her home, dealing with her heartbroken father and her own grief. Now, Libby's ready: for high school, for new friends, for love, and for EVERY POSSIBILITY LIFE HAS TO OFFER. In that moment, I know the part I want to play here at MVB High. I want to be the girl who can do anything.
Everyone thinks they know Jack Masselin, too. Yes, he's got swagger, but he's also mastered the impossible art of giving people what they want, of fitting in. What no one knows is that Jack has a newly acquired secret: he can't recognize faces. Even his own brothers are strangers to him. He's the guy who can re-engineer and rebuild anything in new and bad-ass ways, but he can't understand what's going on with the inner workings of his brain. So he tells himself to play it cool: Be charming. Be hilarious. Don't get too close to anyone.
Until he meets Libby. When the two get tangled up in a cruel high school game—which lands them in group counseling and community service—Libby and Jack are both pissed, and then surprised. Because the more time they spend together, the less alone they feel. . . . Because sometimes when you meet someone, it changes the world, theirs and yours.
Jennifer Niven delivers another poignant, exhilarating love story about finding that person who sees you for who you are—and seeing them right back..  (Read more…)
3. The Wangs vs. the World by Jade Chang
Publisher: Houghton Mifflin Harcourt
Goodreads Synopsis:  A hilarious debut novel about a wealthy but fractured Chinese immigrant family that had it all, only to lose every last cent—and about the road trip they take across America that binds them back together
One of Entertainment Weekly's Most Anticipated Titles of 2016
A Fall 2016 Barnes & Noble Discover Pick
A Publishers Lunch Fall 16 Buzz Book
A The Millions Most Anticipated Book
One of Library Journal's "Five Big Debuts" for Fall 16
Charles Wang is mad at America. A brash, lovable immigrant businessman who built a cosmetics empire and made a fortune, he's just been ruined by the financial crisis. Now all Charles wants is to get his kids safely stowed away so that he can go to China and attempt to reclaim his family's ancestral lands—and his pride.
Charles pulls Andrew, his aspiring comedian son, and Grace, his style-obsessed daughter, out of schools he can no longer afford. Together with their stepmother, Barbra, they embark on a cross-country road trip from their foreclosed Bel-Air home to the upstate New York hideout of the eldest daughter, disgraced art world it-girl Saina. But with his son waylaid by a temptress in New Orleans, his wife ready to defect for a set of 1,000-thread-count sheets, and an epic smash-up in North Carolina, Charles may have to choose between the old world and the new, between keeping his family intact and finally fulfilling his dream of starting anew in China.
Outrageously funny and full of charm, The Wangs vs. the World is an entirely fresh look at what it means to belong in America—and how going from glorious riches to (still name-brand) rags brings one family together in a way money never could…  (Read more…)
4. Replica by Lauren Oliver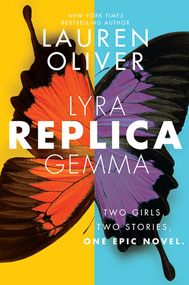 Publisher:  HarperCollins
Goodreads Synopsis:  Gemma has been in and out of hospitals since she was born. 'A sickly child', her lonely life to date has revolved around her home, school and one best friend, Alice. But when she discovers her father's connection to the top secret Haven research facility, currently hitting the headlines and under siege by religious fanatics, Gemma decides to leave the sanctuary she's always known to find the institute and determine what is going on there and why her father's name seems inextricably linked to it.
Amidst the frenzy outside the institute's walls, Lyra – or number 24 as she is known as at Haven – and a fellow experimental subject known only as 72, manage to escape. Encountering a world they never knew existed outside the walls of their secluded upbringing , they meet Gemma and, as they try to understand Haven's purpose together, they uncover some earth-shattering secrets that will change the lives of both girls forever… (Read more…)
5. Everyone We've Been by Sarah Everett
Publisher:  Knopf Books for Young Readers
Goodreads Synopsis:  Addison Sullivan has been in an accident. In its aftermath, she has memory lapses and starts talking to a boy that no one else can see. It gets so bad that she's worried she's going crazy.
Addie takes drastic measures to fill in the blanks and visits a shadowy medical facility that promises to "help with your memory." But at the clinic, Addie unwittingly discovers it is not her first visit. And when she presses, she finds out that she had certain memories erased. She had a boy erased.
But why? Who was that boy, and what happened that was too devastating to live with? And even if she gets the answers she's looking for, will she ever be able to feel like a whole person again?  (Read more…)
6. Transcendent by Katelyn Detweiler
Publisher: Viking Books for Young Readers
Goodreads Synopsis:  When terrorists bomb Disney World, seventeen-year-old Iris Spero is as horrified as anyone else. Then a stranger shows up on her stoop in Brooklyn, revealing a secret about the mysterious circumstances surrounding Iris's birth, and throwing her entire identity into question. Everything she thought she knew about her parents, and about herself, is a lie.
Suddenly, the press is confronting Iris with the wild notion that she might be "special." More than just special: she could be the miracle the world now so desperately needs. Families all across the grieving nation are pinning their hopes on Iris like she is some kind of saint or savior. She's no longer sure whom she can trust—except for Zane, a homeless boy who long ago abandoned any kind of hope. She knows she can't possibly be the glorified person everyone wants her to be… but she also can't go back to being safe and anonymous. When nobody knows her but they all want a piece of her, who is Iris Spero now? And how can she—one teenage girl—possibly heal a broken world? (Read more…)
https://thebookishlibra.com/wp-content/uploads/2016/10/october-4th.jpg
570
560
Suzanne
https://thebookishlibra.com/wp-content/uploads/2018/06/trimmed-Copy-of-Bookish-Logo-copy.png
Suzanne
2016-10-04 08:06:55
2016-10-07 06:10:02
October 4th New Releases The Bookish Libra is Excited About