Top Ten Tuesday: My Top Ten Favorite Books That Are Set at a School
Top Ten Tuesday is a fun weekly meme hosted by The Broke and the Bookish. This week's topic is "Back To School Freebie — anything "back to school" related like 10 favorite books I read in school, books I think should be required reading, Required Reading For All Fantasy Fans, required reading for every college freshman, Books to Pair With Classics or Books To Complement A History Lesson, books that would be on my classroom shelf if I were a teacher."
I've been out of school for more years than I care to think about and so I always get a little nostalgic for my own school days as soon as I start seeing all of those school supply displays and 'Back to School' sales popping up in the stores.   Because my school days — K-12 as well as college — were such wonderful times in my life, I've always enjoying reading books that are set in schools – whether it's boarding school or on a college campus, or even, let's say, a school of witchcraft and wizardry 😉
And so, on that note, I bring you…
My Top Ten Favorite Books That Are Set at a School
1. Harry Potter (the complete series) by J.K. Rowling
Seriously, is there anyone out there who has read these books who isn't waiting for an owl to deliver their acceptance letter to Hogwart's?  Just truly one of the most wonderful series I've ever read.
Goodreads Synopsis: Harry Potter thinks he is an ordinary boy. He lives with his Uncle Vernon, Aunt Petunia and cousin Dudley, who are mean to him and make him sleep in a cupboard under the stairs. (Dudley, however, has two bedrooms, one to sleep in and one for all his toys and games.) Then Harry starts receiving mysterious letters and his life is changed forever. He is whisked away by a beetle-eyed giant of a man and enrolled at Hogwarts School of Witchcraft and Wizardry. The reason: Harry Potter is a wizard! The first book in the "Harry Potter" series makes the perfect introduction to the world of Hogwarts.  (Read more…)
* * * * *
2. All the Bright Places by Jennifer Niven
A beautiful, gut-wrenching and important read that is set in a school and deals very powerfully with the subjects of mental illness and teen suicide.
Goodreads Synopsis: Theodore Finch is fascinated by death, and he constantly thinks of ways he might kill himself. But each time, something good, no matter how small, stops him.  Violet Markey lives for the future, counting the days until graduation, when she can escape her Indiana town and her aching grief in the wake of her sister's recent death.
When Finch and Violet meet on the ledge of the bell tower at school, it's unclear who saves whom. And when they pair up on a project to discover the "natural wonders" of their state, both Finch and Violet make more important discoveries: It's only with Violet that Finch can be himself—a weird, funny, live-out-loud guy who's not such a freak after all. And it's only with Finch that Violet can forget to count away the days and start living them. But as Violet's world grows, Finch's begins to shrink.
This is an intense, gripping novel perfect for fans of Jay Asher, Rainbow Rowell, John Green, Gayle Forman, and Jenny Downham from a talented new voice in YA, Jennifer Niven.  (Read more…)
* * * * *
3. Simon vs. the Homo Sapiens Agenda by Becky Albertalli
I actually just finished reading this book over the weekend and it immediately made its way onto my list of favorites.  It's a really cute read that will take you right back to your own high school days and you're pretty much guaranteed to fall in love with Oreo-obsessed Simon Spier from the very first page.
Goodreads Synopsis: Sixteen-year-old and not-so-openly gay Simon Spier prefers to save his drama for the school musical. But when an email falls into the wrong hands, his secret is at risk of being thrust into the spotlight. Now Simon is actually being blackmailed: if he doesn't play wingman for class clown Martin, his sexual identity will become everyone's business. Worse, the privacy of Blue, the pen name of the boy he's been emailing, will be compromised.
With some messy dynamics emerging in his once tight-knit group of friends, and his email correspondence with Blue growing more flirtatious every day, Simon's junior year has suddenly gotten all kinds of complicated. Now, change-averse Simon has to find a way to step out of his comfort zone before he's pushed out—without alienating his friends, compromising himself, or fumbling a shot at happiness with the most confusing, adorable guy he's never met.  (Read more…)
* * * * *
4. The Lords of Discipline by Pat Conroy
This is probably a more intense read than the first three titles, but this is one of my all-time favorite books.  It's set at a military school in the South and is just filled with drama and scandal. It's a real page turner and one that I've re-read numerous times because it's just that good.
Goodreads Synopsis:  In this powerful, mesmerizing, and highly acclaimed bestseller, Pat Conroy sweeps us into the turbulent world of four young men–friends, cadets, and blood brothers–and their days of hazing, heartbreak, pride, betrayal, and, ultimately, humanity.  We go deeply into the heart of the novel's hero, Will McLean, a rebellious outsider with his own personal code of honor, who is battling into manhood the hard way. Immersed in a poignant love affair with a haunting beauty, Will must boldly confront the terrifying injustice of a corrupt institution as he struggles to expose a mysterious group known as "The Ten."   (Read more…)
* * * * *
5. The Perks of Being a Wallflower by Stephen Chbosky
The confused and introverted teenager narrator, Charlie, is why this book if such a stand-out for me.  It feels like you're really in his head as he is struggling to find his place in the world and I just found him so completely relatable.  A wonderful coming of age story.
Goodreads Synopsis: Charlie is a freshman.  And while he's not the biggest geek in the school, he is by no means popular. Shy, introspective, intelligent beyond his years yet socially awkward, he is a wallflower, caught between trying to live his life and trying to run from it.  Charlie is attempting to navigate his way through uncharted territory: the world of first dates and mix tapes, family dramas and new friends; the world of sex, drugs, and The Rocky Horror Picture Show, when all one requires is that perfect song on that perfect drive to feel infinite. But he can't stay on the sideline forever. Standing on the fringes of life offers a unique perspective. But there comes a time to see what it looks like from the dance floor.
The Perks of Being a Wallflower is a deeply affecting coming-of-age story that will spirit you back to those wild and poignant roller-coaster days known as growing up.  (Read more…)
* * * * *
6. Fangirl by Rainbow Rowell
An introverted writer goes off to college?  I can't even express how much I loved and related to this book.  When I read it, it felt like Rainbow Rowell had written it with me in mind.
Goodreads Synopsis: A coming-of-age tale of fan fiction, family and first love.
Cath is a Simon Snow fan.  Okay, the whole world is a Simon Snow fan… But for Cath, being a fan is her life—and she's really good at it. She and her twin sister, Wren, ensconced themselves in the Simon Snow series when they were just kids; it's what got them through their mother leaving.  Reading. Rereading. Hanging out in Simon Snow forums, writing Simon Snow fan fiction, dressing up like the characters for every movie premiere.  Cath's sister has mostly grown away from fandom, but Cath can't let go. She doesn't want to.
Now that they're going to college, Wren has told Cath she doesn't want to be roommates. Cath is on her own, completely outside of her comfort zone. She's got a surly roommate with a charming, always-around boyfriend, a fiction-writing professor who thinks fan fiction is the end of the civilized world, a handsome classmate who only wants to talk about words… And she can't stop worrying about her dad, who's loving and fragile and has never really been alone.
For Cath, the question is: Can she do this?  Can she make it without Wren holding her hand? Is she ready to start living her own life? Writing her own stories?  And does she even want to move on if it means leaving Simon Snow behind?  (Read more…)
* * * * *
7. Prep by Curtis Sittenfeld
The reviews on this one tend to be mixed, but I found it to be a compelling read about a young woman at boarding school. Definitely a flawed character that I wanted to strangle a few times as I was reading, but still an addicting read nonetheless.
Goodreads Synopsis:  Curtis Sittenfeld's debut novel, Prep, is an insightful, achingly funny coming-of-age story as well as a brilliant dissection of class, race, and gender in a hothouse of adolescent angst and ambition.
Lee Fiora is an intelligent, observant fourteen-year-old when her father drops her off in front of her dorm at the prestigious Ault School in Massachusetts. She leaves her animated, affectionate family in South Bend, Indiana, at least in part because of the boarding school's glossy brochure, in which boys in sweaters chat in front of old brick buildings, girls in kilts hold lacrosse sticks on pristinely mown athletic fields, and everyone sings hymns in chapel.
As Lee soon learns, Ault is a cloistered world of jaded, attractive teenagers who spend summers on Nantucket and speak in their own clever shorthand. Both intimidated and fascinated by her classmates, Lee becomes a shrewd observer of–and, ultimately, a participant in–their rituals and mores. As a scholarship student, she constantly feels like an outsider and is both drawn to and repelled by other loners. By the time she's a senior, Lee has created a hard-won place for herself at Ault. But when her behavior takes a self-destructive and highly public turn, her carefully crafted identity within the community is shattered.
Ultimately, Lee's experiences–complicated relationships with teachers; intense friendships with other girls; an all-consuming preoccupation with a classmate who is less than a boyfriend and more than a crush; conflicts with her parents, from whom Lee feels increasingly distant, coalesce into a singular portrait of the painful and thrilling adolescence universal to us all.  (Read more…)
* * * * *
8. A Separate Peace by John Knowles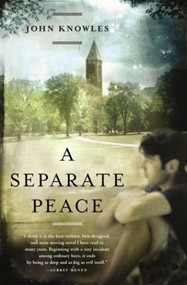 A dark and powerful book about loss of innocence and wartime, I never understood why this book was a required reading assignment.  I distinctly remember not liking the book when I was in school because I didn't appreciate its themes and just saw it as a dark and boring book where not much happened.  I'm happy to say that I see its beauty and power now as an adult reader.
Goodreads Synopsis: An American classic and great bestseller for over thirty years, A Separate Peace is timeless in its description of adolescence during a period when the entire country was losing its innocence to the second world war.
Set at a boys boarding school in New England during the early years of World War II, A Separate Peace is a harrowing and luminous parable of the dark side of adolescence. Gene is a lonely, introverted intellectual. Phineas is a handsome, taunting, daredevil athlete. What happens between the two friends one summer, like the war itself, banishes the innocence of these boys and their world.
A bestseller for more than thirty years, A Separate Peace is John Knowles crowning achievement and an undisputed American classic. (Read more…)
* * * * *
9. The Prime of Miss Jean Brodie by Muriel Sparks
This book is set at a very conservative boarding school for girls in Scotland and school teacher Miss Jean Brodie takes it upon herself to give six of her students a bit of an 'advanced' education.
Goodreads Synopsis:  The classic bestselling book the subject of a play, a movie, and a song that tells the darkly fascinating story of a young, unorthodox teacher and her special, and ultimately dangerous, relationship with six of her students. (Read more…)
* * * * *
10. Frindle by Andrew Clements
Frindle is a children's book that I read aloud with my son last year as part of a school-wide assigned reading project called One School, One Book.  Let me just say that this one is of the funniest school-based books I've ever read. Watching Nick Allen try to best his teacher in a battle of wits is hilarious fun, which is then followed up by a very heartwarming message at the end.  Such a fun book that my son still keeps it on his nightstand for the occasional re-read.
Goodreads Synopsis:  From bestselling and award-winning author Andrew Clements, a quirky, imaginative tale about creative thought and the power of words that will have readers inventing their own words.
Is Nick Allen a troublemaker? He really just likes to liven things up at school — and he's always had plenty of great ideas. When Nick learns some interesting information about how words are created, suddenly he's got the inspiration for his best plan ever…the frindle. Who says a pen has to be called a pen? Why not call it a frindle? Things begin innocently enough as Nick gets his friends to use the new word. Then other people in town start saying frindle. Soon the school is in an uproar, and Nick has become a local hero. His teacher wants Nick to put an end to all this nonsense, but the funny thing is frindle doesn't belong to Nick anymore. The new word is spreading across the country, and there's nothing Nick can do to stop it.  (Read more…)
* * * * * *
Question:  Have you read any of these titles?  Or do you have any other favorite school-based series that I haven't mentioned here?    I'd love to hear from you 🙂
https://thebookishlibra.com/wp-content/uploads/2016/08/toptentuesday.png
864
1600
Suzanne
https://thebookishlibra.com/wp-content/uploads/2018/06/trimmed-Copy-of-Bookish-Logo-copy.png
Suzanne
2016-08-30 07:41:43
2016-08-30 07:41:43
Top Ten Tuesday: My Top Ten Favorite Books That Are Set at a School