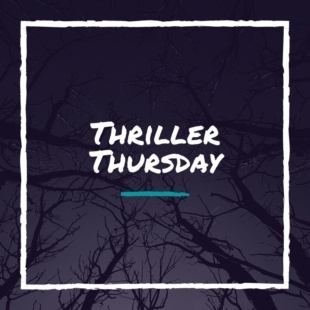 Sharon's back with another edition of Thriller Thursday.  Spooky season is upon us and this week I have a couple of great books to kick the season off with. I have a not too scary ghost story in Kate Alice Marshall's, The Narrow and a slasher/horror story in Darcy Coates', Dead of Winter.  Both of these books were great and I loved them.
The Narrow
Goodreads
Author: Kate Alice Marshall
Publication Date: August 1, 2023
Publisher: Viking Books for Young Readers
The Narrow is a YA ghost story, and it is also a story of friendships and finding lost loves. This is my second read by Kate Alice Marshall, and I loved this just as much as What Lies in the Woods. 
Behind the Atwood School, a prestigious boarding school, is a river called the Narrow. The Narrow is only a few feet wide, but the water is deep and vicious. It is said that no one that has fallen into the Narrow has ever survived, what the Narrow takes it never gives back. But Eden White knows this is not true. Six years ago, Eden and her best friend Veronica saw Delphine Fournier fall into the Narrow and survive. Although now Delphine has to live on the school grounds in Abigail House. If she leaves the school grounds she becomes gravely ill. She also cannot come in contact with unpurified water, as a single drop could kill her. This year in exchange for her tuition, Eden has agreed to live at Abigail house with Delphine and keep her company as well as ensuring she stays safe. As Eden and Delphine get to know each other and begin to unravel each other's secrets, Eden realizes something is haunting Delphine and now that something is coming for Eden as well. Eden hears rain on the windows, but the sky is clear, she has seen a ghostly silhouette in her doorway and wet footprints by her bed.  The school has been rumored to be haunted by the Drowning Girl. What does the Drowning Girl want with Delphine and Eden?
There was so much to love about this book. I loved the spooky ghost story and the tale of the Drowning Girl. I cannot say too much about her, but whenever she showed up all I could picture was the girl that crawled out of the TV in The Ring.
I really liked the friendship that Eden and Delphine formed. Eden was determined to figure out what was going on and help Delphine break whatever was haunting her. Eden was willing to risk her life for Delphine. Eden enlisted the help of her friends, Veronica, Zoya, and Ruth to help her uncover the mystery of The Drowning Girl. And what a mystery that was. As we were given bits of information on her, I thought I knew what was going on, but then a twist came and knock that out of the water (no pun intended lol).
I really loved Eden and the more we learned of her backstory, the more sympathy I had for her. She hides a lot about her home life from her friends and at times she would push them away because she did not want them to find out. But I liked it when she needed them they were there for her and had her back.
I think Kate Alice Marshall did a great job in weaving the ghost story, friendships, and lost loves aspect of this story together. If you are looking for a book to start off the spooky season that is not too scary, then I highly recommend The Narrow. 4 stars
Dead of Winter
Goodreads
Author: Darcy Coates
Publication Date: July 11, 2023
Publisher: Poisoned Pen Press
I have never read anything by Darcy Coates before, but when Dead of Winter popped up as a suggestion from Goodreads, it sounded just like the kind of book I would like, and it definitely was. Dead of Winter follows a group of strangers stranded in the Rocky Mountains during a snowstorm. Oh! And one of them is a killer, picking the others off one by one.
Christa Bailey and her boyfriend Kiernan are on a bus with nine other people on their way to Blackstone Alpine Lodge in the Rocky Mountains. When the bus has to stop because of a large tree branch in the road, Christa and Kiernan decide to take in the mountain scenery while the others try to clear the road.  When a snowstorm comes in, Christa and Kiernan get separated from the group, as well as each other. Christa is able to find her way to an abandoned cabin, where the others from the bus have taken shelter from the storm. They promise Christa they will go looking for Kiernan in the morning, but come morning Brian, their tour guide, is also missing. When they go out to look for Brian, they find just his head and it is impaled on a tree branch. Terrified, the group does all they can to stay safe and wait out the storm, but one by one they are killed, and their heads are impaled on the tree with Brian's.
Wow! I loved everything about this book.  The Story is told from the POV of Christa. I loved being in Christa's head as she tries to figure out who can be trusted when it became obvious that one of the group was the killer.
We don't get a lot of backstories on the rest of the group, but I think Coates did a great job of creating them and giving us just enough information, so that along with Christa we tried to figure out who was the killer.
I loved the snowy mountain and small cabin setting as well, that just added to the spookiness of the book. Darcy Coates did an amazing job of creating this setting, so that I could feel the coldness and could picture how claustrophobic that cabin must have been. You would think being in a small cabin they should be safe and they would be if they stayed together. But oh no, at one time or another someone would go off on their own and then sure enough their head was added to the tree.
I thought for sure I had things figured out and knew who the killer was, but when their body turned up, I was like "Damn! I was so sure!" I was totally clueless when the killer was revealed. So good job Darcy Coates on keeping me in the dark.
Dead of Winter was full of twists and turns that will keep you guessing until the end.  This book would make one hell of a great slasher movie. Be forewarned though, this book is not for the weak of heart. So, I of course loved it. LOL! I definitely want to check out more from Darcy Coates.   4 ½ stars
https://thebookishlibra.com/wp-content/uploads/2021/01/Thriller-Thursday.jpg
800
800
Sharon
https://thebookishlibra.com/wp-content/uploads/2018/06/trimmed-Copy-of-Bookish-Logo-copy.png
Sharon
2023-08-31 05:45:07
2023-08-30 18:57:39
Thriller Thursday Reviews: The Narrow & Dead of Winter