Top Ten Tuesday – 10 Before the End of 2023
Top Ten Tuesday was created by The Broke and the Bookish in June of 2010 and was moved to That Artsy Reader Girl in January 2018. It was born of a love of lists, a love of books, and a desire to bring bookish friends together.  Top Ten Tuesday has been one of my favorite memes ever since I started blogging, so huge thanks to Jana for taking over the hosting duties!
This week's TTT topic is a freebie and I feel like I've already posted everything spooky season related I wanted to, so today I'm sharing ten books I'm determined to read before the end of the year.
Also, just a side note, that I have been having tremendous issues with the comment feature on my site since last Thursday.  I think it's related to a Jetpack plugin, either a bad update or a conflict with another plugin, and I've been trying to resolve it but I'm not tech savvy and just don't know who is having issues commenting or what the specific errors are. If you are still unable to comment on my posts, can you either DM me on twitter (x) or on Instagram with any specific error messages that you're seeing?  Thanks!
10 Before the End of 2023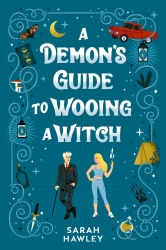 1. CHECK & MATE by Ali Hazelwood  –  "In this clever and swoonworthy YA debut from the New York Times bestselling author of The Love Hypothesis, life's moving pieces bring rival chess players together in a match for the heart."
2. A DEMON'S GUIDE TO WOOING A WITCH by Sarah Hawley  – "Calladia Cunnington curses the day she met Astaroth the demon, but when he shows up memoryless, why does she find him so helpless . . . and sort of hot?"
3. WOKE UP LIKE THIS by Amy Lea – "Planning the perfect prom is one last "to do" on ultra-organized Charlotte Wu's high school bucket list. So far, so good, if not for a decorating accident that sends Charlotte crash-landing off a ladder, face-first into her obnoxiously ripped archnemesis J. T. Renner. Worse? When Charlotte wakes up, she finds herself in an unfamiliar bed at thirty years old, with her bearded fiancé, Renner, by her side…Navigating a series of adventures and a confounding new normal, Charlotte and Renner will do whatever it takes to find a way back to seventeen. But when―and if―they do, what then?"
4. THE FAKE MATE by Lana Ferguson  – "Two wolf shifters agree to be fake mates but unexpectedly find something real in this steamy paranormal romantic comedy by Lana Ferguson."
5. BOOKSHOPS & BONEDUST by Travis Baldree – "When an injury throws a young, battle-hungry orc off her chosen path, she may find that what we need isn't always what we seek. In Bookshops & Bonedust, a prequel to Legends & Lattes, New York Times bestselling author Travis Baldree takes us on a journey of high fantasy, first loves, and second-hand books."
6. JUST DON'T FALL by Emma St. Clair – "Just Don't Fall is a small town, closed door hockey romcom with all the fake dating, brother's best friend vibes. You'll get smoking chemistry and characters to root for but NO spice. (Yes, you read that right–a low spice hockey romance.) Perfect for fans of sports romance who want a less heat."
7. THE PREDICTABLE HEARTBREAKS OF IMOGEN FINCH by Jacqueline Firkins  –  "A beautiful story of friendship, and second chances at love."
8. HOMERUN PROPOSAL by Maren Moore – "Cocky pitcher. Player on and off the field. The life of every party. And the same guy I've crushed on in secret since we were kids. He's always been out of my league. That is until he signs the dotted line on a proposal that wasn't meant for him, and offers to teach me… everything. His one and only condition? Don't get attached. Easier said than done when my heart is involved. Now, it's a whole new ballgame.."
9. DO YOUR WORST by Rosie Danan  –  "Sparks fly when an occult expert and a disgraced archeologist become enemies-with-benefits in this steamy romance."
10. HUNT ON DARK WATERS by Katee Robert  –  Witches and pirates! "Sail the magical high seas with this first book in a new sexy fantasy romance series from Katee Robert, the New York Times bestselling author of the TikTok smash-hit Neon Gods."
* * * * * *
Question:  Have you read any of these or are you planning to read any of them?
https://thebookishlibra.com/wp-content/uploads/2018/01/TTT-Big2.png
203
500
Suzanne
https://thebookishlibra.com/wp-content/uploads/2018/06/trimmed-Copy-of-Bookish-Logo-copy.png
Suzanne
2023-10-31 05:35:00
2023-10-30 23:17:41
Top Ten Tuesday – 10 Before the End of 2023