Top Ten Tuesday – Books on my Fall 2023 TBR
Top Ten Tuesday was created by The Broke and the Bookish in June of 2010 and was moved to That Artsy Reader Girl in January 2018. It was born of a love of lists, a love of books, and a desire to bring bookish friends together.  Top Ten Tuesday has been one of my favorite memes ever since I started blogging, so huge thanks to Jana for taking over the hosting duties!
This week's TTT topic is Books on My Fall 2023 TBR.  I always enjoy this topic because I'm curious to see what my fellow book bloggers are planning to read next.  I have a lot of ARCs to read this fall so my focus will primarily be on those, although I do hope to squeeze in a few of the books from my shelves as well.
Books on My Fall 2023 TBR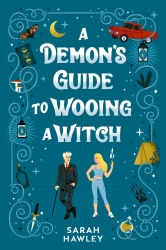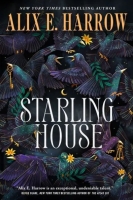 1. BETTER HATE THAN NEVER by Chloe Liese  –  "Childhood enemies discover the fine line between love and loathing in this heartfelt reimagining of Shakespeare's The Taming of the Shrew."
2. A DEMON'S GUIDE TO WOOING A WITCH by Sarah Hawley  – "Calladia Cunnington curses the day she met Astaroth the demon, but when he shows up memoryless, why does she find him so helpless . . . and sort of hot?"
3. THE FRAGILE THREADS OF POWER by V.E. Schwab – "From the #1 New York Times bestselling author of The Invisible Life of Addie LaRue, and set in the world of A Darker Shade of Magic, V. E. Schwab opens a new door into perilous adventure and tangled schemes with The Fragile Threads of Power."
4. THE FAKE MATE by Lana Ferguson  – "Two wolf shifters agree to be fake mates but unexpectedly find something real in this steamy paranormal romantic comedy by Lana Ferguson."
5. STARLING HOUSE by Alix E. Harrow – "A grim and gothic new tale from author Alix E. Harrow about a small town haunted by secrets that can't stay buried and the sinister house that sits at the crossroads of it all."
6. IRIS KELLY DOESN'T DATE by Ashley Herring Blake – "To get her mind off everything and overcome her writer's block, Iris tries out for a local play, but comes face-to-face with Stefania—or, Stevie, her real name. When Stevie desperately asks Iris to play along as her girlfriend, Iris is shocked, but goes along with it because maybe this fake relationship will actually get her creative juices flowing and she can get her book written. As the two women play the part of a couple, they turn into a constant state of hot-and-bothered and soon it just comes down to who will make the real first move…"
7. MIDNIGHT IS THE DARKEST HOUR by Ashley Winstead  –  "From the critically acclaimed author of In My Dreams I Hold A Knife and The Last Housewife comes a gothic Southern thriller about a killer haunting a small Louisiana town, where two outcasts—the preacher's daughter and the boy from the wrong side of the tracks—hold the key to uncovering the truth."
8. WRECK THE HALLS by Tessa Bailey – "A sexy, hilarious standalone holiday rom-com about the adult children of two former rock stars who team up to convince their estranged mothers to play a Christmas Eve concert."
9. THE UNMAKING OF JUNE FARROW by Adrienne Young  –  "A woman risks everything to end her family's centuries-old curse, solve her mother's disappearance, and find love in this mesmerizing novel from the New York Times bestselling author of Spells for Forgetting."
10. A WINTER IN NEW YORK by Josie Silver  –  "A young chef stumbles on a secret family recipe that might lead her to the love—and life—she's been looking for in this stunning novel."
* * * * * *
Question:  Have you read any of these or are you planning to read any of them?
https://thebookishlibra.com/wp-content/uploads/2018/01/TTT-Big2.png
203
500
Suzanne
https://thebookishlibra.com/wp-content/uploads/2018/06/trimmed-Copy-of-Bookish-Logo-copy.png
Suzanne
2023-09-19 05:30:39
2023-09-18 23:42:54
Top Ten Tuesday – Books on my Fall 2023 TBR