Reviews: THE BOOK OF MAGIC & VESPERTINE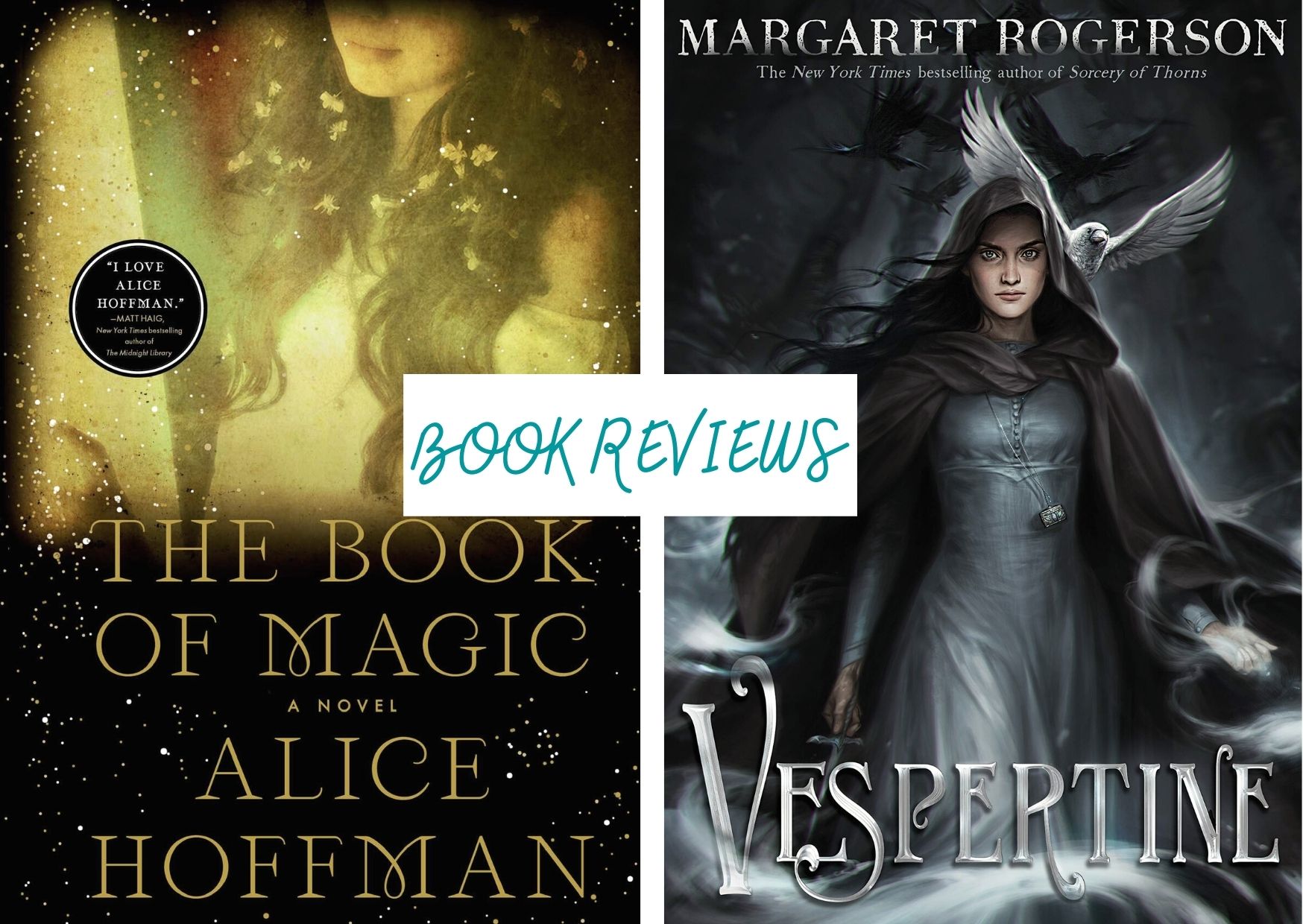 Sorry I pretty much dropped off the radar by the middle of the week last week.  We had a huge deadline at work on Friday, and we're short-staffed yet again so it was all hands on deck to get everything finished.  Thankfully we made the deadline but I was exhausted and just didn't have it in me to do much of anything except be a coach potato all weekend.  I plan to get caught up this week though so thanks for your patience in the meantime.  I had also planned to post these two reviews last week but was too tired to even write them.  Happy to share my thoughts on both of these today though. 🙂
The Book of Magic (Practical Magic, #2)
Goodreads
Author: Alice Hoffman
Publication Date: October 12, 2021
Publisher:  Simon & Schuster
FTC Disclosure: I received a complimentary copy of this book from Netgalley.  All opinions are my own.
It's no secret to anyone who follows my blog that I'm a huge fan of Alice Hoffman's books, especially her Practical Magic series.  My love for this series about the Owens women, their magic, and the fact that they have been cursed in matter of love for generations has only grown with each passing book.  I loved how Hoffman used the second and third books in the series as prequels to gradually take us all the way back to the origins of the Owens family curse.  What I was not expecting, however, was a fourth book, and specifically a fourth book that would function as an actual sequel to Practical Magic, but that's what we get with The Book of Magic
The Book of Magic takes us full circle back to Gillian and Sally from the first book, along with their beloved, quirky old aunts, Jet and Franny.  When the story opens, we learn that Jet has seen and heard the death watch beetle and knows she only has seven days left to live.  She decides it's time to try to end the family curse.  She wants future generations of Owens women to be able to fall in love and live happily ever after rather than suffer the endless heartbreaks that have plagued her, her sister, and all other Owens family members going back 300 years.  Seven days isn't enough, however, and while she sets some things into motion, she is unable to complete the task prior to her death and knows it will fall to someone else in the family to finish what she has started.  She has left clues for what must come next but it remains to be seen which Owens will find her clues and if they'll be brave enough to make the sacrifice that needs to be made to set the rest of the family free.
Jet and her sister Franny were my two favorite characters from the first book, so I was heartbroken from the opening pages of the book learning that Jet was going to die.  At the same time though, I loved how determined she was to break this awful curse once and for all.  Her family has had way more than its fair share of heartbreak and it has ruined so many lives over the years, and I just loved how she really wanted breaking it to be her legacy.
I also loved getting to see all the beloved characters from the earlier books – Gillian, Sally, Franny, Vincent, and so many more, as well as meeting two younger members of the Owens clan, Sally's daughters Kylie and Antonia.  Kylie and Antonia, thanks to their overprotective mother, have grown up not knowing about magic or their family's curse, and when they start to hear whispers of it at Jet's funeral, Kylie in particular, starts looking for answers and stumbles upon some of Jet's clues.  When her boyfriend Gideon falls into a coma, Kylie's desperate actions put her in danger and become the catalyst for the bulk of the story's plot, which involves the entire Owens family coming together to confront enemies from the past, try to save both Kylie and Gideon and to finish what Jet started.
I don't want to say anything else for fear of spoiling the journey, but with The Book of Magic, Alice Hoffman has gifted me with everything I could have possibly wanted in a sequel for these beloved characters, and so much more.  This story broke my heart and made me cry, and yet somehow it was also heartwarming and left me with a smile on my face. There's just something so satisfying about closure and Hoffman absolutely nails it with The Book of Magic.  5 MAGICAL STARS.
Vespertine (Vespertine, #1) Goodreads

Author: Margaret Rogerson
Publication Date: October 5, 2021
Publisher:  Margaret K. McElderry Books
FTC Disclosure: I received a complimentary copy of this book from Netgalley.  All opinions are my own.
Vespertine by Margaret Rogerson is the atmospheric and action-packed fantasy novel I didn't know I needed this spooky season.   I'm a big fan of Rogerson's earlier novels, An Enchantment of Ravens and A Sorcery of Thorns because I love the strong heroines she creates as well as her exquisite worldbuilding so I was thrilled as soon as I dove into Vespertine and discovered that we have another fabulous heroine to root for.
Vespertine follows Artemisia, a young nun-in-training who prefers to live a solitary life and stay in the background attending to the dead, but who finds herself thrust unexpectedly into the role of heroine when her convent is threatened and she stands up to defend it.  She does so by wielding a weapon, an ancient relic, that few are able to wield and in doing so, becomes possessed by a revenant.  This becomes a life-changing moment for Artemisia as she not only has to contend with this spirit basically riding shotgun in her mind and with people trying to elevate her to sainthood, but she also somehow finds herself tasked with solving a complex mystery that features old magic, nuns, spirits, saints, as well as secrets and trickery.
While the plot itself is action-packed and guaranteed to keep you turning the pages, and the world and magic system Rogerson has created here is sure to enthrall, my favorite part of the story were the characters.  As an introvert myself, I found Artemisia immensely relatable and cringed right alongside her when she found herself unable to escape the spotlight.  I also found her to be an incredibly sympathetic character because she comes from a troubled background, including a downright abusive childhood.  The more we learn about her, the more I can understand why she is such an awkward and retreating figure.
All of that said, however, my second favorite character is the Revenant who possesses Artemisia.  It is unclear whether the spirit is male or female, young or old, but what is clear is that whatever it is, it has the most hilariously snarky personality.  The Revenant reminded me of a grumpy old man, and I lived for its banter with Artemisia, especially because it brought out her equally snarky side.  The story itself has a very dark atmosphere and Artemisia's overall journey is pretty dark, but you can always count on the unexpectedly funny banter between these two to keep things entertaining.  I was also fascinated by the bond that formed between them even though Artemisia never knew if she could trust the spirit not to consume her completely.  I wouldn't say they become friends but there's a very interesting dynamic between them that I became very invested in.
The last thing I want to mention is the lack of a romance and the fact that I liked it this way.  Vespertine is very much all about Artemisia and her journey and I think a romance would have just been in the way.  If you prefer your fantasies with a bit of romance, Vespertine may not be your cup of tea, but if you're all about stories where underdogs learn they are stronger than they ever thought they could be, then Vespertine is the book for you.  4 STARS.
https://thebookishlibra.com/wp-content/uploads/2021/10/reviews-3.jpg
1240
1748
Suzanne
https://thebookishlibra.com/wp-content/uploads/2018/06/trimmed-Copy-of-Bookish-Logo-copy.png
Suzanne
2021-10-18 05:35:46
2021-10-17 20:44:49
Reviews: THE BOOK OF MAGIC & VESPERTINE