Reviews: NOT YOUR EX'S HEXES & JUST MY TYPE
Happy Monday, everyone!  I hope you all had a nice weekend.  It was freezing here so I pretty much stayed inside and read all weekend.  Today I'm back to share my thoughts on two books that will hit bookstore shelves this week.  If you're looking for some fun and romantic reads as we close in on Valentine's Day, you're going to want to check out both of these!
Not Your Ex's Hexes (Supernatural Singles, #2)
Goodreads
Author: April Asher
Publication Date: February 7, 2023
Publisher:  St. Martin's Press, St Martin's Griffin
FTC Disclosure: I received a complimentary copy of this book from Netgalley.  All opinions are my own.
The only thing better than having lots of great witchy reads to devour during spooky season is having lots of great witchy reads to enjoy throughout the entire year. I'm especially loving the witchy rom com trend and so couldn't resist requesting a review copy of Not Your Ex's Hexes, the latest installment in April Asher's Supernatural Singles series.
Not Your Ex's Hexes is a sexy, magical, grumpy-sunshine delight! It follows Rose Maxwell, a sassy, headstrong witch who, after having recently stepped down from the Supernatural Council, is now trying to find her path in life.  All she knows at this point is that she is not looking for love.  Sex, yes. Love, no.  She goes to a bar and sets her sights on Damian Adams, a sexy half-demon who is the perfect candidate for a one-night stand.  Once her sexual needs have been attended to, the next item on Rose's to-do list is to rescue some abused horses she saw in a field. What Rose doesn't learn until she is caught by the police, is that the abused horses had actually already been rescued.  The field she saw them in was part of an animal sanctuary that is run by none other than Damian Adams, her one-night stand who also happens to be a veterinarian. To make matters even more awkward, Rose is sentenced to community service at the sanctuary so she'll have to work in close quarters with Damian.
You guys, this was such a fun read!  I loved both Rose and Damian.  Rose is smart, sassy, and just brimming with energy and enthusiasm, especially when she learns the sanctuary is in financial trouble.  She makes coming up with ways to save the sanctuary her mission in life, even if she drives Damian crazy in the process.  Damian is a sexy, broody guy who is very much trying to keep his inner demon at bay.  He may be grumpy and gruff on the outside, but deep down, he's really just an animal-rescuing cinnamon roll.  Like Rose, Damian is also not looking for love, primarily because he was hexed by a former girlfriend and literally cannot let himself fall in love or he will lose his soul.  Damian is attracted to Rose though so when she suggests the two of them engage in a no-strings continuation of their one-night stand, Damian readily agrees.  Will the two of them be able to keep things casual? If they can't, what about Damian's curse?
Filled with sexy, steamy scenes, magical hijinks, demon hunting, and an array of adorable rescue animals, Not Your Ex's Hexes has a little something for everyone!  4.5 STARS.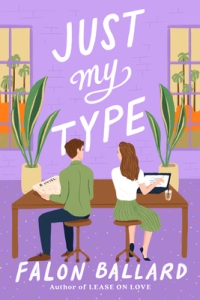 Just My Type Goodreads

Author: Falon Ballard
Publication Date: February 7, 2023
Publisher: G.P. Putnam's Sons
FTC Disclosure: I received a complimentary copy of this book from Netgalley.  All opinions are my own.
I'm a sucker for a good second chance romance and Falon Ballard delivers a great one with her latest novel, Just My Type, which follows two high school sweethearts who are reunited under contentious circumstances.
While they were dating in high school, Lana and Seth had big plans for the future, all of which revolved around them attending the same university and moving in together.  When their plans fell through, Seth breaks up with Lana because he doesn't want to hold her back from her dreams of becoming a journalist.  When Seth then goes on to reject Lana at their high school reunion a few years later, Lana is embarrassed and hopes that she'll never see Seth again.  When Seth later takes a job as a journalist at the same media outlet Lana works for, Lana is in utter disbelief, especially when her boss, sensing the tension and still simmering chemistry between them and smelling a potential ratings explosion, puts forth a writing challenge for the two of them, a series of relationship advice articles. Whoever's writings are the most popular with their audience will win a highly coveted spot as a columnist where they can write about whatever they want.
The competition was such a fun backdrop for Lana and Seth to work through their own personal relationship issues – Lana bounces from one relationship to another, while Seth apparently can't commit to anyone, as well as to work through their issues with one another.  I loved that one element of the competition involved them choosing relationship-related activities for each other to take part in, and that another caveat of the competition forced them to occasionally team up on these activities.  It was such a great use of the forced proximity trope to get Lana and Seth talking again and to eventually work their way up to talking about their past, what happened after high school and especially what happened at that reunion.  Some of the conversations were painful and emotional, but they were necessary and the more that was revealed about what happened, the more I became invested in the two of them finding their way back to each other, especially since it was clear the love was still there.
I enjoyed the balance of humor with the more emotional moments in this story. There's a wonderful secondary cast of journalists and their often hilarious group chats are interspersed throughout, providing a bit of comic relief. I also loved that we actually got to read each of the articles Seth and Lana were writing.  The author did a great job of incorporating all of these elements into Just My Type, creating an entertaining and moving read that I didn't want to end. 4 STARS
https://thebookishlibra.com/wp-content/uploads/2023/02/reviews-54.jpg
1240
1748
Suzanne
https://thebookishlibra.com/wp-content/uploads/2018/06/trimmed-Copy-of-Bookish-Logo-copy.png
Suzanne
2023-02-06 05:35:59
2023-02-06 07:35:47
Reviews: NOT YOUR EX'S HEXES & JUST MY TYPE