Thriller Reviews: DAISY DARKER & STAY AWAKE
Hey everyone!  I know I'm late for Thriller Thursday and that I'm not Sharon, but it would appear that I have finally started to get back to my pre-pandemic eclectic reading preferences so I actually have thriller reviews to share with you this week.  I'm still romance heavy of course, but I am glad that I'm finally at a point where I no longer feel like shying away from some darker reads.  These are good ones too.  If you're looking for some new thrillers to add to your spooky season TBR, be sure to check these out.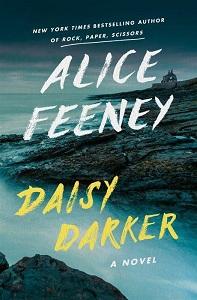 Daisy Darker
Goodreads
Author:  Alice Feeney
Publication Date: August 30, 2022
Publisher:  Flatiron Books
FTC Disclosure: None needed. I purchased my own copy of this book.
I love a good locked door mystery and Alice Feeney really delivers with her latest novel Daisy Darker.  As the synopsis hints, Daisy Darker is a nod to Agatha Christie's And Then There Were None, and I was 100% here for revisiting my favorite Agatha Christie thriller.
Daisy Darker was born with a heart problem and told she would not live very long.  By the time she was 13, Daisy had already died and been resuscitated several times.  Because of her delicate health, Daisy was not allowed to go to school and therefore grew up very lonely.  The only time Daisy ever had any freedom was in the summer when she would visit her Nana.  Daisy and her Nana have a wonderful relationship and are very close, so Daisy loves coming to spend time with her at Seaglass, the Gothic mansion Nana calls home.  It is at Seaglass where the bulk of this story unfolds.
Daisy's family has spent many years avoiding one another but when Nana is about to turn 80, she summons the entire family out to Seaglass for a reunion of sorts.  Seaglass, which is now crumbling and rundown, is situated on a small island and is only accessible at low tide so once the tide comes in, no one can leave until the next low tide eight hours later.  As each member of the family arrives, it becomes pretty clear that they are all uncomfortable to be there and they all also appear to be keeping secrets.  It's a very awkward situation that becomes even more awkward when Nana decides to share the contents of her will.  Events take a deadly turn when the clock strikes midnight, Nana is found dead, and a strange and super creepy poem about the members of the family is found written on the wall in what appears to be Nana's handwriting.  Are Daisy and the rest of the Darker family trapped on the island with a murderer in their midst?  Oh boy, it's going to be a long eight hours!
I don't want to say anything else about the plot because of spoilers and if you're familiar with And Then There Were None, you should have a basic idea of how the story will play out.  But, that said, boy does Alice Feeney take her readers on a wild ride of intricate plot twists.  She kept me guessing every step of the way, had me flying through the pages to see what would happen next, and even had me shedding a few tears at one point.  I loved the atmospheric quality of her writing, particularly the whole Gothic vibe of the mansion and the creepy, foreboding, and downright taunting vibe of the graffitied poem.  I did not see the ending coming at all, and for me, that's the mark of a well crafted mystery.  Daisy Darker is my new favorite book from Alice Feeney, and I can't wait to read more from her.  4.5 STARS
Stay Awake Goodreads

Author: Megan Goldin
Publication Date: August 9, 2022
Publisher: St. Martin's Press
FTC Disclosure: I received a complimentary copy of this book from Netgalley.  All opinions are my own.
Wow, what a wild ride this book was!  Megan Goldin is fast becoming one of my favorite authors when it comes to thrillers.  Her books are always an adrenaline rush and just an overall mind-blowing experience and her latest novel Stay Awake may be her best yet!
The story follows a young woman named Liv Reese, who has just woken up in the back of a cab, with no memory of how she got there or where she was heading.  Disoriented, Liv heads to the apartment in Brooklyn that she shares with her best friend Amy, only to get there and learn that there are two strangers living there instead.  Liv is even more confused when the woman who now lives there yells at Liv and tells her that she needs to stop showing up at their place.  Apparently, she has done this before.  Liv then reaches into her pocket for her cell phone to try to find help, and, instead of her phone, she finds a bloody knife and notices that her hands are covered in black ink, scribbled messages everywhere telling her to STAY AWAKE.  Liv has no idea what is going on, but she knows she needs to figure it out.
In addition to following Liv, the story also follows Detective Darcy Halliday.  Darcy and her partner Jack Lavelle are called to the scene of a homicide.  When they arrive on the scene and begin to investigate, it's clear that the killer has not left behind many clues for them.  The biggest and most unusual clue is that the message STAY AWAKE has been written in the victim's blood backwards on the windows so that it can be read by anyone standing outside the building.  Undeterred by the lack of evidence, Darcy and Jack set out to catch a killer.  When they release key information about the murder, including the STAY AWAKE message, to the public, Liv sees it and realizes that she is somehow connected to this murder even though she remembers nothing about it.
I really enjoyed the way the author has the story unfold. We alternate between Liv's perspective and Darcy's so we get clues about how Liv has ended up in the predicament she is in, and then we start to get clues about the murder as Darcy and Jack start to piece together what has happened.  I liked that I felt like I was piecing everything together right alongside the characters.
Liv's whole situation fascinated me because it is such an original use of the amnesia trope.  Earlier on in the book, it becomes clear that every time Liv falls asleep, she forgets all her memories going back two years, including several tragic events that probably led to her amnesia in the first place.  Every day Liv is stuck in the worst kind of Groundhog's Day imaginable, and it makes her incredibly vulnerable, especially since she has no idea how she is connected to this murder. She has no idea who she can trust, if anyone, and because of the amnesia, she also has no idea that the real murderer is out there looking for her too. It becomes a game of cat and mouse where every time the mouse falls asleep, she forgets about the cat. It makes for a wild and twisty ride and I was afraid for Liv every time I turned the page and praying the detectives would figure out who the killer was in time to save Liv.
Stay Awake is an intense thriller filled with tension and suspense that kept me on the edge of my seat from beginning to end.  I kept trying to guess who the murderer was and I was wrong every time. I love it when a thriller is so well plotted and unpredictable that it keeps me guessing until the reveal, and Megan Goldin's Stay Awake was a winner for me.  4 STARS
https://thebookishlibra.com/wp-content/uploads/2022/09/reviews-39.jpg
1240
1748
Suzanne
https://thebookishlibra.com/wp-content/uploads/2018/06/trimmed-Copy-of-Bookish-Logo-copy.png
Suzanne
2022-09-09 05:35:42
2022-09-08 21:28:43
Thriller Reviews: DAISY DARKER & STAY AWAKE