Reviews: A SHOE STORY and DREAM ON
Happy Friday! Wow, what I wouldn't give for a slow week.  Between work, which never seems to slow down, and my son's post-surgery physical therapy, I feel like there just aren't enough hours in my days to do everything I want to do.  I've been getting tons of reading done but am just ridiculously behind with reviews.  I do have two reviews to share today though.  Both are from new-to-me authors so I'm very excited to have finally gotten the chance to read something from each of them.
A Shoe Story
Goodreads
Author: Jane Rosen
Publication Date: June 28, 2022
Publisher: Berkley Books
FTC Disclosure: I received a complimentary copy of this book from Netgalley.  All opinions are my own.
A Shoe Story by Jane Rosen is another book I was drawn to initially because of its adorable and whimsical cover.  I loved the shoes scattered across the page and as someone who loves stories set in New York City, just seeing the NYC skyline on the cover was enough to further entice me.  I dove in and was immediately captivated by this beautiful story of second chances.
The story centers on Esme Nash, a young woman who dreamed of moving to New York as soon as she graduated from college and securing a job at a prestigious art gallery.   Esme's boyfriend Liam also shares her dream of moving to New York and so they make plans together, until tragedy strikes.  Esme's parents are involved in a car accident that kills her mother and leaves her father paralyzed.  Esme knows she has to stay and take care of her dad but she doesn't want to hold Liam back from his dreams, so she breaks up with him so that he will go on to New York without her.  Seven years later, Esme's dad dies and Esme decides it's time to get her life back and so, after securing temporary employment as a live-in dog sitter, she heads to New York.
Esme had my heart right away, just seeing how much she was willing to sacrifice to take care of her father.  I also loved the resilience she displays when she decides to head to New York to try to get her life back on track.  She hopes to cross paths with Liam to see if there are still sparks between them, but she is also very focused on reentering the art world and securing her dream job. I really admired her sense of determination and was immediately hoping she would get all the second chances she was hoping for.
What Esme finds along the way though is what really made this such a special read for me.  The first thing she discovers is that the dog owner she is sitting for has an enormous closet filled to the brim with designer shoes that just happen to be in Esme's size.  Esme, a shoe fiend herself, is entranced by this and decides to borrow a new pair of them every day to give her a much needed boost of confidence as she heads out into the city to reclaim her dreams and hopefully find her lost love.  Esme's journey ends up being a special one filled with new friends, new experiences, and she discovers sides to her personality that she never really knew existed.  I really enjoyed watching her grow and embrace the second chances she has been given.
While most of the story focuses on Esme's journey to find those second chances, what really struck me as I was reading was that every new friend she meets is also looking for a second chance of sorts.  I enjoyed Esme's interactions with each of these characters as they helped each other find their way.
A Shoe Story tackles some tough topics like alcoholism, loss and grief, but overall it's just such a smart and delightful read about finding oneself.  I highly recommend it and look forward to reading more of Jane Rosen's novels.  4.5 STARS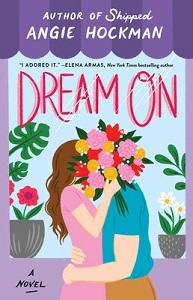 Dream On Goodreads

Author: Angie Hockman
Publication Date: July 5, 2022
Publisher: Gallery Books
FTC Disclosure: I received a complimentary copy of this book from Netgalley.  All opinions are my own.
I have to confess that it was the gorgeous cover that first drew me to Angie Hockman's new contemporary romance novel, Dream On.  That said, the story itself is just as sweet and beautiful as that cover.
Dream On follows Cass Walker, a young woman who gets into an accident the day she passes the bar exam and winds up in a coma for nearly a week.  When the story opens, Cass is just waking up, surrounded by her family and her best friend, but all she wants to know is why isn't her boyfriend Devin there.  Cass' loved ones are confused because to their knowledge, Cass does not have a boyfriend.  No one knows who Devin is and once Cass is out of the hospital, she realizes she doesn't have any photos, contact information, or anything that pertains to Devin. All she has are these vivid memories of dating him for the past three months.  It's as if she dreamed him up. Nearly a year later, Cass finally runs into the real Devin and it begins a life changing journey for her.
I loved this unique storyline and found myself very invested with Cass' journey to figure out how she has all these memories of Devin, especially since he has no idea who she is either.  Was it purely a figment of her imagination or did she really meet him at some point?  I also loved how brave Cass was the day she encounters him because she flat out tells him what she is experiencing and that she would like his assistance in helping her work through how she could possibly know so much about him.  I don't know if I would have had the guts to do that since he could have easily written her off as crazy.  I also had a soft spot for Devin right away since he was game to help her, even as his overprotective brother, Perry, was desperately trying to get rid of Cass since he did think she was a crazy stalker.  I wasn't crazy about Perry at first just because he was so quick to judge Cass, but he did grow on me quickly since it was clear how much he cared about his brother.
It was fun watching Cass get to know both brothers and I enjoyed the twists and turns of the story, especially as it became clear that Cass and Perry were developing feelings for one another.  I'm not usually big on love triangles but I have to admit that I was very interested in seeing if she would ultimately reject her mysterious connection to Devin in favor of Perry, or if she would choose neither brother and instead focus on getting her life and career back on track.  No spoilers from me but I will say that I was very satisfied with the ending.
If you're in the mood for a sweet romance about literally finding the man of your dreams, you'll definitely want to check out Dream On.  4 STARS
https://thebookishlibra.com/wp-content/uploads/2022/07/reviews-32.jpg
1240
1748
Suzanne
https://thebookishlibra.com/wp-content/uploads/2018/06/trimmed-Copy-of-Bookish-Logo-copy.png
Suzanne
2022-07-15 05:35:24
2022-07-14 22:29:38
Reviews: A SHOE STORY and DREAM ON