Reviews: THE WEDDING SEASON & I KISSED SHARA WHEELER
TGIF!  I'm so happy the weekend is here.  I don't really have any big plans to speak of, but I'm hoping for nice enough weather to actually be able to read outside for a bit.  Today I'm sharing reviews on two pretty great reads I had this week, one from a favorite author, Casey McQuiston, and one from a new-to-me author, Katy Birchall.
The Wedding Season
Goodreads
Author: Katy Birchall
Publication Date: May 3, 2022
Publisher:  St. Martin's Griffin
FTC Disclosure: I received a complimentary copy of this book from Netgalley.  All opinions are my own.
I've been wanting to try Katy Birchall's novels for a while now and when I saw her latest novel, The Wedding Season, described as Four Weddings and a Funeral meets The Wedding Party, I knew I had to read it.
The story opens with the protagonist, Freya Scott, happily preparing to marry her longtime boyfriend, Matthew.  That is, until Matthew pulls her into a broom closet the day before the wedding and breaks up with her.  Feeling utterly humiliated, Freya wonders how in the world she will survive the seven weddings she has to attend in the upcoming months, what she and her friends have dubbed "The Wedding Season."  She has no idea how she'll be able to cope with the awkward pitying looks, the gossip, and even worse, the fact that Matthew will probably also be attending most of them since they have so many mutual friends.  Freya's best friends Ruby and Leo, who as an aside, are very much friendship goals, come to the rescue.  They devise a list of outrageous challenges, one per wedding, that will serve to distract Freya and keep her from dwelling on her own misfortune.  The tasks range from being the last person standing on the dancefloor, to kissing a stranger, to running naked down a hotel corridor.  Armed with this survival guide and endless moral support from Ruby and Leo, Freya sets out to tackle "The Wedding Season." She has no idea how truly life changing her challenges will turn out to be!
You guys, this book was such a delight!  I think what Freya was going through is an experience that many will find either relatable or else one of their own worst nightmares.  I loved how even though she was devastated, Freya does start to embrace the idea of moving on without Matthew and that she just goes for it when it comes to completing the tasks on her list.  That list provides so many laugh out loud moments and they made for a fantastic balance with the more serious elements of the story, just as they made Freya an even more endearing character than she already was.
Watching Freya find her way forward without Matthew was such a wonderful experience.  It's an awkward journey for her at times as she navigates through some confrontational moments with Matthew, but it's also very healing and freeing for her as she comes to realize she doesn't need him in her life and that she may actually be better off without him.  She also starts to open her eyes and heart to the possibility of a new romance, but that aspect of the story takes a bit of a backseat to Freya's personal journey.  I would have loved a little more romance, but I was all in for Freya so the story was still fantastic as is.
The Wedding Season is a heartwarming and hilarious story about love and friendship.  It left me feeling so hopeful about Freya's future and also wanting sequels that feature all of Freya's fabulous friends.  Just an all around delightful read!  4.5 STARS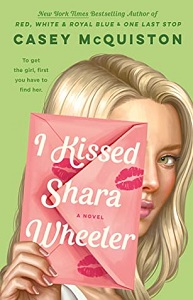 I Kissed Shara Wheeler Goodreads

Author: Casey McQuiston
Publication Date: May 3, 2022
Publisher: St. Martin's Press
FTC Disclosure: I received a complimentary copy of this book from Netgalley.  All opinions are my own.
I was a big fan of Casey McQuiston's first two novels, Red White and Royal Blue and One Last Stop, so I was excited to hear she has a new one coming out and that it's her YA debut.
I Kissed Shara Wheeler follows Chloe Green, a high school senior who moved from California to Alabama her freshman year. Enrolled in a conservative Christian school, Chloe has felt like the black sheep of the school the entire time she has been there.  When the story opens, she is just months away from graduation and has her eyes on the prize, class Valedictorian.  She has been competing neck and neck for the coveted title and all its glory with the school darling, Shara Wheeler.  Shara is the Principal's daughter, a good Christian girl, and everyone just adores her.  Well, everyone except Chloe.  Chloe can't stand her and would love nothing more than to beat her out for the top spot.
A month before graduation everything changes though – out of nowhere, Shara kisses Chloe and then by the next morning, has disappeared.  Chloe starts desperately hunting for clues as to Shara's whereabouts, because let's face it, winning Valedictorian because your main rival stopped coming to school isn't very satisfying.  During her search, she learns that she isn't the only one Shara kissed. She also kissed Rory Heron, the bad boy who lives next door to her, and she kissed her longtime boyfriend, Smith Parker. What kind of game is Shara playing?  Because it clearly is a game, considering that before she vanished, she left each of them a letter, followed by a series of clues that promise to lead to her whereabouts.  It becomes clear that if they want to solve the mystery of where Shara is, why she chose to disappear, and why she chose them to play the game, they're going to have to work together to piece together this odd scavenger hunt.
McQuiston has a gift for writing lovable characters so it's no surprise that I really liked Chloe, Rory, and Smith. I enjoyed them all individually, and as a group, as they begin to bond while they work to solve each of Shara's clues.  Chloe is scrappy and determined, Rory has a reputation for being a bad boy but is actually pretty sweet, and Smith is also just a cinnamon roll.  While I was just as clueless as these three as to why Shara has them jumping through so many hoops for her, I loved what the quest actually does for them.  It leads them to interact with each other as well as other students in the school they've never really interacted with before because the school is full of cliques.  Chloe, in particular, shows a lot of growth in this area because as she interacts with more and more different people, she realizes that she isn't as different from some of her fellow students as she had led herself to believe and it leads her to examine some of her own prejudices and realize how unfair she was being.  As fascinating as the journey was to find Shara and learn her reasons for doing what she did, I found this journey of Chloe's to be my favorite part of the story. Speaking of the mystery surrounding Shara, I don't want to spoil anything there so I'll leave it for you to discover on your own. It's one heck of a ride though, I'll say that much, and eye opening for all of the characters involved.
The only real downside for me was that we only get chapters from Chloe's perspective.  I think some chapters from Rory or Smith as they are on Shara's trail, or even from Shara herself to give us some hints into her motivations, would have made the story even better.  Still a fabulous read though so it's only a minor quibble.
I Kissed Shara Wheeler is a story about relentlessly pursuing what you think you want in life, only to stumble into what it is you really need. It's a mystery, a romance, a story about second chances, and so much more.  There's definitely a little something for everyone, so be sure to check it out!  4 STARS.
https://thebookishlibra.com/wp-content/uploads/2022/04/reviews-25.jpg
1240
1748
Suzanne
https://thebookishlibra.com/wp-content/uploads/2018/06/trimmed-Copy-of-Bookish-Logo-copy.png
Suzanne
2022-04-29 05:35:31
2022-04-28 22:26:15
Reviews: THE WEDDING SEASON & I KISSED SHARA WHEELER