Top Ten Tuesday – Bookish Merchandise I'd Love to Own
Top Ten Tuesday was created by The Broke and the Bookish in June of 2010 and was moved to That Artsy Reader Girl in January 2018. It was born of a love of lists, a love of books, and a desire to bring bookish friends together.  Top Ten Tuesday has been one of my favorite memes ever since I started blogging, so huge thanks to Jana for taking over the hosting duties!
This week's TTT topic is Bookish Merchandise I'd Like to Own.  These kinds of topics are always fun because there's so much great bookish merchandise out there, and I of course, want it all, lol.  Here's my most recent list of bookish items I've had my eye on.  If you're interested in purchasing any of these items, the pictures are all linked back to the shops that are selling them.
* * * * *
Bookish Merchandise I'd Love to Own
1. Bookish Statement T-Shirt
I've had my eye on this "Ban bigots, not books" t shirt ever since two of my county's school board members made the national news for advocating the burning of books they didn't like.  It's a super cute tee and the statement is very effective.
* * * * *
2. Funny Bookish T-Shirt
I also love funny t-shirt and this shirt featuring someone drowning under their TBR pile cracked me up, haha.
* * * * *
3. Bookish Tote Bags
I have an obsession with bookish tote bags and probably have a lifetime supply of them already, but I can't resist adding to my collection whenever a cute one like this catches my eye.
* * * * *
4. Bookish Mugs
I'm not sure which is worse, my bookish tote obsession or my bookish mug obsession. I literally have no more room for mugs in my cabinet and that's the only thing that has stopped me from buying this fun one.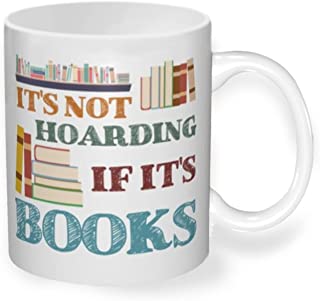 * * * * *
5. Bookish Quote Postcards
These caught my eye, not because I actually mail postcards to anyone, but I thought the collection of them might be cute framed on a wall in my library/office.
* * * * *
6. Bookish Embroidery
If work ever slows down to the point where I don't spend most of my free time napping, I'd love to learn how to embroider and this cute bookish beginner kit caught my eye.
* * * * *
7. Bookish Cross Stitch Kit
I may end up taking the lazy way out though since I at least do already know how to do cross stitch, so here's another crafty kit I've been eyeing on Etsy.
* * * * *
8. Enamel Pins
I collect enamel pins too.  I have a fabric covered decorative board in my office and I display my pins on that. I thought this one was really cute.
* * * * *
9. Bookish Themed Candles
This romance-themed candle is scented with rosewood, lilac, and blackberry. Doesn't that sound like it would smell incredible? I really need to get one of these.
* * * * *
10. Bookmarks! 
I still mostly use receipts for my actual bookmarks, but I do love to collect bookmarks.  I don't have many author-specific ones, but my newfound love of Colleen Hoover's books made me zero in on this fun one, which is a bookstack of all of her novels.
* * * * *
Question:  Do you love bookish merchandise?  What kinds of bookish items would you love to own?
https://thebookishlibra.com/wp-content/uploads/2018/01/TTT-Big2.png
203
500
Suzanne
https://thebookishlibra.com/wp-content/uploads/2018/06/trimmed-Copy-of-Bookish-Logo-copy.png
Suzanne
2022-04-19 05:35:51
2022-04-18 21:09:29
Top Ten Tuesday – Bookish Merchandise I'd Love to Own