Top Ten Tuesday – Halloween Freebie – My Favorite Books That Feature Ghosts
Top Ten Tuesday was created by The Broke and the Bookish in June of 2010 and was moved to That Artsy Reader Girl in January 2018. It was born of a love of lists, a love of books, and a desire to bring bookish friends together.  Top Ten Tuesday has been one of my favorite memes ever since I started blogging, so huge thanks to Jana for taking over the hosting duties!
This week's TTT topic is a Halloween freebie.  Since I already shared some entertaining witchy reads for your TBR a couple of weeks ago, I thought it would be fun today to share some of my favorite books that feature ghosts.  Now keep in mind that I'm a huge chicken so most of my selections feature ghosts that aren't scary at all and that in some cases are actually funny or even just charming and delightful.  I did include a few reads that are actually spooky and a little scary, but nothing that I would truly classify as horror.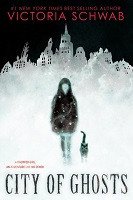 10 of My Favorite Books That Feature Ghosts
1. CITY OF GHOSTS by Victoria Schwab (middle grade fantasy) – Cassidy Blake's parents are The Inspecters, a (somewhat inept) ghost-hunting team. But Cass herself can REALLY see ghosts. In fact, her best friend, Jacob, just happens to be one. When The Inspecters head to ultra-haunted Edinburgh, Scotland, for their new TV show, Cass—and Jacob—come along. In Scotland, Cass is surrounded by ghosts, not all of them friendly. Then she meets Lara, a girl who can also see the dead. But Lara tells Cassidy that as an In-betweener, their job is to send ghosts permanently beyond the Veil. Cass isn't sure about her new mission, but she does know the sinister Red Raven haunting the city doesn't belong in her world. Cassidy's powers will draw her into an epic fight that stretches through the worlds of the living and the dead, in order to save herself.
2. A BRIDGE ACROSS THE OCEAN by Susan Meissner  – Post WWII historical fiction that features a dual timeline and a haunted ocean liner that used to transport war brides across the Atlantic. 
3. THE GRAVEYARD BOOK by Neil Gaiman – Nobody Owens, known to his friends as Bod, is a perfectly normal boy. Well, he would be perfectly normal if he didn't live in a graveyard, being raised and educated by ghosts, with a solitary guardian who belongs to neither the world of the living nor the world of the dead. There are dangers and adventures for Bod in the graveyard: the strange and terrible menace of the Sleer; a gravestone entrance to a desert that leads to the city of ghouls; friendship with a witch, and so much more. But it is in the land of the living that real danger lurks, for it is there that the man Jack lives and he has already killed Bod's family.
4. HOME BEFORE DARK by Riley Sager  – In this thriller from New York Times bestseller Riley Sager, a woman returns to the house made famous by her father's bestselling horror memoir. Is the place really haunted by evil forces, as her father claimed? Or are there more earthbound—and dangerous—secrets hidden within its walls?
5. THE KINDRED SPIRITS SUPPER CLUB by Amy E. Reichert  – For Sabrina Monroe, moving back home to the Wisconsin Dells–the self-described Waterpark Capital of the World–means returning to the Monroe family curse: the women in her family can see spirits who come to them for help with unfinished business. But Sabrina's always redirected the needy spirits to her mom, who's much better suited for the job. The one exception has always been Molly, a bubbly rom-com loving ghost, who stuck by Sabrina's side all through her lonely childhood.
Her personal life starts looking up when Ray, the new local restaurateur, invites Sabrina to his supper club, where he flirts with her over his famous Brandy Old-Fashioneds. He's charming and handsome, but Sabrina tells herself she doesn't have time for romance–she needs to focus on finding a job. Except the longer she's in the Dells, the harder it is to resist her feelings for Ray. Who can turn down a cute guy with a fondness for rescue dogs and an obsession with perfecting his fried cheese curds recipe?
6. THE RAVEN CYCLE by Maggie Stiefvater  – A YA paranormal fantasy series about a group of boys at a private school where one of the main characters turns out to be a ghost.  It's a "spellbinding series where the inevitability of death and the nature of love lead us to a place we've never been before."
7. SHADOWLAND by Meg Cabot  – Suze is a mediator — a liaison between the living and the dead. In other words, she sees dead people. And they won't leave her alone until she helps them resolve their unfinished business with the living. But Jesse, the hot ghost haunting her bedroom, doesn't seem to need her help. Which is a relief, because Suze has just moved to sunny California and plans to start fresh, with trips to the mall instead of the cemetery, and surfing instead of spectral visitations. But the very first day at her new school, Suze realizes it's not that easy. There's a ghost with revenge on her mind … and Suze happens to be in the way.
8. THE SUN DOWN MOTEL by Simone St. James  – (paranormal thriller) – The secrets lurking in a rundown roadside motel ensnare a young woman, just as they did her aunt thirty-five years before, in this new atmospheric suspense novel from the national bestselling and award-winning author of The Broken Girls.
Upstate NY, 1982. Every small town like Fell, New York, has a place like the Sun Down Motel. Some customers are from out of town, passing through on their way to someplace better. Some are locals, trying to hide their secrets. Viv Delaney works as the night clerk to pay for her move to New York City. But something isn't right at the Sun Down, and before long she's determined to uncover all of the secrets hidden…
Haunted motel anyone?
9. UNDER THE WHISPERING DOOR by T.J. Klune  – When a reaper comes to collect Wallace Price from his own funeral, Wallace suspects he really might be dead. Instead of leading him directly to the afterlife, the reaper takes him to a small village. On the outskirts, off the path through the woods, tucked between mountains, is a particular tea shop, run by a man named Hugo. Hugo is the tea shop's owner to locals and the ferryman to souls who need to cross over.
But Wallace isn't ready to abandon the life he barely lived. With Hugo's help he finally starts to learn about all the things he missed in life. When the Manager, a curious and powerful being, arrives at the tea shop and gives Wallace one week to cross over, Wallace sets about living a lifetime in seven days.  Under the Whispering Door is a contemporary fantasy about a ghost who refuses to cross over and the ferryman he falls in love with.
10. THE WHOLE TOWN'S TALKING by Fannie Flagg  – Elmwood Springs, Missouri, is a small town like any other, but something strange is happening at the cemetery. Still Meadows, as it's called, is anything but still. Original, profound, The Whole Town's Talking, a novel in the tradition of Thornton Wilder's Our Town and Flagg's own Can't Wait to Get to Heaven, tells the story of Lordor Nordstrom, his Swedish mail-order bride, Katrina, and their neighbors and descendants as they live, love, die, and carry on in mysterious and surprising ways. Lordor Nordstrom created, in his wisdom, not only a lively town and a prosperous legacy for himself but also a beautiful final resting place for his family, friends, and neighbors yet to come. "Resting place" turns out to be a bit of a misnomer, however. Odd things begin to happen, and it starts the whole town talking.
With her wild imagination, great storytelling, and deep understanding of folly and the human heart, the beloved Fannie Flagg tells an unforgettable story of life, afterlife, and the remarkable goings-on of ordinary people. In The Whole Town's Talking, she reminds us that community is vital, life is a gift, and love never dies.
* * * * * *
Question:  Do you have any favorite books that feature ghosts?  Have you read any of these?
https://thebookishlibra.com/wp-content/uploads/2018/01/TTT-Big2.png
203
500
Suzanne
https://thebookishlibra.com/wp-content/uploads/2018/06/trimmed-Copy-of-Bookish-Logo-copy.png
Suzanne
2021-10-26 05:35:10
2021-10-26 06:27:48
Top Ten Tuesday – Halloween Freebie – My Favorite Books That Feature Ghosts