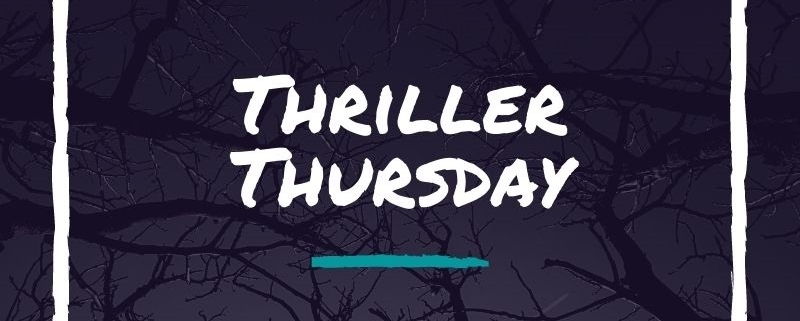 Reviews: Later & The Burning Girls
Hey, it's Sharon and for today's Thriller Thursday I am reviewing two books from two great horror authors. Stephen King's new book Later (Hey, what would a Thriller Thursday be without a Stephen King book? LOL) and C.J. Tudor's new book The Burning Girls. I couldn't wait to read these books, and I am happy to say they did not disappoint.
Later
Goodreads
Author: Stephen King
Publication Date: March 2, 2021
Publisher: Hard Case Crime
Stephen King is my all-time favorite author, and even though his new book, Later is not as long as his other books (it's only 250 pages, short for a Stephen King book lol) he is still able to pull me in and make me become fully invested in the story and characters. It was everything I wanted/expected in a Stephen King read.
Jamie Conklin has a secret; he can see and talk to dead people. His mother urges him not to let anyone know what he can do. If anyone were to find out, they would use Jamie for their own purpose, and he could end up in a life-or-death situation. Which is exactly what happens when a New York city detective enlists Jamie's help in stopping a killer from performing one final act from beyond the grave.
It is Jamie's job to find out where this killer hid his final bomb, because you see when you ask a dead person a question, they have to tell the truth.
The book is narrated by Jamie Conklin, as he tells the story of his life, starting when he was 6 years old and through his teenage/young adult years. For the most part, the dead people that Jamie sees keep their distance and they fade away after a few days. That is until Jamie is thirteen years old and is pulled into the case with the NYPD. For some reason, this dead person does not fade away and keeps following Jamie. Jamie sees him outside of school, standing on the street late at night, and even in the elevator in their apartment building. Jamie needs to figure out how to make him go away, because he does not want to find out what will happen if he doesn't.
I loved Jamie. Especially young Jamie, who just pulled at my heart strings. There is a scene at the beginning of the book when Jamie is six, he is walking home from school with this mother and he is holding a paper turkey he made. He thinks it is the cat's ass, that is until they get to their apartment and find out their neighbor Mrs. Burkett has died. When Jamie sees Mr. Burkett crying, he tries to cheer him up by showing him his turkey. But then he sees Mrs. Burkett and when he proudly shows her his turkey, she tells Jamie it is more like what comes out of a cat's ass. Aww Poor Jamie. I just wanted to hug him.
I also loved the relationship between Jamie and his mother. It is just the two of them and they both are protective of each other. They had a very special bond. And I as I was reading, I kept hoping nothing bad was going to happen to either of them.
This is a horror story, but it is also a coming-of-age story as Jamie navigates through life, as the boy who can see and talk to dead people. If you are a fan of Stephen King, I recommend this book and think you will love it.    4 ½ stars
The Burning Girls
Goodreads
Author: C.J. Tudor
Publication Date: February 9, 2021
Publisher: Ballantine Books
C.J. Tudor has become a must-read author for me. I loved her earlier books, The Chalk Man, The Hiding Place; and The Other People so I couldn't wait to read The Burning Girls.  I am glad to say that it lived up to my expectations.
Chapel Croft is a small village in Sussex, England. Five hundred years ago eight protestant martyrs were burned at the stake, two of which were children. Thirty years ago, 2 local teenage girls went missing. And two months ago, the local vicar killed himself.  Every year to commemorate the anniversary of the protestant martyrs the townspeople have a bonfire in the cemetery next to the chapel and burn twig figures, known as the burning girls.
Reverend Jack Brooks and her fourteen-year-old daughter, Flo, have just moved to Chapel Croft.  Jack will be the interim vicar until a permanent one can be found. Jack is hoping for a fresh start for her and her daughter. As soon as Jack and Flo arrive, a small child covered in blood shows up at the chapel. Then Jack receives a package, that includes an exorcism kit. Flo befriends a strange local boy, has a few run-ins with some bullies and is having strange sightings of the burning girls.  While cleaning out the basement in their house, Jack finds folders that belonged to the previous vicar which contain research into the 2 girls that disappeared thirty years ago. As Jack investigates these strange occurrences, she finds that the people in Chapel Croft do not want their secrets to be revealed and will do whatever they have to do to stop that from happening. So much for the peaceful fresh start Jack was hoping for.
The book is told from the POV of Jack and Flo.  I loved their mother/daughter relationship. I especially liked Jack though, she was a down to earth flawed character and not your typical vicar. She smokes (behind her daughter's back lol), drinks and swears when it is called for. And she is also a mother that will do anything to protect her daughter.
This book was filled with lots of twists and turns and I couldn't wait to see if the martyrs, the missing girls and the vicar that killed himself were connected or not. I thought I had things figured out a few times, but I was wrong each time. The tension and suspense really pick up at the end with a final jaw dropping twist.   4 ½ stars
https://thebookishlibra.com/wp-content/uploads/2021/01/Thriller-Thursday.jpg
800
800
Sharon
https://thebookishlibra.com/wp-content/uploads/2018/06/trimmed-Copy-of-Bookish-Logo-copy.png
Sharon
2021-03-18 05:45:07
2021-03-16 19:05:05
Reviews: Later & The Burning Girls