Top Ten Tuesday – Ten of My Favorite Reads from 2020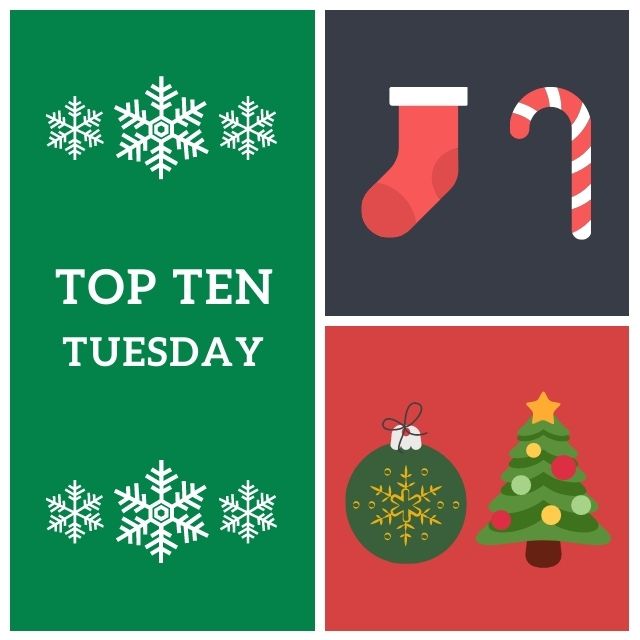 Top Ten Tuesday was created by The Broke and the Bookish in June of 2010 and was moved to That Artsy Reader Girl in January 2018. It was born of a love of lists, a love of books, and a desire to bring bookish friends together.  Top Ten Tuesday has been one of my favorite memes ever since I started blogging, so huge thanks to Jana for taking over the hosting duties!
This week's TTT topic is Favorite Books of 2020.  It was hard to pick just ten favorite books because as bad as 2020 was overall, it was actually a really great reading year for me.  As of the moment I'm sitting here drafting this post, I've read 172 books this year, the most I've ever read, and looking through my Goodreads shelves, most of those reads were 3 stars and above so yay!  I did have more DNFs than ever before, which I also consider a win because I'm finally getting better at just saying no to books that aren't working for me.  All of that said, I'm sharing 14 of my favorite reads from this year.  All of the books below are a combination of 2020 releases and older releases since one of my big goals this year was to read more of the older books that have been sitting neglected on my bookshelves. I did pretty well with that goal as well and will have a second half of 2020 Beat the Backlist wrap up coming later this week to share all of the older books I've read in 2020.
Anyway, back to my favorites of the year…I rated all of these 4.5 or 5 stars and as you can see, I had winners from a variety of genres.  Light, fluffy, and romantic books were my favorites overall, but I still had some darker and more atmospheric reads in there too. I'd highly recommend any of these titles to someone looking for a read they won't be able to put down.
* * * * *
My Favorite Reads from 2020
(In no particular order)
1. THIS IS MY AMERICA by Kim Johnson – most powerful book I read this year.
2. BEACH READ by Emily Henry  – the book whose cover made me think it would be a light and fluffy read but ended up being so much more.
3. BLACKTOP WASTELAND by S.A. Cosby  – My favorite crime novel of the year. It's so action-packed that it reads like The Fast and the Furious.
4. CRAZY STUPID BROMANCE by Lyssa Kay Adams  – I went back and forth trying to decide which Bromance book was my favorite this year since I also read Undercover Bromance and loved them both. Going with this one mainly because of Beefcake the cat, haha.
5. TAKE A HINT, DANI BROWN by Talia Hibbert  –  This one wins for most adorable couple.  I read this months ago and still smile every time I think about them.
6. JUST OUR LUCK by Julia Walton  – A heartwarming coming of age story about overcoming anxiety and finding friendship and love.  This was one of my final reads of 2020 and it was just such a lovely note to end the year on.
7. THE LIONS OF FIFTH AVENUE by Fiona Davis  –  Fiona Davis' novels never disappoint because they combine two of my favorite things, historical fiction and NYC iconic buildings.  This one features the New York Public LIbrary and a fantastic mystery to boot.
8. MAGIC LESSONS by Alice Hoffman  –  It's Alice Hoffman and it's a prequel to Practical Magic that shows the origins of the Owens bloodline and the infamous curse.  What else do I need to say?  It's glorious!
9. THE ONCE AND FUTURE WITCHES by Alix E. Harrow  –  While nothing can top Alice Hoffman's witchy series (see above), my second favorite witchy read of 2020 was this gorgeous and atmospheric read by Alix E. Harrow.  I also read and loved her book Ten Thousand Doors of January this year and look forward to reading more from her.
10. ONE DAY IN DECEMBER by Josie Silver  –  This was actually one of my very first reads of the year and the beautiful and emotional story has just stuck with me all the way through 2020.
11. THE SIMPLE WILD by K.A. Tucker  – The older book that I could kick my own butt for not reading it sooner.  By far, my favorite romance of the year.  I loved it so much that the sequel and the holiday novella are queued up on my kindle now to read in January.
12.  SORCERY OF THORNS by Margaret Rogerson  –  Another gorgeous story that I could kick my butt for ignoring for so long.  This is a fantasy novel that actually lives up to all of the hype, plus it's set in libraries and features magical books. What's not to love?  Another huge bonus?  It's a standalone, which is heaven for people like me who struggle with series.
13.  THE SUN DOWN MOTEL by Simone St. James  –  I don't usually read books classified as horror but something about this one just called to me and I'm so glad I answered the call.  It is the creepiest, most atmospheric book I read all year and I loved every page of it.  It was my first time reading Simone St. James and I loved it so much that I recently picked up a copy of The Broken Girls so that I can experience more of her gorgeous writing.
14. WHAT YOU WISH FOR by Katherine Center  – This is my third book from Katherine Center and she is quickly becoming one of my favorite contemporary authors.  I have fallen in love with the characters in every book so far, especially with the protagonist in this book, who is a school librarian.
What were some of your favorite reads of the year?  Do we share any favorites?
https://thebookishlibra.com/wp-content/uploads/2020/12/christmas-TTT.jpg
640
640
Suzanne
https://thebookishlibra.com/wp-content/uploads/2018/06/trimmed-Copy-of-Bookish-Logo-copy.png
Suzanne
2020-12-29 05:35:43
2020-12-29 08:07:10
Top Ten Tuesday – Ten of My Favorite Reads from 2020