Top Ten Tuesday – The Last Ten Books I Abandoned
Top Ten Tuesday was created by The Broke and the Bookish in June of 2010 and was moved to That Artsy Reader Girl in January 2018. It was born of a love of lists, a love of books, and a desire to bring bookish friends together.  Top Ten Tuesday has been one of my favorite memes ever since I started blogging, so huge thanks to Jana for taking over the hosting duties!
This week's TTT topic is The Last Ten Books I Abandoned (this could be books you DNFed, books you decided you were no longer interested in, etc.).  I used to struggle with DNFing books and would make myself finish them even if I wasn't enjoying the experience at all.  I've been getting better about abandoning books that aren't working for me, but I admit the temptation to keep going is always there.  Below are some of the most recent books I've given up on and why.
* * * * *
The Last Ten Books I Abandoned
1. CURSED by Thomas Wheeler
I loved the idea of a King Arthur retelling that focuses on the Lady of the Lake, but just couldn't get into the book at all. I didn't feel any connection to the characters and thus didn't feel invested in their story at all so I quit the book.  It's supposed to be made into a Netflix series so I may give it a second look then. We'll see.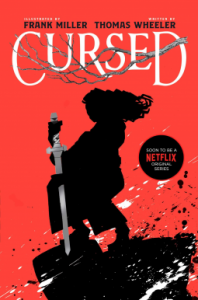 * * * * *
2. THE BOY AND GIRL WHO BROKE THE WORLD by Amy Reed
I thought I would enjoy this story of two outcasts who become friends, but I just couldn't get into it at all. While I liked the two main characters, Billy and Lydia, Billy came across as way younger than Lydia and they felt sort of mismatched to me, so much so that it kept pulling me out of the story until I finally gave up on it.
* * * * *
3.  PLEASE SEND HELP by Gaby Dunn
I don't know that there was necessarily anything bad about this book but when I originally requested it from Netgalley, I had no idea that it was a sequel. I tried to read it anyway but wasn't a fan of the text and email format.  Sometimes that works for me, but here it wasn't, perhaps because I didn't know enough about the two main characters not having read the first book.  I wasn't invested enough to go back and get the first one, so I chose to DNF.
* * * * *
4. LIFE AND LIMB by Jennifer Roberson
When I read the blurb for this, I thought it sounded like such an original premise:  "A biker and a cowboy must stop the apocalypse in the first book of the Blood and Bone modern western fantasy series."  Actually, even reading that now, it still sounds amazing. Unfortunately, I just couldn't settle into the story at all so I gave up. The only notes I made about it were "OMG, get on with it already." and another scribble about the characters just saying the same thing over and over again.
* * * * *
5. NAMELESS QUEEN by Rebecca McLaughlin
I didn't connect with the main character at all in this one.  I went into the story hoping for an underdog I could really root for, but instead, Coin was one of those too good to be true protagonists, who just knows how to do everything and do it well, which I just found annoying.  I was also in the middle of a big fantasy slump so that probably didn't help matters.
* * * * *
6. THE DOLL FACTORY by Elizabeth Macneal
I knew going in that this was a dark tale of obsession, but I found it very slow moving at the beginning and dark and twisted in a way that made me very uncomfortable.  I was not a fan of the taxidermy angle at all, so I quit the book.
* * * * *
7. SONG OF THE ABYSS by Makiia Lucier
I DNF'ed this one because I didn't realize it was the second book in a series when I requested it from Netgalley and didn't have time to go back and read the first. They both actually have quite high marks on Goodreads though so I'll probably read this series at some point.
8. THE VANISHED BIRDS by Simon Jimenez
I was unfortunately in the midst of a big fantasy slump when I tried to read this book.  It's another that has high marks on Goodreads so I may actually revisit it at some point and give it a fair shake since I'm pretty sure the problem was me and not the book.
9. AMERICAN GODS by Neil Gaiman
I don't know what it is about this book but I've tried to read it twice and DNF'ed both times.
I've loved many of his other titles but just can't seem to get into this one at all.
10. 1Q84 by Haruki Murakami
I think this book is probably amazing based on Murakami's other books but I honestly just got lazy and decided I didn't want to read a 925 page story of magical realism.  Maybe someday I'll revisit it.
Question:  Have you read any of these?
https://thebookishlibra.com/wp-content/uploads/2018/01/TTT-Big2.png
203
500
Suzanne
https://thebookishlibra.com/wp-content/uploads/2018/06/trimmed-Copy-of-Bookish-Logo-copy.png
Suzanne
2020-05-12 05:45:18
2020-05-11 23:37:00
Top Ten Tuesday – The Last Ten Books I Abandoned