Book Review & Giveaway: SOMETHING LIKE GRAVITY by Amber Smith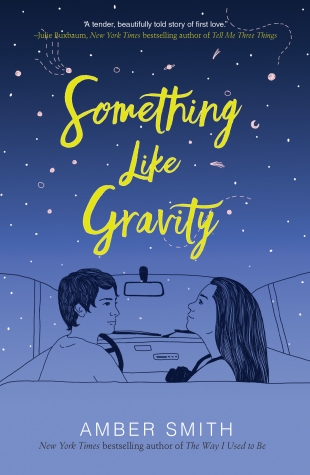 Something Like Gravity
by
Amber Smith

Published by
Margaret K. McElderry Books
on June 18, 2019
Genres:
Contemporary Fiction
,
Young Adult Fiction
Pages:
400
Source:
Netgalley
Goodreads
FTC Disclosure: I received a complimentary copy of this book from the publisher via Netgalley. All opinions are my own.
Thanks so much to Fantastic Flying Book Club for including me in the blog tour for Amber Smith's Something Like Gravity.  I'm thrilled to be able to share my thoughts on this beautifully written and moving story that explores how people deal with grief and loss and how they process traumatic events, as well as what it feels like to fall in love for the first time. The story follows Chris, a teenage boy who has just come out as transgender, and Maia, who is trying to come to terms with the unexpected death of her older sister.  Both Chris and Maia are having a hard time – Chris because his mother is struggling to accept him as transgender and because he was violently attacked at school by some of his classmates, and Maia because she has basically lost her own identity and sense of self.  To all of her classmates, she's now just the little sister of the girl who died. When Chris leaves town and moves in with his Aunt Isobel for the summer, who is coincidentally Maia's neighbor, Chris and Maia meet.  Maia doesn't know Chris is transgender or that he was attacked, and Chris doesn't know about Maia's sister, so as they become acquainted, they see each other as a chance for a fresh start. Can a relationship survive though, friendship or otherwise, if it begins based on secrets and lies?
* * * * *
5 REASONS WHY SOMETHING LIKE GRAVITY SHOULD BE ON YOUR SUMMER READING LIST
I really enjoyed reading Something Like Gravity.  I love how Smith crafted this story in a way that tackles very serious and meaningful topics, but also has a light side that focuses on summer vacation and falling in love.  It has everything I love in a contemporary read.  I could go on for days, but instead, I'm just going to share a few highlights as to why I think Something Like Gravity should be on your summer reading list.
Authentic characters experiencing realistic and relatable struggles.  Both Chris and Maia are characters that I felt tremendous sympathy for.  I think the author does a wonderful job of authentically conveying the emotions they each must be feeling as they deal with their own internal conflicts.  Chris is dealing with not only what happened to him at school, but also his mother's reaction to him coming out as transgender, not to mention everything that's going through his own head about the fact that he is transgender.  Maia is grieving for her sister and struggling to figure out how to move forward. Her parents have pretty much shut down as well, so Maia is just in an all around unhealthy environment.  Both Chris and Maia are having to rediscover who they are and that journey of self-discovery is one I think we can all relate to.
Complicated family dynamics.  I have a thing for books that focus on families, especially if those families come across as real.  And for me, real is messy and complicated.   Both Chris and Maia's families score high marks in the messy and complicated department.  Chris is caught between a father who is supportive of him and a mother who isn't, and because both of them have become so overprotective ever since his attack, he is practically suffocating at home.  His way out is cool Aunt Isobel who supports him no matter what, even if it causes friction between her and Chris' mother.  Watching the intricacies of those relationships play out was fascinating, as was Maia's situation, where not only is everyone in her home grieving over the death of her sister, but apparently her parents are actually divorced but still living under the same roof, so it's tension city all the way around, with Maia trapped in the middle.
Meaningful themes. "We don't see things as they are, we see them as we are." This quote from Anais Nin is a running theme throughout the book and it just really resonated with me because it's true on so many levels.  It means that for better or worse, our experiences color and shape everything we see.  And it also means that no two people see things exactly the same.  I think it's an important message for everyone, to help them understand themselves and to understand others.
Transgender representation.  I think this is actually the first book I've read that has transgender representation in it.  I enjoy diverse reads so I was pleased to see a transgender teen as a main character in the story.  Not being transgender myself, I can't speak as to how accurate the representation is, but it felt like the author handled it in a respectful and sensitive way.
Romance/First Love. I'm not really a romantic at heart, but I did really like the romance in this book.  There's just something about falling in love for the first time, especially a summer romance, that makes me smile and I liked the chemistry between Maia and Chris.  They were sweet together and I was really rooting for them to be able to open up to one another about what they're hiding so that they had a chance for a long-term relationship.

Amber Smith's Something Like Gravity is a heartfelt story about love, loss, and finding oneself.  I thought it was a beautiful story and would definitely recommend it to anyone who enjoys contemporary romances, coming of age stories, and diverse reads.  If you enjoyed Simon vs. the Homo Sapiens Agenda and The Upside of Unrequited, I think you would enjoy Something Like Gravity as well.
Purchase Links:
Amazon | Barnes & Noble | The Book Depository | iTunes | Google Books
 SYNOPSIS:

For fans of Love, Simon and Eleanor and Park, a romantic and sweet novel about a transgender boy who falls in love for the first time—and how first love changes us all—from New York Times bestselling author Amber Smith.

Chris and Maia aren't off to a great start.

A near-fatal car accident first brings them together, and their next encounters don't fare much better. Chris's good intentions backfire. Maia's temper gets the best of her.

But they're neighbors, at least for the summer, and despite their best efforts, they just can't seem to stay away from each other.

The path forward isn't easy. Chris has come out as transgender, but he's still processing a frightening assault he survived the year before. Maia is grieving the loss of her older sister and trying to find her place in the world without her. Falling in love was the last thing on either of their minds.

But would it be so bad if it happened anyway?
GIVEAWAY
Win a copy of Something Like Gravity by Amber Smith (U.S. only). Giveaway ends July 2, 2019.
June 18th
June 19th
June 20th
June 21st
June 22nd
June 23rd
June 24th
https://thebookishlibra.com/wp-content/uploads/2019/06/Something-Like-Gravity-jacket.jpg
2582
1683
Suzanne
https://thebookishlibra.com/wp-content/uploads/2018/06/trimmed-Copy-of-Bookish-Logo-copy.png
Suzanne
2019-06-24 05:45:35
2019-06-23 20:31:47
Book Review & Giveaway: SOMETHING LIKE GRAVITY by Amber Smith