Early Review: AN ANONYMOUS GIRL by Greer Hendricks and Sarah Pekkanen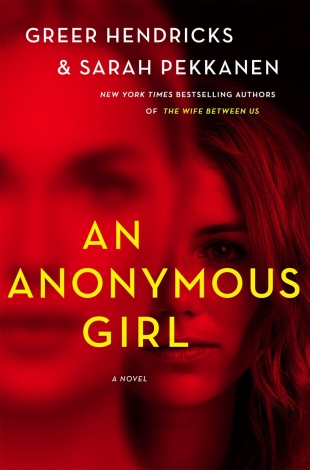 An Anonymous Girl
by
Greer Hendricks
,
Sarah Pekkanen
Also by this author:
The Wife Between Us
,
You Are Not Alone

Published by
St. Martin's Press
on January 8, 2019
Genres:
Thriller
,
Mystery
Pages:
384
Source:
Netgalley
Amazon
Goodreads
FTC Disclosure: I received a complimentary copy of this book from the publisher via Netgalley. All opinions are my own.
MY REVIEW:
The Wife Between Us by Greer Hendricks and Sarah Pekkanen was one of my favorite thrillers from last year, so when I heard this duo had collaborated on another book, I couldn't request it from Netgalley fast enough.  And as much as I enjoyed The Wife Between Us, I think their latest effort, An Anonymous Girl, is an even more riveting read.  It was a nail biter from start to finish and it seemed to actually just get creepier and creepier with each turn of the page!
An Anonymous Girl follows Jess Farris, a 28-year old make-up artist who is struggling to make ends meet.  When the opportunity to take part in a psychology experiment that pays its participants $500 falls into her lap, Jess jumps at the chance to make some easy cash.  Jess thinks she's going to waltz in, answer a few anonymous questions about morality and ethics for Dr. Lydia Shields, grab her $500, and go.  What she doesn't anticipate is getting sucked into a manipulative game of cat and mouse orchestrated by Dr. Shields that threatens to turn Jess' whole world upside down.

This is one of those books where it's best to go in knowing as little as possible so I'm going to be pretty vague in my explanation of what I liked about it.  Here were some of the highlights for me:
I loved the way the story is presented from the perspectives of both Jess and Dr. Shields.  The way Dr. Shields would manipulate Jess and then sit back and watch her like she was a lab rat in a cage lent the story such a creepy and suspenseful atmosphere.  Coupling those chapters with chapters from Jess where you can see what's going on in her head as Dr. Shields keeps drawing her deeper and deeper into her twisted game had me on the edge of my seat the entire time I was reading.  Dr. Shields gets so far inside Jess' head that she can barely perform the simplest task without wondering how Dr. Shields would judge her for her choices.
Also adding to the creepy factor is the fact that in the chapters from Dr. Shields' perspective, she thinks of herself in the third person. It's as if she is observing herself as part of an experiment as well.  It gives her a cold and clinical vibe, which is in sharp contrast to Jess, who comes across as resourceful but naïve.
Some other highlights for me are that the pacing is near perfect. I never once lost interest in the plot and easily breezed through this novel in a sitting or two.  Also, as with The Wife Between Us, Hendricks and Pekkanen are truly in sync with one another and the writing just flows so smoothly and effortlessly.
I know I keep using the word creepy, but the dark nature of An Anonymous Girl is what really stuck with me after I finished the last page. Even though it starts out focusing on morality and ethics, it takes a very dark and dangerous turn into the realm of obsession and manipulation.  I love those books that have you practically screaming at the main characters to turn around and run away, and this is a prime example of a book like that.

Overall, I thought this was a fantastic and compelling read.  There were a couple of plot twists that I thought came together a little too conveniently, but that didn't at all take away from my enjoyment of the story.

If you're looking for a mind blowing psychological thriller to get your 2019 reading off to a stellar start, I highly recommend An Anonymous Girl.
GOODREADS SYNOPSIS:

Seeking women ages 18–32 to participate in a study on ethics and morality. Generous compensation. Anonymity guaranteed. 

When Jessica Farris signs up for a psychology study conducted by the mysterious Dr. Shields, she thinks all she'll have to do is answer a few questions, collect her money, and leave. But as the questions grow more and more intense and invasive and the sessions become outings where Jess is told what to wear and how to act, she begins to feel as though Dr. Shields may know what she's thinking…and what she's hiding. As Jess's paranoia grows, it becomes clear that she can no longer trust what in her life is real, and what is one of Dr. Shields' manipulative experiments. Caught in a web of deceit and jealousy, Jess quickly learns that some obsessions can be deadly.
https://thebookishlibra.com/wp-content/uploads/2019/01/anon.jpg
1200
791
Suzanne
https://thebookishlibra.com/wp-content/uploads/2018/06/trimmed-Copy-of-Bookish-Logo-copy.png
Suzanne
2019-01-03 05:45:59
2019-01-02 21:02:05
Early Review: AN ANONYMOUS GIRL by Greer Hendricks and Sarah Pekkanen