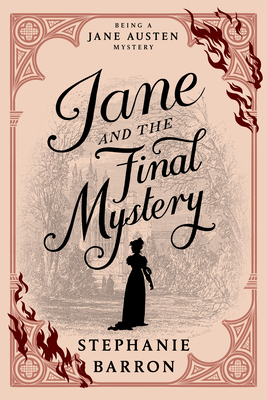 Jane and the Final Mystery
by
Stephanie Barron

Series:
Being a Jane Austen Mystery Book #15
Published by
Soho Crime
on October 24, 2023
Genres:
Historical Fiction
Pages:
312
Source:
the Publisher
Goodreads
FTC Disclosure: I received a complimentary copy of this book from the publisher via the Publisher. All opinions are my own.
MY REVIEW:
Jane and the Final Mystery is the fifteenth and final installment of Stephanie Barron's entertaining Jane Austen Mysteries series.  As an Austen fan, I was surprised that I hadn't come across this series before, particularly since the first book was published in 1996, but somehow it flew under my radar and I'm therefore just now beginning my experience with it.  I'm actually quite excited about that though because not only does Jane and the Final Mystery work well as a standalone, but it's a gem of a book that has me looking forward to checking out the other fourteen books.
I absolutely love that the premise of the series is that Austen is an amateur sleuth.   At first the idea might seem farfetched, but if you've ever read her novels or any of her letters, you know that Austen was clever and especially astute when it came to reading people and situations. While those qualities made her a phenomenal author, I think those same qualities would make her well suited to detective work as well.
This story is set in 1817, and if you are familiar with Austen, you know that's the year she died.  Her struggles with her health are accurately portrayed here, but she cannot resist getting involved with one final case, particularly since the case involves her best friend's son being accused of murder.  I don't want to give away any spoilers since it is a murder mystery, but I will say that the mystery is well constructed, with plenty of twists and turns that kept me guessing.
While I found the mystery very engrossing, what I enjoyed most about this book was the obvious care Barron has taken to portray Austen as authentically as possible. As I mentioned, I read many of Austen's personal letters when I studied her in college, and this portrayal of Austen is just so well done. Barron has clearly done her research when it comes to Jane, and she has perfectly captured Austen's way of speaking as well as her cleverness and her wry sense of humor.  Barron's passion for Austen, as well as for the time period she lived in, comes shining through in every page, making this series a treat for any Jane Austen fan.
While I'm sure Jane and the Final Mystery will be a satisfying series finale for those who have been fans of the series from the beginning, it has also made for a wonderful first experience for me and I look forward to continuing my journey with Jane Austen Mysteries.
Thanks so much to the author and Soho Crime for the gifted review copy and to Laurel Ann Nattress from Austenprose for inviting me to take part in this tour.
PRAISE FOR JANE AUSTEN AND THE FINAL MYSTERY:
"Poignant . . . Elicits deep emotion out of Jane's struggles against her own mortality. This is a fitting send-off for a beautifully realized series."— Publishers Weekly, Starred Review
"Barron developed Jane's narrative voice by reading Austen's collected and published letters, and it is neither spoiler nor surprise to say that series readers will be sorry to say goodbye to Jane Austen, amateur sleuth."— Booklist
"[Barron] has brilliantly combined authentic historical and biographical details with skillful plotting and a credible evocation of Austen's wry, distinctive voice. She brings the English author's final investigation to a poignant, unforgettable close. Fans of this historical series will not be disappointed."— First Clue
PURCHASE LINKS
AMAZON | BARNES & NOBLE | PUBLISHER | GOODREADS | BOOKSHOP
https://thebookishlibra.com/wp-content/uploads/2023/10/Jane-and-the-Final-Mystery-cover-2023.jpg
1500
1000
Suzanne
https://thebookishlibra.com/wp-content/uploads/2018/06/trimmed-Copy-of-Bookish-Logo-copy.png
Suzanne
2023-10-30 05:35:42
2023-10-30 08:44:11
Review – JANE AND THE FINAL MYSTERY by Stephanie Barron