Save the Date
by
Morgan Matson

Published by
Simon Schuster Books for Young Readers
on June 5, 2018
Genres:
Young Adult Fiction
,
Contemporary Fiction
Pages:
417
Source:
Library
Amazon
Goodreads
GOODREADS SYNOPSIS

Charlie Grant's older sister is getting married this weekend at their family home, and Charlie can't wait—for the first time in years, all four of her older siblings will be under one roof. Charlie is desperate for one last perfect weekend, before the house is sold and everything changes. The house will be filled with jokes and games and laughs again. Making decisions about things like what college to attend and reuniting with longstanding crush Jesse Foster—all that can wait. She wants to focus on making the weekend perfect.

The only problem? The weekend is shaping up to be an absolute disaster.

There's the unexpected dog with a penchant for howling, house alarm that won't stop going off, and a papergirl with a grudge.

There are the relatives who aren't speaking, the (awful) girl her favorite brother brought home unannounced, and a missing tuxedo.

Not to mention the neighbor who seems to be bent on sabotage and a storm that is bent on drenching everything. The justice of the peace is missing. The band will only play covers. The guests are all crazy. And the wedding planner's nephew is unexpectedly, distractingly…cute.

Over the course of three ridiculously chaotic days, Charlie will learn more than she ever expected about the family she thought she knew by heart. And she'll realize that sometimes, trying to keep everything like it was in the past means missing out on the future.
Review:
Prior to reading Save the Date, I had never read a novel from Morgan Matson before.  I had always heard great things about her books though so when I was recently looking for a fun summer read and saw this book's hilarious cover, I knew this was the book I had been looking for.  Everything about that cover just screams fun!  And let me tell you, this book seriously delivered too.  I devoured it in just over a day and was thoroughly entertained from start to finish.
Save the Date follows the Grant family and is set over the course of the three days leading up to daughter Linnie's wedding.  And wow, what a three days it is!  Seriously, everything that can possibly go wrong with the wedding preparations goes wrong and then some.  The wedding hijinks had me literally laughing out loud and oh so grateful that my own wedding went so much more smoothly than poor Linnie's.  In addition to the wedding chaos and its ensuing hilarity, however, Save the Date has a heartwarming focus on family that I adored even more than the humor.  The Grant family is what I would call perfectly imperfect and Matson does a beautiful job making each family member so loveable, flaws and all.  I was able to relate to each of them easily, especially Charlie, the youngest Grant.  It is from Charlie's perspective that we watch the story unfold and it's such an interesting perspective because she has always seen her family as picture perfect and practically worshipped the ground they all walked on.  Now that she's older and watching her family reunite for Linnie's wedding, she has to come to the somewhat painful realization that no one is perfect, not even the family that she idolizes.  It really makes her rethink her own identity and choices in life, and I loved that the novel had that coming of age theme included to really add some depth to the overall narrative.
If you're looking for a fast-paced read that will make you laugh out loud but also shed a tear or two at a flawed but loving family coming together as a team when it counts, I'd highly recommend Morgan Matson's Save the Date.  As I said, this is my first Morgan Matson read, but I can guarantee it won't be my last!  4.5 STARS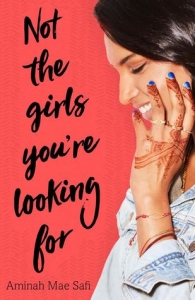 Not the Girls You're Looking For
by
Aminah Mae Safi

Published by
Feiwel & Friends
on June 19, 2018
Genres:
Young Adult Fiction
,
Contemporary Fiction
Pages:
336
Source:
Library
Amazon
Goodreads
GOODREADS SYNOPSIS

Lulu Saad doesn't need your advice, thank you very much. She's got her three best friends and nothing can stop her from conquering the known world. Sure, for half a minute she thought she'd nearly drowned a cute guy at a party, but he was totally faking it. And fine, yes, she caused a scene during Ramadan. It's all under control. Ish.

Except maybe this time she's done a little more damage than she realizes. And if Lulu can't find her way out of this mess soon, she'll have to do more than repair friendships, family alliances, and wet clothing. She'll have to go looking for herself.
Review:
I'm a complete sucker for books that center around female friendships, so as soon as I heard that Aminah Mae Safi's Not the Girls You're Looking For features Lulu Saad and her best girl friends, I knew I had to read it.  While I did love getting to know Lulu and her friends and watching them go through their ups and downs, I have to say that overall, this was just a good read for me, not a great one.
I thought the author did a brilliant job of accurately portraying the good, the bad, and the ugly when it comes to friendship dynamics.  I also liked that even though these girls clearly loved each other and would have each other's backs no matter what, it's definitely not all sunshine and roses for them.  Some of their fights really took me back to my own high school days and made me think back to my core group of friends back then and all of the ups and downs that we managed to make it through.  Safi perfectly captures all of those messy high school relationships that we've all experienced and it made the book so relatable (almost too relatable at times, lol).
Along similar lines, I was also a huge fan of the portrayal of Lulu's family, both immediate and extended.  Lulu's family on her father's side is Muslim and I loved seeing that side of the family interact, both with each other and with Lulu's mother, who is not Muslim.  The awkwardness is palpable as Lulu is caught in between and then gets herself into hot water when she disrespects one of her relatives.  I have a thing for messy family dynamics so Lulu's family was a highlight for me.
So, what didn't I like?  There were a few times in this book where it just felt like I was following Lulu around waiting and hoping for something exciting to happen.  Thankfully, exciting things eventually did start to happen, but for a few chapters there, my attention was starting to wander.  I was also a little disappointed because I found what I think was supposed to be a huge plot twist regarding Emma way too predictable.  I still loved the plot twist and her friends' reactions to it; I just wish I hadn't guessed it so early on.  All of that said, however, I still think this is a wonderful read, especially if you're into realistic and sometimes messy portrayals of families and female friendships.  3.5 STARS
https://thebookishlibra.com/wp-content/uploads/2018/07/Backlist-Briefs-1.png
800
800
Suzanne
https://thebookishlibra.com/wp-content/uploads/2018/06/trimmed-Copy-of-Bookish-Logo-copy.png
Suzanne
2018-07-27 06:00:34
2018-07-26 21:27:48
Backlist Briefs – Mini Reviews for SAVE THE DATE & NOT THE GIRLS YOU'RE LOOKING FOR