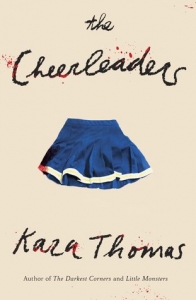 The Cheerleaders
by
Kara Thomas

Published by
Delacorte Press
on July 31, 2018
Genres:
Mystery
,
Thriller
Pages:
384
Source:
Library
Amazon
Goodreads
GOODREADS SYNOPSIS:

There are no more cheerleaders in the town of Sunnybrook.

First there was the car accident—two girls gone after hitting a tree on a rainy night. Not long after, the murders happened. Those two girls were killed by the man next door. The police shot him, so no one will ever know why he did it. Monica's sister was the last cheerleader to die. After her suicide, Sunnybrook High disbanded the cheer squad. No one wanted to be reminded of the girls they lost.

That was five years ago. Now the faculty and students at Sunnybrook High want to remember the lost cheerleaders. But for Monica, it's not that easy. She just wants to forget. Only, Monica's world is starting to unravel. There are the letters in her stepdad's desk, an unearthed, years-old cell phone, a strange new friend at school. . . . Whatever happened five years ago isn't over. Some people in town know more than they're saying. And somehow Monica is at the center of it all.

There are no more cheerleaders in Sunnybrook, but that doesn't mean anyone else is safe.
Review:
Kara Thomas' The Cheerleaders is a gripping mystery that kept me on the edge of my seat from start to finish.  The story focuses on Monica Rayburn, who attends Sunnybrook High, where five members of the school's cheerleading squad died five years ago.  Two of the girls were killed in a tragic car accident, and very soon after that, two more were murdered by a neighbor for reasons no one has ever determined.  The final tragedy was when Monica's own sister died in an apparent suicide.  The school decided to disband the cheerleading squad because no one wanted to be reminded of the losses they had suffered.  When the administration decides five years later that they want to do a memorial service to remember the girls, it opens up old wounds for Monica, who has never come to grips with the idea that her sister could have possibly killed herself.
Monica's step father was one of the police officers who worked the murder case, and Monica decides to sneak into his office and see if there's still anything there that has to do with the Cheerleaders' case.  What she finds makes her realize that things may not be as they seem when it comes to this case and she becomes determined to find out the truth of what happened to those murdered girls. Her sleuthing takes her on a wild and potentially dangerous ride and the author builds so much suspense into the narrative that I was literally on the edge of my seat waiting to see what would happen next!  I thought her use of flashbacks was especially effective.  She shows us scenes from five years ago from the perspective of Monica's sister.  Those scenes really fleshed out the story and added a lot of depth that we couldn't have possibly gotten from Monica.  I was thoroughly engaged not just because like Monica, I wanted to know what really happened to these girls, but also because I was terrified that Monica was going to open up a can of worms that was going to put a target on her own back if the murderer really is still out there somewhere.
What really made The Cheerleaders an even more engaging story, however, was that it was so much more than just an entertaining mystery/thriller.  It also packs a raw and emotional punch as we watch Monica try to work through the loss of her sister.  There's a part of her that really wants to find evidence that proves her sister did not take her own life because it kills Monica to think that she did.  If you're looking for a riveting thriller that also packs an emotional wallop, I'd highly recommend The Cheerleaders. You won't be disappointed! 4 STARS
My Plain Jane
by
Cynthia Hand
,
Jodi Meadows
,
Brodi Ashton

Series:
The Lady Janies #2
Published by
HarperTeen
on June 26, 2018
Genres:
Young Adult Fiction
,
Historical Fiction
,
Fantasy
Pages:
464
Amazon
Goodreads
GOODREADS SYNOPSIS:

You may think you know the story. After a miserable childhood, penniless orphan Jane Eyre embarks on a new life as a governess at Thornfield Hall. There, she meets one dark, brooding Mr. Rochester. Despite their significant age gap (!) and his uneven temper (!!), they fall in love—and, Reader, she marries him. (!!!)

Or does she?

Prepare for an adventure of Gothic proportions, in which all is not as it seems, a certain gentleman is hiding more than skeletons in his closets, and one orphan Jane Eyre, aspiring author Charlotte Brontë, and supernatural investigator Alexander Blackwood are about to be drawn together on the most epic ghost hunt this side of Wuthering Heights.
Review:
After the success of their Monty Python-esque My Lady Jane, the Lady Janies are back at it again, this time bringing their readers a highly entertaining retelling of the classic novel Jane Eyre.  For those familiar with the classic tale, Jane is still an orphan who is preparing to secure a job as a governess. The primary difference is that in the Lady Janies' version of the tale, Jane also has the ability to see and communicate with ghosts.  Her talents are recognized by famed supernatural investigator Alexander Blackwood who becomes determined to recruit her to join his ghost hunting society.  I don't want to give anything else away, but as the book's synopsis states, "prepare for an adventure of Gothic proportion!"
Jane Eyre is one of my favorite novels, so I of course adored Jane in this book too.  She's smart and feisty, and every bit as likable as her classic counterpart.  I also loved that the Lady Janies managed to effectively incorporate Charlotte Bronte, the author of Jane Eyre, into their story as well. In many ways, young Charlotte was actually my favorite character.  I thought it was brilliant how they wrote her in as an aspiring young author who is struggling to get people to take her seriously.  Ah, the life of a woman in Victorian society.  Those who follow my blog know I'm always a big fan of the underdogs, and orphan, penniless Jane and unappreciated author Charlotte were the underdogs I was cheering on in My Plain Jane.
While I really enjoyed My Plain Jane overall, especially its Gothic atmosphere with a Ghostbusters twist, my one complaint is that it didn't quite have that same feeling of whimsy that My Lady Jane had.  I laughed out loud so many times when I read that book, but with this one, while I did find myself laughing a few times, there were several other times where the humor felt a little forced and fell flat for me.  I definitely still plan to continue the series, especially since the next book focuses on Calamity Jane, but I'll probably lower my expectations a bit based on my experience with this book. 3.5 STARS
https://thebookishlibra.com/wp-content/uploads/2018/07/Backlist-Briefs-1.png
800
800
Suzanne
https://thebookishlibra.com/wp-content/uploads/2018/06/trimmed-Copy-of-Bookish-Logo-copy.png
Suzanne
2018-09-21 06:00:22
2018-10-14 19:46:21
Backlist Briefs: Mini Reviews for THE CHEERLEADERS & MY PLAIN JANE