Mini Reviews: June 2nd Releases
Today I'm sharing reviews of some great new books that are being released this week.  I've got a couple of contemporary reads and the first installment in an exciting new YA fantasy trilogy. And yes, I know my "mini" reviews aren't all that mini, but I easily could have written so much more for each of these books so these are definitely mini for me, haha.
The Second Home
Goodreads
Author: Christina Clancy
Publication Date: June 2, 2020
Publisher:  St. Martin's Press
FTC Disclosure: I received a complimentary copy of this book from Netgalley.  All opinions are my own.
Christina Clancy's debut novel, The Second Home, is a compelling and emotionally-charged family drama that centers on three siblings, Ann, Poppy, and Michael, and one fateful summer when they were teenagers that turned all of their lives upside down.
Ann is the sibling we encounter first, and we meet her at her family's beach house in Cape Cod, where the events of that infamous summer took place.  Their parents have died in a car accident and their affairs, including what to do about the beach house, must be put into order.  We soon learn that Ann and her siblings have had minimal contact over the years and that Ann feels particularly hostile toward her adopted brother, Michael. It's unclear what Michael has done to hurt Ann, but it's obvious that the hurt runs deep. Ann not only doesn't want him to inherit anything from their parents, she also seems determined to cut him out of her life permanently. Relations are only slightly better with Poppy, a free spirit with no fixed address, who is usually only available by email.  Considering Ann had to email Poppy to even let her know their parents were dead, Ann isn't convinced Poppy will actually show up and help with their estate.  It's clear that there is a pretty high level of family dysfunction between the siblings.
I'm always up for a story that focuses on family drama and the author really delivers in that department.  She allows the drama of that ill-fated summer to unfold in vivid flashbacks.  I don't want to give anything away, but I will say that much of what unfolds in those flashbacks is a pretty tragic chain of events, including instances of abuse, deception, manipulation, and more than a few troubling family secrets.  In the midst of all of the drama unfolding, the author also paints such sympathetic portraits of Ann, Poppy, and Michael, that the more I got to know them, the more I just really wanted them to reconcile.  They're family and they clearly need each other, especially after suffering the loss of their parents.
The Second Home isn't a light read by any stretch, but it is a poignant story that moved me to tears more than once.  I highly recommend it to anyone who enjoys books that focus on sibling relationships and family drama.
Again Again
Goodreads
Author: E. Lockhart
Publication Date: June 2, 2020
Publisher:  Delacorte Press
FTC Disclosure: I received a complimentary copy of this book from Netgalley.  All opinions are my own.
What I always enjoy about E. Lockhart's books is how unique and creative they always are. Again Again is no exception as it explores the idea of the multiverse and all its various possibilities.  It does so through the protagonist, teenager Adelaide Buchwald, as she spends her summer living on campus at the private school she attends and where her father is a professor.
The story is unique in the sense that every time Adelaide has an important conversation with someone, be it an ex boyfriend, a new potential boyfriend, a teacher, family member, whatever – in her mind and actually on the page, we get to see Adelaide process how these conversations could potentially go.  If she changes just a word or a phrase or tone of voice, there could be a completely different outcome and chain reaction of events.  At first I found the repetitive nature of each scene a little confusing, but once I got into a rhythm, I loved exploring all of the different possibilities.
As much as I enjoyed the unique aspect of the storytelling, the biggest draw for me was Adelaide herself.  She and her family have gone through some difficult times, particularly with respect to her brother, and not wanting to add more stress, Adelaide spends a lot of time pretending that she's much happier than she really is.  In reality, she's struggling to concentrate in school and her grades are falling because of it and she just lacks the motivation to try to stop the free fall.  On top of that, her boyfriend abruptly breaks up with her so she's trying to come to terms with that, as well as figure out what's going on with another boy she has just met on campus.  I found many of her experiences, as well as her frustration and confusion, just so relatable, and I also found her especially endearing because of her attachment to all the dogs she has been hired to walk during the summer.  How can you not love a dog person?
The synopsis of Again Again advertises it as mostly a romance, but I personally viewed it as more of a coming of age story for Adelaide as she comes to terms with everything that has been dragging her down. It's a story that can definitely be funny at times, but I also found it quite moving.  If you usually enjoy Lockhart's unique brand of storytelling, I think you'll enjoy Again Again as well.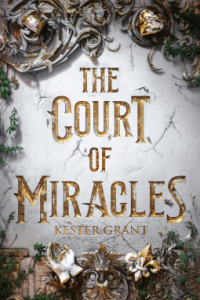 The Court of Miracles
Goodreads
Author: Kester Grant
Publication Date: June 2, 2020
Publisher:  Knopf Books for Young Readers
FTC Disclosure: I received a complimentary copy of this book from Netgalley.  All opinions are my own.
The Court of Miracles is Kester Grant's debut novel and the first installment in her YA fantasy "A Court of Miracles" series.  It's an ambitious novel, advertised as a reimagining/retelling of Les Miserables with some Six of Crows vibes thrown in. Those are two of my favorite books so I was excited to give this new series a try.
As with the original Les Mis, The Court of Miracles is set in Paris at the time of the French Revolution.  In The Court of Miracles, however, the revolution has failed.  The ruthless royals still rule the city, and there is now an underground society called the Court of Miracles, which is comprised of various criminal guilds, including a Guild of Assassins, a Guild of Thieves, and a Guild of Flesh, among others.  It was a little confusing at first, but the worldbuilding for this underground society ended up being one of my favorite parts of the book. It's a dark and fascinating world that sometimes appears lawless, but in reality, has its own set of laws that they loosely abide by.
The protagonist Nina, Eponine in the original Les Mis, lands in the Court of Miracles after her father betrays both her and her sister.  Quick, quiet, and resourceful, Nina can break in and out of anywhere and can steal anything and therefore finds that she fits right in with the Guild of Thieves.  Nina is a great character, very complex and well-drawn – she's smart, passionate, and she can also be impulsive and headstrong, often throwing herself directly into harm's way to protect those she loves.  Her bond with little Ettie, Cosette from the original Les Mis, is wonderful too.  Even though Nina is originally ready to betray Ettie because she thinks it will help save her own sister, she quickly grows to think of Ettie as her sister as well and is willing to lay down her life to keep Ettie safe. The leader of the Guild of Flesh becomes obsessed with getting his hands on Ettie, and it's Nina's determination to protect Ettie that actually drives much of the action of this first book.  It's an exciting and dangerous mission and it kept me on the edge of my seat!
If you're a fan of Les Miserables and especially of the character Eponine, I think you're going to enjoy this one.  A very solid start to what I think is going to be an exciting series!
https://thebookishlibra.com/wp-content/uploads/2020/06/June-2-ARCs.png
800
800
Suzanne
https://thebookishlibra.com/wp-content/uploads/2018/06/trimmed-Copy-of-Bookish-Logo-copy.png
Suzanne
2020-06-02 05:45:32
2020-06-01 22:56:45
Mini Reviews: June 2nd Releases