Blog Tour Review – LITTLE DARLINGS by Melanie Golding
Little Darlings
by
Melanie Golding

Published by
Crooked Lane Books
on April 30, 2019
Genres:
Thriller
,
Mystery
Pages:
304
Source:
Netgalley
Amazon
Goodreads
FTC Disclosure: I received a complimentary copy of this book from the publisher via Netgalley. All opinions are my own.
LITTLE DARLINGS REVIEW
Melanie Golding's Little Darlings is one of the most unsettling and addictive novels I've read in a long time.  It hooked me from the opening scene and kept me on the edge of my seat (and looking over my shoulder!) until the very last page.
Inspired by some pretty creepy folklore, in the vein of Grimm's Fairy Tales, the story follows exhausted new mom, Lauren Tranter, who has just given birth to identical twin boys.  One night while still at the hospital, Lauren wakes to find a filthy woman dressed in rags in her room trying to take Lauren's babies and replace them with some creatures that she is carrying in a basket.  Lauren screams, grabs her babies, and locks herself in the bathroom, but when help arrives, there's no sign that anyone has been there aside from Lauren.  Everyone chalks the incident up to Lauren just being so tired from taking care of her twins, but Lauren cannot be convinced that no one is trying to take her babies.
A month passes and Lauren is still terrified that someone is after her children, but reluctantly agrees that it's time for all of them to get out of the house.  She takes the twins to the park, where she dozes off from sheer exhaustion.  When she wakes up, her babies are gone and she just knows it's the woman from the hospital.  The police are called, and a search ensues, and thankfully the babies are located and returned to Lauren quickly.  Except that Lauren takes one look at these babies and swears that they aren't hers.  She is convinced that they're changelings and is prepared to resort to drastic and desperate measures to get rid of them and get her boys back.
If she's wrong, however, it will cost her everything she holds dear…

One facet of Little Darlings I really liked was how well developed and relatable both of the main characters are.  Even though my son is now 11, I still vividly remember the crushing exhaustion that went along with those first few weeks after he was born.  Because of that, I immediately felt a connection to Lauren and felt tremendous sympathy for her, especially when her husband wasn't being as helpful as he could be.  I also very much remember being hyper alert to any and all things that could possibly harm my baby.  The author does an incredible job bringing to life Lauren's fears about her babies, as well as her growing frustration that no one believes what she is trying to tell them. The intensity of Lauren's emotions made Little Darlings such a powerful and gripping read.
The other main character is a police sergeant named Harper who takes an interest in finding out what really happened in the hospital, even though the rest of her department and everyone else has written this off as some kind of postpartum psychotic episode that Lauren has experienced.  I liked Harper right away because she comes across as a bit of a rebel, always pushing the envelope, if she thinks she needs to investigate something further.  What draws her to Lauren's case is something from her own past that still haunts her, and I loved the added layers Harper's backstory added to the overall story.  It made her just as compelling a character as Lauren, which was ideal since the story is presented from each of their points of view.
Aside from giving me these two characters that I was immediately so invested in, I also loved that the suspense level was just off the charts and that I was kept guessing.  I didn't know what to believe.  Had someone really been in the hospital room?  Is Lauren right in the park when she swears her babies have been swapped out for changelings?  Is there a real suspect at large or is there something supernatural afoot?  Or is everyone else right and Lauren is truly suffering a mental health crisis?  I wanted to know the answers to these questions so badly that I just couldn't put the book down and ended up devouring the entire story in less than two days.  This book is the definition of a page turner!

The only real issue I had with Little Darlings was that I couldn't stomach Lauren's husband.  I found him utterly unlikable and didn't want to believe that a new dad could be as selfish and clueless as he was.  I'm sure the author drew him that way to make it even easier to sympathize with Lauren, but that man seriously needed a swift kick in the pants.

If you're a fan of creepy folklore and addictive thrillers that will keep you on the edge of your seat, Little Darlings should be on your must-read list.
GOODREADS SYNOPSIS:

"Mother knows best" takes on a sinister new meaning in this unsettling thriller perfect for fans of Neil Gaiman and Grimms' Fairy Tales.

Everyone says Lauren Tranter is exhausted, that she needs rest. And they're right; with newborn twins, Morgan and Riley, she's never been more tired in her life. But she knows what she saw: that night, in her hospital room, a woman tried to take her babies and replace them with her own…creatures. Yet when the police arrived, they saw no one. Everyone, from her doctor to her husband, thinks she's imagining things.

A month passes. And one bright summer morning, the babies disappear from Lauren's side in a park. But when they're found, something is different about them. The infants look like Morgan and Riley―to everyone else. But to Lauren, something is off. As everyone around her celebrates their return, Lauren begins to scream, These are not my babies.

Determined to bring her true infant sons home, Lauren will risk the unthinkable. But if she's wrong about what she saw…she'll be making the biggest mistake of her life.

Compulsive, creepy, and inspired by some our darkest fairy tales, Little Darlings will have you checking―and rechecking―your own little ones. Just to be sure. Just to be safe.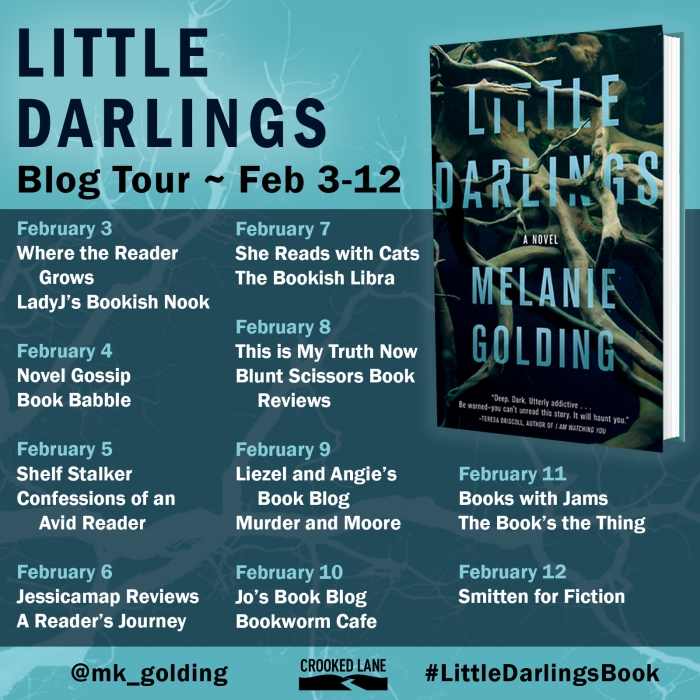 https://thebookishlibra.com/wp-content/uploads/2019/02/little-darlings.jpg
1766
1200
Suzanne
https://thebookishlibra.com/wp-content/uploads/2018/06/trimmed-Copy-of-Bookish-Logo-copy.png
Suzanne
2019-02-07 06:00:30
2019-02-06 20:10:15
Blog Tour Review – LITTLE DARLINGS by Melanie Golding