Summer TBR Wipeout 2017: Wrap-Up
The Summer TBR Wipeout Challenge ends today so it's time to wrap up and take stock of how I did.  Can you believe I actually ended up reading all 12 of the books I had chosen for the challenge?!  After my last update, I still had 7 left on my list and was pretty sure I wouldn't make it through all 12, but I really kicked it into high gear and finished the final book this morning.  I'm excited because it actually put a visible dent in the pile of books stacked up in the corner of my office.  I'll definitely be looking for a similar reading challenge as we move into the fall months.
BOOKS I READ FOR THIS UPDATE: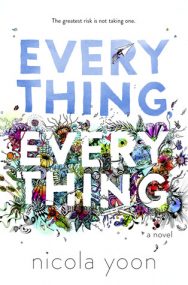 I adored This Savage Song by Victoria Schwab. I'm working on a review for this one right now so I won't say too much here, but it was a fantastic read full of creepy monsters.  It's everything I hope for when I pick up one of Schwab's novels.  This was a 5 star read for me.
Cress by Marissa Meyer.  My love for The Lunar Chronicles series has only continued to grow with my reading of Cress.  I'm forever amazed how Meyer managed to keep weaving new versions of these classic fairy tale characters into her unique narrative.  I keep thinking it's going to start to get hokey at any moment, but it never does.  Cress adds a Rapunzel-like characters to the narrative who takes a liking to my favorite character from the series, Carswell Thorne. (Man, I just love that guy!)  The action really ramps up in Cress too as our fairy tale-inspired characters get closer and closer to taking out the evil Queen Levana.  This was also a 5 star read for me and I can't wait to get my hands on Winter, the next book in the series.
Lauren Graham's Talking As Fast As I Can was a quick and fun read for me.  Its similar in style to Anna Kendrick's Scrappy Little Nobody in terms of it being a collection of humorous essays, but I enjoyed Lauren's.  I don't know if it's because Lauren is closer to my age and so I found some of it more relatable or if I just liked that Lauren reminds me so much of her most famous character, Lorelai Gilmore, but it was just a delight to follow her on this journey.  I especially loved the parts of the book where she talked about writing both of her books – her writing process, meeting deadlines, etc. My absolute favorite part was the section where she talks about the Gilmore Girls Netflix revival series and even includes some of the journal entries she wrote while filming it.  I loved that she was experiencing so many of the same emotions that most fans were feeling at first hearing the news that there would be a revival and then actually sitting down and finally watching it.  She was as much of a blubbering mess as I was, lol.  This was such a fun read, 4 stars.
Everything, Everything by Nicola Yoon was another quick read for me.  I loved the characters, Maddy and Olly, and watching how they were able to forge a beautiful relationship in spite of a rare and potentially deadly illness that has kept Maddy locked in her home and home-schooled, completely isolated for most of her life.  She's basically the girl in the bubble.  Olly is Maddy's new next door neighbor.  After seeing Maddy watching him from her window a few times and then being turned away at the front door by Maddy's mom when he tries to come and introduce himself, Olly decides to get creative and puts his email address on his window.  Maddy writes to him and they immediately click.  The more they talk, the more Maddy desperately wants to meet him in person, even if it could compromise her health.  Her nurse secretly helps her set up a short meeting, and as soon as she and Olly finally meet in person, Maddy realizes that this life in a safe bubble is just not what she wants anymore even if it means she doesn't live long.  I just thought this was such a beautiful story and then the plot twist near the end is just OMG, WOW!  I don't want to give that away, but needless to say, it completely blew me away.  This was a 4-star read for me and I'm really looking forward to watching the film when it comes out.
A Monster Calls by Patrick Ness.  What a heart-wrenching story this is! I think this is one of those books best read not knowing too much about it ahead of time, so I'm not going to say too much about it.  I'll just say that it's about monsters, both literal and figurative, and it's about the lies we sometimes tell ourselves to help us through difficult times and what happens when those lies are shattered and the hard truth is all that's left.  Filled with incredible illustrations, this is a read unlike any other.  4.5 Stars.
Fractured by Catherine McKenzie.  Fractured is a thriller in the vein of Big Little Lies by Liane Moriarty and The Party by Robyn Harding.  You know the type — something horrible has happened and the reader spends the entire book trying to figure out who's telling the truth, who's lying, and who's ultimately responsible.  Yeah, that kind of book.  Fractured was great because even though you find out almost immediately that someone has died – it's not until the closing pages that you find out who and how.  This was also one of those books where I didn't particularly like any of the characters, but the story was so compelling, I still couldn't put it down.  Instead, I actually hated a couple of the characters so much, that I spent most of the book hoping they were the ones who turned up dead during the reveal.  If you read this and meet Cindy, you'll know exactly what I mean, lol.  If you like a plot filled with twists and turns and lots of domestic drama (OMG, you went jogging with my husband, you whore! – I'm paraphrasing here but that's the gist anyway), then you'll love Fractured.  It's a wild ride for sure.  4 Stars from me.
A Shadow Bright and Burning by Jessica Cluess.  I just read this yesterday and absolutely devoured it.  In some ways it reminded me of the Harry Potter series almost as soon as I started reading. Since I adore HP so much, I was hooked by this story immediately.   Henrietta Howell learns that she is a sorcerer and that she fits the description of a prophecy that says she will be the one to help defeat a group of ancient monsters who are hell-bent on wreaking havoc and destroying London.  When the Sorcerer's order finds her, they bring her to London so that she can begin training to be a sorcerer because they want her to join Her Majesty's sorcerers as soon as possible because the ancient monsters have been attacking the city more and more frequently.  It's a race against the clock to get the 'Chosen One' up to speed before the Ancients are able to break through the protective ward that has been placed around the heart of the city.  Most of the book is centered around Henrietta's training, which doesn't go all that well.  Henrietta soon finds out why her training isn't going well and what she learns throws into question everything –  she may not be the Chosen One after all and may not even really be a sorcerer for that matter.  Lots of twists and turns in this story as she tries to figure out who she really is and how she fits into the Prophecy, if at all.  I loved watching Henrietta go through her training and interact with her classmates, all of whom were male. This leads me to my one gripe about the book. Henrietta is the first female sorcerer to come along in 400 years and these boys act like idiots gawking at her.  It's like the love triangle/love square from The Red Queen where everyone who sees Henrietta is immediately infatuated with her.  Can we stop doing that, please?  Thankfully there was lots of action, bloody battles, and wild sorcerer magic tricks to distract me from these ridiculous boys and keep this at a 4 star read for me.
* * * * * *
So, there you have it.  Challenge completed!  Thanks so much to The Candid Cover for hosting it!  And now it's time to move on to the rest of the books piled high on my TBR pile. 12 down, countless more to go….
https://thebookishlibra.com/wp-content/uploads/2017/07/summer-tbr-wipeout-1.png
315
560
Suzanne
https://thebookishlibra.com/wp-content/uploads/2018/06/trimmed-Copy-of-Bookish-Logo-copy.png
Suzanne
2017-08-19 10:11:50
2017-08-19 10:18:53
Summer TBR Wipeout 2017: Wrap-Up