Books I'm Pretty Sure Everyone on the Planet Has Read Except for Me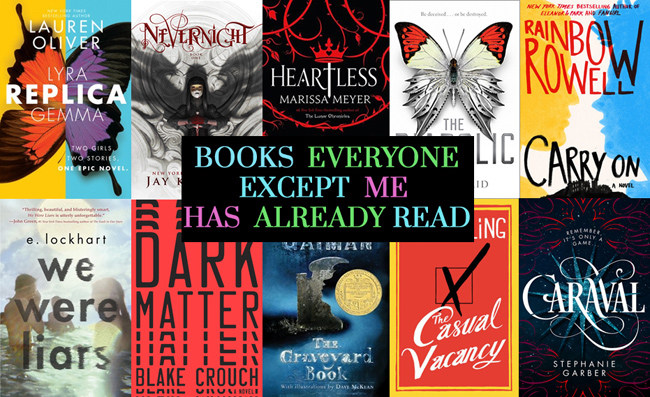 On Tuesdays I usually participate in the popular Top Ten Tuesday meme, which is hosted by The Broke and the Bookish.  However, they are officially on hiatus until August, so I decided to take the opportunity to go back through their archives to see if any of the topics they had covered prior to my joining were of interest.  I saw this topic and found it incredibly relatable because I almost always feel like I'm the last person on the planet to read some popular books.
Basically I'm thinking of this as a wall of shame because I really have no excuse for why I haven't read these books yet.  I see people talking about them everywhere, have read countless reviews that make them sound fantastic, and yet there they all still sit.
Scrolling back through my old blog posts and anticipated reading lists, I see so many of these titles on them.  If I wanted to read them so badly,  why months — in some cases even years — later, are they still sitting on my TBR unread?  I'm looking at you, Caraval and Heartless.  Heck, I was so excited about Heartless coming out that I even did a giveaway for it to that my fellow readers could win a copy.  And yet I still haven't touched it.  What is wrong with me? LOL!
I've loved every other book I've read by Rainbow Rowell so what's the hold up on Carry On?  Fear that it won't be anywhere near as good as Fangirl or Eleanor and Park?  I honestly don't know.
And clearly I have some kind of anti-butterfly issue that's keeping me from touching Replica and The Diabolic.
I see my fellow bloggers and even non-bloggers talking about the books all the time and they sound so amazing.  I swear I'm going to get to them some day, but when that day will be…your guess is as good as mine.  I'm going to blame some of this on a weird quirk of mine — if I own a book, I don't feel the same pressure to read it as I do if it's a borrowed book or an ARC that has a specific deadline.  It sounds crazy to say but if I had borrowed these same books from the library or from a friend, I probably would have read them months ago.
I think the only two books on this list that I kind of have legit reasons for being a holdout when it come to reading them are the J.K.  Rowling book and the Neil Gaiman.  The Casual Vacancy is all about the hype?  Can it live up to it?  I'd almost rather not find out.  And Gaiman,  I'm just so hit or miss with his books.  I didn't care for American Gods at all but I adored The Ocean at the End of the Lane.  People keep telling me The Graveyard Book is incredible, so I know I'm going to give it a try eventually but always manage to find a reason to shove it off the top of my TBR.
Thankfully I am doing a TBR clean-out challenge this summer that should take care of a few of these titles, but I still have a long way to go and I have a feeling, based on my history, that as fast as I knock a few titles off this list, I'll be adding just as many more. It's madness, lol!
Question: Are you in the same boat as me?  Are we the last two people on the planet not to have read some of these?  What books do you feel like you're the only one who hasn't read them?
Books I'm Pretty Sure Everyone on the Planet Has Read Except for Me
1. CARRY ON by Rainbow Rowell
* * * * *
2. WE WERE LIARS by E. Lockhart
* * * * *
3.  CARAVAL by Stephanie Garber
* * * * *
4. HEARTLESS by Marissa Meyer
* * * * *
5. REPLICA by Lauren Oliver
* * * * *
6. THE DIABOLIC by S. J. Kincaid
* * * * *
7. DARK MATTER by Blake Crouch
* * * * *
8. THE CASUAL VACANCY by J.K. Rowling
* * * * *
9. THE GRAVEYARD BOOK by Neil Gaiman
* * * * *
10. NEVERNIGHT by Jay Kristoff
* * * * *
https://thebookishlibra.com/wp-content/uploads/2017/07/featured.jpg
580
809
Suzanne
https://thebookishlibra.com/wp-content/uploads/2018/06/trimmed-Copy-of-Bookish-Logo-copy.png
Suzanne
2017-07-11 06:26:30
2017-07-11 06:26:30
Books I'm Pretty Sure Everyone on the Planet Has Read Except for Me