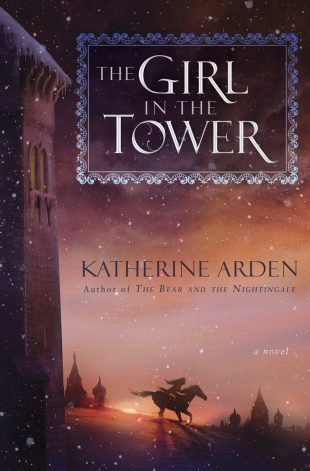 The Girl in the Tower
by
Katherine Arden
Also by this author:
The Bear and the Nightingale
,
The Winter of the Witch

Series:
The Winternight Trilogy #2
Published by
Del Rey
on December 5th 2017
Genres:
Fantasy
,
Historical Fiction
Pages:
352
Also in this series:
The Bear and the Nightingale
Source:
Netgalley
Amazon
Goodreads
FTC Disclosure: I received a complimentary copy of this book from the publisher via Netgalley. All opinions are my own.
MY REVIEW:
Katherine Arden's The Winternight Trilogy is one of the most captivating series I've ever read.  I fell in love with the series last winter when I read the first book, The Bear and the Nightingale.  Filled with lush worldbuilding, a feisty heroine, fascinating Russian folklore, and a touch of the supernatural, The Bear and the Nightingale entranced me from the first pages and I just fell in love with everything about the story.  I couldn't wait to get my hands on the second book, The Girl in the Tower, and was thrilled to be approved for an advanced copy to review on my blog.
I didn't think it was possible to top the gorgeous storytelling in the first book, but Arden proved me wrong.  As much as I adored The Bear and the Nightingale, I thought The Girl in the Tower was even more amazing!  It has all of the same wonderful elements as the first book – the magic, the Russian folklore, beloved characters like Vasya, her horse Solovey, and the Frost Demon.  But then, there's just also so much more to love.
In The Girl in the Tower, Vasya has really come into her own in terms of character growth.  She is still a free spirit who refuses to bow down and do what society expects young women to do, but now she is also more mature and a bit wiser because of what she went through in the first book.
The Girl in the Tower picks up right where The Bear and the Nightingale left off. Because of what happened to Vasya in the first book, there are rumors swirling around her village that she is a witch.  Faced with the choices before her – either marrying someone she doesn't love or being sent to live in a convent —  Vasya decides to create her own destiny and runs away from home.  When the story opens, we meet Vasya traveling, disguised as a boy, with only her horse, Solovey, by her side.
The roads she travels on are rugged and unsafe, but Vasya's journey ultimately takes her to Moscow where she is reunited with her monk brother, Sasha; her sister, Olga, who is now a princess; and her cousin Dmitrii, who is the Crown Prince of Moscow.  Desperately trying to conceal her true identity, Vasya gets caught up in a web of deception, lies, and political unrest and finds herself faced with extremely dangerous choices everywhere she turns.
How will she get out of her predicament and what will happen to her if her true identity is revealed?

As with the first book, the atmospheric quality of The Girl in the Tower was one of my favorite parts of the novel.  As soon as I began reading, I felt as though I had been transported to Vasya's world.  Arden masterfully paints a medieval Russian landscape and skillfully dots this landscape with a fascinating mix of supernatural elements and Russian folklore.  Her descriptions are so vivid that I could practically hear the snow crunching under Solovey's hooves as he and Vasya traversed the snowy landscape, just as I could easily envision the tiny magical spirit guardians hidden in each building Vasya entered.
Vasya is of course still a major favorite of mine.  I admire her bravery and her feistiness and the fact that she doesn't want to be forced into marriage or into a convent.  She has no interest in society's expectations for women and, instead, wants to be an adventurer and travel the world.  Vasya has a spirit that cannot be tamed, and I couldn't help but cheer her on, even though I know it's likely to be dangerous for her.
In addition to Vasya, another favorite character of mine is her stallion, Solovey.  Solovey and Vasya can communicate with each other, and some of their exchanges are truly hilarious.  I love Solovey for his loyalty, his sassiness, and for his fierceness.  You'll want a Solovey of your very own after reading this story.  He's the perfect companion for Vasya.
And, of course, I can't leave out an unexpected favorite character, Morozko, the Frost Demon.  Arden adds layers and layers of complexity to Morozko in this second book and I just fell in love with him even more than I did in the first book.   The details of his history, along with his connection to Vasya, are what truly take this story to the next level, and even though I probably shouldn't ship Vasya and Morozko, I totally do.  I just can't get enough of the two of them together!
I also loved that this story seemed a little darker and a little more grounded in reality than the first story because of the focus on political unrest in Moscow. It added a layer of danger and intrigue that really made for an exciting and fast-paced read.

The only issue I had while reading this book was that it started out a little slow for me.  It may have been because it took a few pages to actually get to Vasya's story, but I'm actually going to chalk it up as a personal issue because I was trying to start the book while riding on a train and was constantly distracted.  Once I got home and continued reading where there were less distractions, I devoured the rest of the book in less than 24 hours.

The Girl in the Tower is a tale that is beautiful yet dark, enchanting yet also horrifying. With its gorgeous prose, memorable characters, and intricate storytelling, it has also secured itself a spot on my Top Reads of 2017 list.  Katherine Arden has truly captivated me with this series and I can't wait to get my hands on the final installment.  I highly recommend this series to anyone who loves a strong, feisty, independent heroine and good solid storytelling, as well as to anyone who is interested in Russian folklore.  You won't be disappointed!

GOODREADS SYNOPSIS

The magical adventure begun in The Bear and the Nightingale continues as brave Vasya, now a young woman, is forced to choose between marriage or life in a convent and instead flees her home—but soon finds herself called upon to help defend the city of Moscow when it comes under siege.

Orphaned and cast out as a witch by her village, Vasya's options are few: resign herself to life in a convent, or allow her older sister to make her a match with a Moscovite prince. Both doom her to life in a tower, cut off from the vast world she longs to explore. So instead she chooses adventure, disguising herself as a boy and riding her horse into the woods. When a battle with some bandits who have been terrorizing the countryside earns her the admiration of the Grand Prince of Moscow, she must carefully guard the secret of her gender to remain in his good graces—even as she realizes his kingdom is under threat from mysterious forces only she will be able to stop.
https://thebookishlibra.com/wp-content/uploads/2017/11/girl-tower.jpg
1200
789
Suzanne
https://thebookishlibra.com/wp-content/uploads/2018/06/trimmed-Copy-of-Bookish-Logo-copy.png
Suzanne
2017-12-01 06:00:01
2017-11-30 21:40:37
Review: THE GIRL IN THE TOWER by Katherine Arden